Updates and Benefits
Updates
Hi everyone it's me again here to bring you on my updates in building my bronze deck. I have added some cards on the deck and upgraded some assets to bronze cap. Here are some cards I upgraded to bronze cap:


Buying and Upgrading these reward cards is truly worthy with their abilities and additional speed, damage and health is worth the cost.
Benefits
Being a 1 year old player of this NFT game Splinterlands I have notice that gold foil cards are a good investment for it's value doesn't drop too much and the benefits of using gold card to earn like this benefits: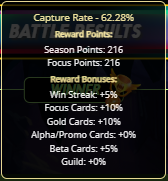 Just by using 1 gold card gives me 10% bonus but my capture rate is low due to the new update that you need to max your card to the league cap to maximize capture rate the way of earning in Splinterlands. Alpha and Beta gives bonus to but it is not useable in modern format of the game. In wild it greatly increase rewards with that bonuses coming from Alpha and Beta cards.
These information based from my experience as a casual player of this great NFT game Splinterlands. Thank You and Great Powers to you Readers ❤️
---
---