My Hive Goals ~ Sept 6th 2022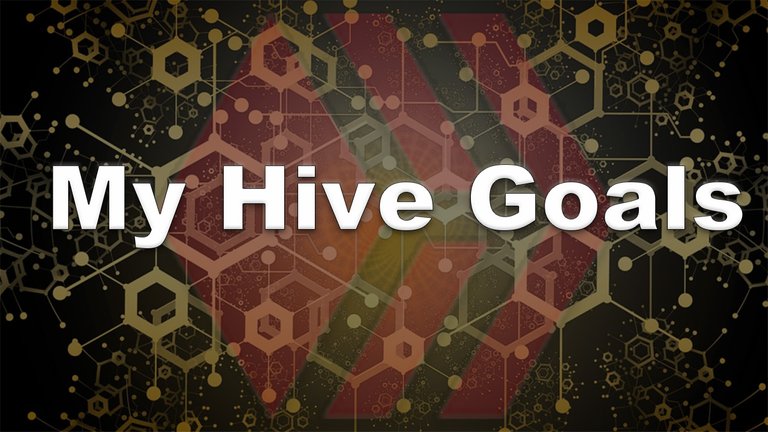 The bear market continues, but that's ok, just gives us more time for building. As many around here keep pointing out, a bear market is when you grow and set yourself up to make money when the bulls come.
And things are continuing to grow. We had another Hive Power-Up Day (HPID) and I used it as an opportunity to power-up 100 Hive. Next time I'd like to go higher, but with a house and kids, I don't have a lot of extra money to invest here, but we'll see if I can sneak away a little more next time.
Anyway, let's dive into my weekly stats!

There are currently just a few coins I'm focusing on in the Hive ecosystem. These are Hive itself, HBD, SPT, PIMP, and BRO. I'm also stacking DEC and SPS, but I'm not focusing on buying them, just keeping whatever I make from posting, playing the game and renting and stacking it.
Hive & HBD
My current goal is 10k Hive.
How will I get there? I post everyday and so a quarter of that automatically gets added to the total powered-up. In addition I try to power up at least 50-100 every HPUD. On this past HPUD a few days ago I powered up 100 Hive.
This past week I increased my total by 135.5. If we take away the 100 I bought, that leaves 35.5 that I earned. That's down a bit from previous weeks, but still a decent amount. This brings me to 6,858.18 total Hive Power. That's 68.6% of my goal!
10k here I come!! At this rate I won't get there by the end of the year, but who knows, maybe some whale will start voting me up every day. Any whales want to help out??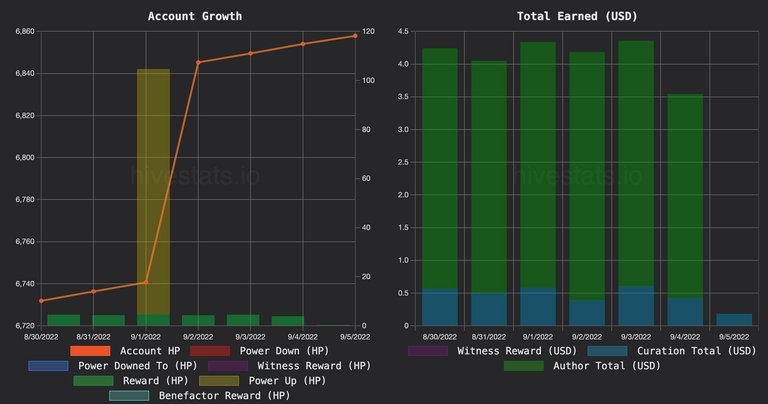 With HBD my current goal is 1.8k. At the current 20% interest, 1800 HBD will earn around 1 HBD per day. That seems like good place to pause and reassess my goals, so let's get to that point. Right now I just put the HBD I make from posts into the savings account. Whenever the bull market comes, I'll also secure big gains (if any) by moving them here.
This past week I put 15.494 into savings, bringing me to 959.845 HBD. That's 53.3% of my goal!
I do have some small desire to start converting my daily HBD from posts into Hive so I can take advantage of the next Hive pump, but I haven't acted on that desire yet.
BRO
Bro is a fun coin. If you haven't visited it yet, I'd recommend checking out the Mancave Discord. It reminds me a lot of a pub: just a group of people chewing the fat and teasing each other. Fun place. Here is the latest Mancave Newspaper if you want to get an idea of the good times to be had. @raymondspeaks is really doing a great job with the community.
My overall goal here is 1000 BRO to make it into dragon club, but first stop along the way is 100 BRO.
Last week I bought and earned 13.91032595. This is a big increase from my usual 1-2 weekly increase. This puts me at 54.35645815 total or 54.4% of my goal.
SPT
The price of SPT took a hit this week. But that's ok, I still think this is one of the safer coins, if only because of the association with Splinterlands.
My goal here is currently 200k SPT.
I was buying SPT everyday to average in, but I put the buys on hold for right now as I focus more on BRO.
That means currently I am just stacking the SPT I make everyday from curation on my @dbooster.spt account and the posts I make there, both of which give me around 100-300 SPT per day on average.
I made 1,116.52 SPT last week, putting me at 110,787.482381, or 55.4% of my goal.
PIMP
My goal with PIMP is all the PIMP. But just to pick a number for achievement motivation purposes, my current goal is 40k PIMP.
I have also paused my PIMP buying as I focus on BRO, but I do have some coming in. I get around 50 daily from curation, LPs, and posts.
I made 284.3802 PIMP last week, putting me at 33,829.2765 — 84.6% of my goal. That also puts me at #15 on the richlist. Woohoo!
SPS & DEC
I am not actively buying either of these, I am just stacking the SPS I make from other sources. DEC I am mostly stacking too, but I do browse the card market every few days and will pick up anything that seems to be a good deal. I am currently renting out most of my cards, so any cards I buy I just turn around and start renting out.
Since I rent out almost everything, I am only playing in the Silver league and therefore the chest rewards I get aren't all that great. But I did pull this legendary last week. I was pretty happy about that.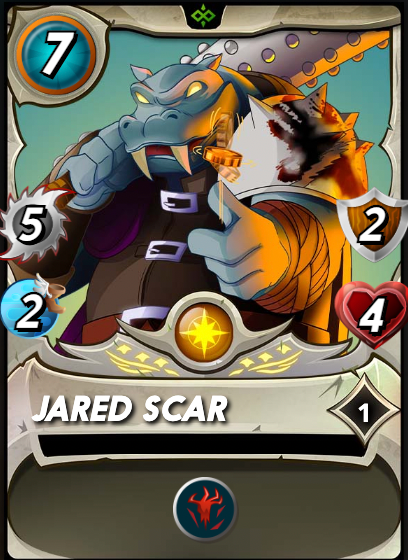 This past week I made 96.472 in SPS and 25,814.663 in DEC. Most of that DEC was from rentals and went back into cards. Most of the SPS was from the single pool but some from the swap.hive:SPS pool and all of it went back into the single pool. I'm up to 23,308.108 SPS there!

And forward we go! It was a strong week. Let's see how this coming one goes!
How did you guys do this past week? I encourage you to also start a #MyHiveGoals post. It can be motivating to add things up.
❦


| | |
| --- | --- |
| | David LaSpina is an American photographer and translator lost in Japan, trying to capture the beauty of this country one photo at a time and searching for the perfect haiku. |
If this blog post has entertained or helped you, please follow/upvote/reblog. If you want to further support my writing, donations are welcome.
BTC: bc1q6q86uq5qhffuk08gdenlg9wtq75cpvur359shj
ETH: 0x2Ce5c2b5F3f1a888b50A7bA9002E4F742784dF9c
Doge: D7McZi8SLd1QqRsNsFws21rYuRhjFRyN2q
---
---