Feb. 11, 23: Routine, Pizza Events, Oculus, TV, and Games
[Dammit! I got that pixel overflow on the side and bottom of my cover photo today. 🤬 Guess I should just be thankful that I found an editor that works (more or less).]
Made it from nine to five thirty tonight and while I did get up and go out to the couch around one or so, I still got a solid eight and a half hours for the night. 👍
My eye was a little less swollen today than yesterday, but still definitely hurting (and annoying) and it looks like I got in a fight...gonna' have to tell my students that Mike Tyson was mouthing off about my wife and I had to put him in his place. 😝
Not really anything in particular I can think to note about the morning routine, it was pretty much routine. Did some curation, token shifting, checked pings and emails, and then checked the crypto markets.
I guess the markets are still FUDing for the moment and we got some continuation to the bearish side. BTC is still holding above $20k for now, so as long as that's the case, I think we're still in good shape.
Wow! HBD was actually "stable." 🤯😯 I think that's one of the first times I've ever seen that...too bad it's stable at $.98 and consequently falls short of its one, sole purpose. Such genius, a stable coin pegged to a dollar that's never stable (and can fluctuate wildly, even up to twenty percent, as we saw just the other day) and is rarely worth a dollar. 🥴 Maybe a bunch of whales should circlejerk to try and "stabilize" it? 😝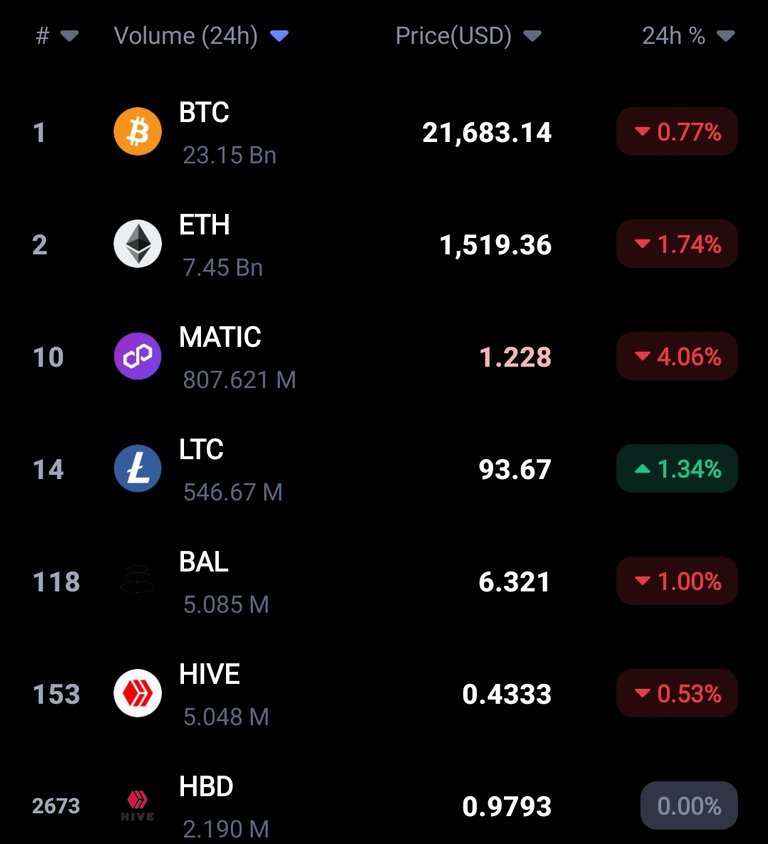 Got my post done for the day and got the dishes and stuff cleaned up in the kitchen and then headed over to Pizza server for the weekly Gartic, pack opening, and Trivia events. 🔥🥳😁
Gartic was wicked rough and one we even lost on the fifth round. 😭 I did get a couple, but there's jfuji and ladywillendorf who type insanely fast and usually get most of them.
Beard had been pretty busy the past few weeks, so we haven't had any pack opening events, but we did today! 😀 It was HashKings, which we all know is my absolute favorite, but I'm certainly not going to look a literal gift (horse) in the mouth!
Not only did I win a new avatar, I got an epic...maybe will help offset my investment in that. 😀🤑 Free is free, regardless and it's really awesome of Beard to have those events and give stuff away. 😄😊
The TipCC bot was down for maintenance through most of the events and it was looking like we'd have to delay Trivia, but luckily it came back to life just before it was time and we went ahead with Trivia.
I didn't do too badly! Even with the bot being broken for most of the time, I got an epic NFT and staked up over fifteen PIZZA! 🤑
After the Pizza Events finished up I kinda' floundered for what to do with myself. I considered going out for a walk, but that never materialized. I decided on getting a shower (wow, what ambition!) but then distracted myself with some VR.
I really don't know what's going on with the headset battery, but it's not fully charging and I'm only getting about an hour of gameplay out of it before it's critical and I have to quit or get shut down. 😢
I still need to see if the new phone chord will work with it. I'm pretty sure it will, but I'm worried about it being a twelve rather than five volt charger...would suck to burn it out worse.
Anyway, played a little Puzzling Places and then jumped in the shower. Went a bit nuts with the razor and did the face, nips, cock and balls, and the armpits...the wife likes 'em streamlined. 😜🤣
Speaking of, since she had Monday off this week (was in Norway), she was working all day today, so I had some cereal for dinner and plopped in front of the tube by myself.
Got ready for bed a little before she finished up, but actually made it through a couple episodes of Letterkenny before falling asleep.
---
Splinterlands:
I can only speculate that it's the end of the Splinterlands season since my rental income popped over two dollars. 🤣 Either way, that helps a bit...wish it would stay above two for more than a day, though, but I don't expect that to be the case.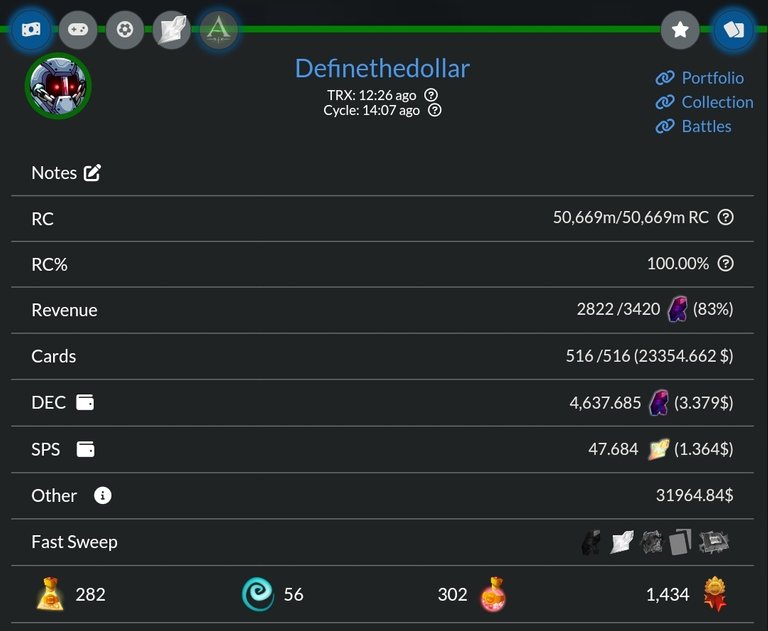 Did my normal claim, paid the fee, and for the second day left the rest liquid saving to swap out. Looks like I still have a day or two before I'm over a hundred, though.
dShitty:
They will tell stories by the campfire of the before times when dShitty paid SIM for holding cards...the good ol' days.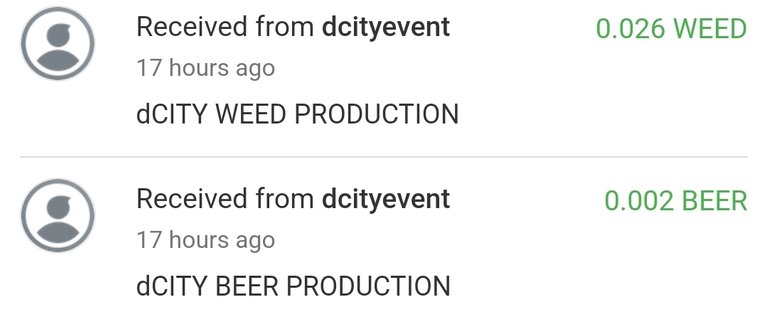 RS:
I actually remembered to go in and check on Rising Star several times today. I'm not sure what possessed me, but I started digging around a bit, and for whatever reason bought another card (with Starbits from pools or Pizza giveaways, though).
Between the new card and having run several missions in succession, my Ego was growing, so I'm currently running a lesson to get it back under control.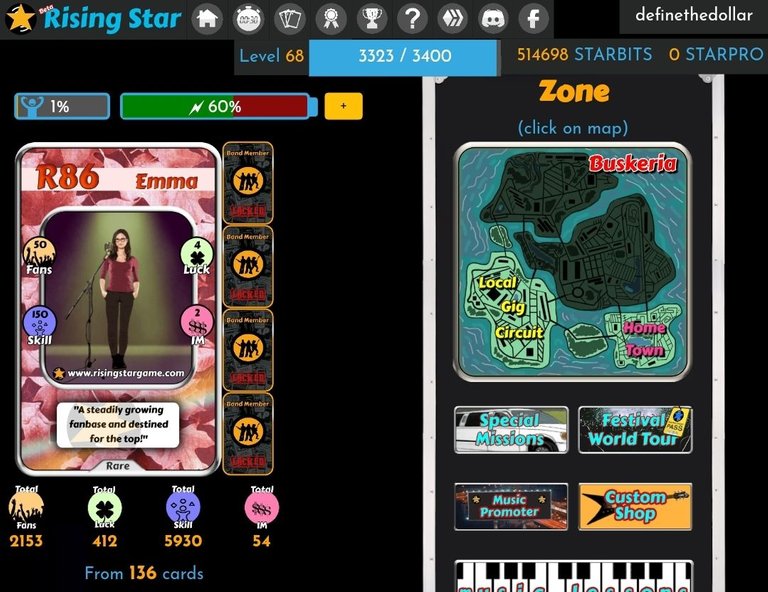 HK:
As I mentioned before, I got an epic avatar from the Pizza Event today, so that was awesome, but otherwise I don't have an ounce of urge to bother with it.

GLX:
Well, I did get the thrity-five today, so I must have done it early the day before and forgot that I had done. Anyway, swapped out forty and staked the rest per usual. Seems like I'm spending it as fast or faster than it's coming in, though. 😱 Still, my balance is continuing to grow (if not more slowly) and I'm getting more and more deeply vested into other blockchain projects.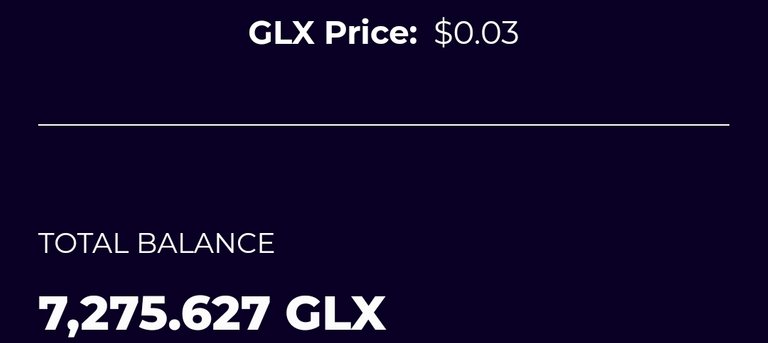 WOO:
Honestly, it's crossed my mind several times to up my delegation a bit. I'm digging the faster growth and am all about passive earnings, so, while I would earn more by just voting by myself, I do get a return and help them grow too. Still, haven't pulled the trigger there yet, delegated to tokenpimp instead.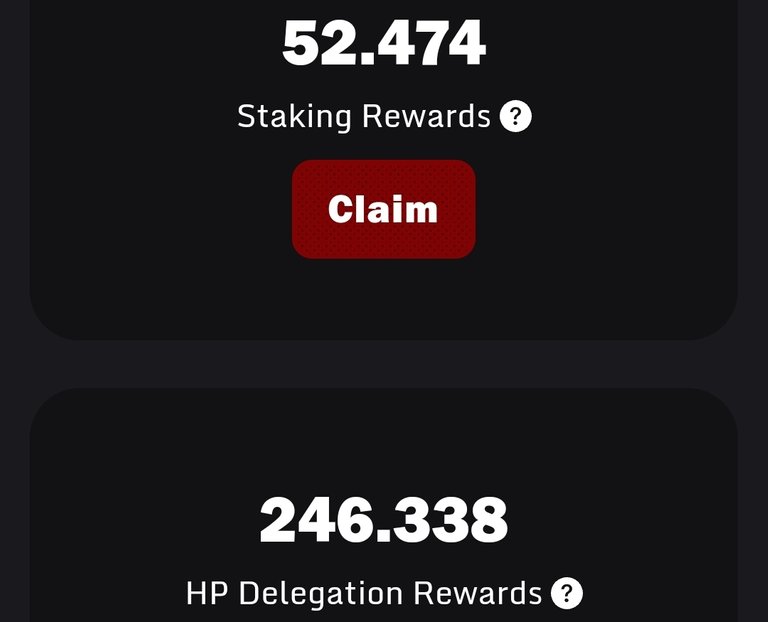 Got my rewards and airdrop staked up, but still no mining rewards. Thinking we need to head into the grocery store early tomorrow to get back in time for the Pizza Event for the land sale that is imminent.
I'm still not exactly sure what I'm going to do there. I don't really want to unstake any (especially to burn them), but upgrading my land was the whole point of building my WOO holdings so aggressively...didn't want to try and scramble to acquire some after the fact when lots of other people are too. 🤔
AR:
Today we got our weekly STELLARUM drop for holding ASTRA. I did go into the market and snagged some more ASTRA, but only 500 (5 HIVE) this time since I'm a bit low on liquid. Seems like the price of STELLARUM may have dropped pretty hard, but I'm not looking to sell, so it doesn't really bother me for now.
CCCEO:
I suppose I didn't actually make any further moves with this game, but I realized I forgot to add my "pic or it didn't happen" with regard to my pool position. I'm holding a little over one percent for the time being, but still would like to up that a little...it's the SQM I'm jonesing for (got slightly more than six at the moment); I want it for Solairitas in some form or another.
I do suppose I should start talking with PowerPaul about Solairitas and how it might be represented in the game and what mechanics we could come up with to make it interesting...got to look deeper into qualifying for that level of integration. 🤔
---
Average Last 7 Days: 10,365
Lifetime Average: 14,469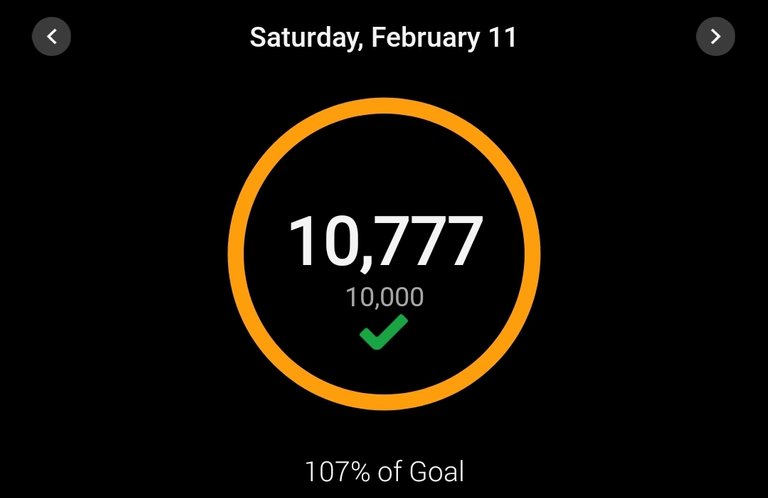 10k per Day Streak: 125

Longest Streak: 204
Distance on shoes: 1296.57 km
Distance on hikers: 67.07 km
#AutomaticWin Tally: 425
#AutomaticWin Streak: 0
Longest Streak: 53
#TripleTen Tally: 118
#TripleTen Streak: 0
Longest Streak: 7
#DoubleDay Tally: 236
#DoubleDay Streak: 0
Longest Streak: 37
Highest Floors: 120
Highest Daily Steps: 41,528
Zombies evaded: 0/0
Mindfulness Diary:
Health: 85%
Satisfaction: 86%
Energy: 90%
Productivity: 70%
---
Referrals: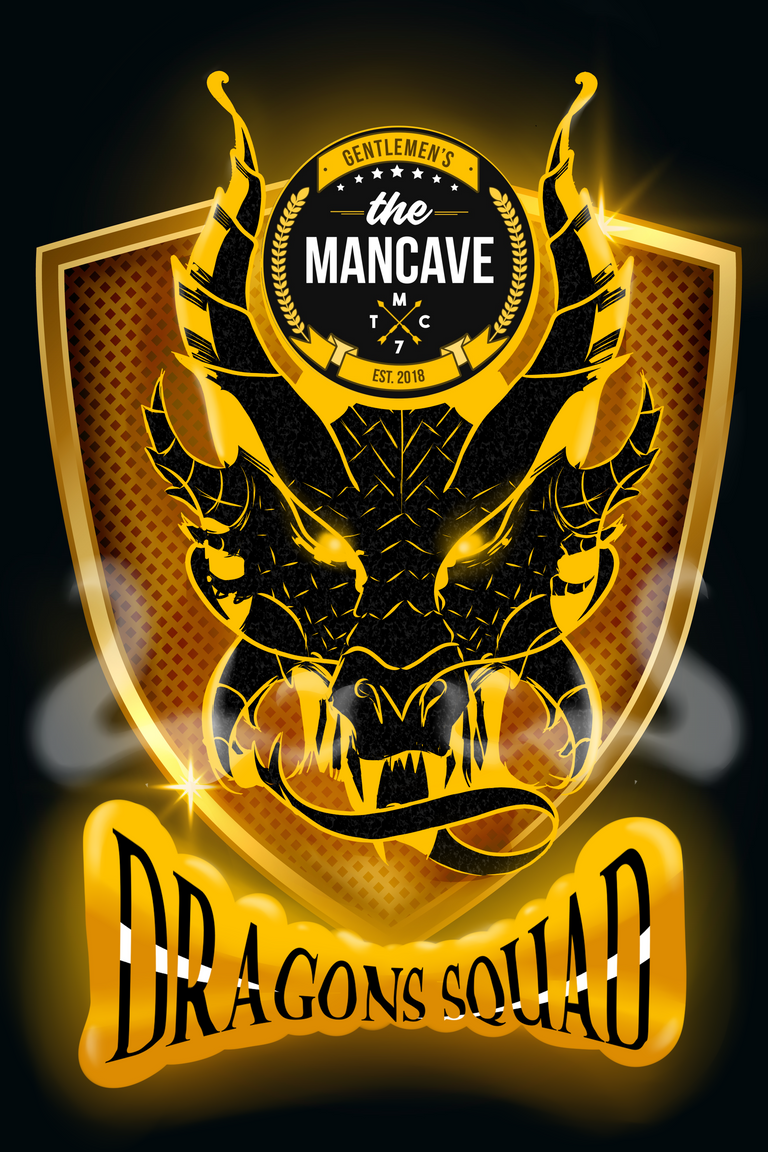 Power up and Hive on!
---
---