Feb. 23, 23: Routine, Teaching, Errands, Quest, TV, and Games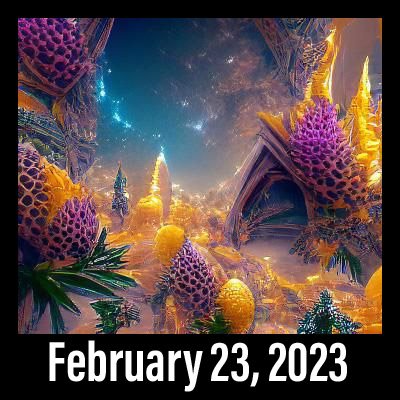 [Holy fuck!!! I just tried to select a paragraph and it jumped to the top of the page, selected everything, replaced it all with a "p" and then the draft immediately saved itself...just lost my entire post, like seven hundred words just vanished and I have to start over again from literally zero words. 🤬🤬🤬😭😭😭🤬😭🤬 (kind of lost my steam now, but here we go...)]
Kind of neat, I suppose, my cover photo is an AI generated image (yesterday's was too, but it wasn't my prompt) from "outer space pineapple fractal heaven." Been experimenting with some different possibilities, but I (obviously) like spirals, and fractals have an endless supply of different ones; so I'm not quite convinced.
To be honest, I don't really find the AI art to be all that impressive. Don't get me wrong, I think it's totally cool that it can generate an image from a few words, but none of the ones I've seen have made me think "damn, that's beautiful" or "that's so cool I have to have a copy."
They mostly just seem like a bunch of stuff smooshed together (Kirana just slaps a bunch of random neon all over the place and might include some element that remotely relates to your prompt) or a straight literal interpretation, case in point, "pineapple heaven:"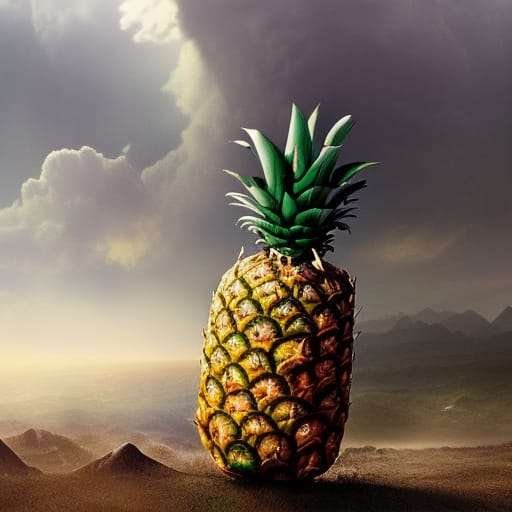 Anyway, got to sleep around nine or so last night, was up around two thirty and moved out to the couch, and then slept through until about five thirty for another nearly nine hour night! 🥳
Woke up a bit stressed out, though. Yesterday we had a wicked ice storm and it continued through the night, but I had to wait until sunrise to be able to properly see the damage. On top of that, of course, I had my post to get done before eight.
Luckily, the power only went out for a few seconds and then came back on. From the sound of it, there's a lot of people in the area who are still without power. 😯 And, we still had internet, so it looked like I'd be alright for class.
Did the usual morning routine with a little fire under my butt but mostly focused on getting my post done in time. Of course, had to check on the crypto markets and we had some greens, but mostly just trading sideways, recovering a little from the last couple red days. As it stands, HBD has gone back below a dollar and I'd get screwed out of one of the WOO lands, but I'm starting not to care...I guess it's handy that there's still no word.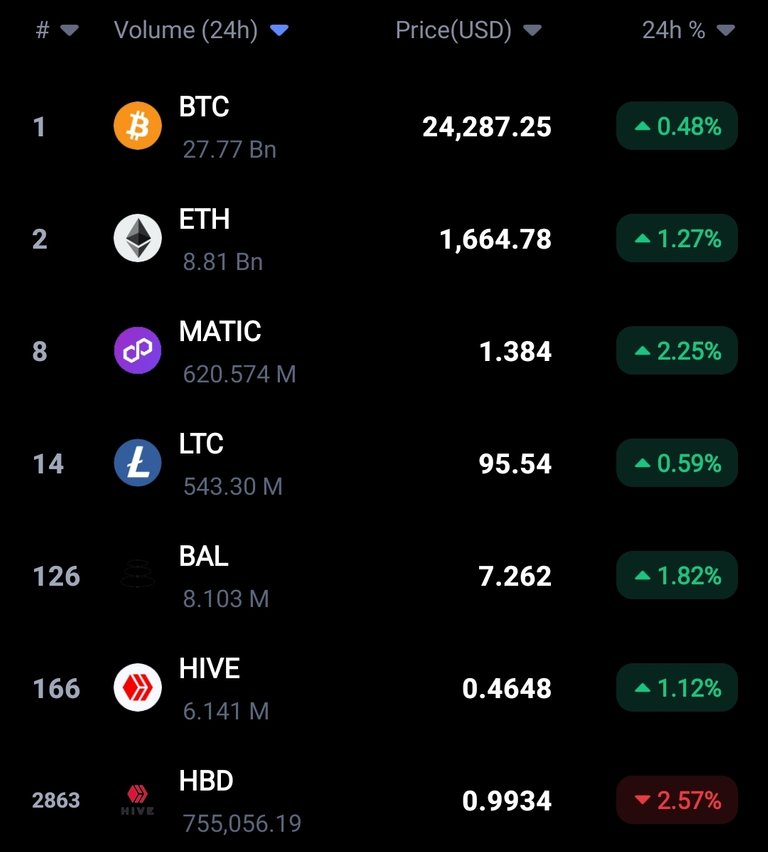 [Unbelievable. I got a plenty early start, but between a fairly lengthy post and having to start over from scratch, I'm running short on time now...I've got my thousand words, for sure, but not even close to finishing taking about the day (hardly even started).]
Once it was light enough out, I went to check to see what all had happened. We lost like three massive limbs in the tree out front: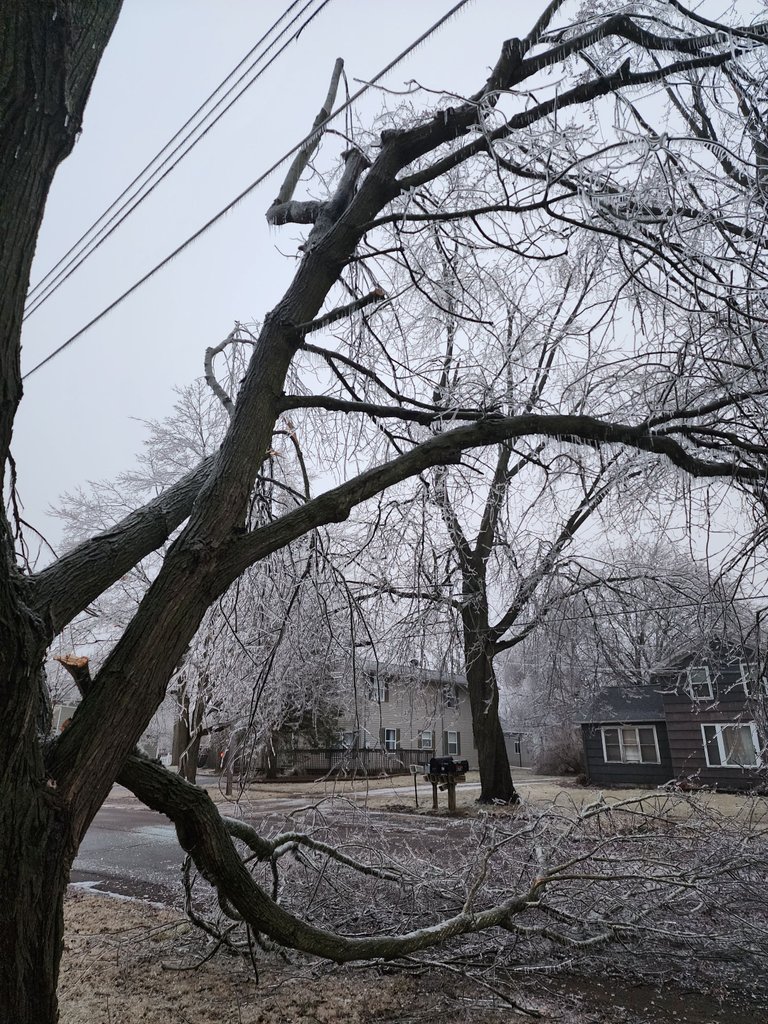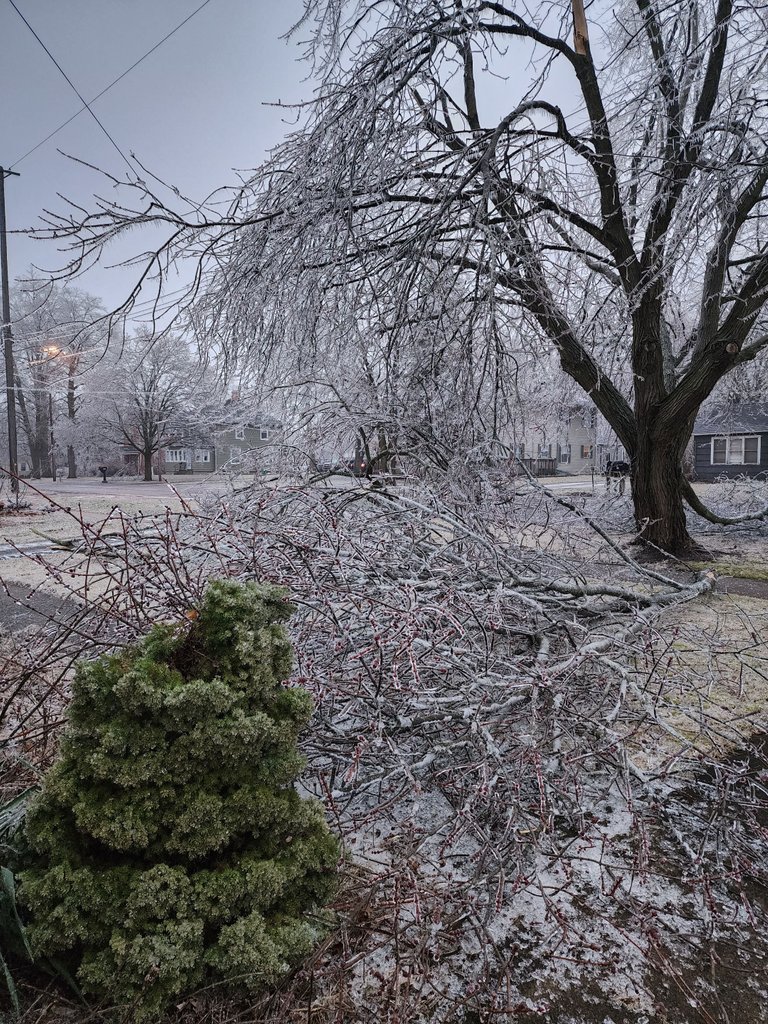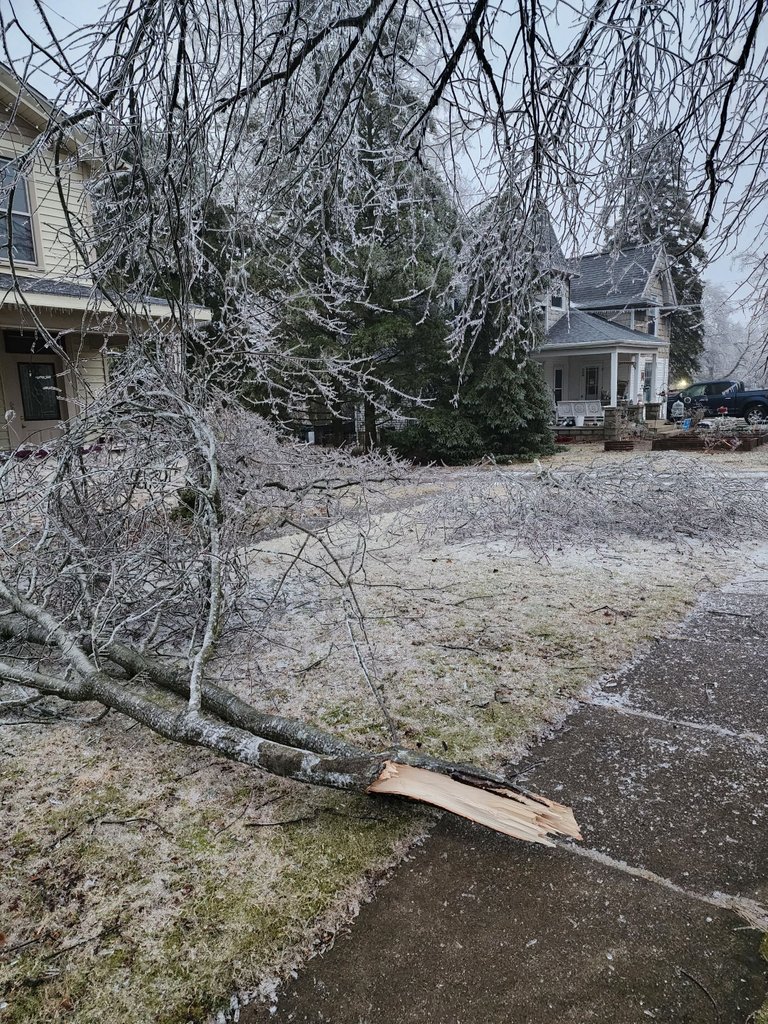 I was pretty worried because they were blocking the road and I wasn't sure whether or not I was responsible for it, but the guys from the Village did come by with their equipment and not only got the stuff on the road, but were super nice and got the ones on the yard as well! 👍 I would have had a really tough time with it myself, they were too big and frozen to the ground, so that would have been a major problem, not to mention that I didn't have the time since I had teaching.
All on campus activities were canceled today (so I didn't have afternoon class and didn't have to deal with driving in there) but virtual classes went on as normal and I didn't get the day off anyway.
Got my post done and scheduled and hopped in the shower about ten minutes later than I should have, but I did get done and set up on time. Today we practiced some examples of the Quotient Rule that we derived last class and actually used it to prove a couple of the trig function derivatives.
The primary goal for today was to cover the derivative of inverse functions and, particularly, to use that to get the derivatives of all the inverse trigonometric functions. We looked at some examples of those and then called class early again.
I was basically done for the day at that point, but I did have my errands to run and I was a little nervous about the condition of the roads, so I procrastinated for a while, got my lunch early, and then headed in.
[Guess I have to post now and finish later. 😢]
---
Splinterlands:
My Splinterlands rental income went up by twenty cents to a dollar eighty today. 🤑 Not sure what else to say, really, I'd rather it was more and don't quite understand why it isn't, but I'm thankful for the liquid coming in however slowly.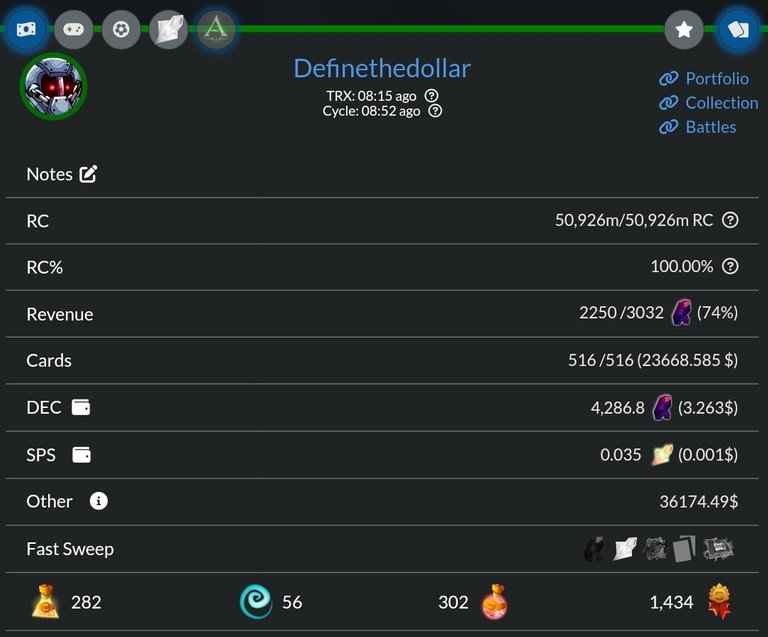 dShitty:
Funny enough, I actually woke up this morning thinking about dumping off all of these cards and just walking away from dShitty. Whenever I've considered it in the past, I've always felt this loss...like I'd lose out on gaining any more SIM for Solairitas, but holding on isn't gaining any SIM for Solairitas anyway, so there's no point in even sitting and doing nothing; what a waste.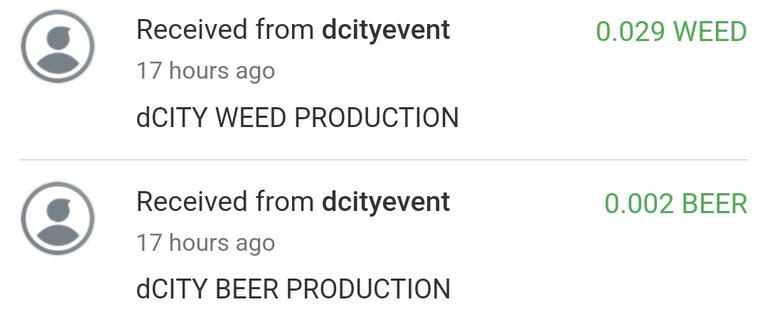 RS:
I had one percent Ego on Rising Star and ran a lesson to get it back down. Now, it's back to missions again...someday something has to happen with this, eh, the goals are finite, so they eventually have to be achieved, right?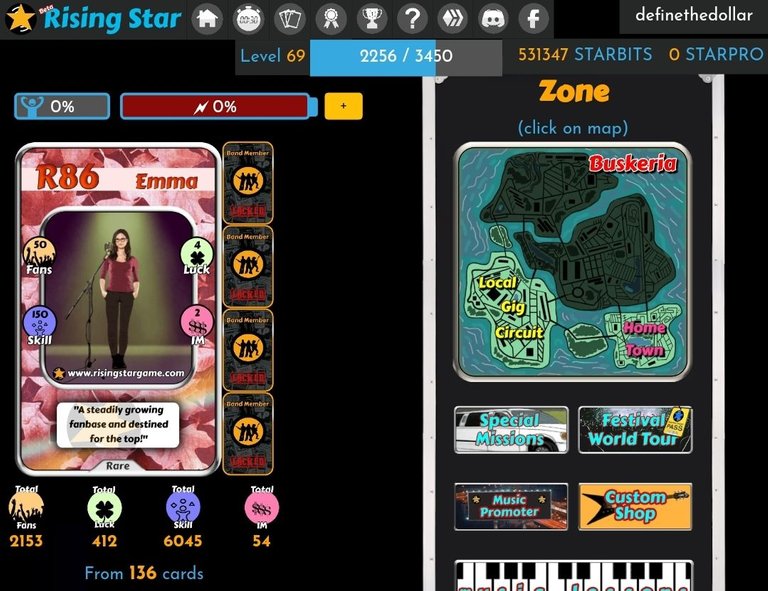 HK:
Similar to dShitty, I continue to hang onto this long past resentment and anger and into just perpetual complaining...need to get out, fricking-A!

GLX:
While it has been bothering me the last several days, I've been sticking with swapping out forty and staking the rest. That's cutting my hodl balance a little short, though, which is what is bugging me. Got a little over three HIVE today (price went up nicely, but it's gone up even further since then [the price of HIVE has pumped]) and it's already spent on PIMP and CCD and DOOM and LVL all the rest of the tokens I went nuts buying today.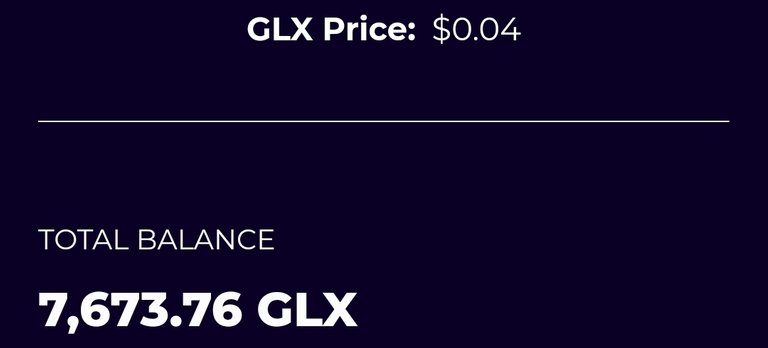 WOO:
I guess I kind of said my peace about this (oh, wait, no...I lost all that text 😭 damnit!). Claimed my stake and delegation rewards, as well as the four or so from the airdrop, but still nothing in terms of mining.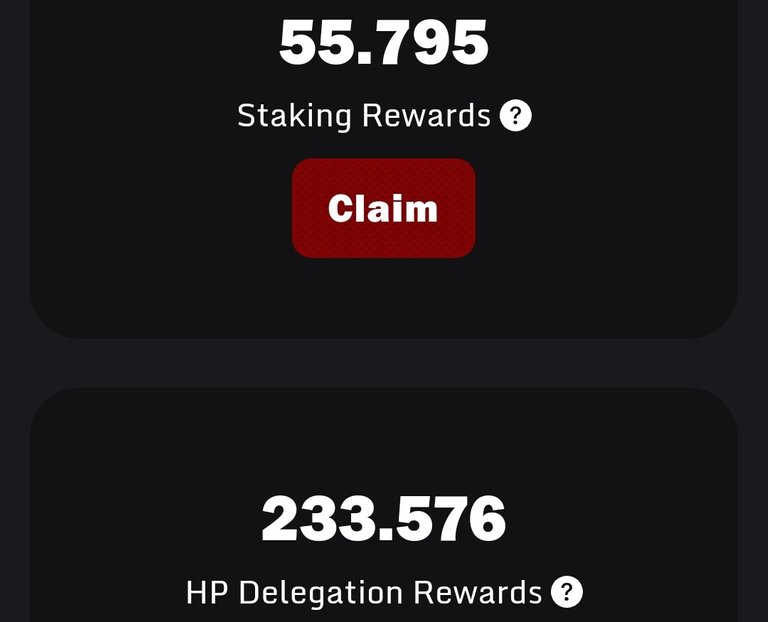 I do have to admit that "slightly sour" is starting to turn into apathy...have to build a callous against repeated (every day the goes by without any change) disappointment. Kind of a dangerous spot, next step is resentment and then outright disgust.
I mean, they'd certainly garnered a fair bit of goodwill in my mind for what they've already accomplished, such that I wasn't going to throw my hands up and walk away at the first sign of difficulties, but that only goes so far.
CCCEO:
It had been a little while since I'd upped my position on CCCEO and I had a bit of liquid saved, so I blew most of it. Snagged some more CCD, put most of it into the pool, and hung onto a few thousand to increase my CCPower a little. Got two percent of the pool now: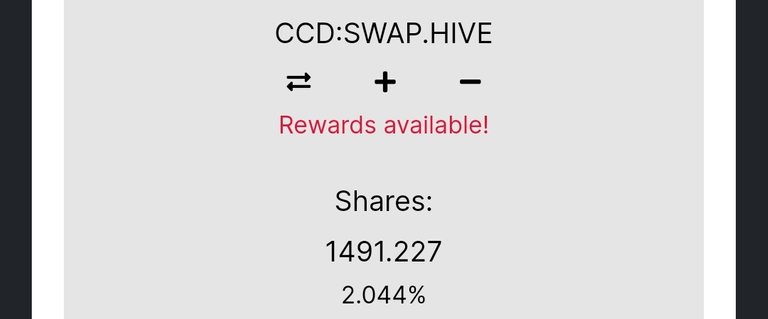 CS:
Along with the rest of my token buying spree today, I went in to the Nefty market and picked up a teleporter and a laser shotgun to boost my !shoot speed mining PROX. I'm a little disappointed, though, it says that I've earned NEFTY on my trades (done at least three since the last time I claimed), but the claim says I have none. 😢 Anyway, a few more WAX deeper into this one (but thats all come from selling Splinterlands stuff, so just opportunity costs paid 😁).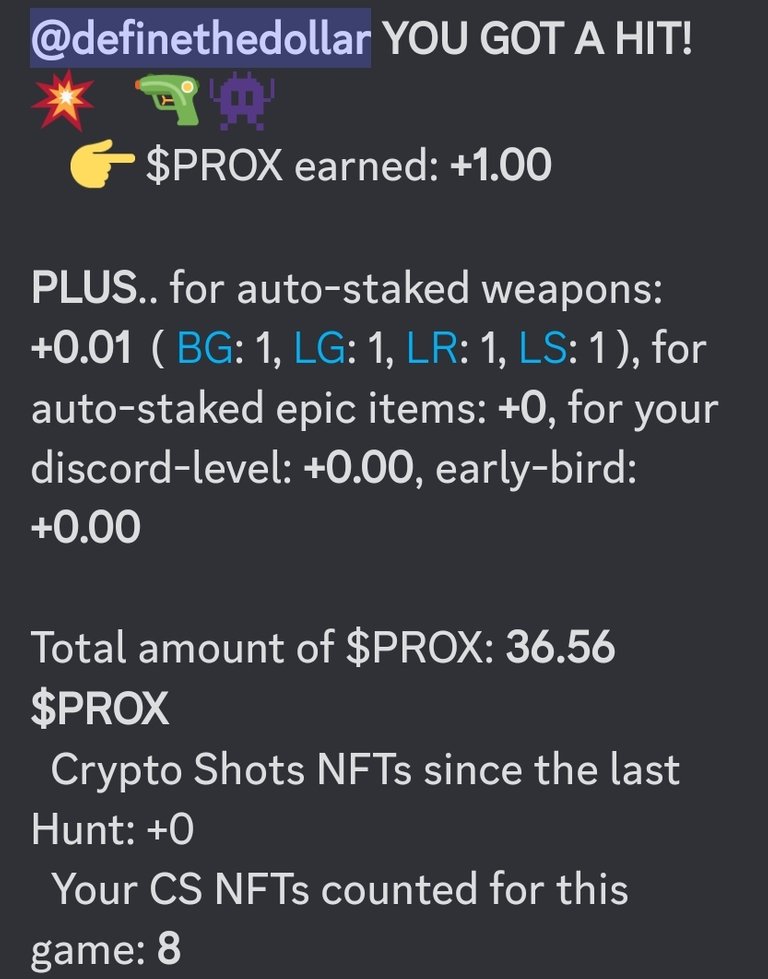 ---
Average Last 7 Days: 10,299
Lifetime Average: 14,438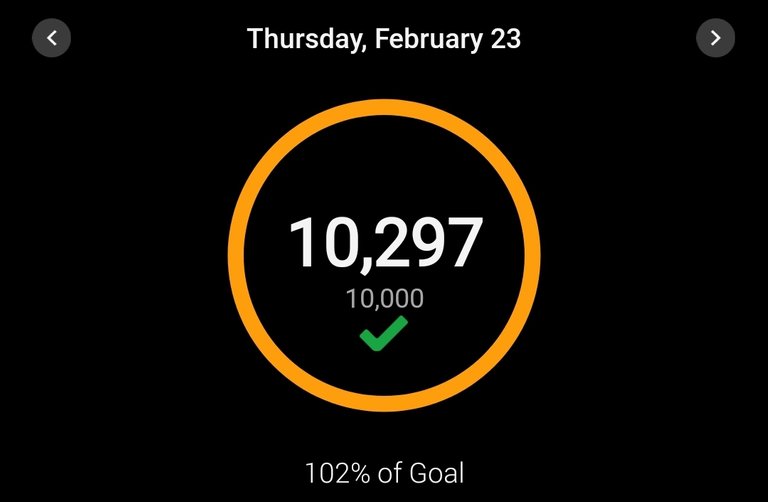 10k per Day Streak: 137

Longest Streak: 204
Distance on shoes: 1310.10 km
Distance on hikers: 67.07 km
#AutomaticWin Tally: 425
#AutomaticWin Streak: 0
Longest Streak: 53
#TripleTen Tally: 118
#TripleTen Streak: 0
Longest Streak: 7
#DoubleDay Tally: 236
#DoubleDay Streak: 0
Longest Streak: 37
Highest Floors: 120
Highest Daily Steps: 41,528
Zombies evaded: 0/0
Mindfulness Diary:
Health: 90%
Satisfaction: 86%
Energy: 91%
Productivity: 80%
---
Referrals: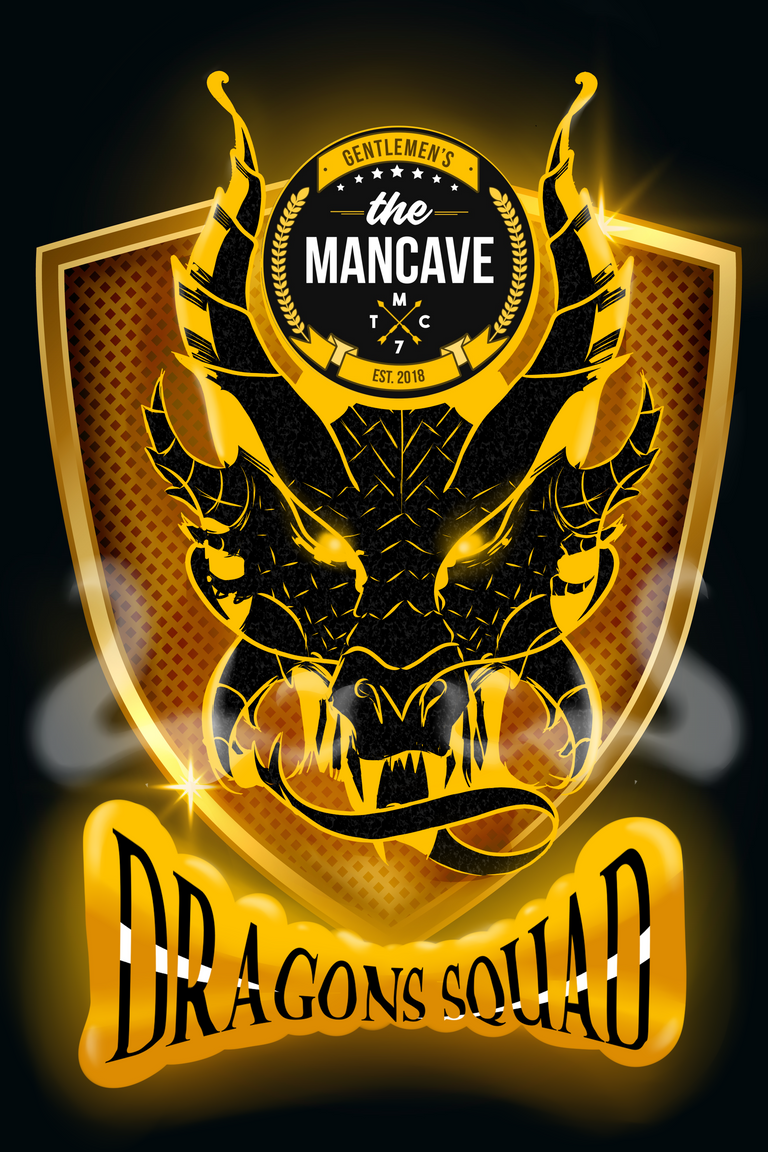 Power up and Hive on!
---
---