Feb. 26, 23: Routine, Grocery Shopping, Walking, First NFT Mint, LEC, TV, and Games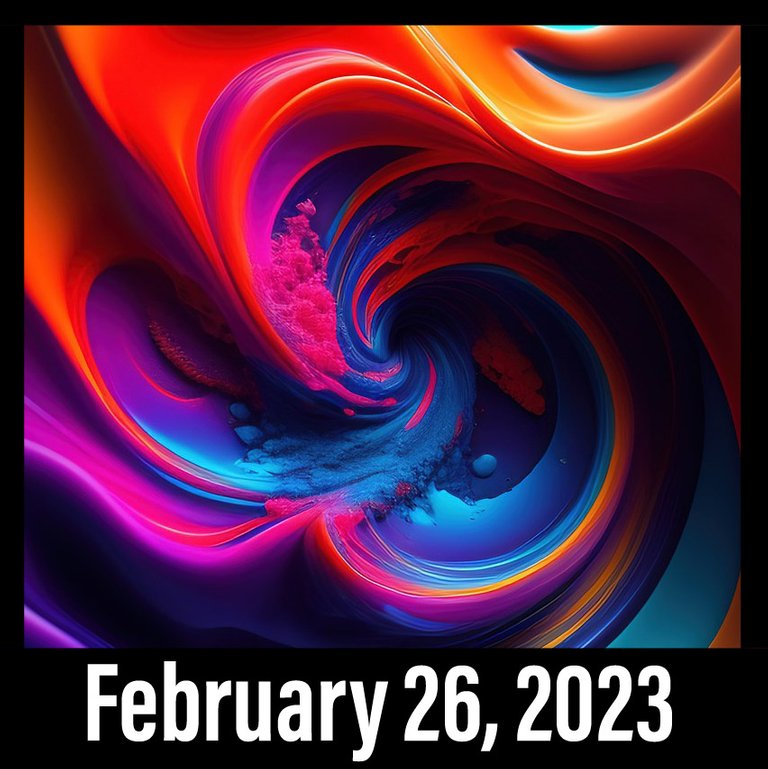 So, let's see...got to bed a little before nine last night and, as is custom, got up sometime around two or so and moved out to the couch. Woke up when the kitchen light came on around five thirty and, while I kind of would have liked to sleep a bit more, I got up then and still scored nine hours for the night. 👍😀
I suppose the day started off with a bit of a disappointment because one of the first things I discovered was that I'd missed my daily step goal by a mere forty steps. 😡 Ah, well, it's really of no consequence to anything other than my pride (just annoys me that my numbers disagree because of the watch switch, but the streak count is correct now, sp I guess that's actually a bonus).
Got on with the morning routine and did the normal curating, token shifting, responding to emails, checking pings on Discord, blah-de-blah, and then looked at cryptos.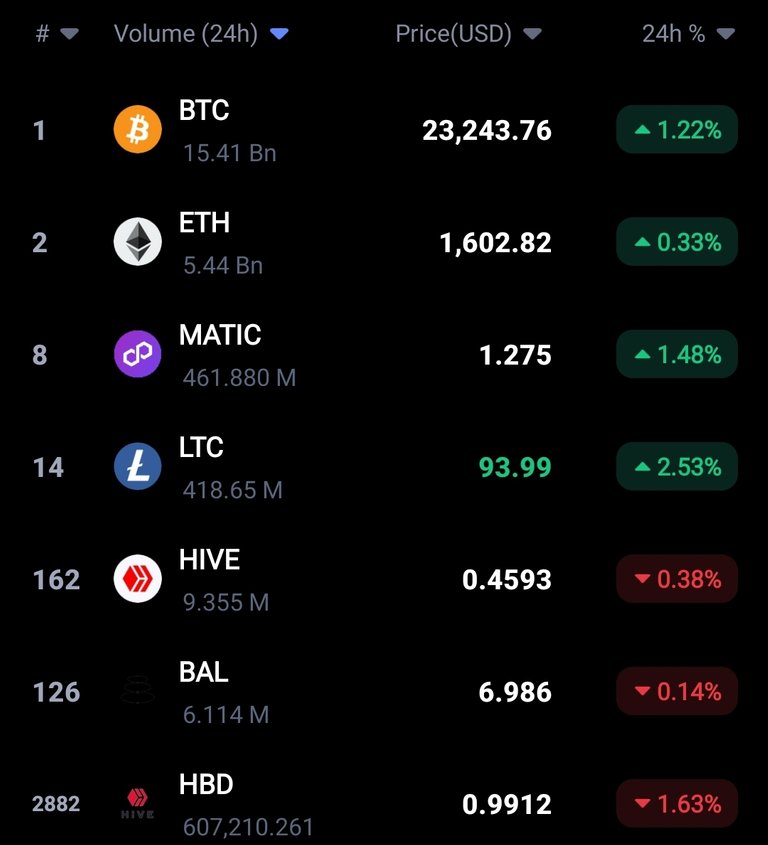 Yet a other red day for HIVE, but it seems we still haven't broken the support at $.45, maybe the dumpers have taken their profit for now and will let us alone for a while?
Otherwise, despite knowing I shouldn't do it, I checked on my Polygon investments as well...back to losing .37 ETH again now. Nothing I can do but curse that I can't seem to take the loss when it's not as bad (missed at least two solid chances now just hoping to get to break even).
Worked on my post and once it was set and ready to publish we headed into town to do the weekly grocery shopping (posted on the way in, naughty). We busted a hundred and fifty again, but we did pick up a couple extra things like dog treats and a pack of whiteboard markers (for teaching - need to see if I can qualify for the educator expenses deduction this year, I've spent quite a bit, but I have a feeling that's only for public school K-12 teachers).
The viaduct (where we have to pass under the train tracks) heading in was shut down and we had to take a pretty circuitous route both there and back, but got home, got everything put away, and got some lunch all before noon. 💪😁
Even did a couple chores and got all the dishes cleaned up in the sink and folded and put away the clean laundry...and took the doggy out for a walk! 😀😄 Didn't quite make the full five kilometers to qualify as a proper walk, but still, pretty good.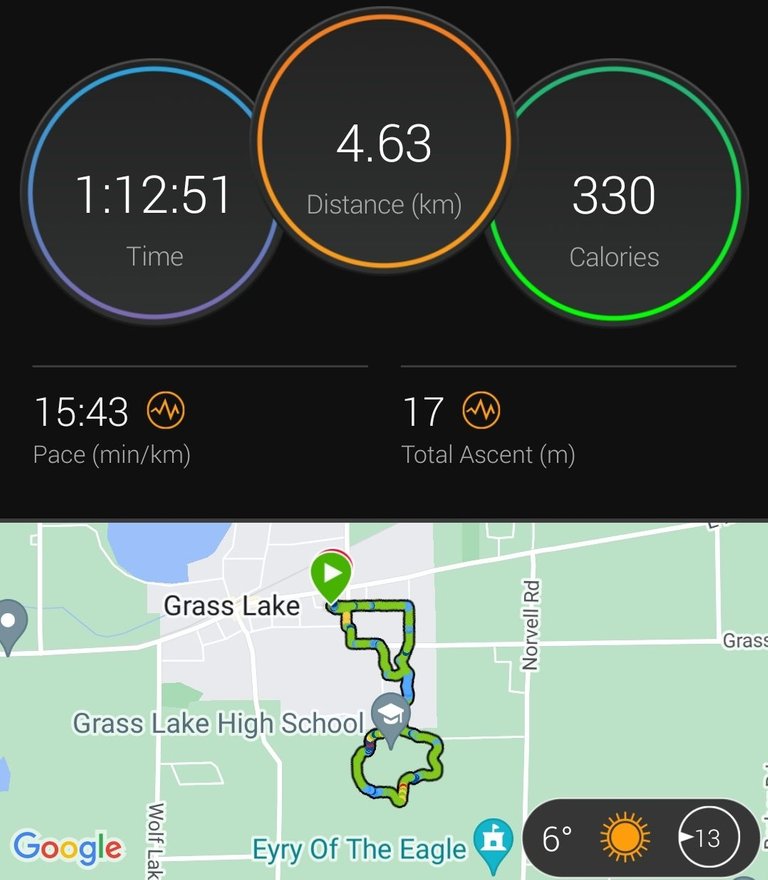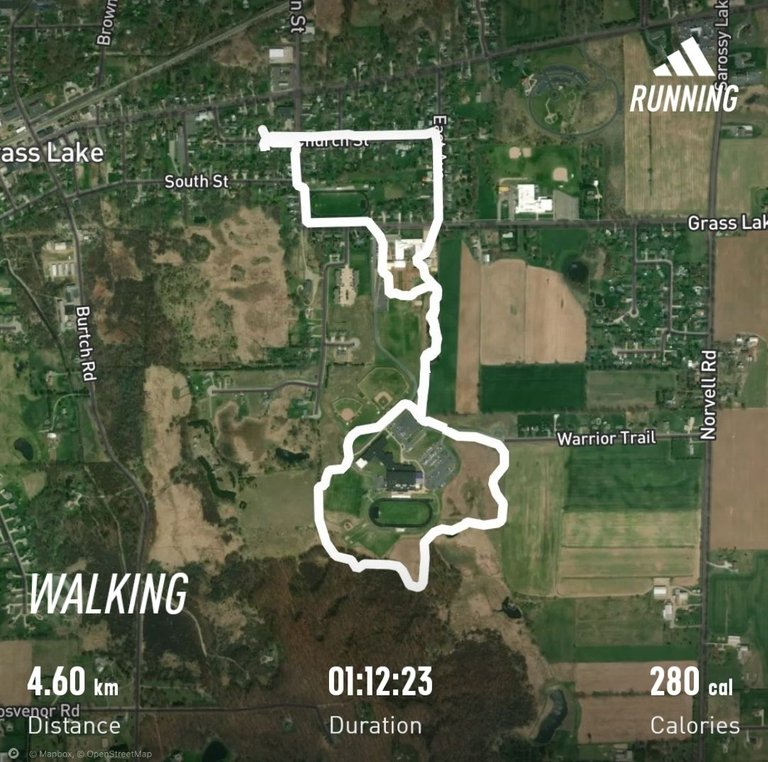 Not nearly as cold out as it has been lately, but not exactly warm out either, and you can always expect the wind to make it feel even colder than it is.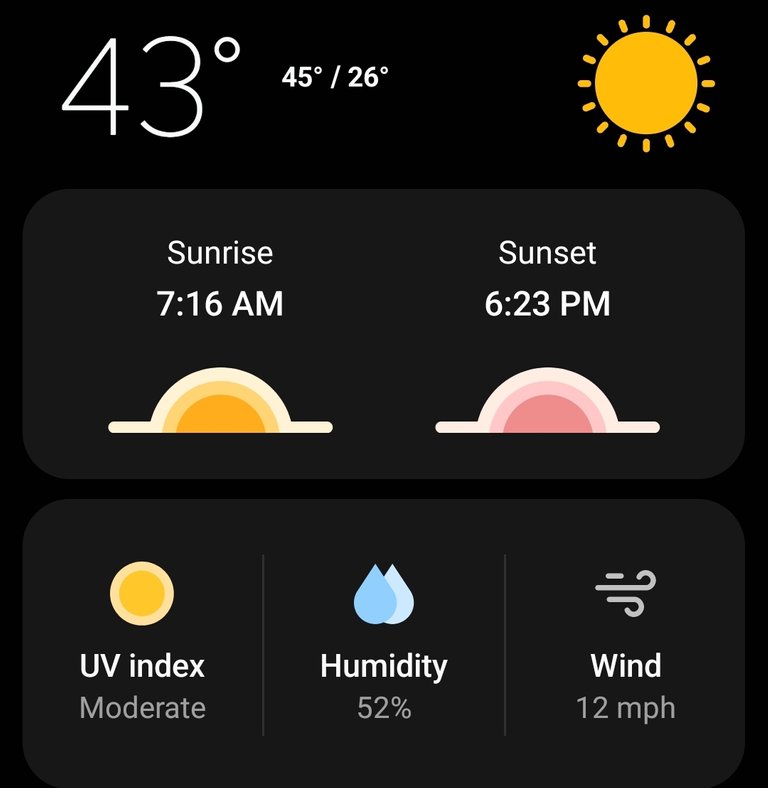 Nice and sunny, clear skies, though. Can't complain there.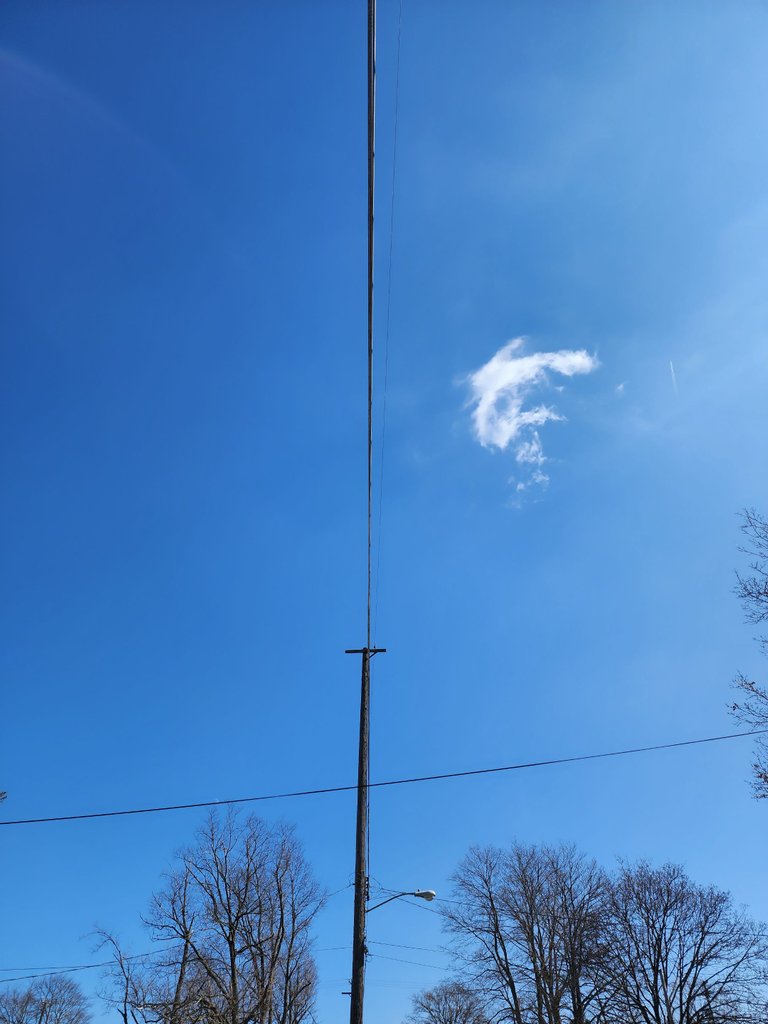 We went along the nature trail by the schools and for one, I've never seen that much traffic or cars around there! I guess there was a wrestling tournament and the place was absolutely packed with the whole parking lotS full and people parking down the street!
We also gambled whether or not the path would be blocked off by limbs from the storm the other day and we kinda' lost. 😉 There were like five or six places!! We moved the ones we could, but most of them were just too big, had to go through the weeds around them and leave it for someone with a chainsaw...pretty much everywhere you look there's huge, broken trees from that ice. 😭
The pond was about half melted and we saw a few fishies swimming around down by all that green muck.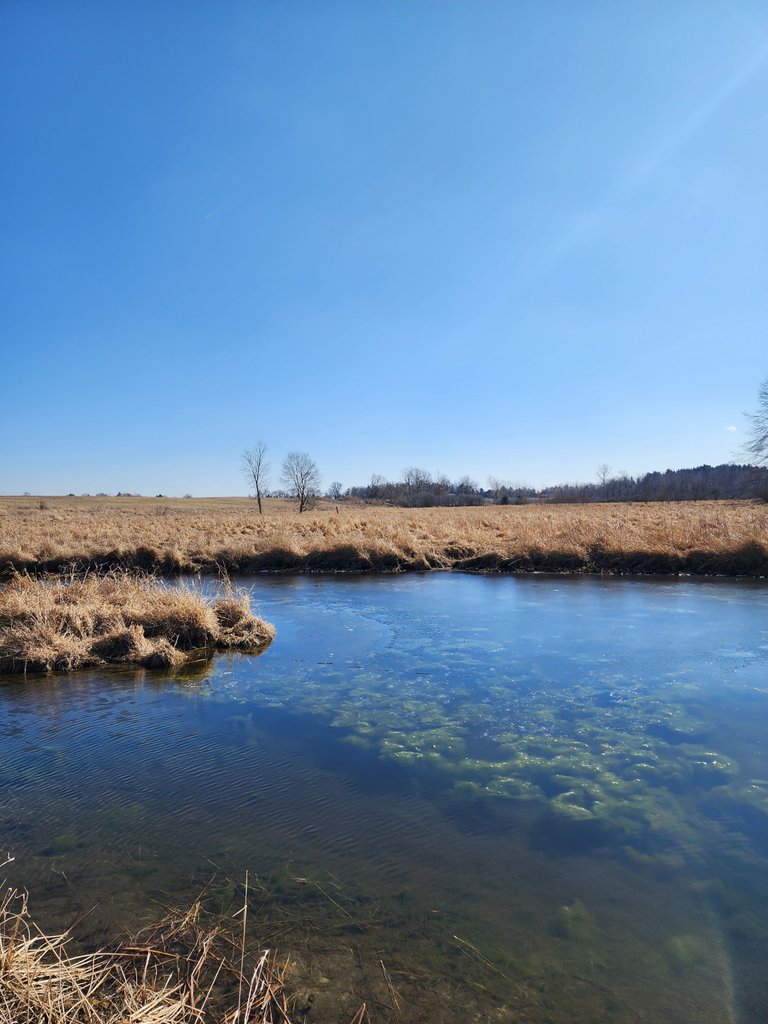 I'd thought about it several times before, but for some reason on the walk today I just couldn't shake the idea of trying to see how (and how expensive it is) to make an NFT collection on the WAX blockchain, so when I got home I started figuring that out.
It did take me a little bit to fully grasp the collection, schema, template business, but not only did I get them created, I'm staking WOMBAT so it didn't cost me any CPU...I successfully did the whole experiment for free! That's how I muchly like it!
So now I have a collection: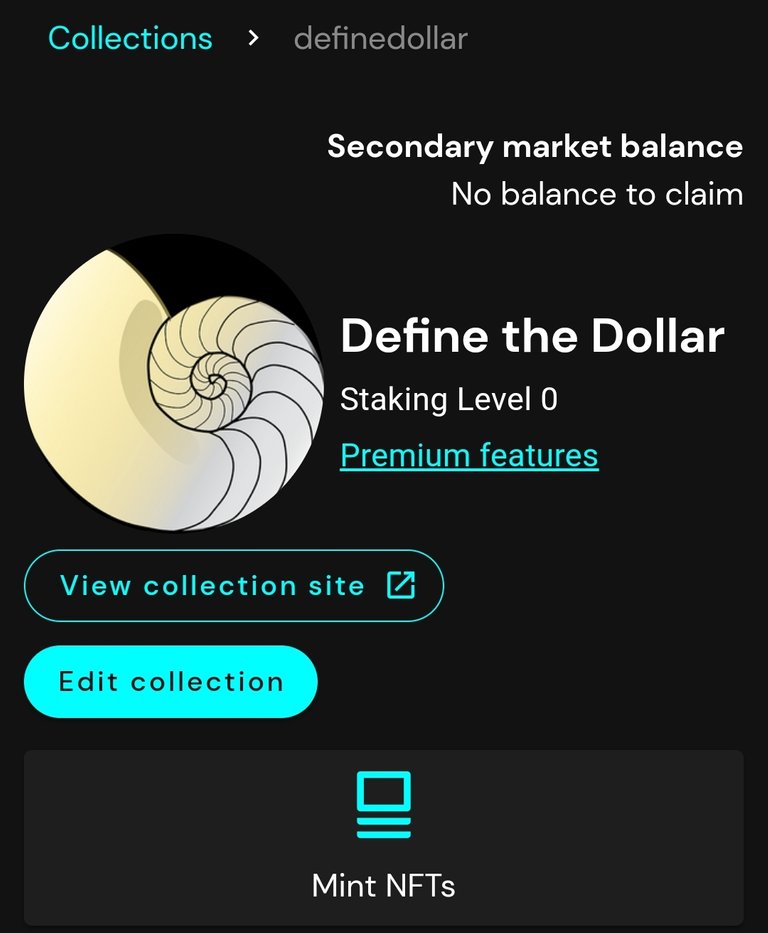 And I minted my first NFT 🤩: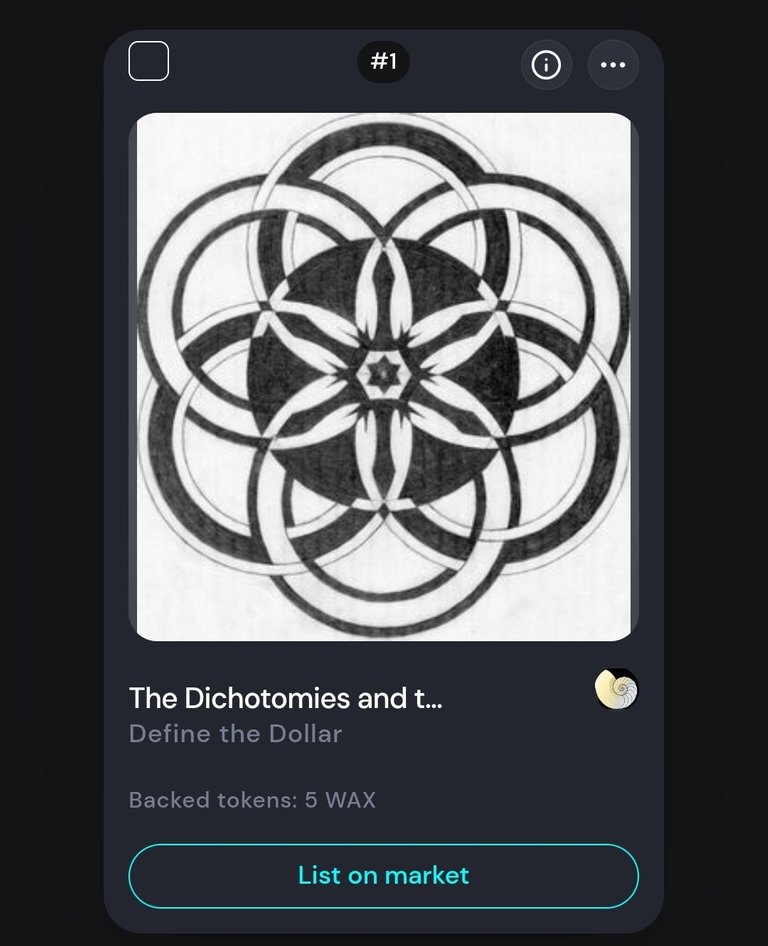 Pretty cool. 😍 I decided to let it be burnable (even though I hate that idea) so that I could back it with some WAX (the only "cost" I paid). That way I know it at least has some value, if only to destroy it. I have one or two more drawings I could add to the collection, but now that I've done it (for Mythix, ultimately, OpenSea is just too big to resist) I don't have the "experiment" excuse any more and I'm not sure I want to know how little the market actually values my work...we'll see, maybe I can figure some actual use case somehow and give them away rather than trying to sell them for anything.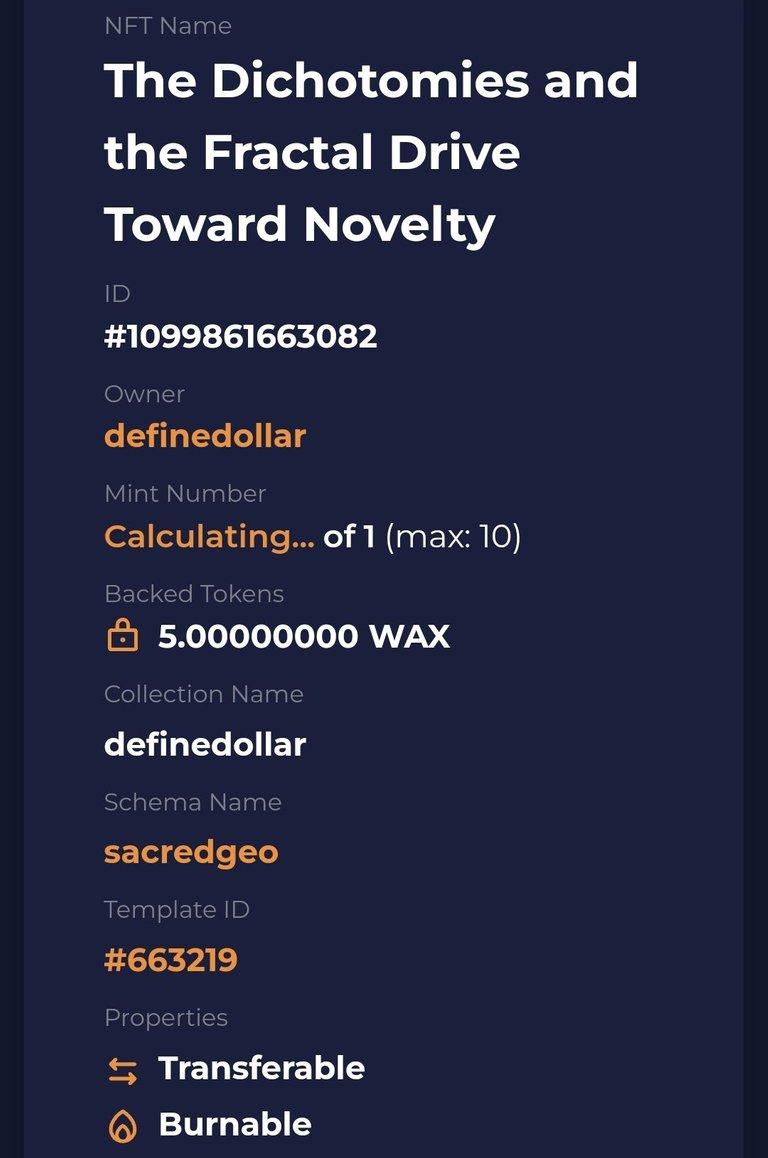 Later in the evening I recieved a message inviting me to a meeting of the Libertarian Party of Michigan Executive Committee tonight. I don't really even know how to explain the shitshow that's been going on (since I don't know the half of it) but the party is currently splintered and there are two groups claiming to be the "legit" party.
Anyway, one of the people (one of the most destructive) who has made their own party is the representative for my congressional district and there was a scheduled vote of no confidence to remove him and I said I would run for the position (I was the rep for this district for two years - last term - before all this happened, can't say I wasn't extremely disappointed when I lost the position to this guy by one vote 😭). I even ran for the State House of Representatives for the district, but only garnered two percent of the vote. (Although, I was drinking heavily then, probably could have done a better job with my campaign.)
I only made it like halfway through the meeting, though, before I'd had enough. It was wildly confusing with some of the people being on both committees (like one guy who's supposedly the district nine representative but claims to be the chair of the "legitimate" executive committee) and people just fighting back and forth like always...
Since I joined four or five years ago, we've literally accomplished nothing but fighting amongst ourselves and for as much as I wanted to get involved in the political process and agree with the fundamental principles of the Party, I've found it to make my stomach churn and aggravate me.
I said as much to the Chair (maybe? 🤷‍♂️)...thinking it might be time to disassociate altogether, although I do like the direction the National Party is going with Mises Caucus having taken over leadership, so that's a tough decision. It's kind of hard for the party to go in a direction I'd be happy with if I (and others of like mind to me) all step away leaving only the yahoos (like James Weeks, the guy who stripped naked at the National Convention a few years back...yup, that was a Michigan guy 😡) behind (although, I believe he has since left).
By the time I finally got fed up and quit out of the meeting, it was already nearly eight thirty and I put on The Nut Job since we still don't have any internet to watch TV (been out since fricking Thursday 🤬) but, as usual, didn't make it the whole way through before falling asleep.
[Dang, got too much to say today...not even close to done and it's posting time. 😱 Yay! I came back and started editing right away so I didn't get distracted and leave it half done.]
---
Splinterlands:
Woot! My Splinterlands rental income was up over two dollars for the second day in a row and popped all the way to two dollars and eighty cents! 🤑😯
Still haven't gotten those new cards rented out, need to take care of that, but super happy to have that boost coming in.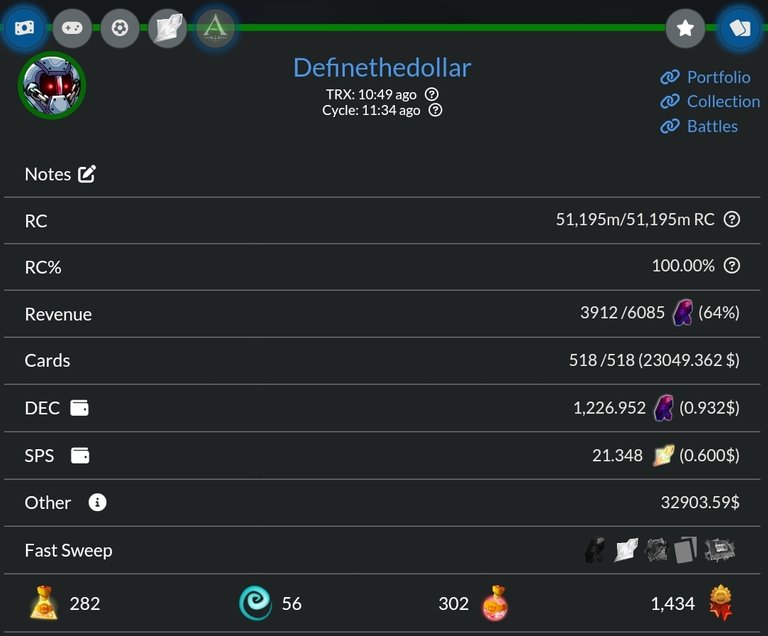 Claimed my interest for the day, paid the rental fee (which was killer at nearly ten SPS), and having staked for three or four days, left the rest to save up to swap.
dShitty:
Hot damn! dShitty paid three days in a row now?! I'm straight up beside myself with what to do with all this newfound wealth.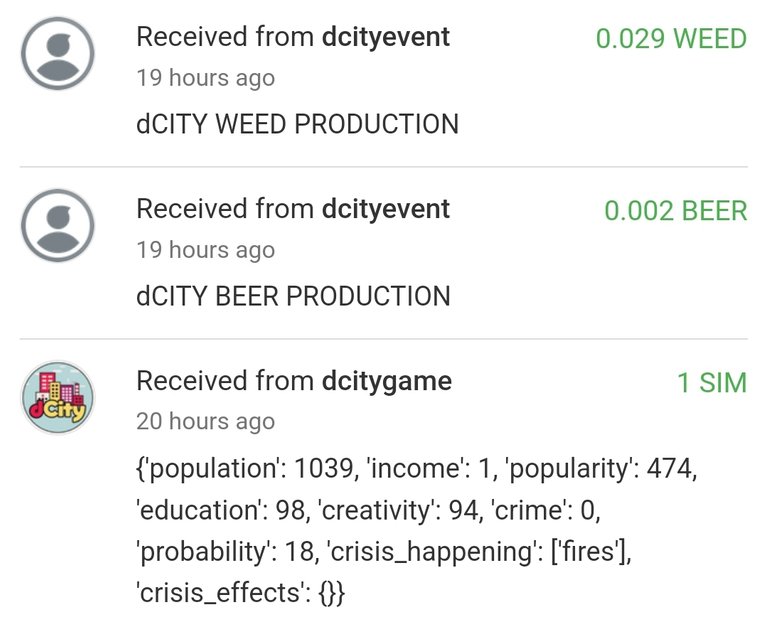 RS:
Been pounding Rising Star missions for the past few days, so it wasn't too surprising that my Ego started to grow. Got a lesson going to get it back to zero and then we keep going again.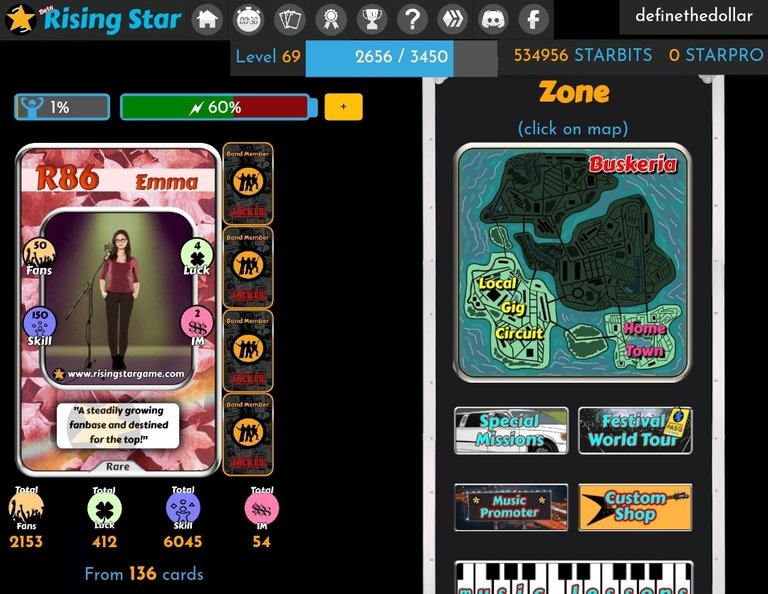 HK:
I guess, since I qualified for all the Pizza giveaways this week, there's a possibility my BUDS balance may change...for now, enjoy this pic from like three days ago. 😜

GLX:
Still been sticking with thirty-five swap and the rest staked. I'd actually forgotten to do the swap yesterday, so I had double for today, but it's already gone out to WAX.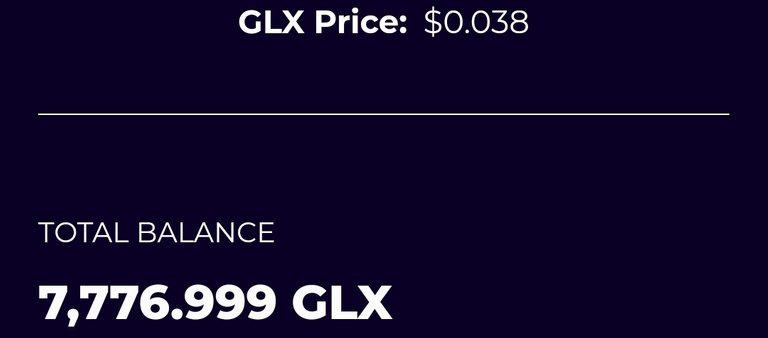 WOO:
Did my usual stake and delegation rewards claim for today, no mining rewards, and got the four from the airdrop.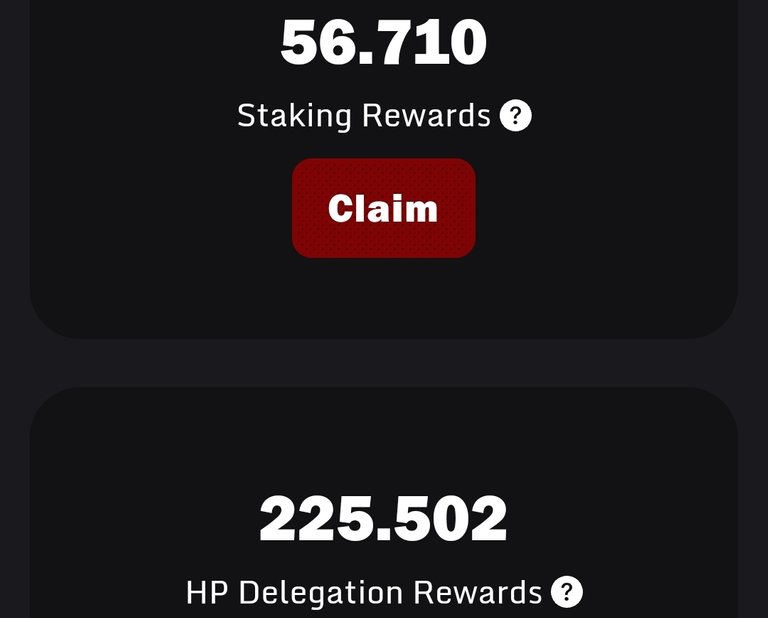 Still haven't been able to bring myself to open either of those land packs I got. Maybe I should just take my chances on one of them and just accept what it is...never know, might be a good one, and then keep to my plan of upgrading that one. 🤔 I suppose I could get some "passive" income just by selling them off right now and staking the HBD, but that somehow seems silly.
CCCEO:
Man! Another week, and once again I'm disappointed to find that I have not been able to achieve the next CCPower tier. Seems like I put at least ten more HIVE into this this week all the while building SQM from the pool, but still not there.

I've been wrestling with myself quite a bit about whether or not to delegate. I have a strong feeling that it's OP in the calculation and would jump me up significantly. I guess the major hangup is my less-than-altruistic motives, while I would like to help the project grow and succeed (and I know they're using that VP to reward community interaction and promotion), but it's a little hard to justify with benefits that are in a game that doesn't quite exist yet (at least I don't have any kind of access to it).
---
Average Last 7 Days: 10,470
Lifetime Average: 14,430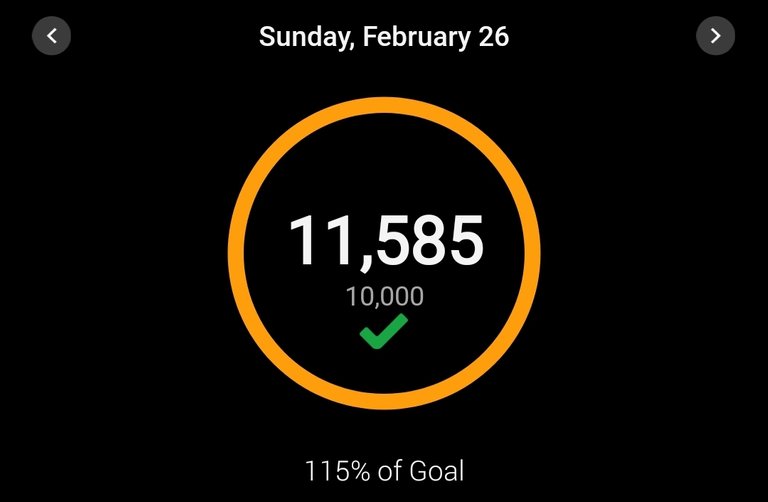 10k per Day Streak: 1

Longest Streak: 204
Distance on shoes: 1314.71 km
Distance on hikers: 67.07 km
#AutomaticWin Tally: 425
#AutomaticWin Streak: 0
Longest Streak: 53
#TripleTen Tally: 118
#TripleTen Streak: 0
Longest Streak: 7
#DoubleDay Tally: 236
#DoubleDay Streak: 0
Longest Streak: 37
Highest Floors: 120
Highest Daily Steps: 41,528
Zombies evaded: 0/0
Mindfulness Diary:
Health: 87%
Satisfaction: 88%
Energy: 89%
Productivity: 86%
---
Referrals: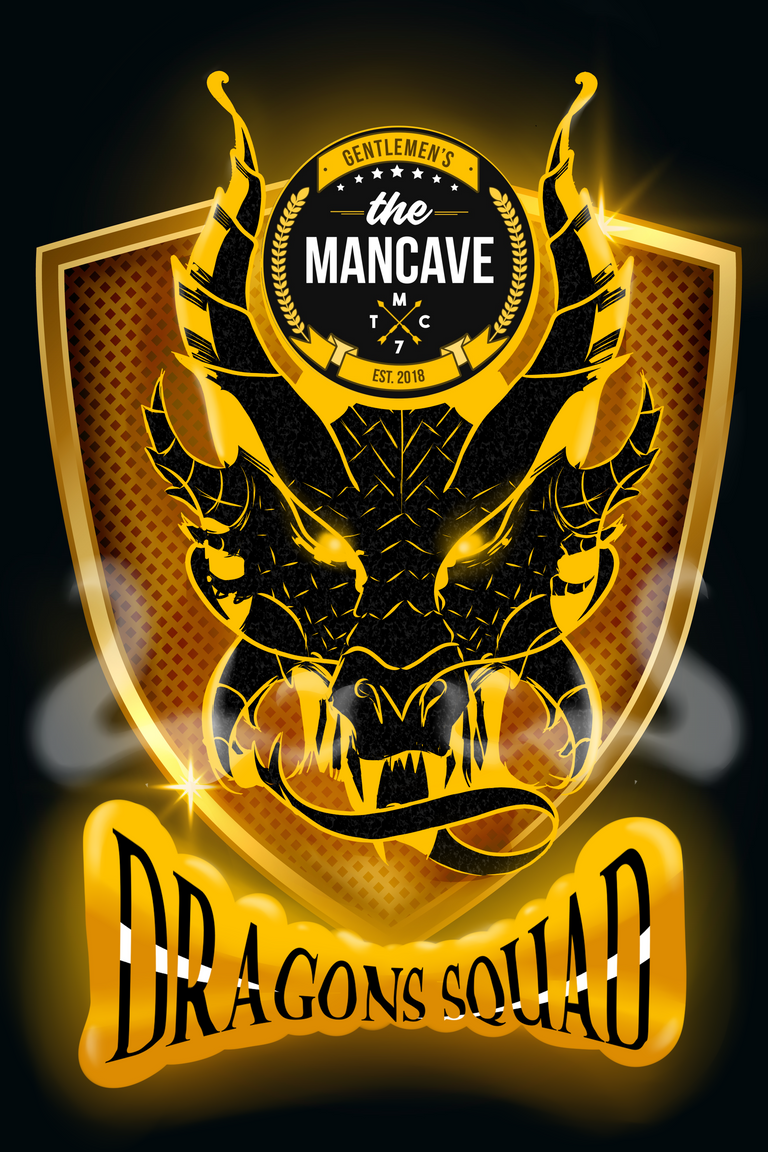 Power up and Hive on!
---
---