Feb. 4, 23: Routine, PIZZA Events, Oculus, New PIMP Server, TV, and Games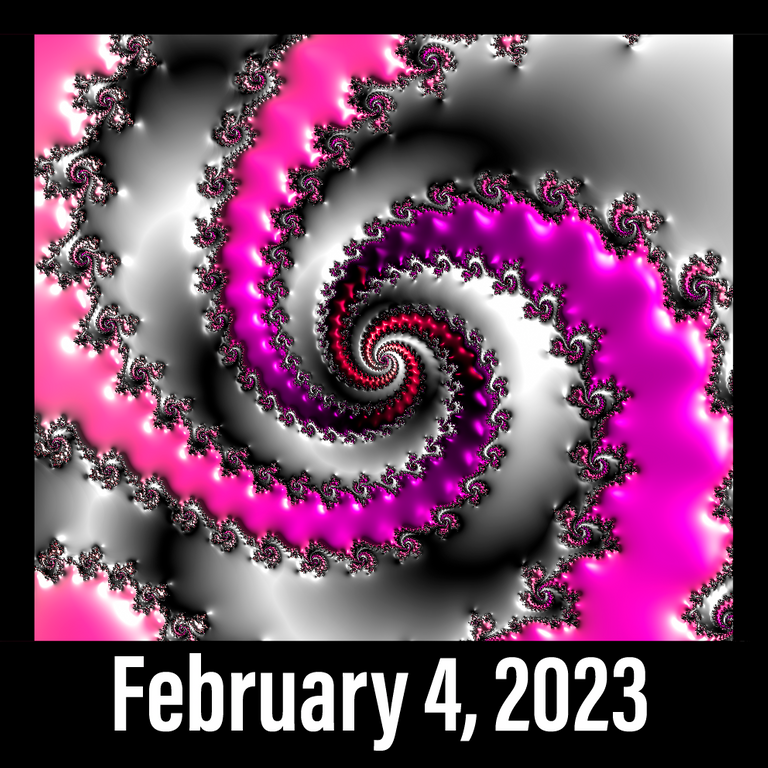 Fell asleep watching TV around nine last night and woke up about an hour later and went to bed properly. The cat woke me up howling around three-ish and then the dog got me up needing to go out (and I just got up) at four. 😢 That put me about forty minutes short of my eight hour goal for the night, but despite my general lack of motivation, I haven't been dragging really lately.
Did the usual morning routine super duper early and got a solid start on my post. Did some token shifting and took care of the outstanding Solairitas things I was behind on, did a bit of curation, checked email, and sent my Wombat into the Dungeon.
Speaking of which, I've still been doing the button clicky-clicky this season, but I didn't buy the season pass. That means that whatever I can earn this season (which, honestly, isn't looking like very much at all, at least at this point, there is still a month left, though) will be able to set against the expenditures of the last two or three seasons to hopefully start digging myself out of that hole.
Their biggest mistake, in my opinion, was burying the Cashmere Wombatium too deep in the Well of Wealth.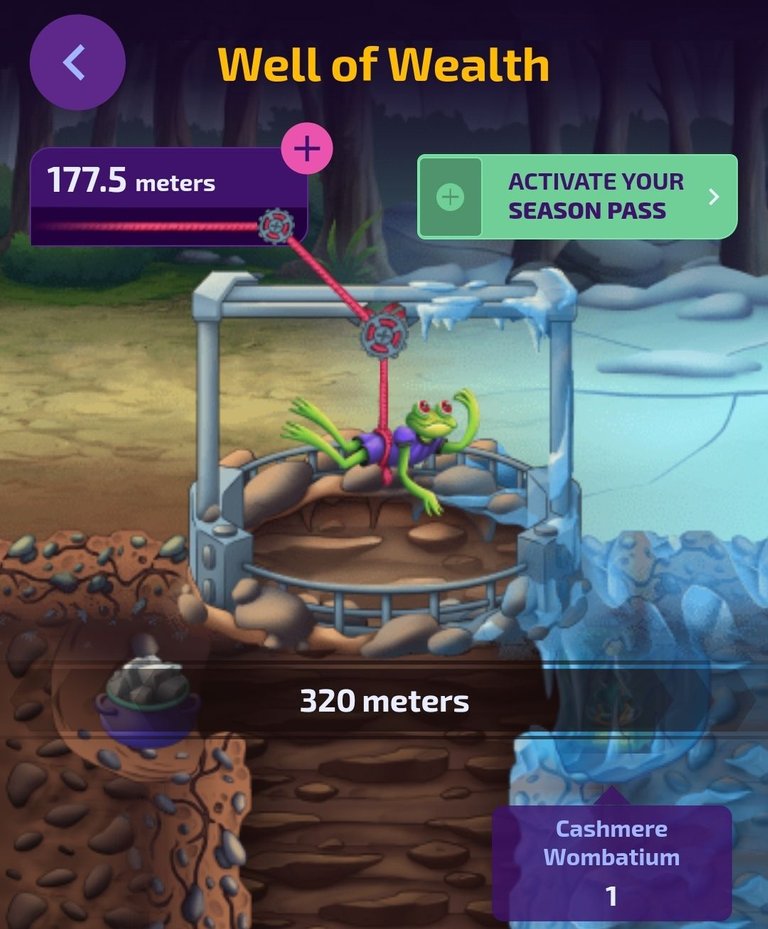 The market value of that card was what allowed me to justify buying the season pass before, but now I can't get to it, so no justification. 😡
The fact that a very select number of people are taking a huge proportion of the season rewards leaving very little for the rest of us is another huge mistake, but the players are playing by the rules, so I don't think there's too much they could do about that anyway.
The crypto markets weren't looking too bad this morning! Got some decent greens, and even though BTC was down, it was only just slightly. Of course, the elephant in the room is that massive forty percent rise in HIVE!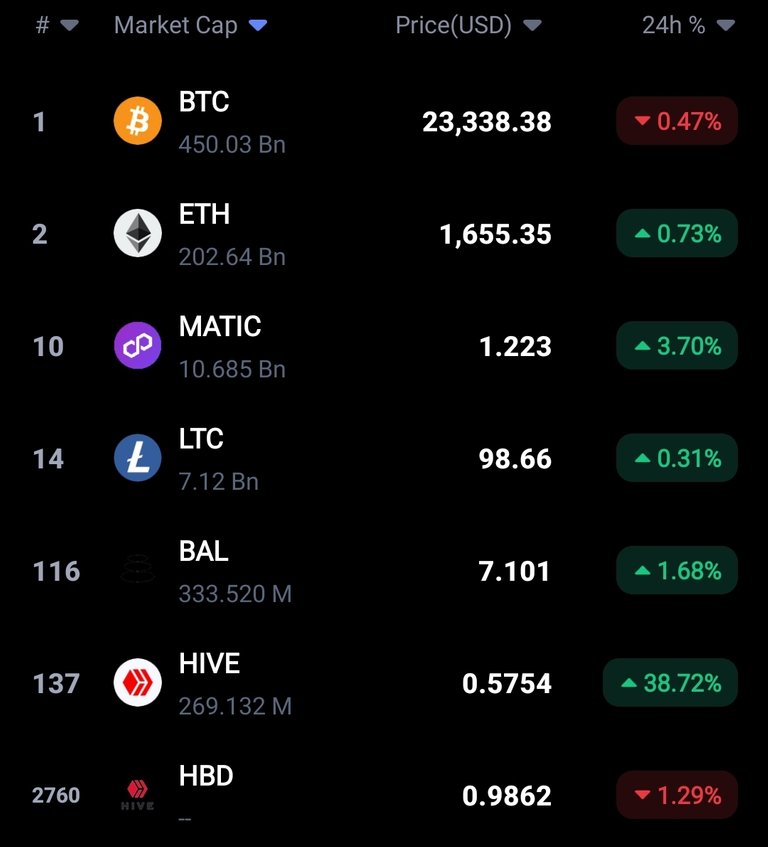 So far we've held up from yesterday's pump, but I'm still looking for it to give it all back in the next couple days, call me jaded.
In other news (although it was later in the evening), the PIMPs have now outgrown the channel in the Alliance Discord and have graduated to their own server now! 😀💪 Our pimp-hands are getting strong.
History shall remember my legen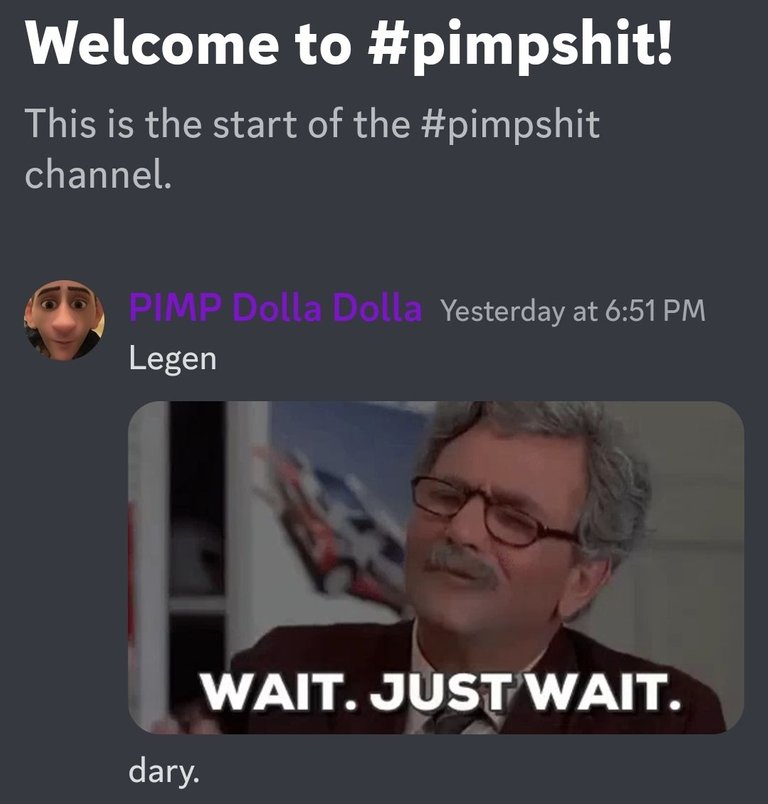 dariness.
Witty has been really successful at having projects come in and talk with us, and kind of the whole idea is all of us looking for things to invest in, so it's good; benefits everyone (except, seemingly, my pocketbook 😜).
Sooo, once I got done with my post and got it published and shared, it was time for Gartic and Trivia over on Pizza Discord. 🤑🥳
We did fairly well on Gartic, but didn't get close to pushing a new record, and while Trivia started off really rough for me (got like the first ten questions wrong), it got better as we went and I was able to stake up about nine PIZZA. 🤑
I do have to say again that their philosophy fits right in with what I was looking for when I came to Hive in the first place (other than a feeless chain to make a game) which was a way to participate and earn crypto rather than just buying it off a market and sitting on it...that has its value, but I wanted something else.
Engage to earn is the whole idea over there, and they stick to it pretty darn well! Not only do I have fun joking around with people and doing the events, I have quite a lot to show for my time as well...NFTs, PIZZA, and all kinds of other tokens too. 👍
Once the events finished up, I was at a bit of a loss as to what to do with myself for the rest of the day. I know what I should do, but still, nope. I got an early lunch and vegged out watching YouTube videos for a while.
Felt like a bump on a log, so I cleaned up in the kitchen, did the dishes, ran the dishwasher, and grabbed a shower for what that was worth and then jumped into VR for a bit.
I played some more of The Last Clockwinder, but I'm very stuck at the moment in two ways...for one, I can't figure out what to do next, and I clipped into a piece of furniture and when I restarted I was still stuck, so I think this whole run is borked and I'll have to completely start over. 😭😡🤬🤬🤬
Got a bit frustrated and upset with that and decided to do a couple of the easier versions of one of the new puzzles on Puzzling Places. Got through the first ones up to the hundred piece version, but the headset battery started barking and I quit out.
Was trying to find something to eat for dinner, but just couldn't decide on anything. Ended up toasting a hamburger bun and then had some crackers with cheese and summer sausage...got groceries to do tomorrow, so I suppose I should grab myself something to make for dinner the next couple days. 🤔
I watched the new movie from B.J. Novak (the guy from the Office) Vengeance, about a podcaster investigating his hook-up's murder. It was ok, very heady and all up in its own ass, but at least somewhat self-aware of that fact. Unfortunately, it wasn't compelling enough to keep me awake and I missed the second half of it.
The cat woke me up howling at like ten or something and I got up, got ready for bed properly, put on Letterkenny, and fell back to sleep.
---
Splinterlands:
Yay! My Splinterlands rental income went up by thirty cents today. 😁 Was still only a buck thirty, though. 😢😆 Even so, been siphoning off all the liquid I can into other tokens/projects, so while of course I'd like to have more to play with, I can't be too sad about it...actually, kinda' happy with my four-year-ago self for taking a punt on this in the first place (nevermind the monstrosity it has become in the meantime).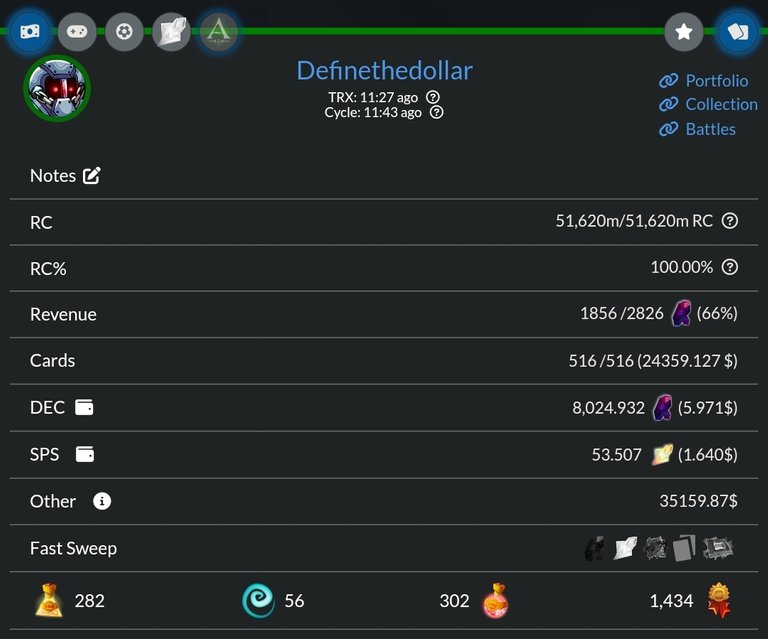 Claimed my SPS interest for the day and paid the rental fee (which does put quite a damper on my liquid saving rate) and kept the rest liquid. Seems as though it used to take me three days to get to a hundred, now it's more like four or five. Something to look forward to anyway (especially since I've nearly plowed through all my dry powder again already 😱).
dShitty:
I thought combining my dShitties had fixed this ridiculousness, but apparently not. 🤬 Can't fix stupid, so they say.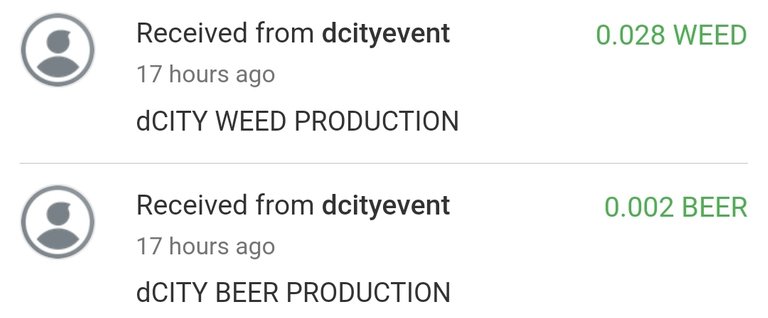 RS:
Seems like I only ran the one mission today on Rising Star and then, since my Ego was at one percent, switched back to a lesson to get it back down...wish there was something new or interesting to say about this game, but there simply isn't.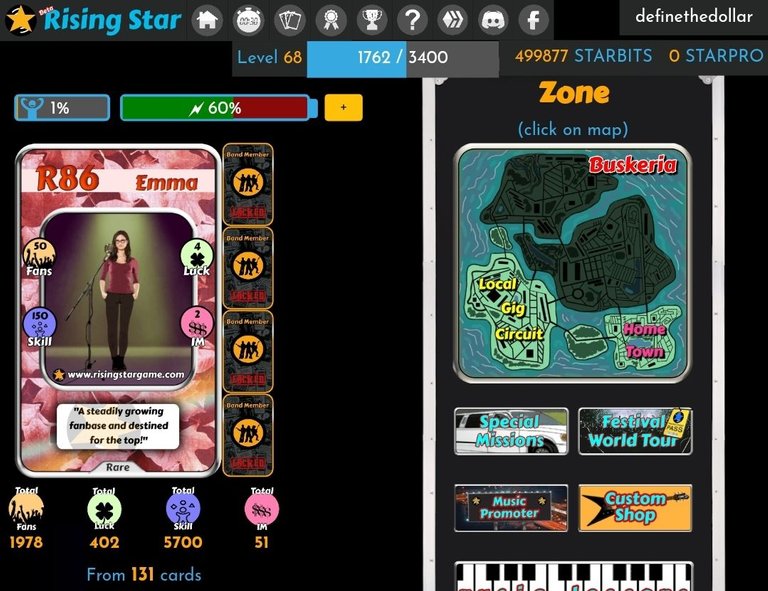 HK:
Need to try and go back and figure out how much I've actually spent on HashKings...bought BUDS, WATER, MOTA, and some plots as well as several joints (although I mostly spent BUDS on the joints I think). The rest of what I have came from Pizza giveaways and trying to play for a little while.
Might not be that much at the end of the day, maybe thirty or so HIVE give or take, but whether I can even come close to that dumping everything out is a different question (certainly can't recover on the MOTA at this point, but maybe selling off the seeds it generated will balance 🤷‍♂️).

GLX:
Swapped out my usual forty GLX today for just over two HIVE...already spent on more CCD. (Going out as fast as it's coming in!) 🤣

WOO:
Was a little disappointed, to be honest, for two reasons. They did fix the stake rewards, which is awesome, but they didn't make good on the whole last day's worth ☹️ and the delegation rewards are still completely busted. 😡
I guess HiveSQL has been having some troubles the last couple days, so I guess that's what's affecting it, but doesn't mean I don't lose out because of something beyond my control.
Oh, well, I suppose it's everyone, so hopefully I'm not falling any further behind (outside of the mining rewards that are clearly going elsewhere other than my balance 😛).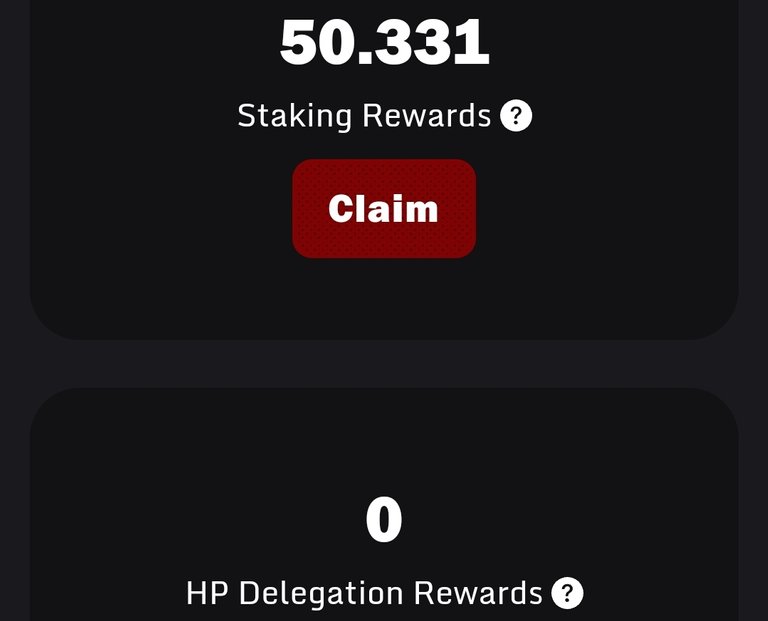 We've got the land sale coming up here next week, so it will be exciting to see what happens with all that! 😀
AR:
We got our weekly STELLARUM drop for holding ASTRA. 🤑 I didn't actually buy any more ASTRA this week (been kind of focused on CCC), just resting on the 5k I've got...can't forget I already also paid 10 HBD for a starter pack that doesn't exist yet, but I haven't lost any faith at all.

Hard to know at this point how much STELLARUM is going be needed in the game (so I have no idea if I'm accruing enough for any significant advantage at launch) but I'm definitely more than zero, so that has to be a good thing, right?
---
Average Last 7 Days: 10,727
Lifetime Average: 14,488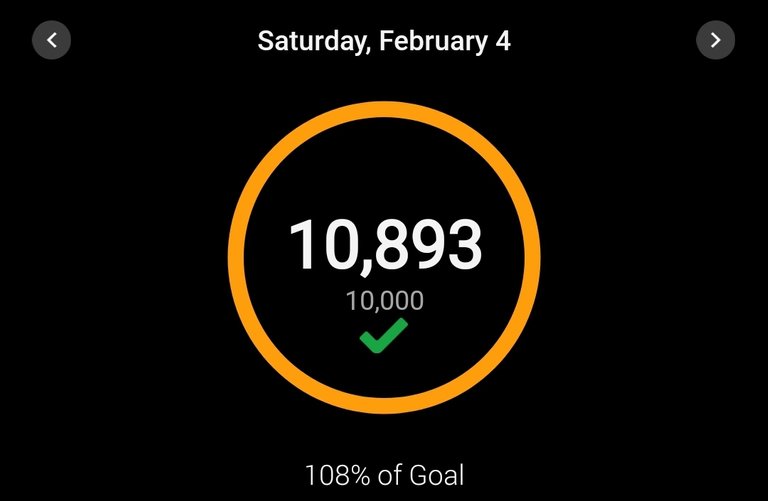 10k per Day Streak: 118

Longest Streak: 204
Distance on shoes: 1296.57 km
Distance on hikers: 67.07 km
#AutomaticWin Tally: 425
#AutomaticWin Streak: 0
Longest Streak: 53
#TripleTen Tally: 118
#TripleTen Streak: 0
Longest Streak: 7
#DoubleDay Tally: 236
#DoubleDay Streak: 0
Longest Streak: 37
Highest Floors: 120
Highest Daily Steps: 41,528
Zombies evaded: 0/0
Mindfulness Diary:
Health: 90%
Satisfaction: 87%
Energy: 92%
Productivity: 69%
---
Referrals: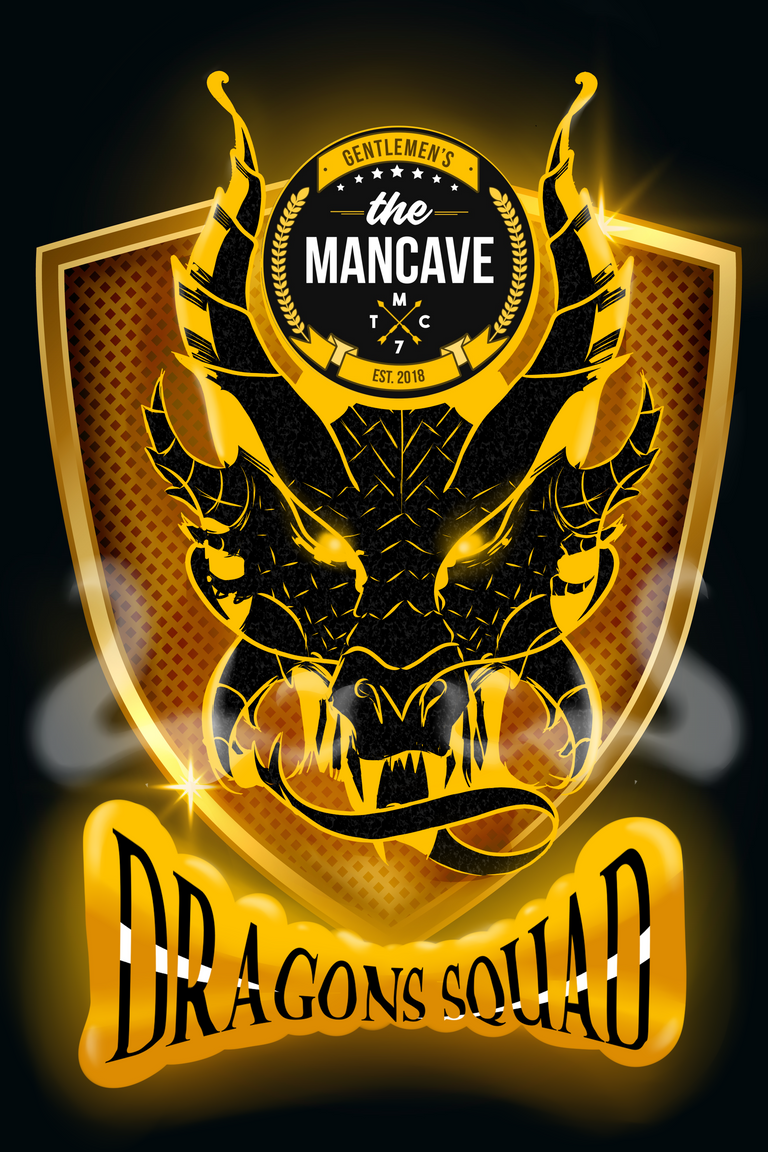 Power up and Hive on!
---
---