Feb. 5, 23: Routine, Grocery Shopping, Laundry, Oculus, Cartel AMA, TV, and Games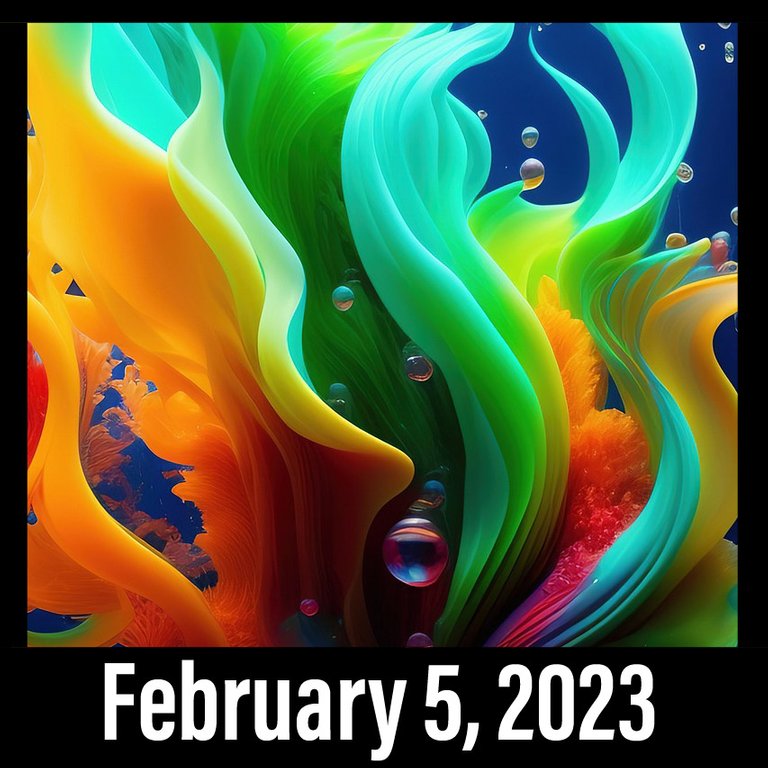 I fell asleep watching Vengeance around eight thirty last night but the cat woke me up around ten thirty and I got up and got ready for bed properly. It's been getting rougher the last couple nights, though, as I seem to be waking up more or less around four. Between me needing to pee and the dog wanting to go out, I've just been getting up. Only ended up about half an hour short of my eight hours, so not too bad, but I don't really need to add tiredness to my already extremely low productivity.
Once again got a wicked early start on the morning routine...hard to even kill time chatting on Discord when there's barely anyone around since it's the middle of the friggin' night. 😡 Even so, getting the usual morning stuff done takes some time and I had enough to do a bit better job at getting my wallets cleaned up and tokens all staked or sold off. Went to check the crypto markets and...
So it begins, eh? The crypto markets were pretty much stable and slightly green basically everywhere except here comes HIVE with a sixteen percent loss...still around fifty cents, and would be nice if we can hold around here again at least for a while, but I won't be surprised if we see another twenty or thirty percent down day. Pump and what again?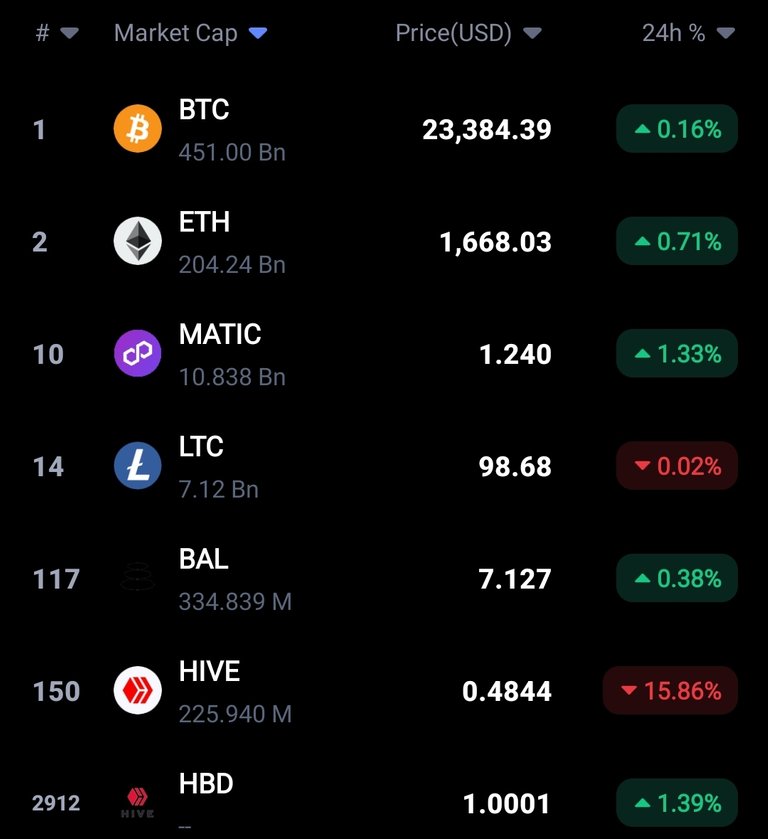 We were coming up on the end of the week and I figured I was good on my message count after Gartic and Trivia yesterday, and sure enough I was able to qualify for twenty-six giveaways this week! 😀🤑

Got a pretty epic sixteen hundred word post done and was even a half hour or so ahead of posting time, so I set an alarm to remind me to post at ten and headed in to get the grocery shopping done early as well.
Not too bad this time, think I was just over a hundred bucks, but I got some extra stuff (like two packages of turkey rather than one) since I had some coupons, so pretty good. 😁
Got home, put everything away and gave the animals their lunch; they were definitely done waiting for me. 🤣 I got myself some lunch as well and then realized it was Sunday and there was some laundry to do and I set that going.
Jumped into VR for a little while to try and pick up where I left off with The Last Clockwinder. I had the brilliant idea of switching the movement setting to "teleport" instead of "smooth" to see if I could unglitch myself from the object I'd clipped through and got stuck, and it totally worked! Yay! I don't have to scrap the entire run. 😃
I am a little embarrassed, though, that I did have to go online and look up what to do next. I couldn't figure out any way to touch the water droplets without causing them to break other than trying to hit them with another piece of fruit...while that may have turned out to be a clever (not by design) solution, the droplets were too hard to control that way and I only happened to get one in the goal by accident.
I should have realized, though, since there were stick pieces in the room, that you could poke them with the stick and then throw it. 😡 Oh, well, armed with that tidbit of knowledge I was able to progress through the next several puzzles until the headset battery started barking again.
Seems like that battery isn't lasting very long any more (although it was never terribly long to begin with); either that or time just flies when I'm in there, which is just as likely.
I do have five CARTEL (well, Solairitas does) and have entrusted them with some funds for the WOO land sale coming up, but beyond that I've only really been peripherally involved. When I quit out of VR and hopped over to Discord, I saw that their AMA was going on and figured I'd stop by and see what all is going on.
There was a teaser of the possibility of some Cartel NFTs that might give the holder/staker a share of the funds from the associated project, be it Splinterlands or CCC or Rising Star or whatever. Certainly seems like a neat idea to me...I'm all about holding assets for passive income!!! 🤑
Finished up with the laundry and decided to make myself a massive bowl 🥣 of chili for dinner. I got it at the store today and it was actually meant for a whole family, I think, at least two people without a doubt. 🤣 Didn't think I would make it through all of it, but you can ask all the barking spiders whether I did or not. 😜
Trying to remember now what movie it was that I put on...I know I did, and it wasn't terrible, but I can't think of a single scene let alone the title, so it couldn't have been that good.
Once the movie finished, I spent a little time trying to mentally prepare for the upcoming classes this week, got a new PIMP footer put together for my daily posts, got a bit of a headstart on this post, then got myself ready for bed, put on a little Letterkenny, and fell asleep before the episode was over.
---
Splinterlands:
My Splinterlands rental income was up slightly again today to a dollar forty. Seems like, maybe, it's lagging trying to hold more or less fixed while HIVE does its gyrations? Seems like SPS is trading counter. 🤔
Thinking it's about time to pull that DEC out. I'm not scraping the bottom of the barrel at the moment, but I seem to have an endless thirst for game tokens, so let's keep turning one into the others.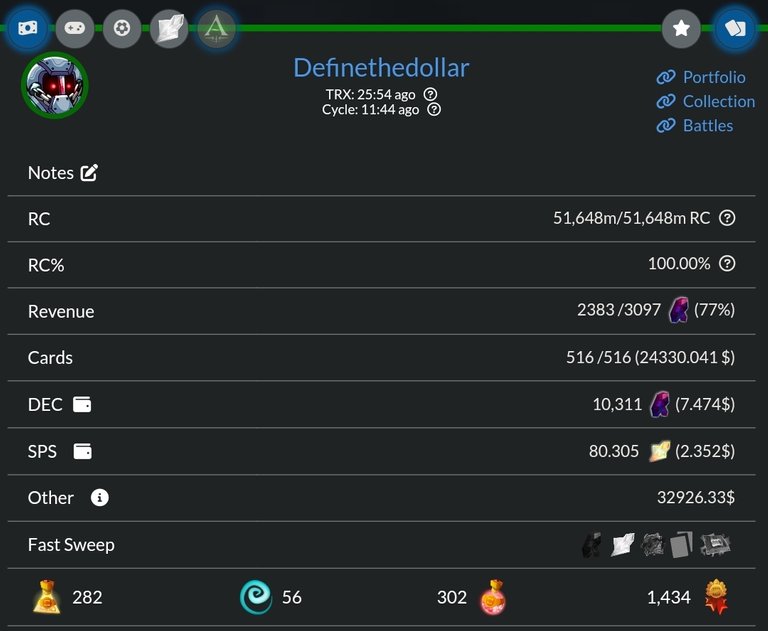 Claimed my SPS interest, paid the fee, and left it liquid. Hopefully one more day and I should be above a hundred. I checked on my vouchers too...I could stand to swap a few out, but I don't know, can't be bothered yet, maybe when it's closer to fifty.
dShitty:
What's this now, five, six days without paying a single fucking SIM?! dShitty, for real, has no point or purpose.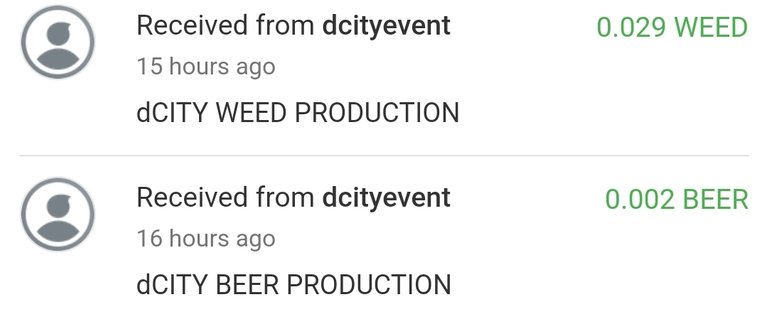 How successful has this top-down, supply-side control been? Pretty clear they need to do a lot more of the exact same thing, since it's working so well: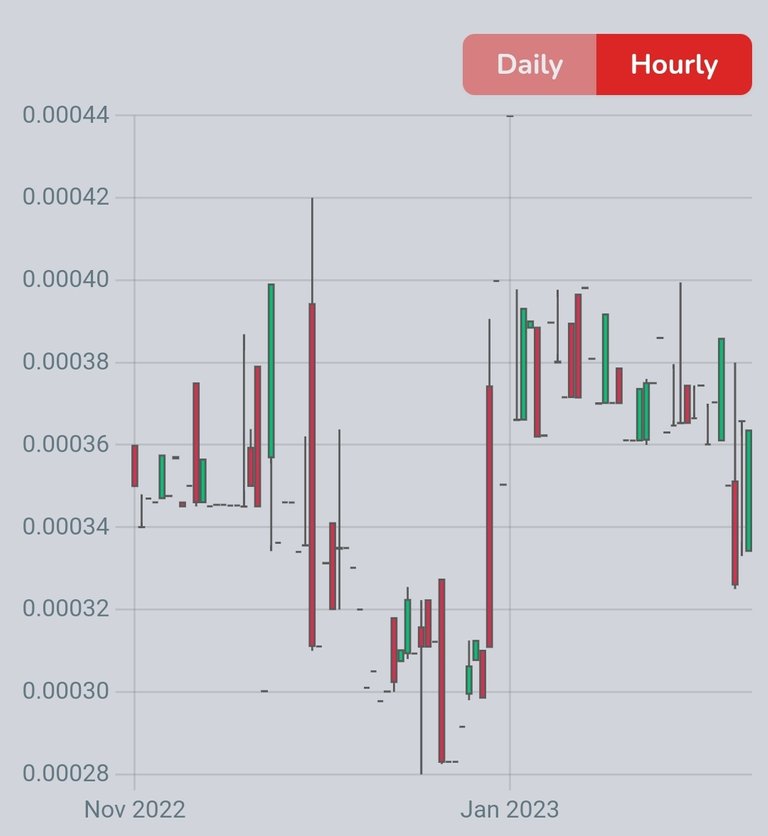 RS:
Not only did I remember to run an extra mission on Rising Star today, something actually (sort of) happened! I'm halfway to millionaire! 🥳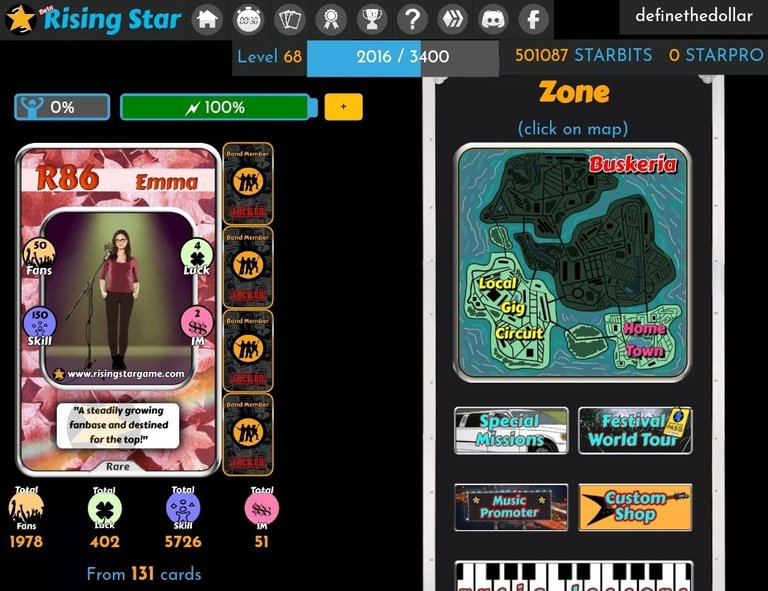 HK:
Meh, don't even care enough about HashKings to badmouth them today.

GLX:
Not sure whether the rate has declined or they're getting spread further out or what, but my drop does seem to be less and less. 🤷‍♂️ For now, though, I've stuck with swapping out forty per day and staking the rest (but that'scloser to thirty than forty now).

WOO:
Guess I just have to let that day's stake rewards go...good that they're back to normal now, though. Unfortunately, there's still no stake rewards (or mining rewards but that's a different story). Seems weird to me, the amount I'm delegating seems to be there just fine, as well as the percentages and everything, so if they have that info what's the holdup?
This is one of the troubles with pretty much every project on-chain...they rely on someone else's systems and so their stuff breaks any time anything goes wrong or gets changed. I feel guilty trying to design Mythix wholly independent...like I'm isolationist and would rather reinvent the wheel than play nice with others, but when you pay H-E and H-E breaks (for example) what you gonna' do other than wait and hope for them to fix it and say that it's not your fault and it's out of your control?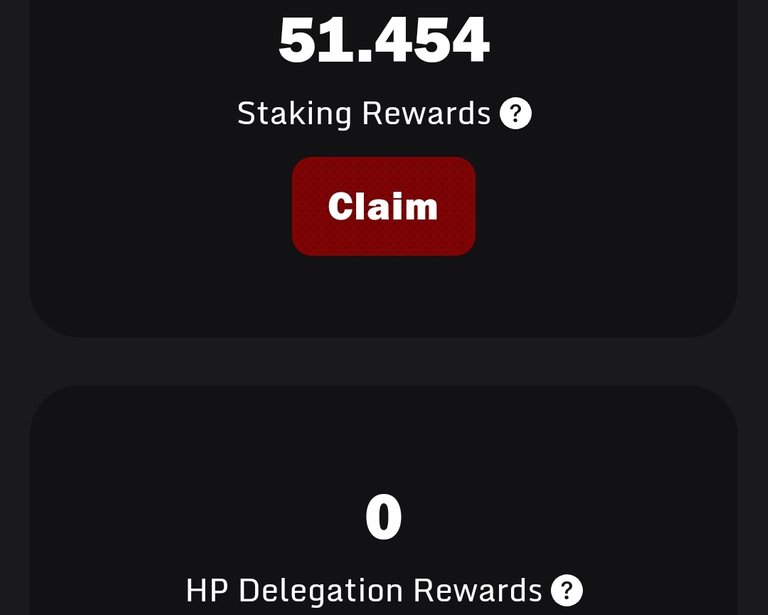 CCC:
I went in this morning and snagged ten thousand more CCD, but didn't catch it in time for this week's snapshot. I'm getting close to outpowering PowerPaul himself, though, woot! Cartel has like 200 SQM, so sounds like they're looking to build a hangout in there as well. 👍

---
Average Last 7 Days: 10,665
Lifetime Average: 14,485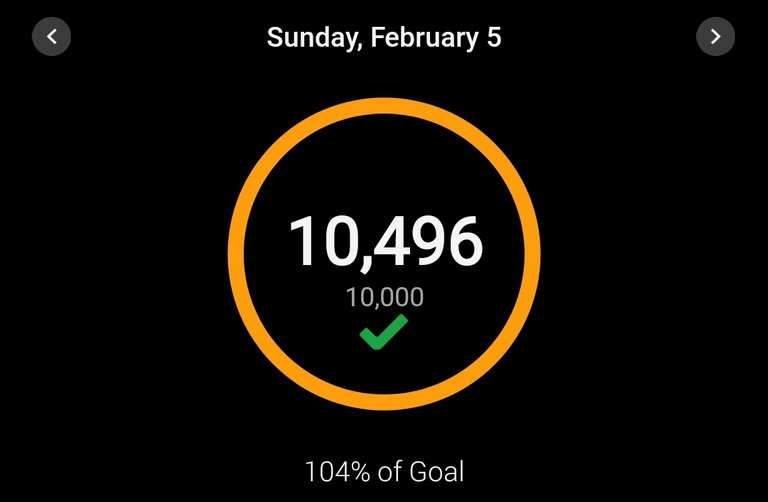 10k per Day Streak: 119

Longest Streak: 204
Distance on shoes: 1296.57 km
Distance on hikers: 67.07 km
#AutomaticWin Tally: 425
#AutomaticWin Streak: 0
Longest Streak: 53
#TripleTen Tally: 118
#TripleTen Streak: 0
Longest Streak: 7
#DoubleDay Tally: 236
#DoubleDay Streak: 0
Longest Streak: 37
Highest Floors: 120
Highest Daily Steps: 41,528
Zombies evaded: 0/0
Mindfulness Diary:
Health: 84%
Satisfaction: 86%
Energy: 91%
Productivity: 78%
---
Referrals: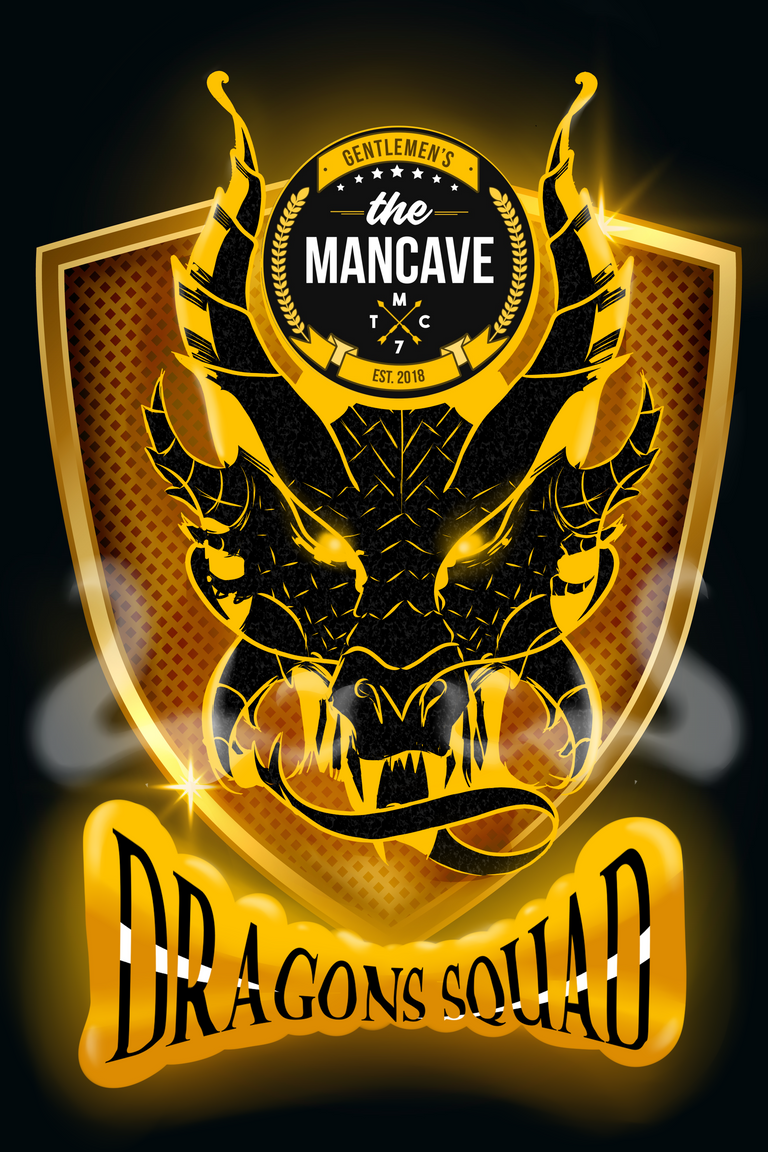 Power up and Hive on!
---
---