Jan. 25, 23: Routine, PIMP Meeting, New Whiteboard, TV, and Games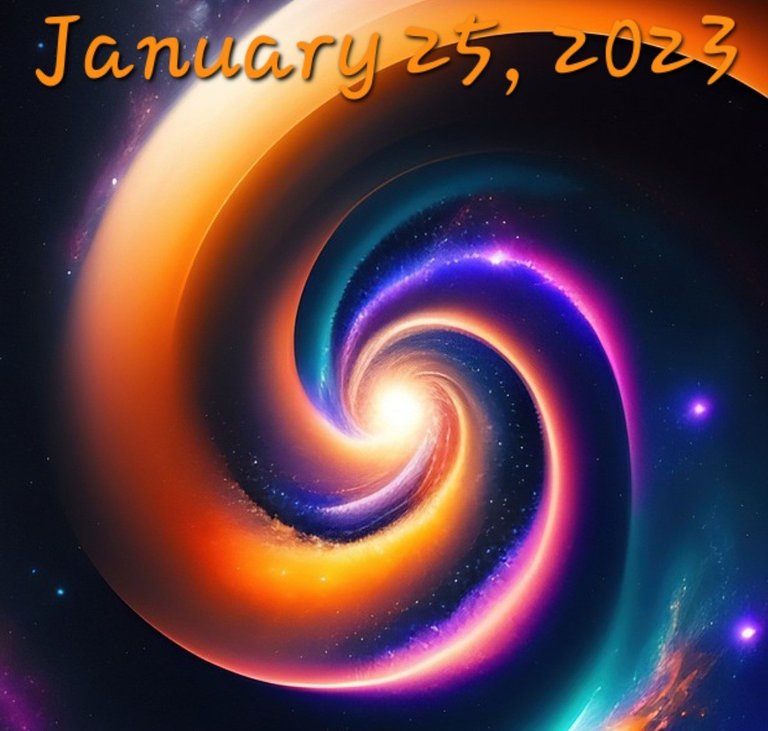 [Well, looks like the photo editor is completely borked now. 🤬😭 It gave me trouble before, but I was able to avoid the problem by saving the pictures as a copy...now it doesn't seem to work no matter what trickery I try. It will load an unedited pic no problem, but as soon as I change size or add text it uploads as a broken link...I think it has something to do with the fact that the original image is still saved with it (can revert to original) saving as a copy got rid of that before, but isn't working now. After between literally ten and fifteen attempts, I finally tried a different editor and it uploaded fine. 🤷‍♂️ Sucky that I have to dig out the other app just to make my cover photo, but whatever, as long as it works...been working through proofs this morning preparing for class as well, so running a bit short on time now even though I was up early again.]
Was woken up several times through the night, but I think I actually made it the whole way through in bed. 😯 Still, slept from eight thirty until five and got my eight hours. 👍
Got a fairly early start on the morning routine (which was good, since we had our Pimp meeting this morning) and found the crypto markets in a bit of a downturn...not any kind of major move, but erased some of the gains, anyway. That five percent loss in MATIC is particularly painful and I didn't even want to look at my Polygon investment today. The fact that ETH fell as well takes some of the sting off, but it didn't fall by as much, so I'm still losing more than before. 😭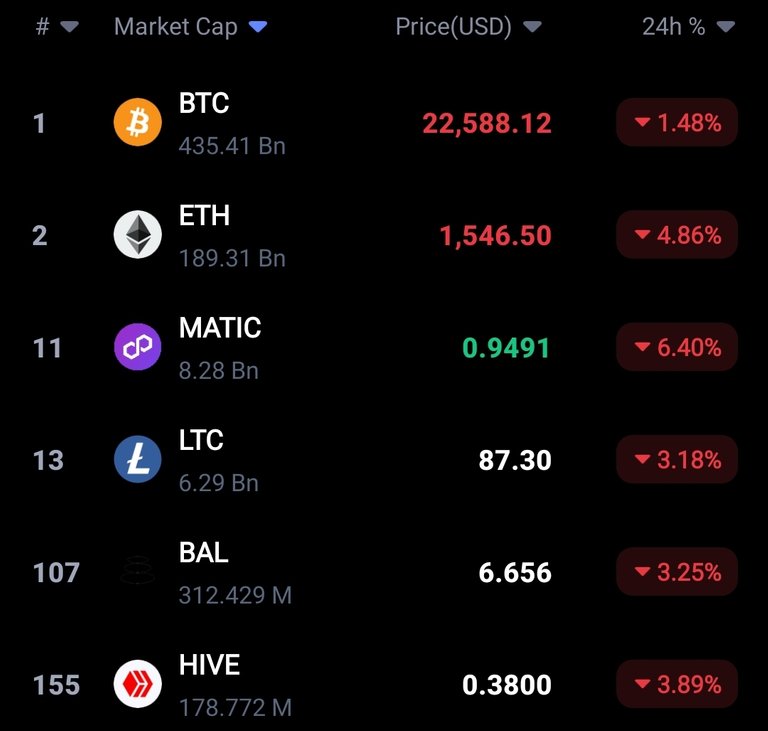 Worked on my post, of course, and got it done in time to head over the the Pimp meeting in The Alliance discord. Had our usual chatty chat and then Ray came to talk with us about BRO and LGN. I'm still not completely clear on LGN, but I think they payouts are meant to be once a month, so that explains why there hasn't been another one.
I'm already a BRO dragon and am receiving LGN airdrop (which I'm giving to Solairitas) and I actually went in and bought some LGN off the market, so I feel like I'm already in a pretty good position with those...still itching to spend on WOO for some reason.
After I got my post published and we finished with our meeting, there was really only one goal I had for the day: get a whiteboard. I'd shopped some yesterday, but Wenche found one (the biggest that would fit) at Office Max in town (so I could go pick it up rather than waiting for it to ship from Amazon) and I'd decided that was going to be it.
It's forty-eight tall, so I figured with a couple inches for packaging side to side it would be around fifty or so...but the trunk opening was only forty-two. 😭 I thought about it for a while and devised a plan to shimmy it in the back passenger door, out the driver's door, and then back into the car. However, I was still not confident that that would work and I grabbed a bunch of ropes and bungie chords and a red flag from the hardware store. Figured I'd be running the risk of getting pulled over, but I was determined to get it home one way or the other.
Drove into town, looked at the stock, and couldn't find it. I tracked down a sales representative and she looked up the number for me that I'd kept on my phone. Turns out they did have 40 in stock...at the warehouse. 😭 was looking like my drive in was going to be a total bust, but she checked and they had a magnetic one that size.
Only trouble was, it was seventy bucks more (like $220 😱) and I didn't really want to pay that much for magnetic that I don't really need...she said she'd ask her manager if she could match the sale price of $150 I had quoted on the website (for the other kind) and I said that if she matched the original price of $181 I would be perfectly happy with that and she said she could do that right now, so we had a deal. Pretty sweet that I got the magnetic one for forty dollars off, but then I kinda' kicked myself for talking myself out of another thirty bucks off. 🤣
When the guy brought it out, though, it as painfully obvious that there was absolutely no way it was going to fit in the car, so alright, plan B. Took me a bit to get it tied and strapped down to the roof of the car, but it wasn't going anywhere and I set off to take the slow back roads home.
Now, I didn't mention that it was freezing cold and snowing like crazy today (school was even closed it was so bad)...I mention it because the wind started to catch the board at around twenty miles an hour and I didn't want it pulling and straining and I had to hand onto it out the window.
Couldn't go much faster than thirty even hanging onto it, so the drive home took forever and my arm and hand were killing me. About half way my fingers hurt so bad I had to stop and take a break...they were so cold they were burning and it took a good five minutes for them to warm back up.
I did, finally, get it home, though, safe and sound. Of course, then the job began. One extra bonus, though, is that I got to remove those stupid outlets in the middle of the wall and deaded them off!
Took me a bit to figure out how to make sure it ended up hung level, but I remembered that Wenche got me a nifty laser level and that solved the problem bing, bang, boom! 😁
There was a lot more measuring and drilling than I had expected, but it's up and looks good. I'm a little disappointed that it isn't perfectly flush against the wall, but that's not really a big deal (and I could always just put a couple screws in if it bothers me that bad).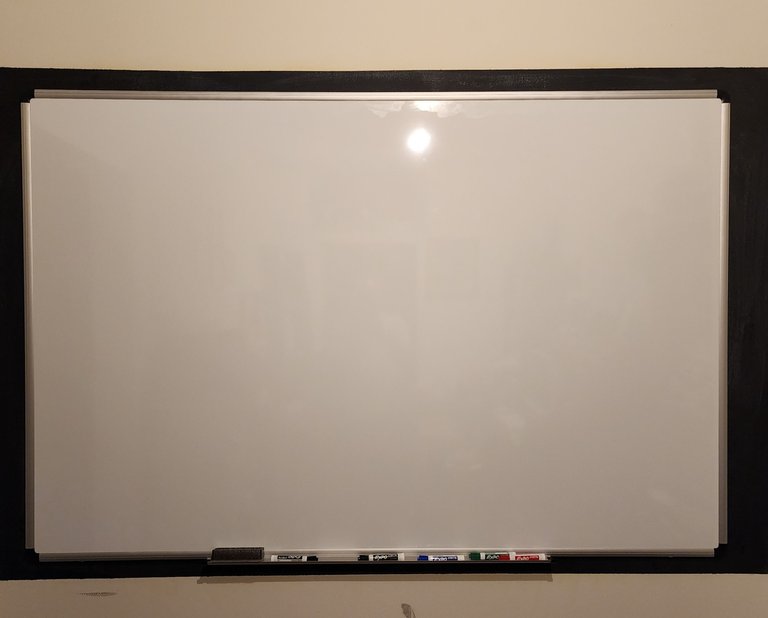 After Wenche finished with work, she made us French toast for dinner and we watched some Leverage. I worked on a bit of album art (up to the "the m's" now), got a little head start on this post, got ready for bed, and fell asleep pretty early.
[Woot! Fifteen hundred words and twenty minutes to spare before I have to start getting ready for class!!! Glad I fought with the photo editor last night, would have wicked stressed me out this morning of I hadn't.]
---
Splinterlands:
Hooray! I did at least get a bit of a bump in my Splinterlands rental income today. 😃 Not by much, but I did hit a dollar eighty, which is significantly higher than it has been lately.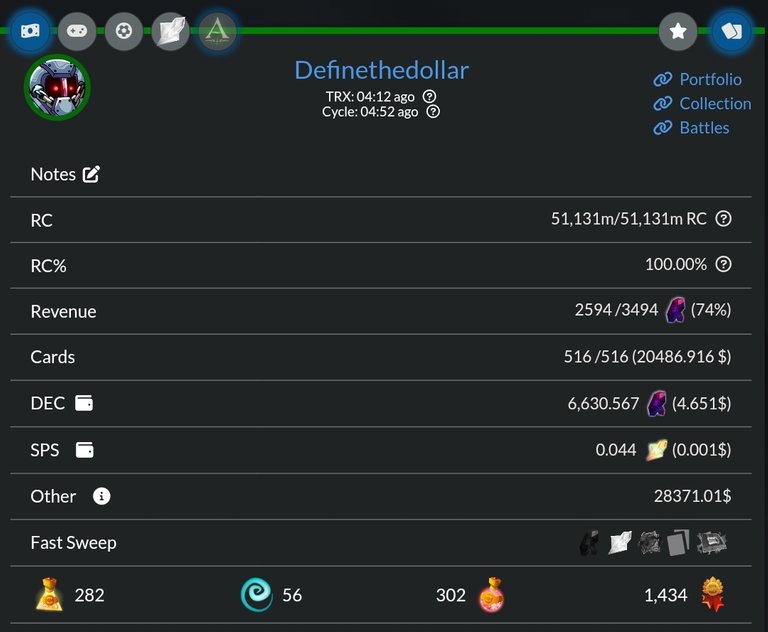 Did my usual SPS interest claim, paid the rental fee, and staked the rest. Pretty sure this was the third day of staking, so I guess it's time to start saving some liquid again.
dShitty:
Eleven SIM certainly isn't going to keep the lights on, but it's better than the zero I was getting from dShitty...happy with eleven when I should be getting over four hundred? Man, how the mighty have fallen.

RS:
I'm surprised to be able to say that I remembered to go in on Rising Star twice today. My energy had refilled through the day and I got an extra mission in there. Finally broke up into the next level as well, so while it's agonizingly slow, I am making some kind of progress.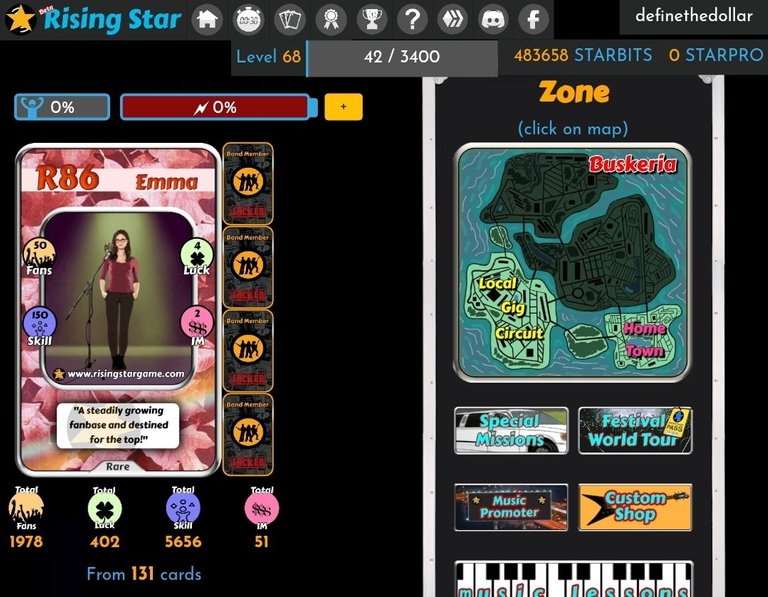 HK:
Might as well suck HashKings for a few words in my post, since that's basically all it's worth. Not really sure why I'm even bothering to hang onto this; should just dump everything, lick my wounds, and walk away lesson learned.

GLX:
Pretty happy with where I'm at with this one. Swapping out half and staking half satisfies both my immediate and long-term goals; meanwhile, I didn't pay any for it, can't get any better than that.

WOO:
Claimed my stake and delegation rewards for today and for now just staking up all I can hoping to compound some in preparation for lands. Still got a week or two, so we'll see how much I can accrue in that time.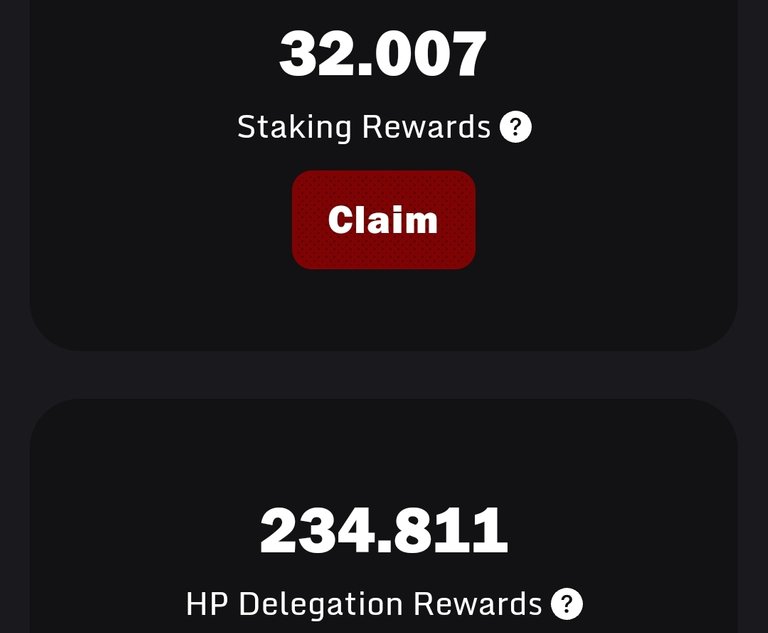 Got the four and a half from the airdrop (still disappointing) but no mining rewards still. I did get a bit of liquid HIVE saved, so I couldn't let that stand of course, and I went in and bought ten more HIVE worth of WOO to hopefully boost those stake rewards a little.
---
Average Last 7 Days: 10,491
Lifetime Average: 14,513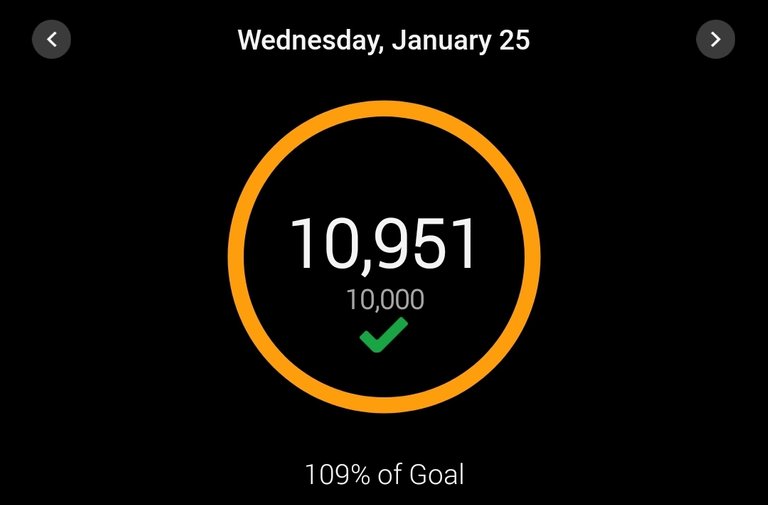 10k per Day Streak: 108

Longest Streak: 204
Distance on shoes: 1294.73 km
Distance on hikers: 67.07 km
#AutomaticWin Tally: 425
#AutomaticWin Streak: 0
Longest Streak: 53
#TripleTen Tally: 118
#TripleTen Streak: 0
Longest Streak: 7
#DoubleDay Tally: 236
#DoubleDay Streak: 0
Longest Streak: 37
Highest Floors: 120
Highest Daily Steps: 41,528
Zombies evaded: 0/0
Mindfulness Diary:
Health: 83%
Satisfaction: 87%
Energy: 93%
Productivity: 85%
---
Referrals: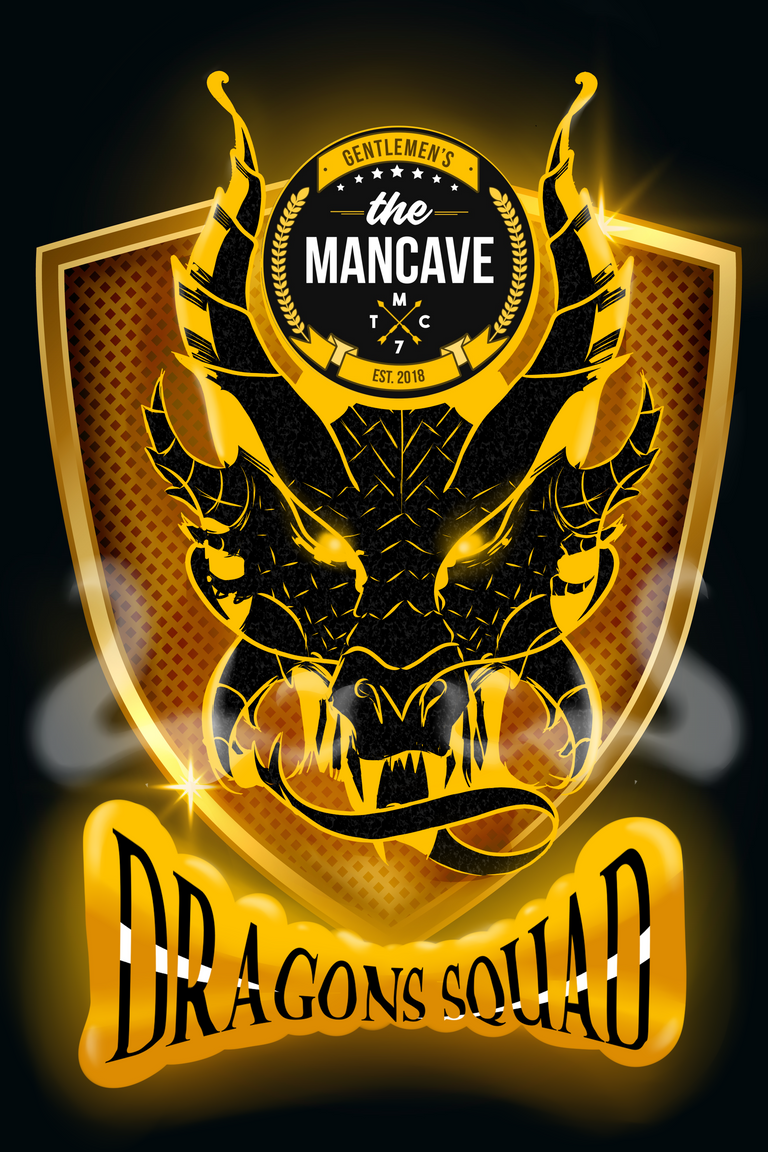 Power up and Hive on!
---
---