Mar. 14, 23: Routine, Teaching, Raven Event Again, PPUD, TV, and Games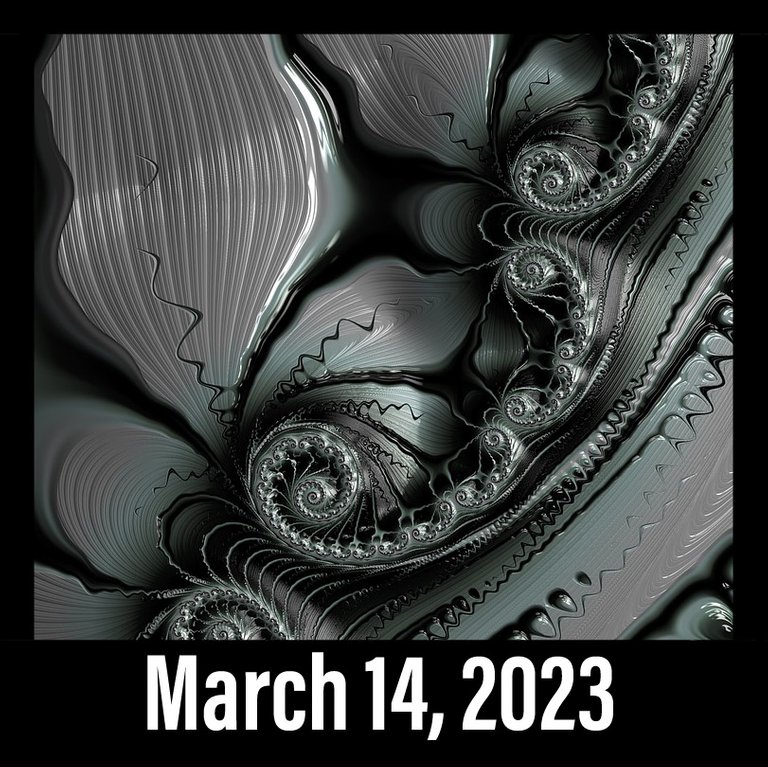 [Hrm, despite getting an early start this morning, I'm coming up a little short now on time since we have our weekly PIMP meeting this morning. Already got the skeleton done and started into the text with about an hour to go so, assuming I can stay focused, I should be alright.]
Hooray! Today was Pi Day, but remember, Tau Day is better because we get twice as much Pi! 🤓 Not only was today Pi Day, it was also (by design) Pizza Power UP Day and I'd gotten set for it the other day, so got my three hundred PIZZA staked up for the NFT. 💪
Got to bed around nine or so last night, so not too bad, woke up once around midnight and then was up about two-ish and moved out to the couch. From there I slept alright and made it all the way until seven. That made for a solid nine hours of sleep on the night, which helps for sure, but I woke up more or less in a panic since I had less than an hour to get my post done before I needed to get ready for work.
Clearly, the morning routine was foreshortened, and I really didn't do much other than frantically try to get a decent post done in time. I did break a thousand words for the day, though, and Bro hit me up, so that was cool, but it was a little scant by my current par.
One thing that I can't sacrifice for time is checking in on the crypto markets, and woo, buddy! They were crankin' today! Bitcoin had one of the largest single up days in years and even wicked all the way up to $50k on Binance. 🤯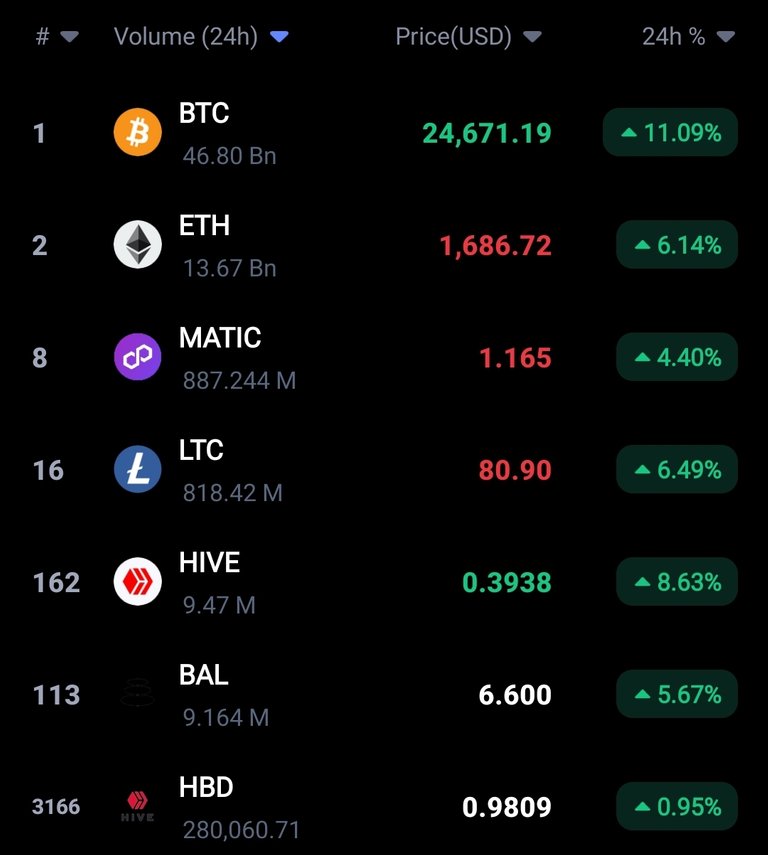 Even with a nearly ten percent gain, HIVE still isn't even back to forty cents, but at least HBD is sort of closer to a dollar than it was before. 😝
I guess the markets really liked that the feds are pledging to backstop the depositors of SVB and Silvergate...it does relieve that FUD regarding USDC (and some other stables that were in trouble) that they are supposed to get their funds back, but that doesn't alleviate the fact that basically all the banks have been playing the same game and are now in the same position (go back to drinking beer and watching football, the government's got your back, nothing to see here, move along, these are not the droids you are looking for...).
From what I understand, the FED has even set up a special fund (available for the next year) that any "qualifying" bank (basically any US bank or foreign bank with US branches) can draw from to sell their bonds at face value (way above current market value)...no problem, the government just buys back its own debt at a loss, that's not accounting trickery at all.
[Just broke a thousand words, but I've got less than ten minutes left before the meeting starts...hmmm.]
Got my post done and scheduled and jumped in the shower about ten minutes late, but I gave it some gas and was able to start class just about on time, maybe a minute late.
I decided to combine two easy classes together today in order to give us some breathing room with the next couple sections coming up. We're now properly applying the derivative and so it's story problems (related rates and optimization) coming up, but for today we looked at indeterminate forms and L'Hospital's Rule and then Newton's Method for finding zeros of functions.
Even covering two ideas, they're pretty straightforward and Newton's Method is literally just following a formula and then spamming enter on the calculator, we ended like half an hour early. That's not very likely to happen for the next few, though.
Killed a bit of time chatting on Discord, watching some YouTube videos, and grabbed my lunch. I guess yesterday some dumb truck smashed into the ramp exactly where I need to go to head into work and it's out of commission for at least a week! 😱🤬
At least I knew about it ahead of time, so I could plan and not get stuck sitting in traffic. I decided to be clever and get off one exit before they had it closed in the hope of avoiding the inevitable jam there. That worked, but I ended up out on some twenty-five mph dirt roads. 😯
Still, despite the detour, I got there with enough time to get everything set and start on schedule. I pushed them a little further today and we covered some material from the next section (after the exam). It's helpful to see how all the rules we just learned actually play out, so I don't think it's counterproductive.
Classtime flew by and I was surprised that we'd hit full time (I thought we had another hour to go). A couple students stayed after class to ask about a homework question, but it didn't sink in what section it was from and I went down a wrong path trying to approach it.
Headed home and thought about it on the way, but I needed to write it down to be able to see it, so I worked it out on the whiteboard when I got home and posted the solution (was Algebra trickery) to our Discord.
I was home in time to be able to hop over to Pizza server for Raven's second event (she shortened yesterday's and delayed until today) for a while and won another Rising Star pack. 🤑
I had to quit out before it was done, though, since Wenche had made us turkey tacos for dinner. 😋
After dinner we hinted around for something to watch amd landed on an animated film: Chickenhare and the Hamster of Darkness. Was ok, as far as background noise goes, but I was playing WombPlay games and participated a little more in the event though I couldn't join voice again.
Got ready for bed and fell asleep late (Red Bull was probably to blame) after I'd worked on the WombPlay challenges that are later now the clocks have changed.
---
Splinterlands:
My Splinterlands rental income went up slightly again today to a dollar ninety, but I have a strong feeling that's entirely due to the gyrations in the HIVE price and not due to actually earning that much more. Regardless, I don't mind having funds coming in daily, even if I would like them to be more than they are.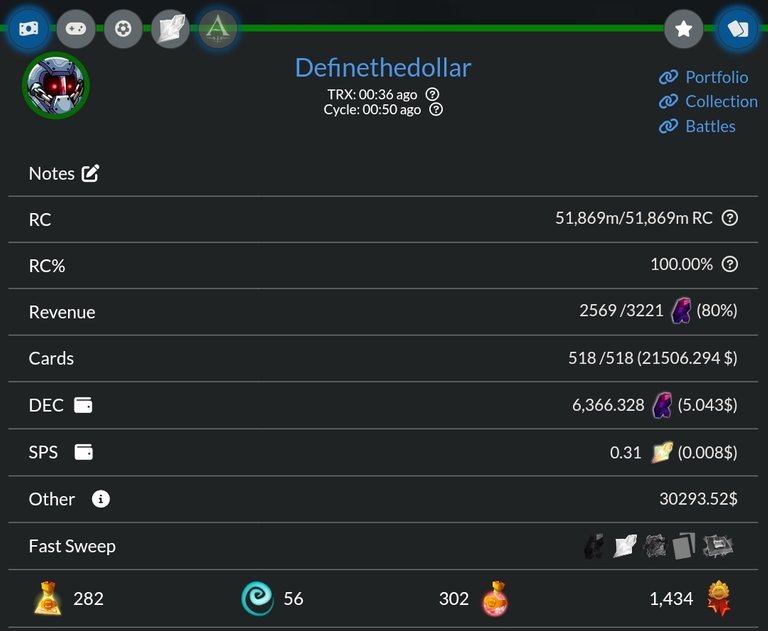 I had enough left in my prepay balance to cover today's invoice, but was down to around three SPS and figured it best to re-up. I did my usual interest claim for today, but put the entirety into Splex to try and stay ahead of it.
I checked on my VOUCHER balance as well today. Kinda' considering pulling some out, but haven't made any moves yet.
dShitty:
My dShitty income is still holding fairly stable. Only got one SIM from the War income today, but no biggie. Otherwise, the little digital robber bastards stayed at home and took a chill.
Got one more one thousandth of a HIVE today...can't focus on how ridiculously small that is, instead got to focus on the fact that it's more than before.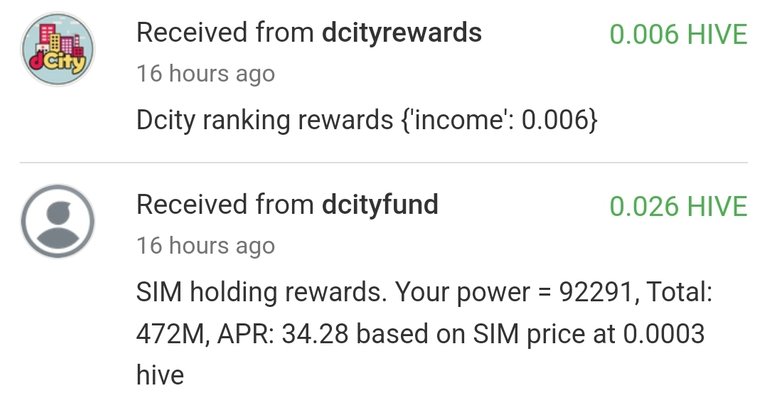 RS:
I ran a mission on Rising Star but my Ego was nonzero went I went back in (probably from the new cards), so I ran a lesson and am back to missions again already.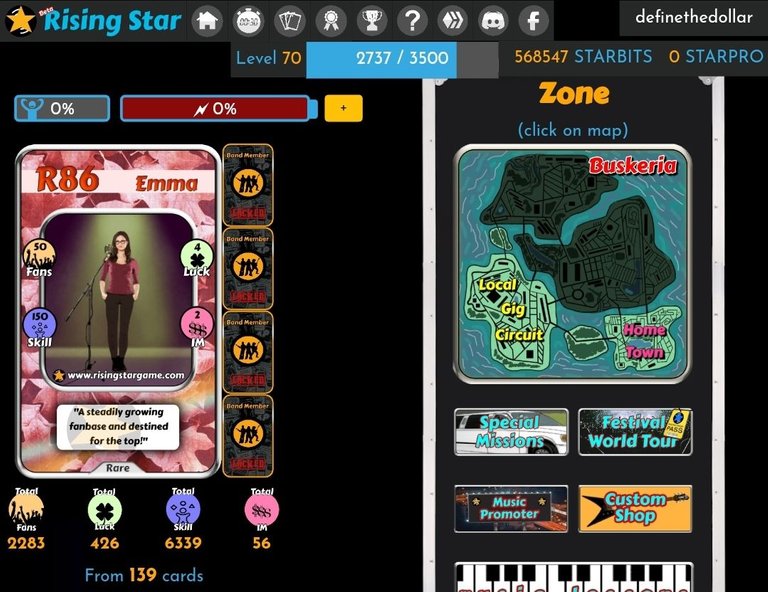 Between the two Raven Events the last couple days, I'm actually growing my Rising Star collection. Got three more cards from yesterday: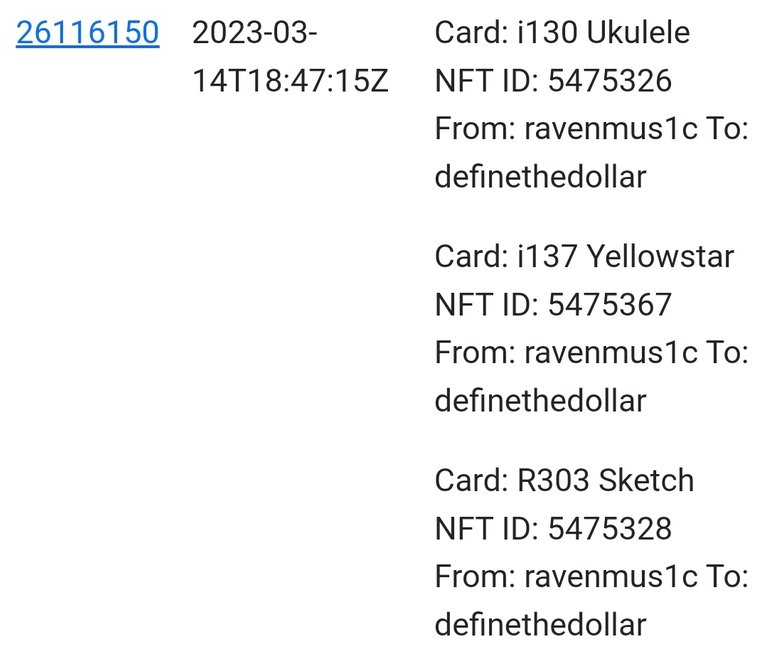 And got three more cards from the event today (but they're not sent yet)! 🤑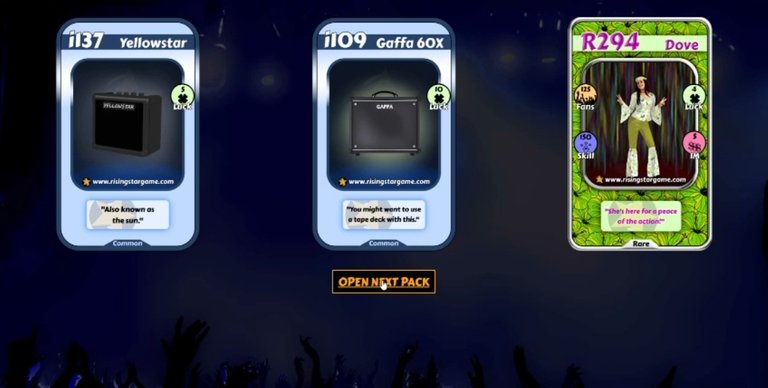 HK:
The Pizza giveaways from last week haven't been sent out yet, so my BUDS balance hasn't changed significantly enough to deserve a new screenshot...nope, the best this gets is a recycled balance photo, more than it deserves in my opinion. (Yeah, but that's just your opinion, man!)

GLX:
I still cannot shake the full-on stake mode that I've switched to with this. Been four or five days now since I pulled any out, I think...not that I don't have stuff I'd like to spend the funds on, but it's the whole "patience is a virtue" thing. I suppose I did have a few cookies already, even more cookies later is better. (At some point, though, I really do need to try and get something other than "in game points" - that is, HP - out of all the time and effort I've put into this chain. Honestly, haven't actually made a penny from any of this since I started...kinda' pissing myself off looking at it that way. 😡 I have pulled HIVE out to other chains, but only for the sake of immediately reinvesting it into HIVE projects using those chains, sooo, always just "later.")

WOO:
Nothing too major going on here today, just the usual stake and delegation rewards claim. I guess the general land sale is coming up here shortly, so we'll see how that goes (got mine's already, so I'm good).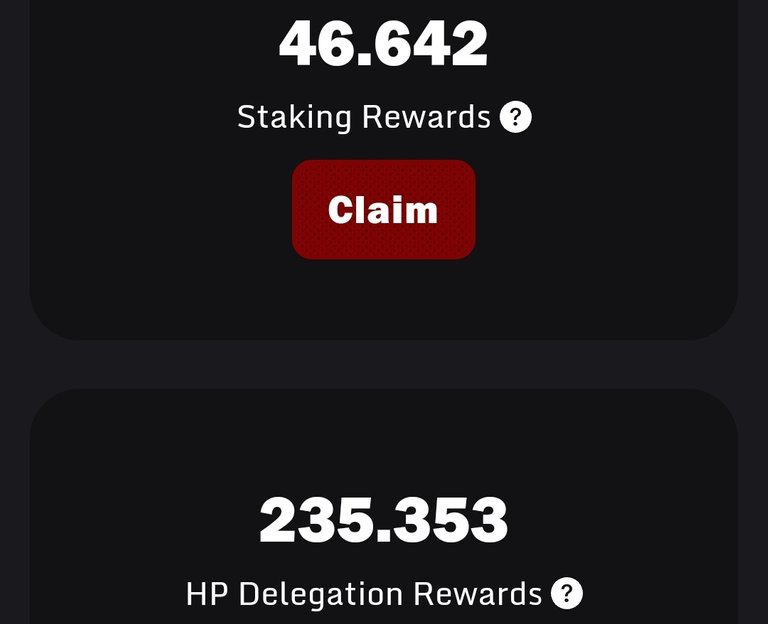 ---
Average Last 7 Days: 10,317
Lifetime Average: 14,388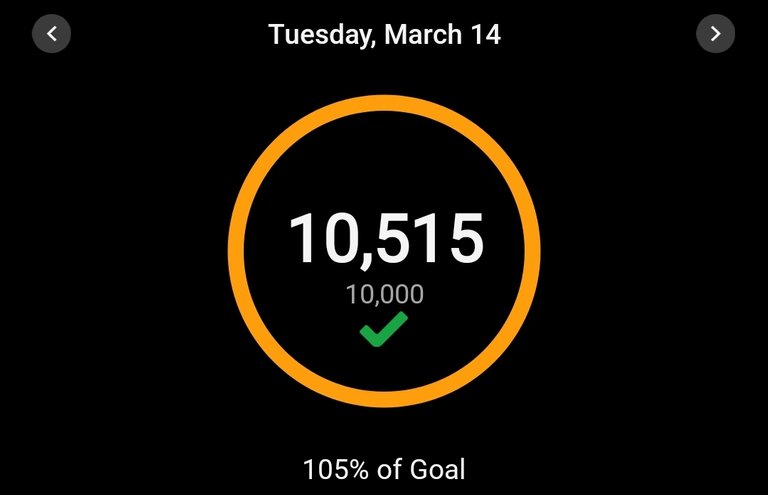 10k per Day Streak: 11

Longest Streak: 204
Distance on shoes: 1318.66 km
Distance on hikers: 67.07 km
#AutomaticWin Tally: 425
#AutomaticWin Streak: 0
Longest Streak: 53
#TripleTen Tally: 118
#TripleTen Streak: 0
Longest Streak: 7
#DoubleDay Tally: 236
#DoubleDay Streak: 0
Longest Streak: 37
Highest Floors: 120
Highest Daily Steps: 41,528
Zombies evaded: 0/0
Mindfulness Diary:
Health: 83%
Satisfaction: 84%
Energy: 92%
Productivity: 50%
---
Referrals: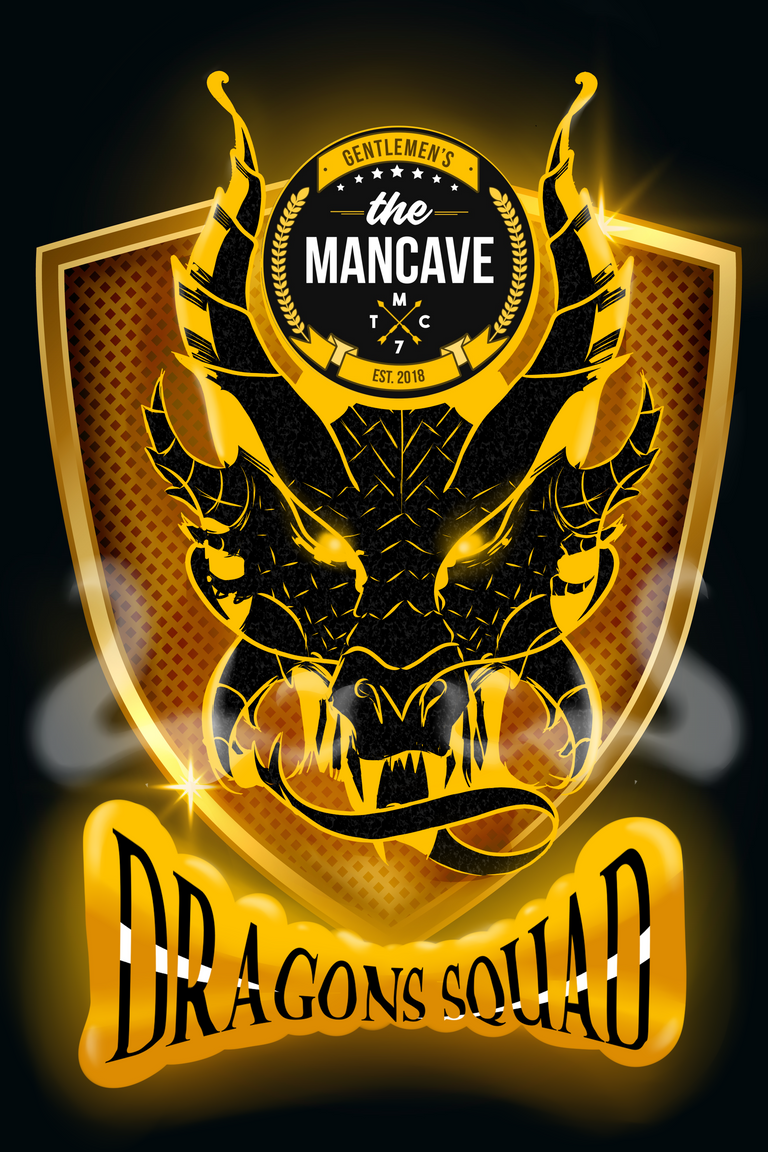 Power up and Hive on!
---
---