My experience after the rewards update. ING/ESP the best battles for promotion
Happy beginning of the week to all the readers and all those who participate in this wonderful community! Receive in advance a big apology, because for personal reasons I had to be temporarily absent from the blockchain, some situations had me a little loaded and did not allow me to dedicate enough time to make life in the blockchain. Thank God all storms are temporary! Today I am full of energy and spirit, since the day I have been waiting for the most, the launch of splinterlands activities fills me with a lot of vigor and eagerness to do a better job than the previous one.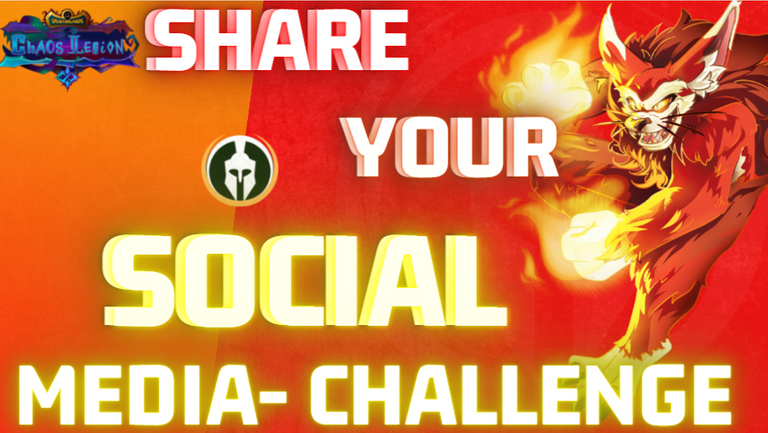 I have arrived at a critical moment because I did not take the necessary precautions to have tokens to rent and when I got the surprise that the rewards in DEC are being liquidated and only the sps will be available, I understood the great importance of diversifying the capital and have a little bit of everything for any situation. Certainly, splinterlands is a project in development with a great potential to continue standing out among all the projects that are governed by the same ideals of play2earn and nft. Before continuing I must admit that I acquired a certain taste to create the covers of my publications for each entry, I am a tattoo artist who just takes his first steps in everything that has to do with digital design, I consider that my progress is remarkable and that it will only be the constancy and dedication that will leave the good results.

In this opportunity I decided to go into detail and explain my experience after returning and finding so many updates in the game, which left me a little disconcerted. Simultaneously, I will expose in detail how were my first battles after being so long distanced from the blockchain, what moves I had to make to get the tokens needed to make rentals and how from my point of view it can affect the gameplay of each of the low-profit players.
After observing my account at 0 and not having anything to rent, I decided to check my hive-engine wallet to redeem a couple of tokens and thus obtain tokens to be able to perform rentals to boost my gameplay to the top of the bronze league. I am one of the players who makes rentals with the earnings received through the rewards, I joined a couple of months ago to this project and the truth is that I can only spend time, since my capital is a little reduced thanks to the high inflation in the country where I live.
The first step to get tokens to rent was to trade a small balance of OneUp a project which I like a lot, but without rent I can not play and obviously I can not post, then I will compensate the tokens I exchange.

The second token I used to trade belongs to a project which I don't know, but it's interesting, I think I'll take a look at it when I finish my post. I don't know how I get Waid tokens, but between each grain of rice I can add up to have for rent.

So I kept on, trading tokens that I have received thanks to my publications and I had not touched those small balances. I made about 2 or 3 trades before proceeding to buy the Dec.

After getting enough to buy 230 DEC, I must admit that I received much more than I expected and I consider that from now on I will be obliged to keep my rewards and my account can continue to grow while I have more time and investment available. It is not much to be honest, but it will be a great help after this sudden disappearance.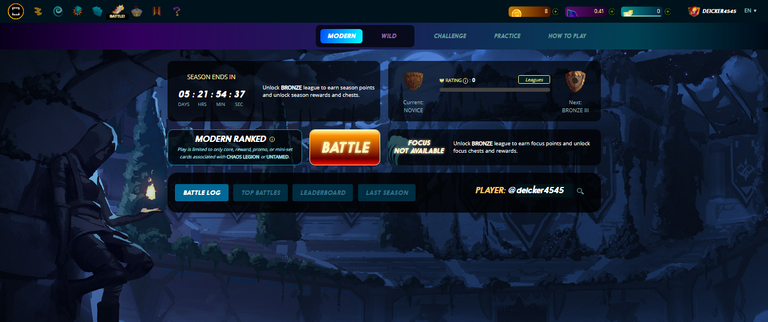 As you can see, my account doesn't have enough tokens and I haven't made a game for a long time, I hope I haven't lost my touch and I can make a promotion I mean, without having a lot of Dec to rent so I can stick to my budget.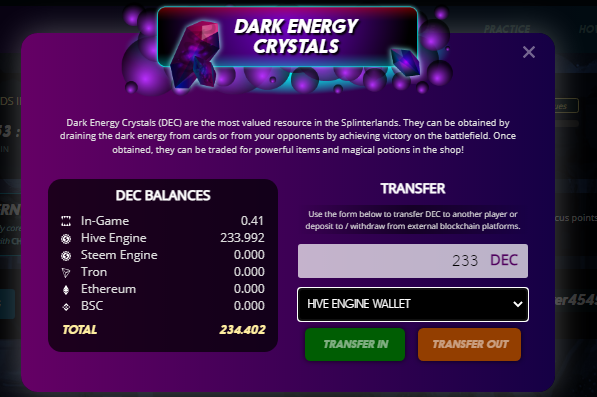 After receiving my Dec, I'm ready to rent and support my gameplay with characters available on the market, I will try to rent a good team which is not too expensive to perform more optimally the small amount of Dec which I am willing to spend for this season. I was visualizing how the SPS Stake works and I must resist at least a week or two to have enough Sps to exchange for Dec to make rentals. From my point of view, I don't want to touch my Sps in stake so I will start directing a small amount of Hive to Dec so I have a backup for my rentals.

Now I am in the task of evaluating the costs to rent a good gaming equipment, which can take advantage of its abilities and that its price is not too high. Not only that, I also have to choose the right editions for the right game mode, I will take a chance and try my luck in the wild game mode, I consider that there are a larger amount of opponents in the modern game mode and with very good level cards.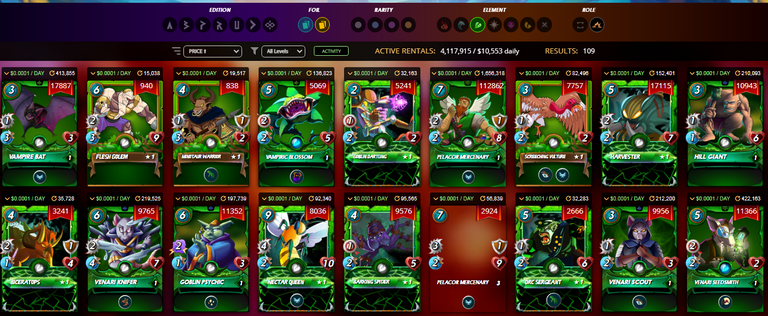 I feel comfortable running the earth sliver, which has very good characters and regenerative abilities that are formidable on the battlefield. I visualized very briefly the market and the cheapest cards to rent belong to this sliver.

This was the great team that I rented, which I consider very complete to climb to the top of the bronze league, The rental was very economical and profitable, as I can use this team for 48 hours and its estimated value is 35 Dec per day. I have a long time without playing and I hope I have not lost my touch.

¡It's time for the madrazos to break out!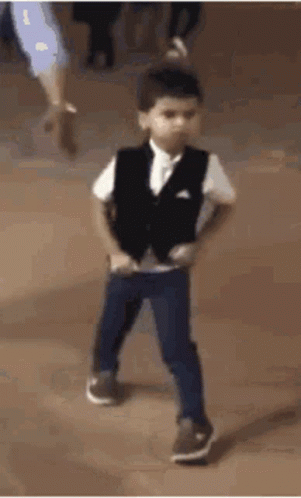 In the first rounds I obtained a small streak of games with a great amount of defeats, I consider that it can be product to the great amount of time that I have without activity and I can observe that many players innovated their strategies, The level of game increased a lot! The time has come to get serious and to look for a place in the qualification tables.
I must admit that skimping on expenses is no longer an option and I am obliged to rent a second game equipment to level up my playing power a little more and be competent for such worthy players.
I have not been able to reconcile a victory after proceeding participation in 10 games, a small streak which leaves me a little upset, but motivates me to improve myself a little more every time I visualize the big whupping I have to give to my rivals.
---
After an extensive losing streak, I managed to reconcile and release my skills to promote my rise in the leaderboard, I had to back the fire team to pass the preliminary stage of the rookie ranking and thus unlock the maximum power of the summoners and rented characters for the bronze league.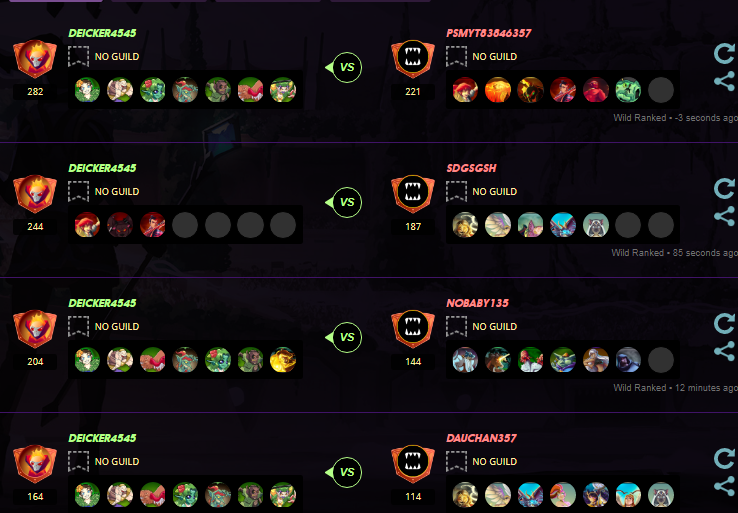 I must admit that at the beginning I found it a bit cumbersome and frustrating because I kept a streak of 10 defeats in a row, but will is power and at this moment I find myself with an incredible energy to reach at least the bronze 1 position.
Here are the links to the most notable battles during my promotion.

¡Effectiveness of the Ground Team!
I can say that it is a very complete and versatile team after overcoming the novice stage, their monsters have very good game characteristics, mostly when they can be used at high levels, while they are only level 1, in my case I could not give a correct execution. I decided to back up with the fire splinter to level up my game a little more and duel with my rivals. Both are very competent teams, which can give you a place on the leaderboards of higher ranks.

¡How the upgrade affected my profitability!
Well, as I mentioned before, I am a player who depended on his daily rewards to maintain his rents, now after all the update I consider it a good option to optimize the market and raise the prices of tokens and cards. Many players will have to burn Sps or cards to get the Dec needed to perform operations in the market. Maybe it affects playability, but not profitability, this move forces committed users to put the extra mile for their spt directed investments, either to rent or buy. I consider that we are at the best time to invest, as there are still many updates to come, which will be decisive for a progressive advance for the project.

Conclusion
I am very optimistic and always try to look at the glass half full, I believe that all updates come to improve and solid is to adapt and continue standing, I fully trust in this project, since its profitability has been the most solid and stable I have known ... I went through axis and a lot of other projects which were very good for a very short period of time, unlike splinterlands I consider that it came to stay and I do not want to lose my ticket to the moon. Thank you very much for dedicating part of your valuable time for the review of this entry, I am very grateful to the contributors for all their support and recommendations, which help me to go ahead to present a work full of quality and a lot of effort!.

Español
¡Feliz comienzo de semana para todos los lectores y todos aquellos que realizan participación para esta maravillosa comunidad! Reciban de antemano una gran disculpa, ya que por motivos personales tuve que ausentarme temporalmente de la blockchain, algunas situaciones me tenían un poco cargado y no me permitían dedicar el tiempo suficiente para efectuar vida en la blockchain. ¡Gracias a Dios todas las tormentas son pasajeras!, el día de hoy estoy lleno de ánimos y mucha energía, puesto que llego el día que más he esperado, el lanzamiento de las actividades de splinterlands me llenan de mucho vigor y ansias de efectuar un trabajo superior al anterior.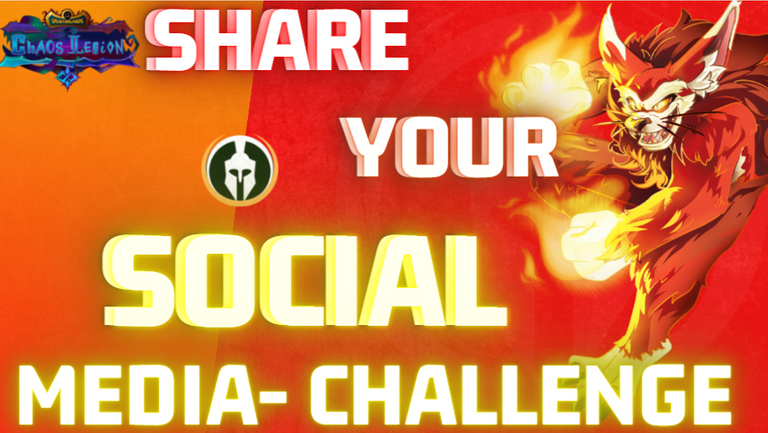 He llegado en un momento crítico porque no tome las previsiones necesarias para disponer de tokens para alquilar y cuando me llevo la sorpresa que liquidan las recompensas en DEC y solo estarán disponibles los sps, entendí la gran importancia de diversificar el capital y disponer de un poco de todo para cualquier situación. Ciertamente, splinterlands es un proyecto en desarrollo con un gran potencial para seguir sobresaliendo entre todos los proyectos que se rigen bajo los mismos ideales de play2earn y nft. Antes de seguir debo admitir que adquirí cierto gusto a crear las portadas de mis publicaciones para cada entrada, soy un tatuador que apenas da sus primeros pasos en todo lo que tiene que ver con el diseño digital, considero que mi avance es notable y que solo será la constancia y dedicación la que deje los buenos resultados.

¡Un milagro para alquilar!
Para esta oportunidad decidí entrar en detalles y explicar mi experiencia luego de volver y hallar tantas actualizaciones en el juego, las cuales me dejaron un poco desconcertado. Simultáneamente, expondré a detalle como fueron mis primeras batallas luego de estar tanto tiempo distanciado de la blockchain, qué movimientos tuve que realizar para obtener los tokens necesarios para realizar alquileres y como desde mi punto de vista puede afectar a la jugabilidad de cada uno de los jugadores de baja rentabilidad.
Luego de observar mi cuenta en 0 y no disponer de nada para alquilar, decidí revisar mi billetera de hive-engine para canjear un par de tokens y así obtener fichas para poder ejecutar alquileres que impulsen mi jugabilidad hasta lo más alto de la liga de bronce. Soy de los jugadores que efectúa alquileres con las ganancias recibidas mediante de las recompensas, me uní hace un par be mese a este proyecto y la verdad es que solo puedo dedicarle tiempo, puesto que mi capital es un poco reducido gracias a la gran inflación que se vive en el país donde estoy residenciado.
El primer paso para obtener fichas para alquilar fue tradear un pequeño saldo de OneUp un proyecto el cual me gusta mucho, pero sin alquiler no puedo jugar y obviamente no puedo postear, luego compensaré los tokens que intercambie.

El segundo token que utilice para tradear pertenece a un proyecto el cual desconozco, pero está interesante, creo que le daré un vistazo al terminar mi publicación. No sé cómo obtengo fichas de Waid, pero entre cada granito de arroz puedo ir sumando para tener para alquilar.

Así me mantuve, intercambiando tokens que he recibido gracias a mis publicaciones y no había tocado esos pequeños saldos. Realice aproximadamente 2 o 3 trades antes de proceder a comprar los Dec.

Luego de obtener lo suficiente para comprar 230 DEC, debo admitir que recibí mucho más de lo que esperaba y considero que a partir de este momento me veré en la obligación para así no tocar mis recompensas y que mi cuenta pueda seguir creciendo mientras más tiempo e inversión puedo disponer. No es mucho la verdad, pero me será de gran ayuda luego de esta repentina desaparición.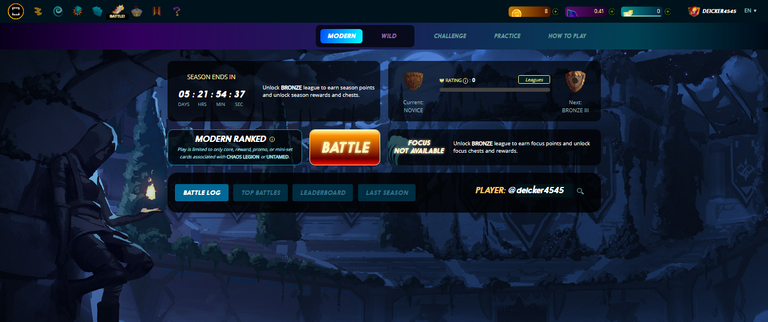 Como pueden observar, mi cuenta no dispone de tokens suficientes y hace mucho tiempo que no realizo una partida, espero no haber perdido mi toque y poder realizar un ascenso digo, sin disponer de muchos Dec para alquilar y así sujetarme a mi presupuesto.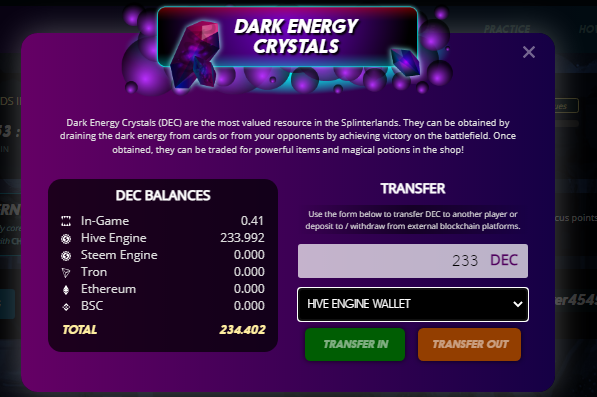 Luego de recibir mis Dec, ya estoy listo para alquilar y respaldar mi jugabilidad con personajes disponibles en el mercado, trataré de rentar un buen equipo el cual no sea muy costoso para así rendir de manera más óptima la pequeña cantidad de Dec las cuales estoy dispuesto a gastar por esta temporada. Estuve visualizando como funciona el Stake de los SPS y debo resistir al menos una semana o dos para disponer la suficiente cantidad de Sps para intercambiar por Dec para hacer alquileres. Desde mi punto de vista, no quiero tocar mis Sps en stake así que comenzaré a dirigir una pequeña cantidad de Hive a Dec para así tener un respaldo para mis alquileres.

¡La magia de la naturaleza me acompaña al combate!
Ahora me encuentro en la tarea de evaluar los costos para alquilar un buen equipo de juego, el cual pueda aprovechar sus habilidades y que su precio no sea muy elevado. No solo eso, también debo elegir las ediciones correctas para el modo de juego correcto, Yo me arriesgaré y probaré suerte en el modo de juego salvaje, considero que hay una mayor cantidad de oponentes en el modo de juego moderno y con cartas de muy buen nivel.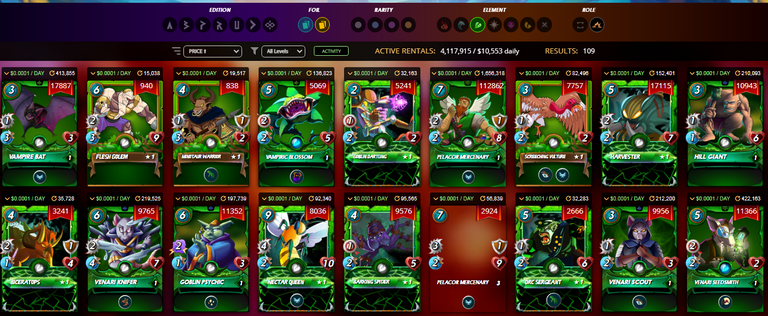 Me siento cómodo dándole ejecución a la astilla de tierra, la cual posee muy buenos personajes y habilidades regenerativas que son formidables en el campo de batalla. Visualice de manera muy breve el mercado y las cartas más económicas para rentar pertenecen a esta astilla.

Este fue el grandioso equipo que alquile, el cual considero muy completo para ascender a lo más alto de la liga de bronce, El alquiler fue muy económico y rentable, ya que podre utilizar este equipo durante 48 Horas y su valor estimado es de 35 Dec diarios. Tengo mucho tiempo sin jugar y espero no haber perdido mi toque.

¡Llegó el momento de que se armen los madrazos!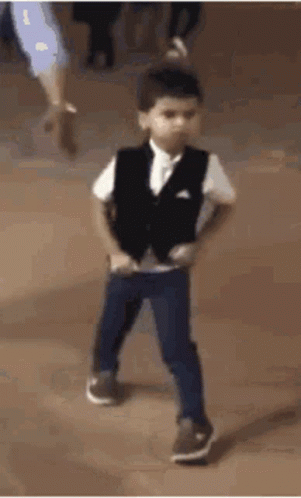 En las primeras ronda obtuve una pequeña racha de partidas con una gran cantidad de derrotas, considero que puede ser producto a la gran cantidad de tiempo que tengo si actividad y puedo observar que muchos jugadores innovaron sus estrategias, ¡El nivel de juego aumento muchísimo! Llego el momento de enseriarse y buscarse un puesto en las tablas clasificatorias.
Debo admitir que el escatimar en gastos ya no es una opción y me veo en la obligación de rentar un segundo equipo de juego para nivelar un poco más mi poder de juego y ser competente para tan dignos jugadores.
No he podido conciliar una victoria luego de proceder participación en 10 partidas, una pequeña racha la cual me deja un pequeño disgusto, pero me motiva a superarme un poco más cada vez que visualizo la gran putiza que debo propinarle a mis rivales.
---
Luego de una extensa racha de derrotas, logre conciliar y liberar mis habilidades para promover mi ascenso en la tabla de posiciones, tuve que respaldar el equipo de fuego para pasar la etapa preliminar de la clasificación novato y así desbloquear el poder máximo de los invocadores y personajes rentados para la liga de bronce.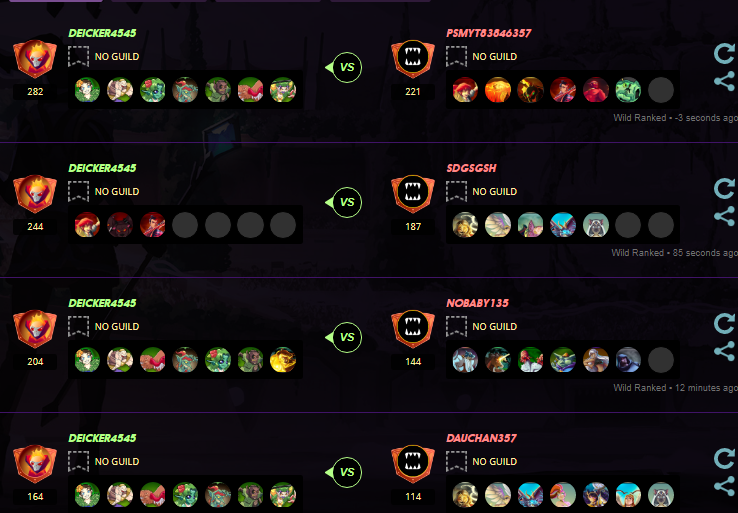 Debo admitir que al principio se me hizo un poco engorroso y frustrante porque mantuve una racha seguid a de 10 derrotas, pero el querer es poder y en este momento me encuentro con una increíble energía para alcanzar al menos la posición de bronce 1.
A continuación dejaré los enlaces de las batallas más notables durante mi ascenso.

¡Efectividad del Equipo de tierra!
Puedo decir que es un equipo muy completo y versátil luego de superar la etapa de novato, sus monstruos poseen muy buenas características de juego, en su mayoría cuando estos pueden ser utilizados en niveles elevados, mientras solo sean nivel 1, en mi caso no pude darle una ejecución correcta. Decidir respaldar con la astilla de fuego par así nivelar un poco más mi nivel de juego y medirme a duelo con mis rivales. Ambos son equipos muy competentes, los cuales pueden darte un puesto en las tablas clasificatorias de mayores rangos.

¡Como afecto la actualización a mi rentabilidad!
Bueno, como lo mencione anteriormente, soy un jugador del cual dependía de sus recompensas diarias para mantener sus alquileres, ahora luego de toda la actualización considero que es una buena opción para optimizar el mercado y elevar los precios de los tokens y las cartas. Muchos jugadores deberán quemar Sps o cartas para conseguir los Dec necesarios para realizar operaciones en el mercado. Quizás afecta la jugabilidad, pero no la rentabilidad, esta medida obliga a los usuarios comprometidos a colocar la milla extra para sus inversiones dirigidas a spt, ya sea para alquilar o comprar. Considero que estamos en el mejor momento para invertir, ya que aún faltan muchas actualizaciones, las cuales serán determinantes para un avance progresivo para el proyecto.

Conclusión
Soy muy optimista y siempre trato de observar el vaso medio lleno, considero que todas las actualizaciones llegan para mejorar y sólido queda adaptarse y seguir en pie, confió plenamente en este proyecto, ya que su rentabilidad ha sido la más sólida y estable que he conocido... Pase por axis y otra gran cantidad de proyectos los cuales fueron muy buenos durante un periodo de tiempo muy corto, a diferencia de splinterlands considero que llego para quedarse y no quiero perder mi boleto del viaje a la luna. Muchas gracias por dedicar parte de su valioso tiempo para la revisión de esta entrada, ¡Estoy muy agradecido con los colaboradores por todo su apoyo y recomendaciones, los cuales me ayudan as seguir adelante para presentar un trabajo lleno de calidad y mucho esfuerzo!

Here is my referral link for those who wish to start playing HERE
Aqui anexo mi enlace de referido para quien dese comenzar a jugar AQUI
---
---