My first Riftwatchers Summoner ING/ESP
Receive a warm and cordial greeting, all the members and active members of this precious platform. Once again, fulfilling my personal goal of acquiring cards and expanding my playing power weekly, I have decided to join this new boom of new editions and start collecting characters from the Riftwatchers edition, I consider that this micro edition came to revolutionize the whole system of strategies and tactics of the game known so far. It has very good characters with notorious game characteristics, which result in a wide variety of combinations and fusion of skills to conceive victories and move up the charts, giving usefulness to the new members of this section.
Last week I bought a couple of epic cards belonging to the reward edition, for this week I had a little more capital to get my first summoner in my own way and not fall into the need for rentals and spend unnecessary money when the constancy and discipline to meet my goal allow me to optimize my performance, increase my gaming power and multiply my profitability. The character that I select to integrate to my game team will be exposed next, I hope this post is to your liking and that you can join me until the end.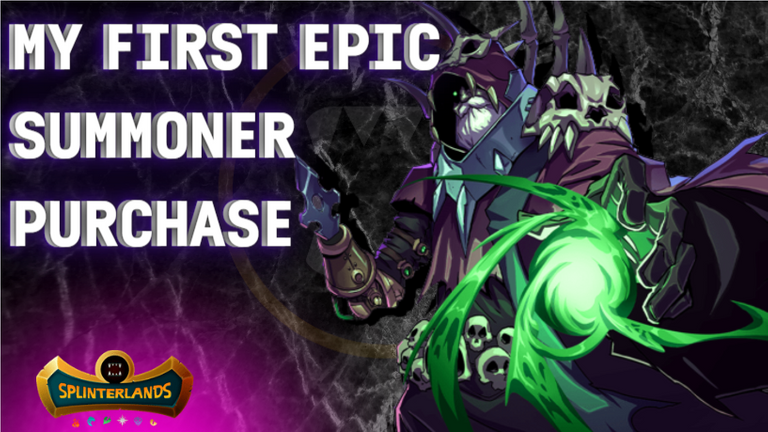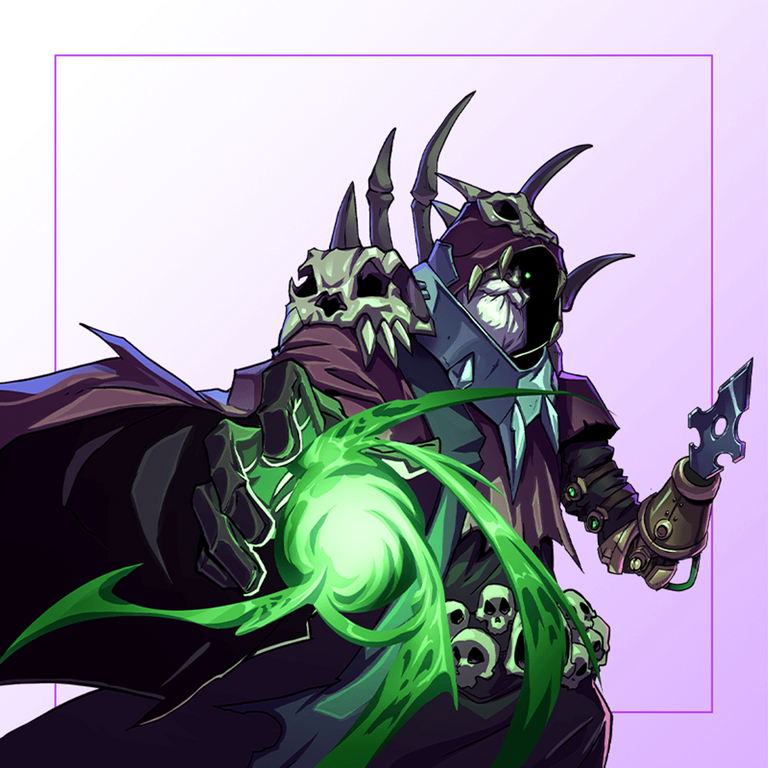 A character with an interesting story and a look that can intimidate anyone who tries to face him, Dallan is the epic summoner released in this new edition, as a representative of the death team, he has the difficult task of being the main face for the battles where he can have participation. Dallan Moonfall is an adventurous survivor, who knew the limits of death after being swept away by a tornado, unconscious and with new limbs. Dallan awoke in a room after being taken in by a strange tribe, where he learned magic and perfected his abilities to quickly reach the power we know today.
This monster is the new class and epic summoners for the Riftwatchers edition, at the moment there are no less than 7000 circulating editions of common frame and no more than 500 in gold frames, it is one of the cheapest cards of all the new summoners section, since its value ranges between 3.20 and 4 $. It has some game characteristics and abilities, which allow the use of cards at higher levels without the need to raise the summoner's levels.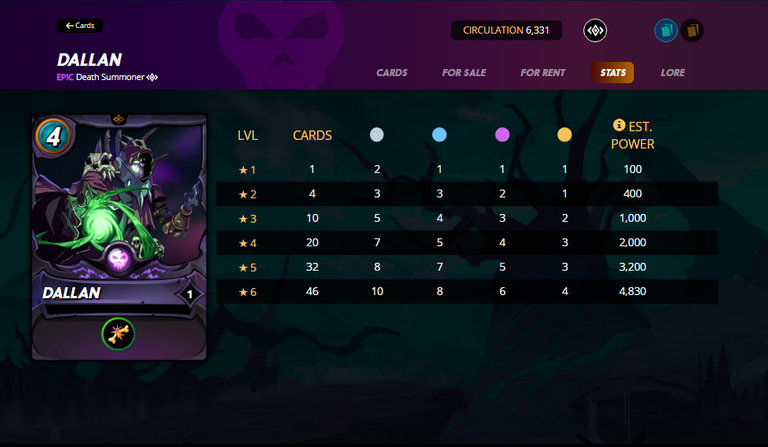 I made my purchase for a total cost of 3.40 $, I consider that I bought it at a very good price and that soon its value may increase significantly, I was checking some editions since its launch and there are characters that have increased up to 200% from its initial opening price when the cards were listed. This new edition came to upset the gameplay and the basic strategy book that many players frequent, with this expansion of skills the results per battle can be more variable, fiercer fights and wacky strategies that can be very advantageous for the right game situations.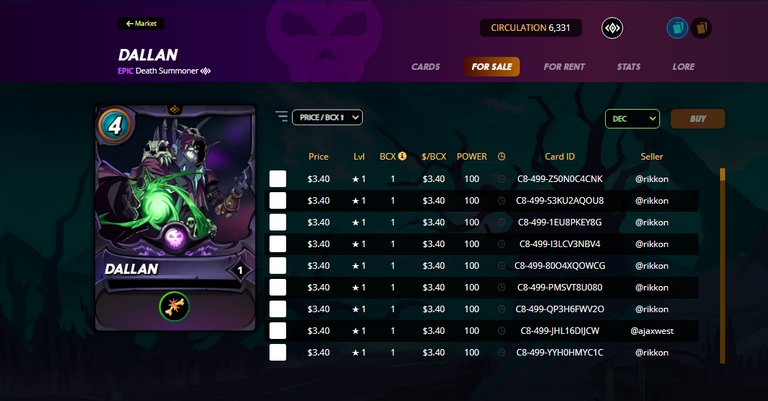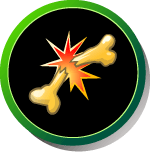 His Cripple ability is provided to all allied monsters at the beginning of the game, this ability consists of the affliction and the effect it has after each hit on the affected monster. Each time it is hit and the cripple skill is active, it will lose -1 vital point with each attack that hits it.

Effectiveness and Battle Details with the execution of this Summoner
In this section, I will explain and give details of the games and strategies used with this summoner, in order to evaluate its effectiveness and performance in the battlefield and/or in the team.

Battle Number 1
In my first battle to move up in the leagues from rookie to bronze, it has been a little difficult for me to move up, since I don't have many characters and my reserves to rent are a little low thanks to the purchase of the summoner, so I have decided to stay firm to continue buying the missing editions for this summoner to reach at least level 2, although I have lost a lot of battles, his ability allows to decrease -1 vital points of opponents with each hit provided, I consider that this ability can be of great help and great effectiveness in correct game settings or with characters that support the vitality and integrity of my game team.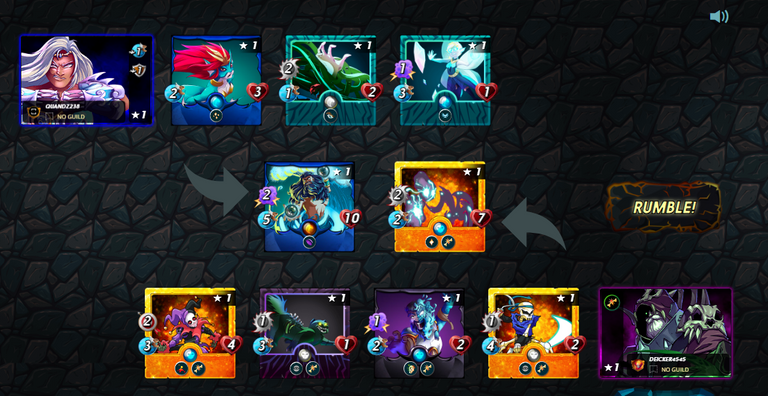 The strategy for this battle consists of regenerating and attacking low mana monsters and the summoner's ability, the higher the number of hits, the higher the amount of damage afflicted by the aforementioned ability. I formulated my lineup with the ideal of keeping in the rear zone an attacker that could evade a large number of hits and in the middle zone the monsters of lower resistance. In this way the strategy for this battle I can say that it had great effectiveness by the fact that the opponent's attack does not exceed the amount of vital points regenerated by the tank and my opponent, although I played a very effective strategy, it is only a matter of time for my attackers to disarm their defense bars and penetrate directly into their vitality to eradicate the opponents.

Battle Number 2
For this battle, I decided to use a set of skills in a strategic way to conceive the victory, I started using two battle tanks, so that one with his ability to afflict thorns damage to the monsters that decide to face him while the team of the second row begins to eradicate the rival attacking monsters. After the death of the first tank, the second one should arrive to take charge and with its regeneration ability withstand the most hits from the remaining monsters positioned on the enemy side, in this way I could get a victory and take the ranking points.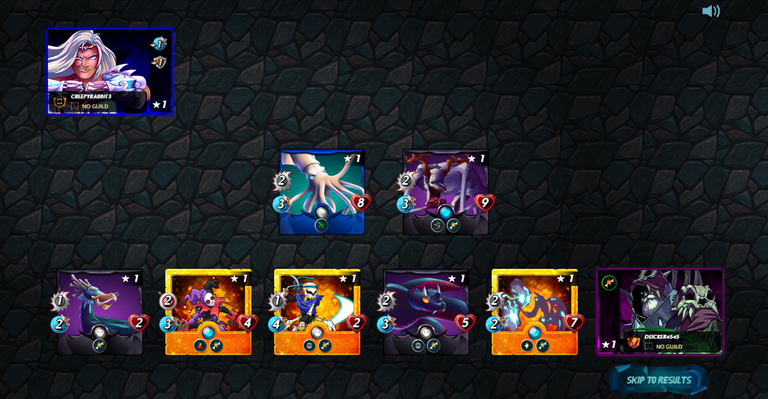 Summoner Effectiveness
It is an effective card in its entirety, its abilities allow it to make room for any situation or opponent no matter how difficult it may seem, I think it was a very good investment and it is only a matter of time and perseverance to continue raising this summoner to the highest levels that my capital allows me, I would like to go putting together teams with the ability to play in the silver league, that would be very good to optimize my profitability and enhance my earnings to continue investing. I liked very much to give him participation, and time to discover their skills will continue to compete and accompany me to conquer the promotions in the bronze league.

Conclusion
Already to end the delivery of this publication I want to thank all the readers and users who stayed until the end of this presentation, perhaps it is not much what I am investing, but I consider that this is not a race of speed but of endurance. After it has become a habit, in a few years my account will be just as big as that of the best players. I have had a lot of fun discovering and exploring this set of issues and new characters in splinterlands, I would like to cordially invite you to participate in its activities and be a little more active in its dynamics, you won't regret it!

Español
Reciban un cálido y cordial saludo, todos los integrantes y miembros activos de esta preciada plataforma. Una vez más, cumpliendo con mi meta personal de adquirir cartas y ampliar mi poder de juego semanalmente, he decidido sumarme a este nuevo auge de las nuevas ediciones y comenzar a coleccionar personajes de la edición Riftwatchers, considero que esta microedición llego para revolucionar todo el sistema de estrategias y tácticas de juego conocidas hasta el momento. Dispone de muy buenos personajes con características de juego notorias, las cuales dejan como resultado una amplia variedad de combinaciones y fusión de habilidades para concebir victorias y ascender en las tablas, dándole utilidad a los nuevos integrantes de esta sección.
La semana pasada compré un par de carta épicas pertenecientes a la edición reward, para esta semana dispuse de un poco más de capital para obtener mi primer invocador de manera propia y no caer en la necesidad de las rentas y gastar dinero innecesario cuando la constancia y disciplina para cumplir mi meta permiten que optimice mi desempeño, aumente mi poder de juego y multiplique mi rentabilidad. El personaje que seleccione para integrar a mi equipo de juego será expuesto a continuación, espero que este post sea de su agrado y que puedan acompañarme hasta el final.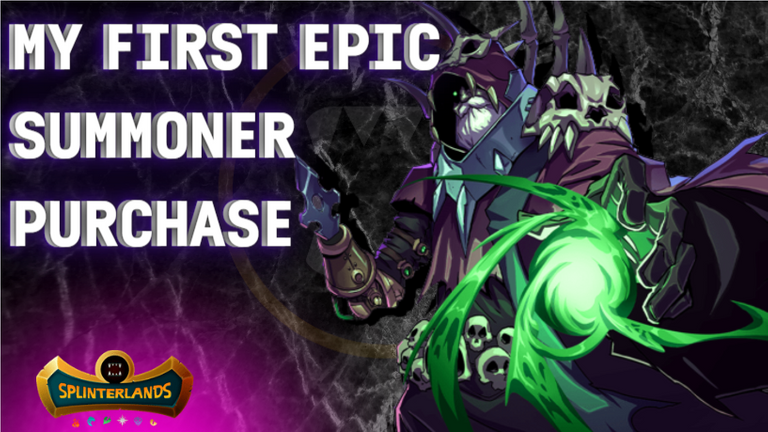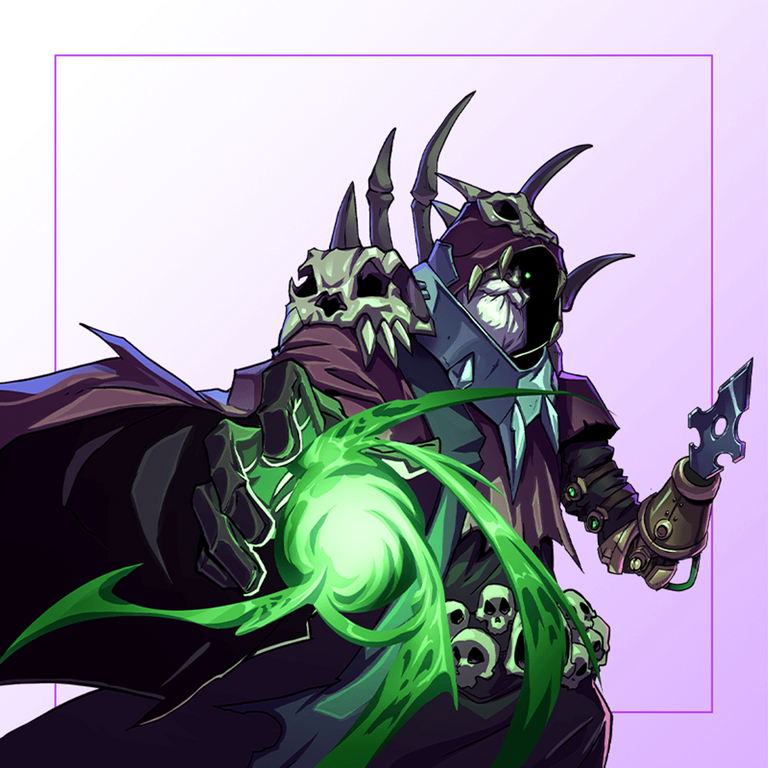 Un personaje con una historia interesante y un aspecto que puede intimidar a cualquiera que intente enfrentarlo, Dallan es el invocador épico lanzado en esta nueva edición, como representante del equipo de muerte, tiene la difícil tarea de ser el rostro principal para las batallas donde puede tener participación. Dallan Moonfall es un sobreviviente aventurado, que conoció los límites de la muerte luego de ser arrastrado por un tornado, inconsciente y con nuevas extremidades. Dallan despertó en una habitación luego de ser acogido por una extraña tribu, allí aprendió la magia y perfecciono sus habilidades para alcanzar rápidamente el poder que hoy día conocemos.
Este monstruo constituye la nueva clase e invocadores épicos por la edición Riftwatchers, por el momento existen no menos de 7000 ediciones circulantes de marco común y no más de 500 en marcos dorados, es una de las cartas más económicas de toda la nueva sección de invocadores, puesto que su valor onda entre los 3.20 y 4 $. Posee unas características de juego y habilidades, las cuales permiten la utilización de cartas en niveles elevados sin necesidad de elevar los niveles del invocador.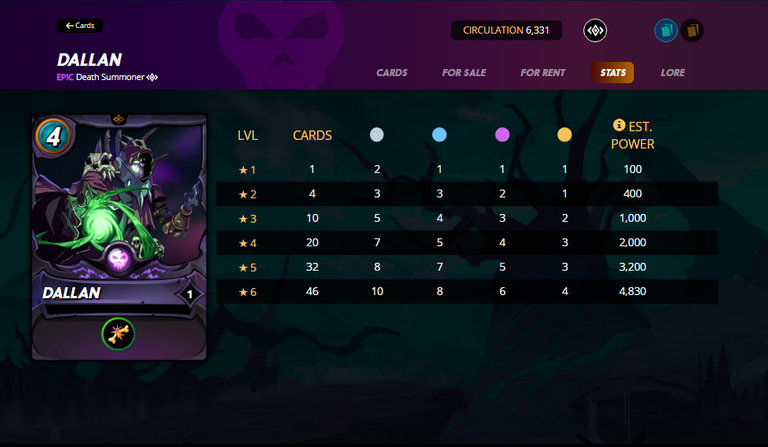 Efectúe mi compra por un costo total de 3.40 $, considero que la compre a muy buen precio y que proximamente su valor puede aumentar de manera significativa, estuve checando algunas ediciones desde su lanzamiento y existen personajes que han aumentado hasta en 200% desde su precio inicial de apertura cuando las cartas fueron enlistadas. Esta nueva edición, llego para trastornar la jugabilidad y el libro de estrategias básicas que muchos jugadores frecuentan, con esta ampliación de habilidades los resultados por batalla pueden ser más variables, peleas más reñidas y estrategias descabelladas que pueden ser muy ventajosas para las situaciones de juego correctas.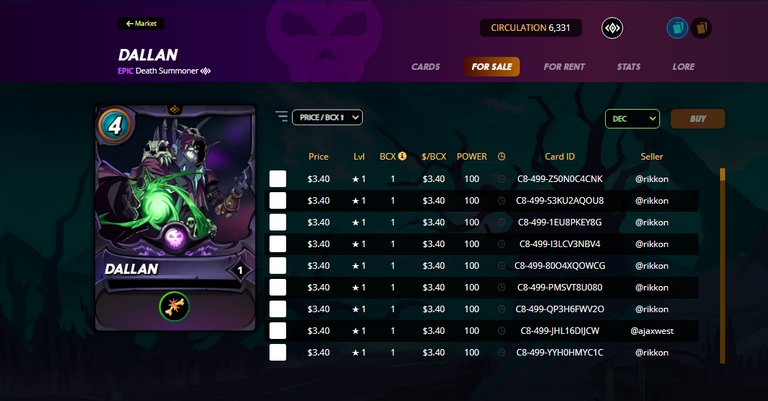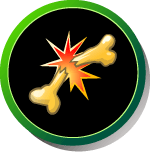 Su habilidad Cripple es suministrada para todos los monstruos aliados al comienzo de la partida, esta habilidad consiste en la aflicción y el efecto que repercuta luego de cada impacto al monstruo afectado. Cada vez que este sea golpeado y la habilidad cripple se mantenga activa, perderá -1 punto vital con cada ataque que le impacte.

Efectividad y Detalles de Batalla con la ejecución de este invocador
En esta sección, paso exponer y dar detalles de las partidas y estrategias utilizadas con este invocador, con la finalidad de evaluar su efectividad y desempeño en el campo de batalla y/o en equipo

Batalla Número 1
En mi primera batalla para ascender en las ligas de novato a bronce, se me ha tornado un poco difícil el ascender, puesto que no dispongo de muchos personajes y mis reservas para alquilar se encuentran un poco bajas gracias a la compra del invocador, de esta manera he decidido mantenerme firma a seguir comprando las ediciones faltantes para que este invocador alcance como mínimo el nivel 2, aunque he perdido una gran cantidad de batallas, su habilidad permite disminuir -1 puntos vitales rivales con cada impacto proporcionado, considero que esta habilidad puede ser de mucha ayuda y gran efectividad en ambientaciones de juego correctas o con personajes que respalden la vitalidad e integridad de mi equipo de juego.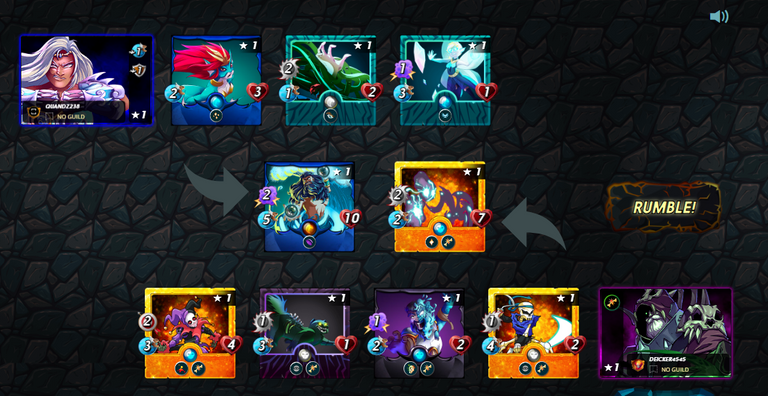 La estrategia para esta batalla consiste en la regeneración y el ataque de monstruos de baja capacidad en maná y la habilidad del invocador, mientras mayor sea el número de impactos, mayor será la cantidad de daño afligida por la habilidad antes mencionada. Formule mi alineación con el ideal de mantener en la zona posterior un atacante que pudiese burlar gran cantidad de impactos y en la zona media los monstruos de menor resistencia. De esta forma la estrategia para esta batalla puedo decir que tuvo gran efectividad por el hecho de que el ataque rival no supera a la cantidad de puntos vitales regenerados por parte del tanque y mi rival, aunque jugo una muy efectiva estrategia, solo es cuestión de tiempo para que mis atacantes desarmen sus barrearas de defensa y penetren directamente en su vitalidad para erradicar a los oponentes.

Batalla Número 2
Para esta batalla, decidí emplear un conjunto de habilidades de forma estratégicas para así concebir la victoria, comencé utilizando dos tanques de batalla, para que uno con su habilidad de espinas afligiera daño a los monstruos que decidan enfrentarlo mientras el equipo de la segunda hilera comienza a erradicar a los monstruos atacantes rivales. Luego del fallecimiento del primer tanque, debe llegar el segundo para hacerse cargo y con su habilidad de regeneración soportar la mayor cantidad de impactos por parte de los monstruos restantes posicionado del lado enemigo, de esta forma pudo obtener una victoria y llevarme los puntos de clasificación.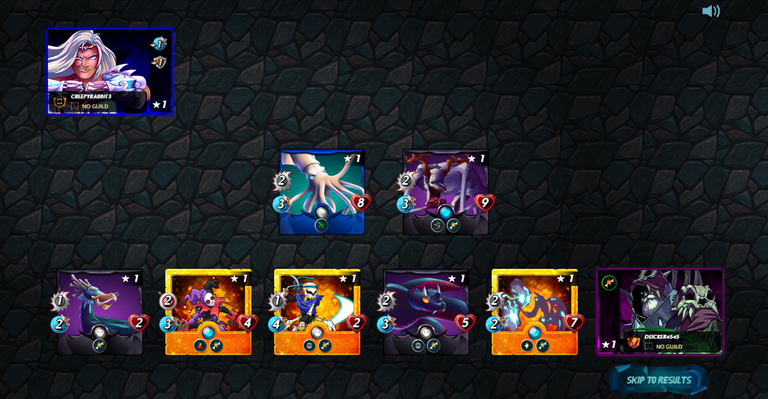 Efectividad Del invocador
Es una carta efectiva en su totalidad, sus habilidades permiten hacerse espacio ante cualquier situación o rival por más difícil que parezca, considero que fue una muy buena inversión y solo es cuestión de tiempo y constancia para seguir elevando este invocador hasta los niveles más altos que mi capital me lo permita, me gustaría ir armando equipos con la capacidad para jugar en la liga de plata, eso sería muy bueno para optimizar mi rentabilidad y potenciar mis ganancias para seguir invirtiendo. Me gusto mucho el darle participación, ya hora que descubrir sus habilidades seguirá compitiendo y acompañándome para conquistar los ascensos en la liga de bronce.


Conclusión
Ya para finalizar la entrega de esta publicación quiero agradecer a todos los lectores y usuarios que se quedaron hasta el final de esta presentación, quizás no sea mucho lo que estoy invirtiendo, pero considero que esto no es una carrera de velocidad sino de resistencia. Luego que se haya convertido en un hábito, dentro de unos años mi cuenta será igual de qué grande como la de los mejores jugadores. Me he divertido mucho descubriendo y explorando este conjunto de ediciones y nuevos personajes en splinterlands, me gustaría invitarte cordialmente a realizar participación en sus actividades y ser un poco más activo en sus dinámicas, ¡No te arrepentirás.!

Here is my referral link for those who wish to start playing HERE
Aqui anexo mi enlace de referido para quien dese comenzar a jugar AQUI
---
---