SPLINTERLANDS : FUTUREDECSORD RAFFLE CHANNEL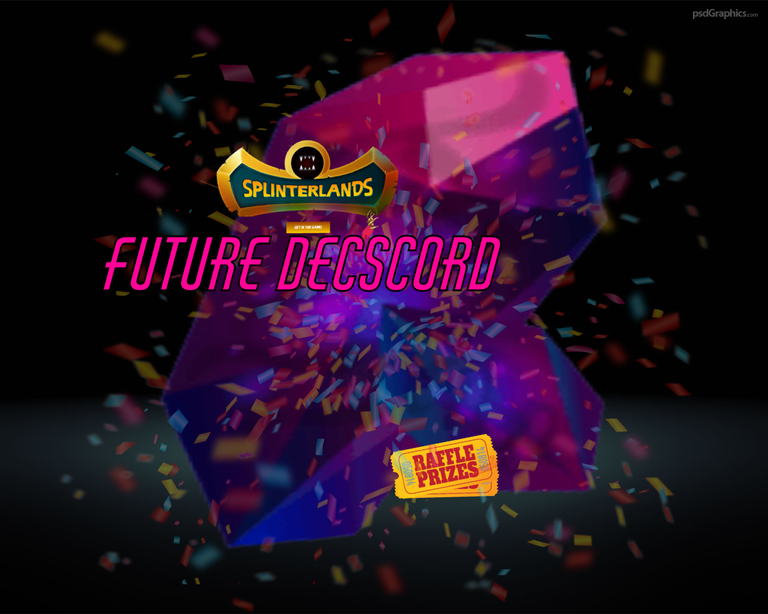 You want cards? How about packs? Untamed, Dice, Chaos Legion and even in-demand Vouchers but does not have enough money to buy one and you feeling lucky today? Here, I have discover this discord or discord channel where you can buy raffle tickets for a very reasonable price with a chance to win your desired cards and packs.
You may check this link to direct to discord FUTURE DECSCORD
Currently we have 1,902 members.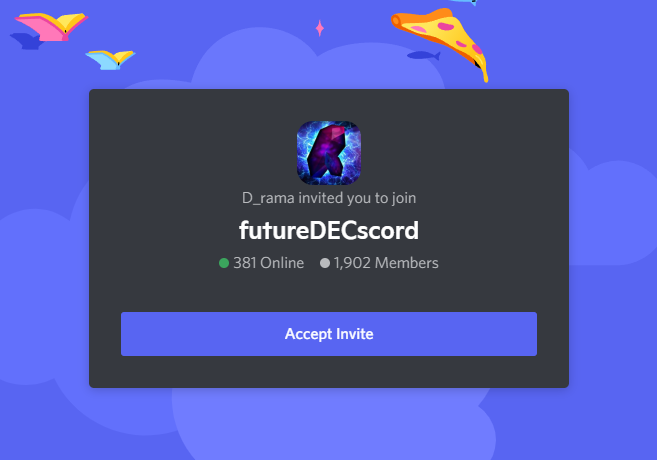 I am not in any way part mods or admin of this discord. I am just happy to try my luck and see that it has reasonable price ticket to join over current price of cards or pack. I joined this last group last week.
LETS CHECK WHATS INSIDE
NEW USER GUIDE
One basic thing you should know if you would feel lucky and buy tickets is the basic command you will used in checking the raffle's info, spot and list of all raffles.
Here are the list of Basic Commands:
/help (Make sure to click on the SEIRaffleBot help command. This will give you a list of the basic commands)
/buytickets (Allows you to purchase raffle spots, you'll need to follow the prompts it will ask you to enter your splinterlands ID and how many tickets you'd like) Payment needs to be sent in game not via hive engine. You'll receive a thumbs up emote once payment is received, this verifies you are locked in for the spot.
/refundtickets (Will remove you from the raffle and your DEC will be returned)
/raffleinfo (Details that channels current active raffle including available tickets and price per ticket)
/listraffles (Shows all active raffles and their respective channels)
/rafflespots(Shows all raffle spots and their respective owners)
*** Note that all payments should happen in game as they dont accept payment over HIVE.
LETS SEE TODAY LIST OF ALL RAFFLE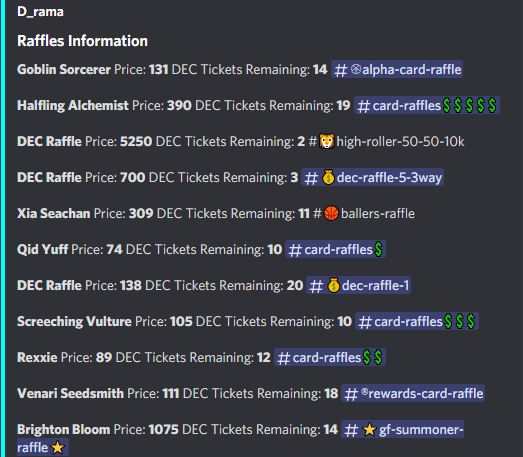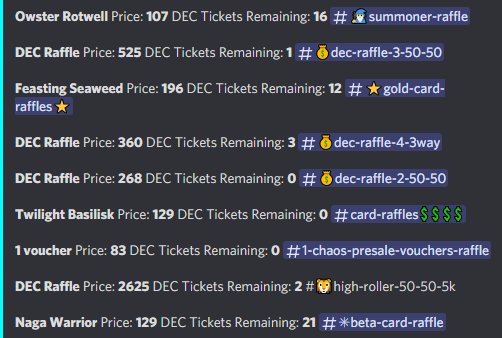 Here we can see all the current raffle's list and expect that almost everyday there are new raffle to join with and that might be your lucky day.
GOLD FOIL SUMMONER'S RAFFLE
Here is one example of one raffle in the discord and lets see if this has a reasonable price per ticket as compare with current market value of the card.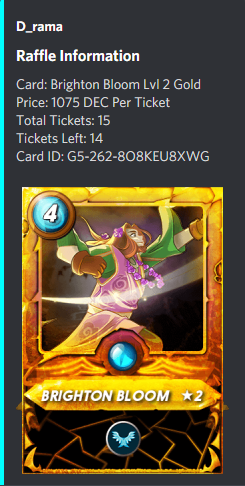 As you can see, the card being raffle is the gold foil lvl2 Brighton Bloom and as of to dated per writing this blog it was valued at market price of $190.69 or 14,931.018 DEC. The price per ticket is set at 1075 DEC and ONLY 15 slots open and the difference is really reasonable to buy one raffle ticket or more if you want.
This is the current spots left and maybe you can still join as of the moment you read this. Note that this might looks expensive per ticket but there are also smaller price per ticker depending on the value of the raffle prize.
To some that there who do not have extra DEC to buy raffle tickets there are also free raffle conducted. You just need to make sure be on time cause the slot has been easily fulled. You might need to check the card-raffle-freeforall tab to join.
Here is the latest free card raffle.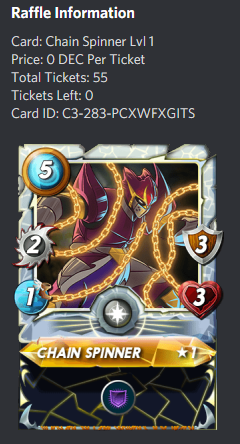 As you can see it was set at 0 DEC per ticket but it was fulled instantly as many has been waiting for free but who knows you might be online and be lucky enough to join and win the next free raffle.
You need explore this discord and buy tickets if you ever feel lucky and loved the card being raffle.
Thanks to admin and mods of future decscord @kramlyn12 and @silentwill as they gave me permission to introduce this to more people as I compared with other raffle i have seen this has reasonable price per ticket but who knows maybe i dont yet join other raffles channel, comment below if you know one.
Thank you and God bless
---
---