THE GLADIUS TEAM | THG LIQUIDITY POOL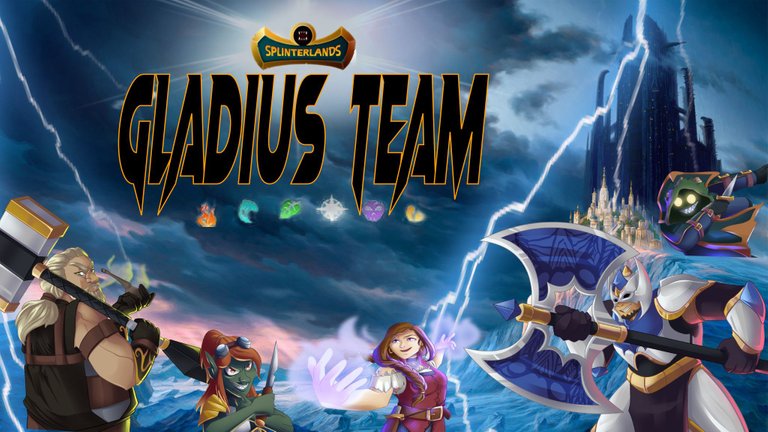 In today's blog, let me feature to you my Gladius Collections and my recommendations who to use during brawl. GLADIUS CARD are super strong and definitely worth to have.
By the way, I'm off doing blog for four months because of busy schedule. Hope you will like my today's featured.
Before featuring my collections, lets give a recap on how to have gladius cards and when will it only be available for use. I know most of you know this already.
How do we obtain Gladiator Packs?
You can get Gladiator Packs by participating in brawl matches, so if you're not in a guild now better find one and join the clash because its worth fighting for your guild and your teammates. In every brawl, if you participated you will be able to get some merits which can be exchanged for Glad Packs for 2000 merits. Each pack contains five cards. By the way, the merits you get depends on the place your guild in, so play well and all will be rewarded.!!!
MY GUILD
I have been in two guild over the time. Let me introduce my first guild, PSYBERX OFFICIAL CREW. I have been in this guild since Sept. 2021 and it was really cool being in here. The vibes are really friendly and we have our team member enjoying the game and our guild leader @dynamicrypto. I love being in this guild.
Over the course of playing brawl matches, we win and lose sometimes even forgot to participate in brawl but the guild remain strong.
Here is my collection of Gladius Cards gathered since September 2021 from Psyber X Guild. Note, I cant remember when we exactly started the brawl but I already open 6 packs since i start brawling.


We all know that playing multiple account in Splinterlands is okay. With my two accounts, I have been able to find them both a home. So lets check out my second guild where I was able to join last October 2021.
THRESHOLD GUARDIANS 1, a competitive guild aiming for the top. I am really enjoying being on this guild as well because of fun with the teammates and the competitiveness that brings the fire out of me. We also have the best guild leader here @jim-crypto. I love being on this guild. For those who want to join, you may this link for our discord THG Discord. Threshold Guardians also release its own token $THG. Let me feature more of that at the end of the blog. You'll surely love it.
Here is my collection of Gladius Cards gathered since October 2021 from THG Guild. Note, I already open 7 Gladius Packs from that time.


For some, my collection might not worth since one account have 860CP while other is 1550CP but for me its definitely worth it because participating in brawl is super exciting and fighting for your guild who trusted you means so much. By the way, it is all because of luck as well opening the packs. Some might get gold foil legendary which have 10kCP, so luck plays as well in here.
RECOMMENDED PER SPLINTER
The skill that differentiate with Gladius Card is the Bloodlust which most of the cards in doesn't have. Its a unique ability that every stats get +1 when killed an opponent or -1 (in reverse rule).
FIRE SPLINTER
----- CHIMNEY WALLSTOP -----
The burly, bearded man has been nicknamed Chimney so long that he may not even remember his given name. His surname of Wallstop may also be a nickname born of his incredible sturdiness and size, but it is difficult to say for sure. To Chimney, these matters are of no concern. His favorite thing is to sit around a fire all night laughing among friends, smoking his pipeweed like a chimney. The fire inside him is his thirst for adventure, and in recent years it has been smoldering rather than raging
He is super strong with a melee attack of 5, a health of 8 and a shield of 3, its one of the cards you may use as tank or second in line with skill reach skill. Even if he has only a speed of 1, if the rule is reverse he dominates, if not, hope he can hit the enemy because with his damage and bloodlust skill, he surely is Overpowered one. You may use Byzantine Kitty as summoner with +2 speed, sure hit and heal skill, as he have health of 8. He will surely stay strong and dominates the game and bring victory to you.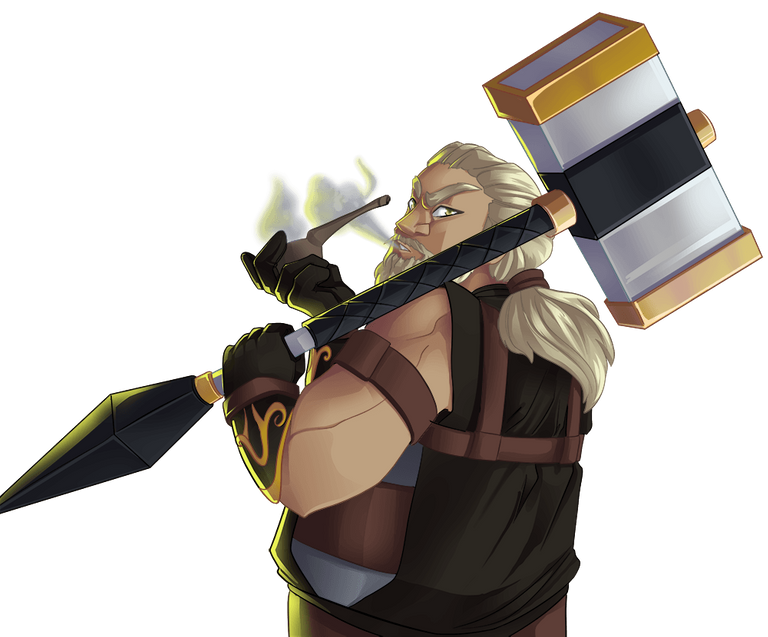 WATER SPLINTER
-----RELENOR CLEAVER-----
The Cleavers are the only family of ΛZMΛRÉ Axemasters who have ventured away from their homes on the edges of the jungle. Many members of this family have even made names for themselves in other Splinters, such as Pearl Cleaver, who currently earns her living diving for treasures outside Lyveria in the treacherous waters near the Whirlpool of Fyor.
Another great tank and second in line character. Same with Wallstop, its reach and bloodlust skill is really strong with its stats of 4 attack, 6 health, 7 shield and a speed of 2. It really fit better combine with Byzantine Kitty for me. But things varies and we have our own game style so its still depends you.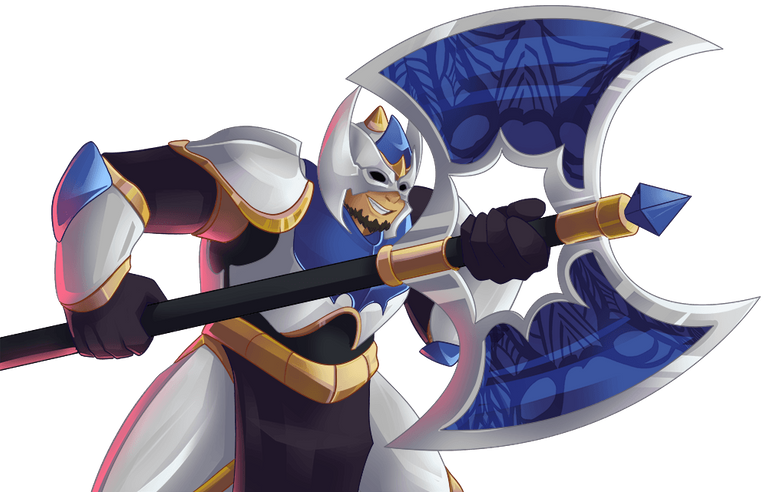 EARTH SPLINTER
-----KATRELBA GOBSON-----
The eldest daughter of Rock Gobson, Katrelba, has gotten the city into trouble for the last time. Her last spree nearly resulted in a full-out war with the Centauri people of the north, who could easily use their astral magic to level the entire goblin city. Luckily, the centaurs are more forgiving than goblins, so when Katrelba (while flying high on poppypoof) desecrated their most sacred shrine with a band of her unruly cronies (also flying high on poppypoof), she was grudgingly released by Kron the Undying without a fight. Still, a band of Centauri messengers brought the Gobson patriarch a stern warning two days later that led him to send the reckless daughter across the sea. Knowing how tough and formidable in combat his eldest daughter was, Rock Gobson decided to enlist her as a Gladiator. It was his hope that Katrelba could be someone else's problem for a while.
A sneaky character that is definitely worth to use. With her attack of 2, 2 of speed and health of 3, it seems normal but with its skill of sneak, double strike and bloodlust, attacking more gives more probability for the bloodlust to occur which makes here even stronger over the time.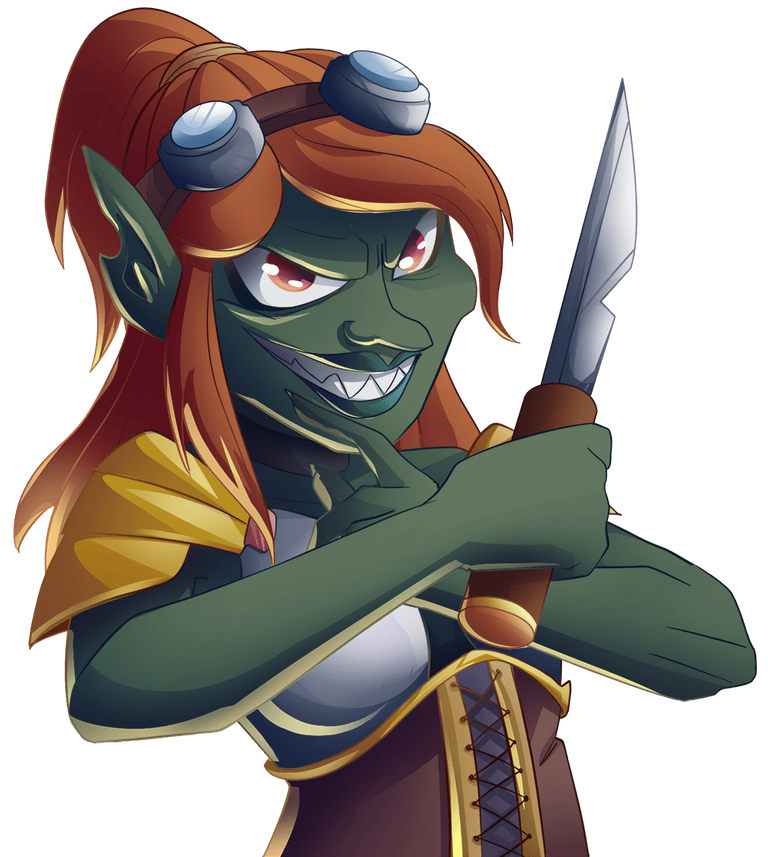 LIFE SPLINTER
-----CAPTAIN KATIE-----
A bright-eyed and loud-mouthed 5 year old stood tall on the bow of her daddy's ship, holding onto the rail tightly as the boat tilted toward the sky before teetering over another wave. The ΛZMΛRÉ seas were especially choppy that day and a storm quickly brewing, but little Katie didn't care. She felt like she was flying in those moments.
A strong lady magician. With its stats of 3 magic attack, 6 of health and 2 speed by using it properly it will be a strong card to use with its skill of snipe and bloodlust, any weaker card in the backline will surely suffer.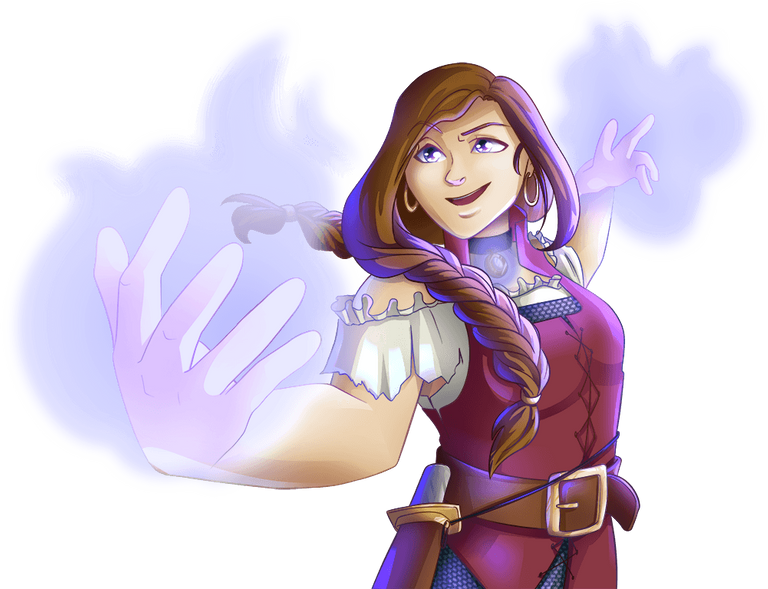 DEATH SPLINTER
-----TRAPP FALLOWAY-----
The small and weaselly creature called Trapp Falloway never looks as though he fits in among the Gladiators of Mount Mox, but time and again he proves everyone wrong. Trapp was delivered to Praetoria on a cargo ship from the Dark Eternal city of Galzur and though he is not a Dark Eternal himself, he fights alongside the warriors of the Death Splinter. He cannot be trusted. Many times he has been thought dead upon the rocky ground, only to jump to life and plunge a concealed knife into an enemy's weak point with shocking and sudden precision at the last possible moment. He never seems to run out of knives, and he has been known to beg for mercy when he secretly knows that none is necessary. He wears a hood to conceal a bald head covered with unsightly growths. Through his hood, his yellow glowing eyes can always be seen. Gladiators he has defeated in combat remember two things about Trapp for the rest of their days: Those eerily glowing eyes, and the taunting screech of his voice, which reminds one of an ironil lynx clawing and scraping at the cliffs as it begins to fall into the depths of the Great Pit Racchsa.
One of my favorite Glad Card. With attack of 4, speed of 4, health of 4 and skill of reduce life and bloodlust , combine it with proper rules and summoner this will kill a lot and be stronger every single time.
*** NOTE: This is all based on my own card and experience in game, there are better gladiator cards especially those in legendary and epic compare per splinter but it still depends if you're lucky enough to get one so GOODLUCK!!!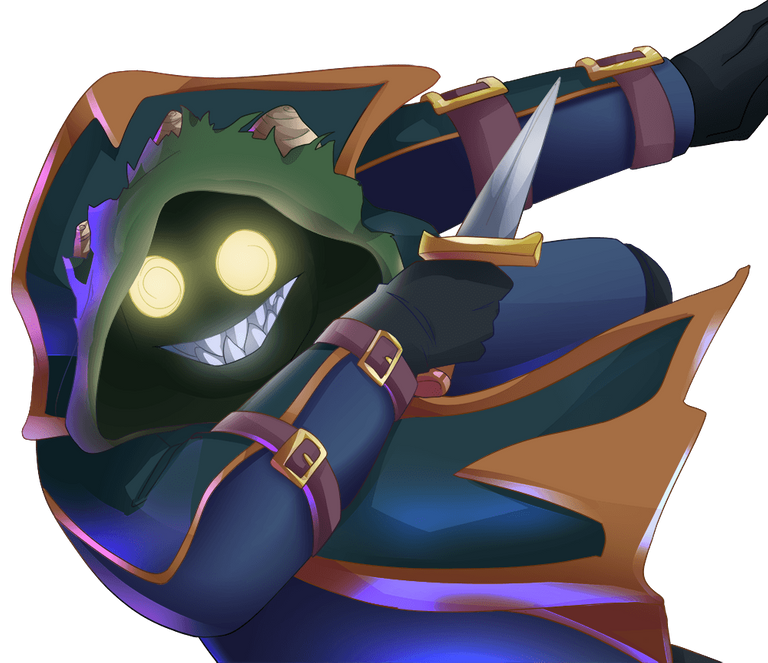 Overall, its worth to have a Gladiator cards not only it adds to your collection power but most importantly, you will have teammates to fight with and enjoyed with.
Let me share with you one of the milestone achievement of one of my guild, THRESHOLD GUARDIAN 1, as it release its own token of THG. You may read more with with its peakd account and more info about LP with this blog, THG Token and its Liquidity Pool starts this Feb. 14th. Its a must to join. So put some in LP now.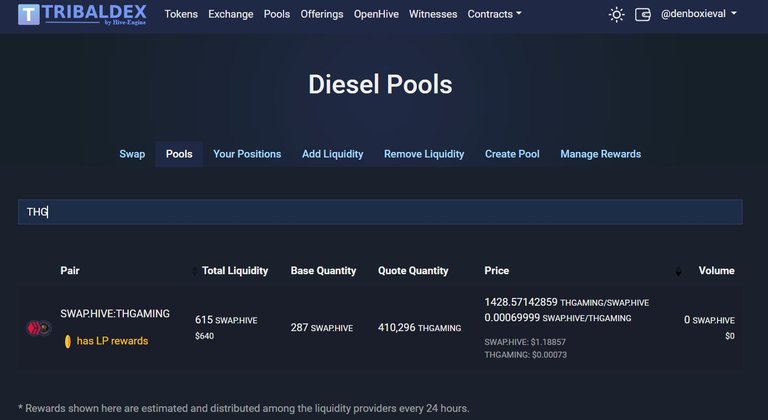 You may also join our discord on the link above to know more and engage more.
THANK YOU AND GODBLESS!!!
---
---