BATTLE MAGE SECRETS: EQUAL OPPORTUNITY - A CONTEST FOR THE MARTYR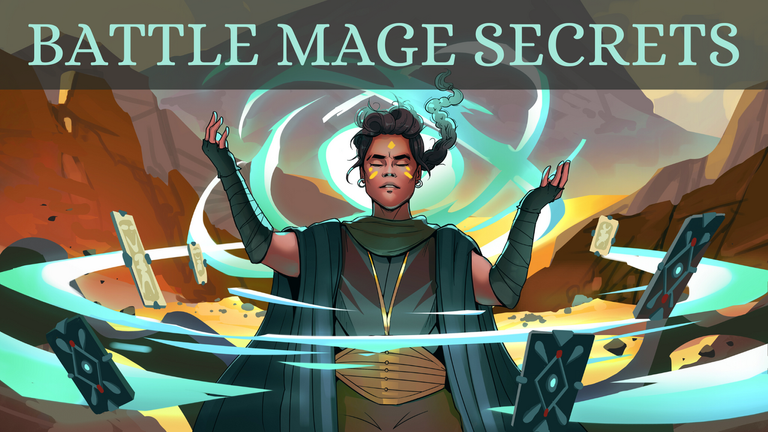 Hello Hivers, welcome back my weekly Splinterlands BATTLE MAGE SECRETS. As Usual I make Splinterlands post on weekends and today topic is about Equal Opportunity ruleset.
EQUAL OPPORTUNITY Ruleset is a ruleset that gives all units Opportunity ability which make them them to aim and attack opponent unit with the lowest health. So this is the ruleset who guarantee that the weakest will die first. There are a few approaches we can do during this ruleset.
1. SPEED FOCUS
Because the weakest will be killed for sure, and this is the exact sequence during this rulest, then Having faster monsters can be everything here... because the battle can turn out to be who kills first will be the winner.
2. BIG HEALTH MONSTERS
Monsters with smallest health point will be killed first, so let's try not to bring small HP monsters here. it makes your opponent harder to get the kills. Some people like to do this, having big and fatso HP monsters in their line up and ofcourse it works. Whether this will be a good tactic or not, that depends on the other rulesets too.
3. KILLING ABILITY
Having big hitters, I mean monsters who have high damage, is a must. However damaging is not the sole matter here, we need extra killing ability. Piercing, Blast, and Double Strike are abilities that really can boost up your performance and mostly these abilities will decide the outcome of the battles which have Equal Opportunity ruleset.
4. Manipulating Sequence - A Bait
This is the most used approach I have been using during Equal Opportunity ruleset. I tend to bring in some weak monsters as a bait, and expect they get beaten soon in order to have my core monsters or main damage dealers live longer.
Currently we have some new abilities, which one of them is Martyr. This is a great ability for baits which make them very effective in this ruleset. This post is about this approach, let check it guys!!

THE BATTLE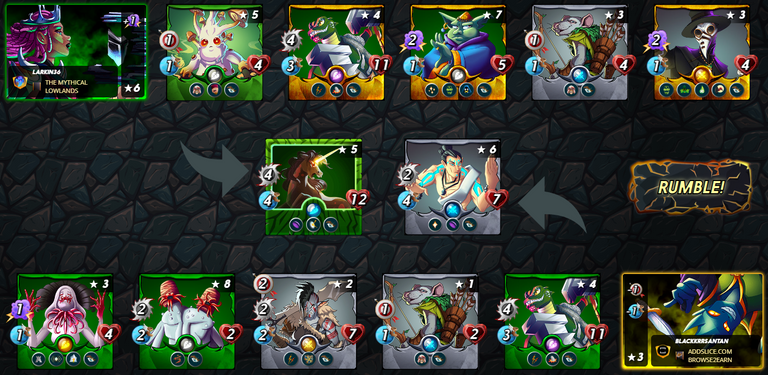 ~Click The Image Above To See the Full Battle~
This was a Modern gold league rank battle, and both of us using the earth element. I used Blackkrrsantan, a scholarship account from Bulldog1205 guild. I tried gain speed advantage thats why I used Quix The Devious. let see how things would progress
ROUND 1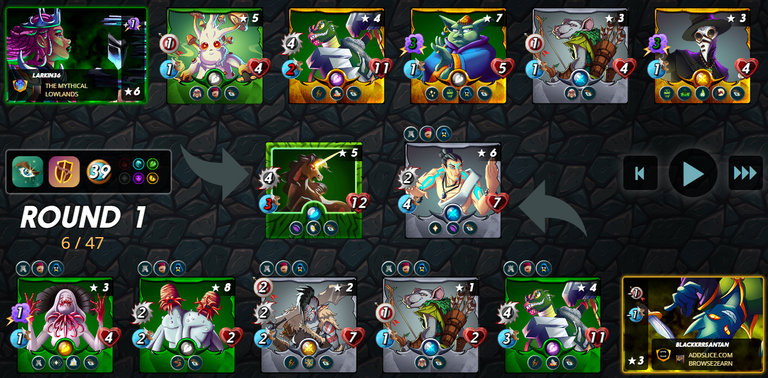 The battle started with both of us Buffing up our team and debuffing our opponents.
My opponent came with 8 Melee Damage, 2 range damage and 4 magic damage per round. overall they had 14 damage per round
My team had 10 melee damage, 3 range damage and 1 magic Damage per round. It's 14 Damage per round too
It looked like both of us using the same approach too, we relied on our Martyrs.
ROUND 2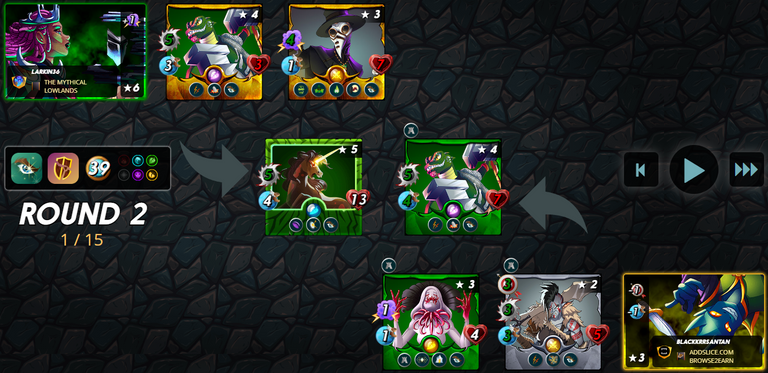 as expected all martyrs died in the first round, now the second round started with these powered up monsters.
ROUND 3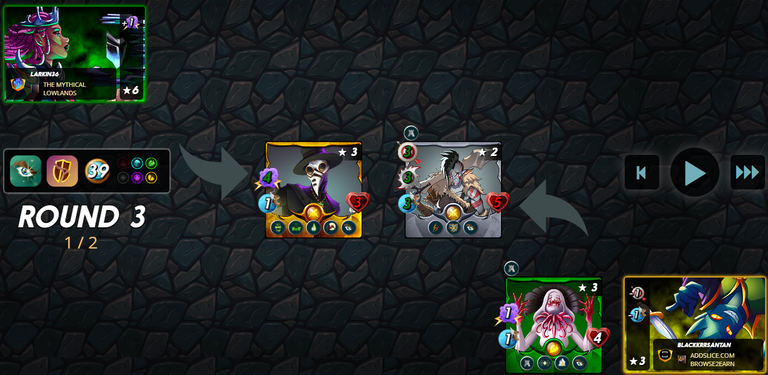 round 3 started like this. Good Game

CLOSURE AND DISCUSSION
Well it was a fun battle, both of us came with similar tactic so we expected things to be equal, however they were not. These are some points we can take from this battle.
1. MArtyr ROCKS!!!
Bot of us use martyr, that's more than enough to prove that this approach is now getting famous. People use Martyr, boost up their core monsters to get the win.
2. Killing Ability Makes The Difference
Let's pick this Drybone Raider, one of my favorite killer machine in this game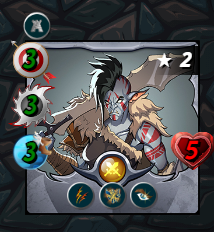 Stats wise she is not great however she has double strike that boost up her killing ability and during this battle, Equal opportunity makes her as the MVP.
How much damage does she deliver? 2 x 3 melee damage and 2 x 3 range damage, combine those number into 12 damage per round. And there is no help to prevent this, because 3 damage is safe from Forcefield ability damage nullificataion.
3. Tank Heal Is Useless
Tank heal is useless in Equal Opportunity ruleset, why? because the healer tends to die first and the tank tends to survive the last. So no point healing someone is not damaged right?
During this ruleset, it's wiser to have resurrect, or rebirth and Triage is better than Tank Heal. But rather than defensive, I think taking a very aggresive offensive approach is the most simple way to gain advantage in this ruleset.
Ok that's all for today post. Have fun with your EQUAL OPPORTUNITY battles!!

---
Thank you for visiting my BATTLE MAGE SECRETS Weekly Challenge, don't forget to leave your comments and feedback below. There are credits in this post for these people:
@splinterlands : for holding weekly social media challenge events
carrieallen : for ultimate markdown tutorial
bulldog1205 : for the scholarship account : blackkrrsantan
thepeakstudio : for wonderful divider art
---
---