BATTLE MAGE SECRETS: Let's Play Whac-a-Mole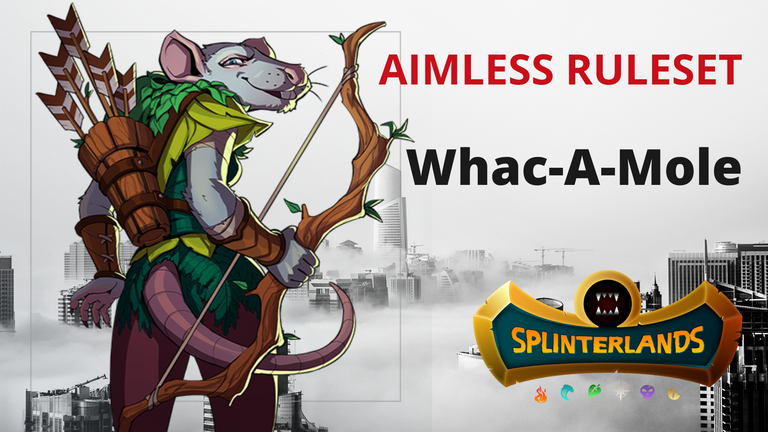 Hello guys, welcome back again my weekly Splinterlands Post. Today we are having a Battle Mage Secret challenge about AIMLESS ruleset. This ruleset makes all monsters have the Scattershot ability. so their magic and range attacks will be scattered everywhere, becomes aimless. This condition sometime remind me of playing whac-a-mole game, where we do not know where the mole will pop out so sometime we just hit aimlessly everywhere
Last week we had Aim True Ruleset now we have AIMLESS ruleset. Unlike Aim True, during AIMLESS ruleset we have more posibility of having vast diverse approaches. Some people prefer to go with melee only, because they hate scattershots. Some even focus on picking monsters with blast ability, and some try to have two monsters with triage. o let see the battle to get some reference.

THE BATTLE RULESET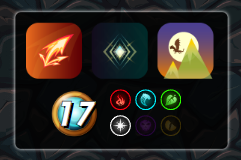 We had 3 rulesets here, the first one was AIMLESS, our main ruleset topic in this week. The other two were:
Up to Eleven: all monsters have the amplify ability
Lost Legendaries : All monsters will have blast ability.
First I realized hat this was a 17 mana cap battle. The option we could get were pretty much limited. We could only go with 1 big monsters and a few to accompany him/her, or we went with many monsters but all were small. Because this felt like a Whac-a-Mole game, somehow I remembered a mole monster who I thought it could get in this condition quite good.
So what we should do next? From these rulesets and 17 manacap, we could set some strategy based on these logics:
I picked fire team. this was a gamble because I wanted to go with Water element. The main consideration was simple, +1 Melee damage and +1 health from Tarsa. I would go with Melee Team
Lost Legendaries, it meant there would not be any Fiend. It ruled out earth element too because Queeen Mycelia wouldn't be available.
I decided to ditch out the Up to Eleven ruleset. I thought trying to exploit it might ruin my formation
So here was my plan:
| Position | Card | Ability | Plan and Strategy |
| --- | --- | --- | --- |
| Summoner | | +1 Melee Damage and +1 Health | Tarsa is an excellent choice for whatever formation you going to have with your Fire Element team. It's a debatable whether she is the perfect fit for Melee team, because Kayla can boost up melee team too with her +1 armor. |
The Tank
I decided I would bring 1 tank only, and this might be one hell of risky gamble
| Position | Card | Ability | Plan and Strategy |
| --- | --- | --- | --- |
| Main Tank | | Heal, Void | one of the best Chaos Legion small mana monster. With aimless ruleset, I hope less attack will land directly to him. And with tarsa +1 melee damage buff, he will be a good choice... healing himself and dealing good damage. |
The Team
Ok now the rest of the team... they are a bunch of damage dealer, and my main monster is Pelacor Arbalest. I put him on behind and hopefully he can keep killing opponents and leads the team to victory.
| Position | Card | Ability | Plan and Strategy |
| --- | --- | --- | --- |
| Third | | Martyr | Our hidden jackpot is him. With 4 nonsters only opponents have 25% odds of hitting him, when it does, the rat will die and Xenith monk will be powered up. this is what I call whack a mole |
| Fourth | | Sneak, Poison | Simple but deadly, that's Uraeus. This snake is not a powerful sturdy monster, but once he delivers poison to backline target, that target bounds to dead for sure. |
| Fifth | | Snipe, Snaire | One of the reason why I like fire team is that they have many small powerful monsters. Lava Spider is my backline wall, so Uraeus won't die from sneak attack incase my opponent comes with Uraeus too. |
THE BATTLE
~Click The Image Above To See the Full Battle~
.
This was aGold League Modern Rank Battle. I was using Backrrsantan account, a scholarship account from Bulldog1205, our famous and favorite streamer.
Both parties looked to have a good meta. I came with a trap, martyr monster, in hope that my Xenith Monk would be a super strong one. My opponent tried to maximized ruleset by bringing in Pelacor Conjurer. Too bad for him, I had none mage
ROUND 1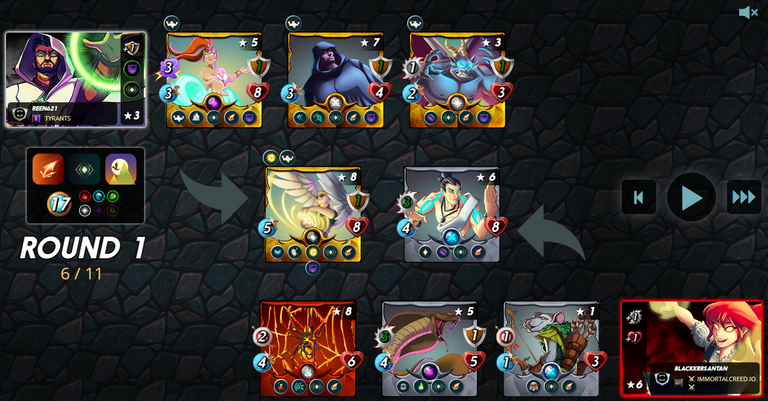 The battle started with both of us Buffing up our team and debuffing our opponents. Look at how many buff they had, as expected from a Diamond Level opponents.
My opponent came with 3 magic damage. they used turtle formation
My team had 6 Melee Damage, and 2 range damage. A total 8 Damage per round. this would be a total domination for me
ROUND 2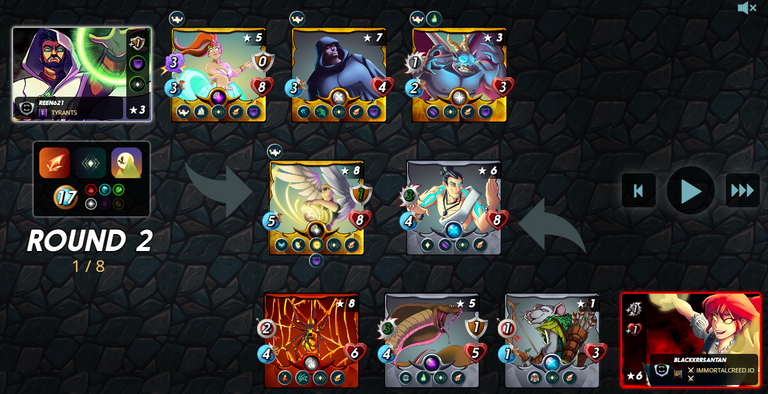 nobody died in first round. It looked like a plain one.
let see when the mole got whacked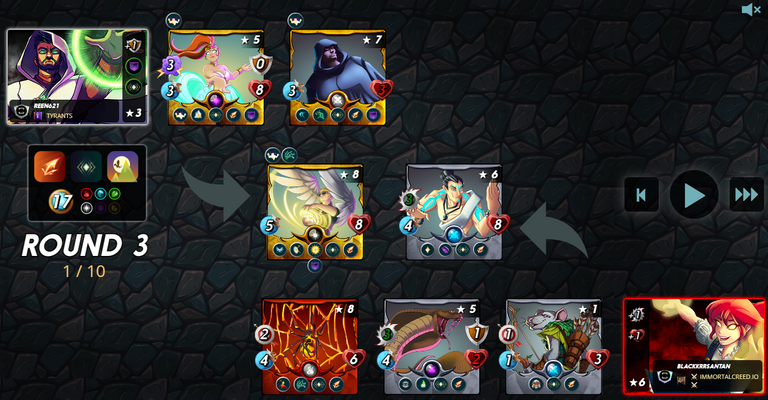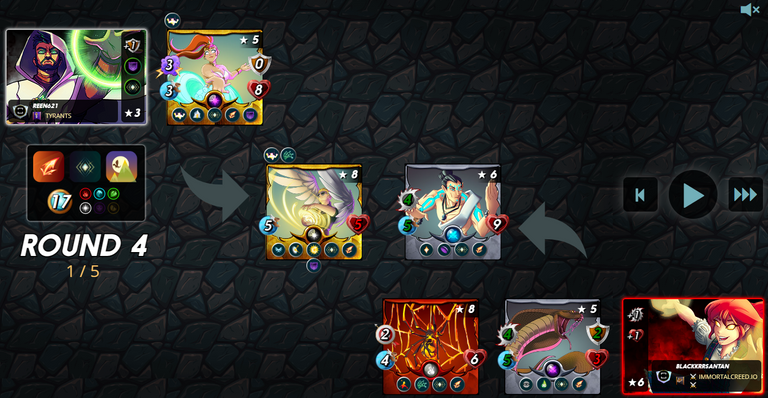 The mole got hit on the 3rd round. Now My Xenith monk got overpowered. Good game

The battle settled on the fifth round

CLOSURE AND DISCUSSION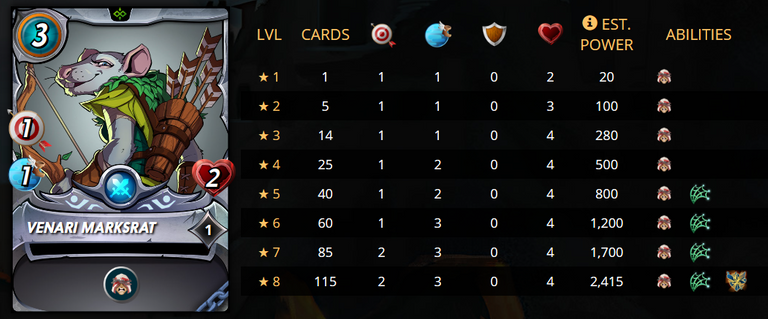 Personally I don't like to upgrade Venari Marksrat level, for me, 2 heath is what we need from a martyr. We need this rat to die soon, so nearby monsters get powered up.
The best way to use this rat is during opportunity ruleset or a target practice, where we can set him on the second and get killed first. However AIMLESS ruleset in smaller mana cap can be useful to exploit this rat.
My opponents might not come with the best he can, however I think this battle is more than I need to show you guys that AIMLESS can be use to exploit MARTYR ability , in this battle I call it whac-a-mole game... make this rat die by random hits.
How about big mana cap? the more monsters we have, the lesslikely a target to be hit. so I do not recommend to try using Martyr in aimless ruleset while having 6 monsters team. There is always be a chance it still work well, however the percentage is a lot lower.
Ok that's all for today post. Have fun with your AIMLESS ruleset battles!!

---
Thank you for visiting my BATTLE MAGE SECRETS Weekly Challenge, don't forget to leave your comments and feedback below. There are credits in this post for these people:
@splinterlands : for holding weekly social media challenge events
carrieallen : for ultimate markdown tutorial
bulldog1205 : for providing me a scholar account ~ blackrssantan
thepeakstudio : for wonderful divider art
Posted Using LeoFinance Beta
---
---