BATTLE MAGE SECRETS: THE EVEN-STEVENS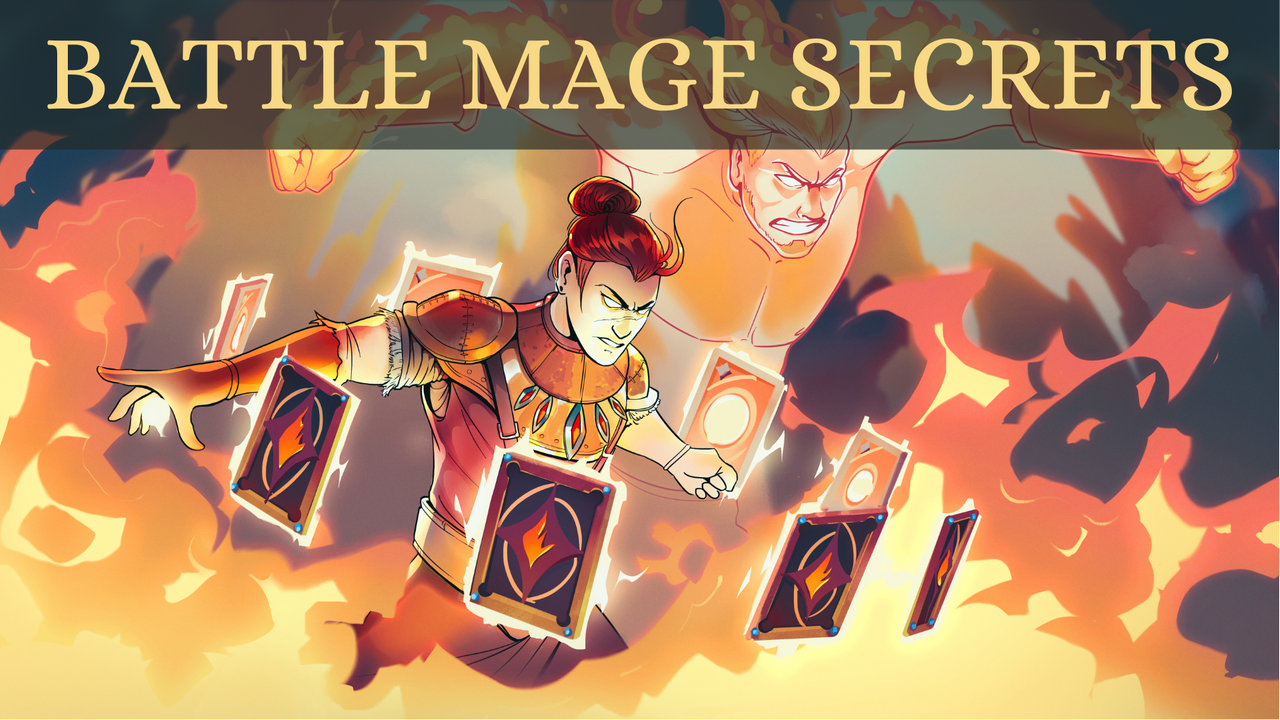 Hello Hivers, welcome to my weekly Splinterlands BATTLE MAGE SECRETS. As Usual I make Splinterlands post on weekends and today topic is about EVEN-STEVENS ruleset.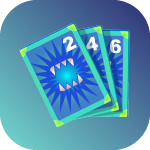 EVEN STEVEN Ruleset is a ruleset that limit our cards selection. Only Only cards which have even mana costs may be used, and this does not apply to the summoners selection. In other words when you build up your deck, you must predict which cards that you and your opponent can not use. I am not quite good at this ruleset, so what I know only these two tricks:
1. SOME DECK WON'T WORK
Let's face this objectively, some deck, for example Fire Element Chaos Legion, all their core monsters have odd mana requirement. Radiated Brute 5 Mana, Tenyii Striker 5 mana, Grum Flameblade 11 mana, Lava Launcher 9 mana and many more.
So sometime for me, EVEN-STEVENS is more like ruling out some deck, more like forcing you to pick certain deck-element only. Specifically it would be like a no fire element battle.
2. SOME META WON'T WORK WELL
If you like to play healing, you might want to avoid water element. Most of water element supports are odds mana. Merdalii Guardian 3 mana, Angelic Mandarin 3 mana, and the old wild one - Crustacean King has 3 mana requirement too.
I can not say we should avoid Water Element, because Water has some great even mana monsters or cards. Let say Deep Lurker, Diemonshark, Djinn Oshannus, and many more. But healing meta will definitely be limited during this EVEN-STEVEN ruleset.
Another example for this meta limitation is the SNEAK ABILITY cards. If you pay attention more on detail, you will recognize that most of melee attackers who have sneak ability are odds mana monsters. So you can expect less sneak attacks during EVEN STEVEN ruleset.

THE BATTLE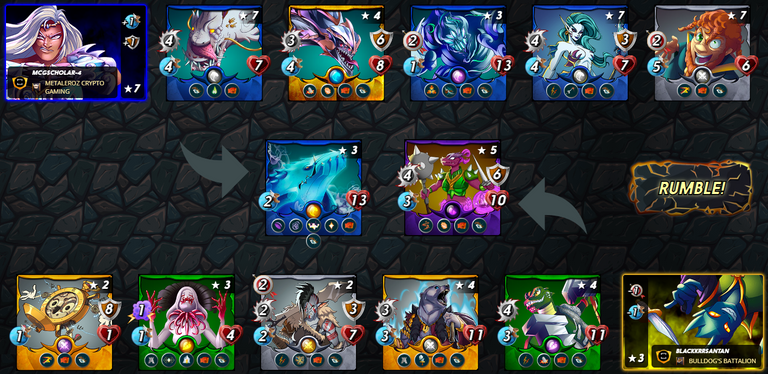 ~Click The Image Above To See the Full Battle~
This was a Modern gold league rank battle, I was using Blackkrrsantan, a scholarship account from Bulldog1205 guild. It's a battle between Water vs Earth Element. I think this was a good battle which both party came with similar strength. Let see how things would go.
ROUND 1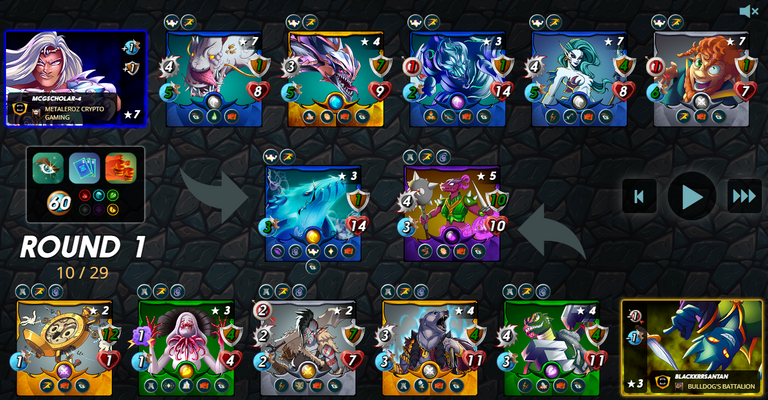 The battle started with both of us Buffing up our team and debuffing our opponents.
My opponent came with 11 Melee Damage, and 2 range damage.Overall they had 13 damage per round
My team had 13 melee damage, 2 range damage and 1 magic Damage per round. It's 16 Damage per round too
It looked like both of us using the same approach too, we relied on some heavy hitters and double hitters.
My team had better firepower but they had better speed and health point.
ROUND 2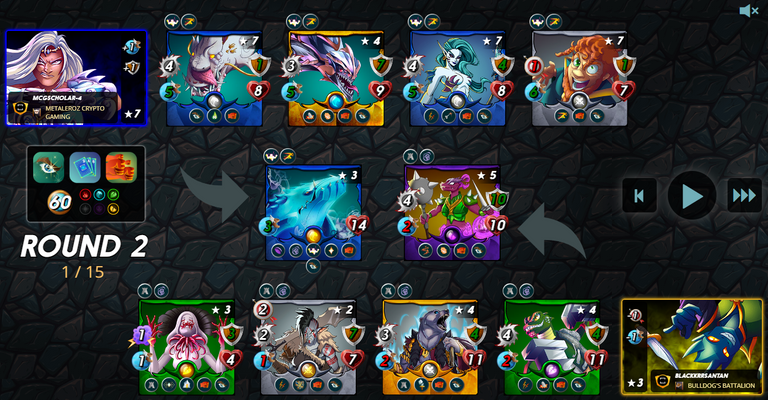 It's 5 vs 5 now however losing Clockwork Aide really made my team speed looked worse.
My team made 4 consecutive miss hits on this round. thing would be bad later.
ROUND 3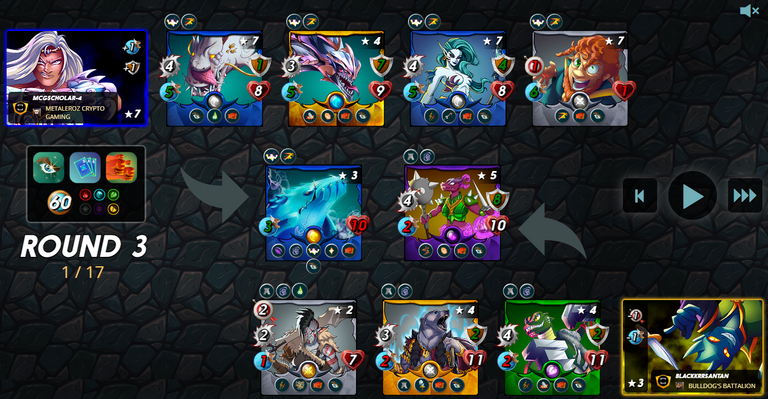 round 3 started like this 4 vs 5. However the speed gap betweeen our team was big. they moved all first before any of my monsters could make a move.
ROUND 4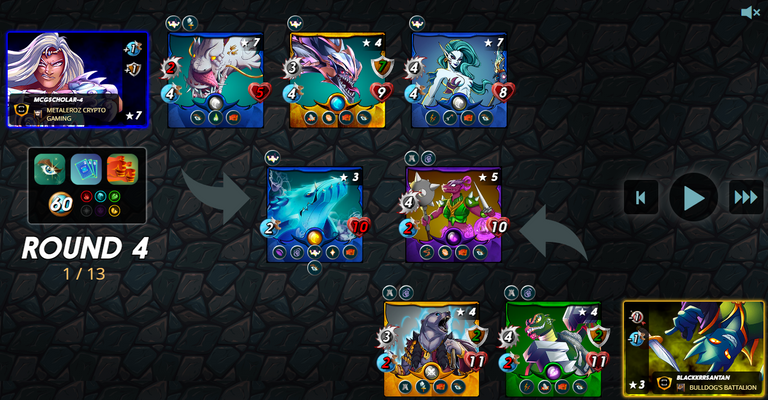 It's 3 vs 4 now, there was a big question here, could I beat that Baakjira?
ROUND 5 and the rest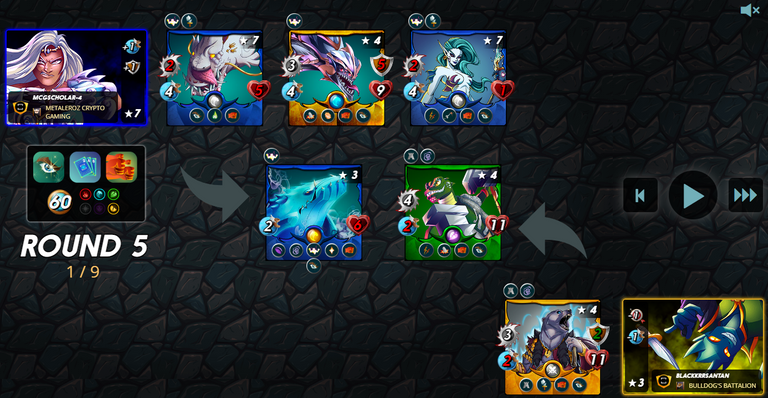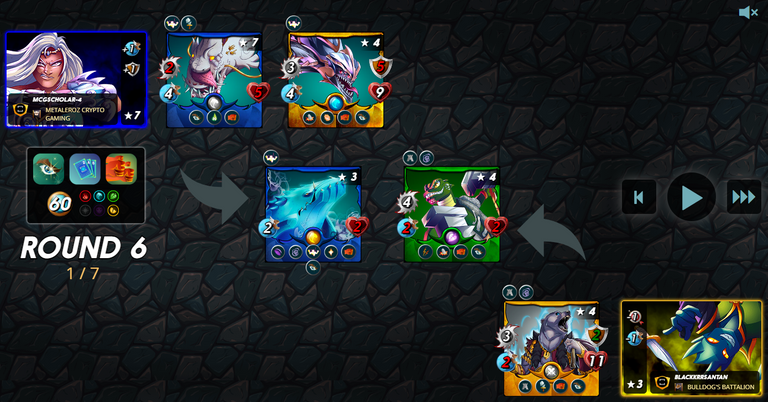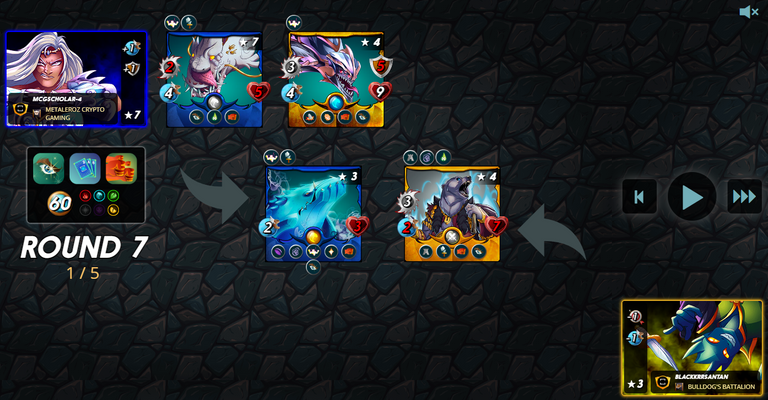 Ok round 7 was the last. I lost this battle. Good Game

CLOSURE AND DISCUSSION
Well its a fun battle, I think I have every right to say my opponent was lucky.
The first 3 attacks from their Deeplurker delivered poison.
My Drybone Raider missed 5 from her first 8 attacks.
Its hard to make any comeback or rebound when we are down due to RNG. However I do not wish to blame RNG in this battle, there are things that I admit my opponent managed to build a better team than me. so here are the lessons we can learn from this battle:
1. SPEED MATTER MOST
Yes Speed is what most important in this battle. My opponent win was greatly decided by the speed he managed to boost up.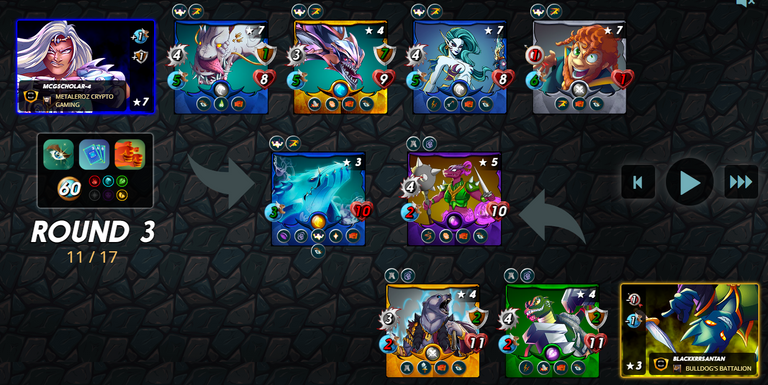 Round 3 was a good example to explain their speed supremacy against my team. All my monsters had 2 speed and all their monsters were faster, having atleast 3 more speed than any of my team. So they killed my monsters first then given 30% odds of dodging.
2. WRONG MONSTERS FOR THE RULESET
I believe I have made some wrong choice in monster selection. Clockwork Aide definitely won't be a good choice in the Equal Opportunity ruleset. It's a great choice for EVEN STEVEN, however in Equal Opportunity the clock will be targeted first and dies first.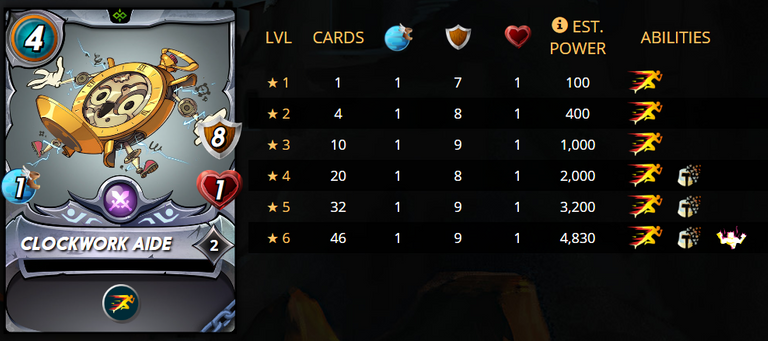 When my clockwork died, everything crumbled because my team could no longer compete with opponent speed. Actually I was quite lucky they did not have any mage / magic attack in their team, so my clockwork aide survived a bit longer... else it would be a fast wipe out from them.
3. DEPENDENCY TO CERTAIN META

Drybone Raider is a great card and she has 12 mana requirement which allows her to be available during EVEN STEVENS ruleset. I brought her into my squad in believe that she would be very great addition for the team... which later we saw she was quite useless in that battle.
She is a great card if the meta is right, this is similar to point no 2 above. She needs a Martyr, some support cards who buff her up. Having 5 misses from 8 hits proved that without good buff or if she gets debuffed, she will be useless.
Some monsters are like this. Uriel The Purifier for example, a monstrous tank. However against a Stun Ability holder, he will become useless. Some great cards are not working well if the meta they are good at isn't supported.
Ok that's all for today post. Have fun with your EVEN STEVENS battles!!

---
Thank you for visiting my BATTLE MAGE SECRETS Weekly Challenge, don't forget to leave your comments and feedback below. There are credits in this post for these people:
@splinterlands : for holding weekly social media challenge events
carrieallen : for ultimate markdown tutorial
bulldog1205 : for the scholarship account : blackkrrsantan
thepeakstudio : for wonderful divider art
---
---