CARNAGE TITAN : Wiping Out Opponent Tanks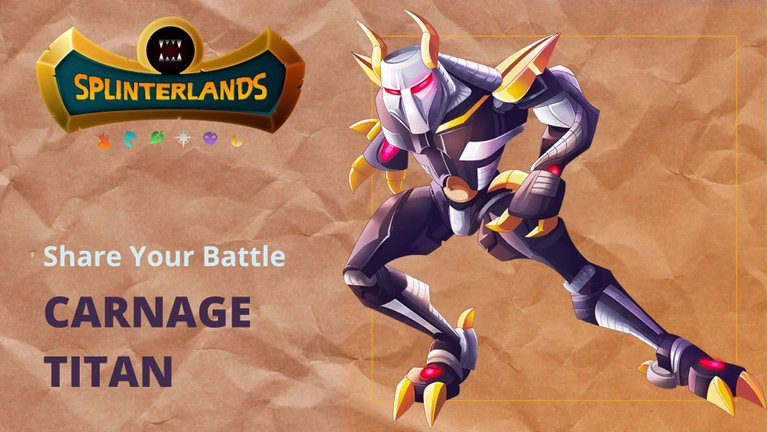 Hi everyone, welcome back to my Splinterlands weekly battle challenge. This week we should have DRAGONS* as our main theme, and I have decided the dragon will be Carnage Titan. Carnage Titan is a Legendary Rarity Dragon Monster from Chaos Legion Edition. It's one of most dangerous Reach-Attack Melee Monster.

QUICK INSIGHT ON CARNAGE TITAN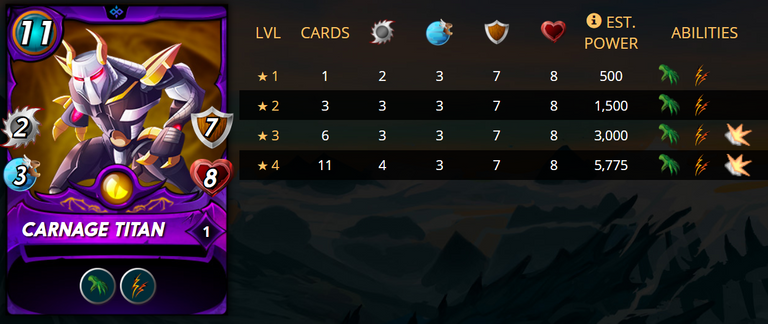 Carange Titan is one of the strongest Reach-Melee type monster. Definitely he is not the strongest, because I can list down some of his competitors which in my opinions are better than him.
In Genereal we can say there are 3 selling points and 1 weakness on Carnage Titan. Let's start with his weakness first.
11 Mana Monsters
Why 11 mana becomes his major weakness? It's not because of Giant Killer ability that can wipe him fast (Djinn Inferni can kill him fast), but it is because of most of Silver-Bronze League Battle having less than 30 mana cap. We can not maximize using this monsters on most Bronze and Silver League, having him in might become a mana burden for the team.
Due to that, having Carnage Titan should be great after we get onto Gold League. I know this is subjective based on my opinion only.
And let see his selling points
1. Great Attack Damage, 2 x 3 melee damage
There are many reach-melee type monster, however none hits as hard as he is. not even Oaken Behemoth hits as hard as Carnage Titan.
Great attack means not only damage, but he has supporting speed too. 3 Speed is not something that special, however most of the time it's enough to be considered decent.
2. As Hard As The Main Tank
Carnage Titan has 7 armors and 8 Health. At level 8 he gets Shield Ability. if your opponent don't have magic attack monsters, then we might have an easy win because even they manage to kill your tank, it is extra hard to kill him using melee and range.
The shield ability helps him taken less damage if he hits any monsters with thorn ability.
3. Very Cheap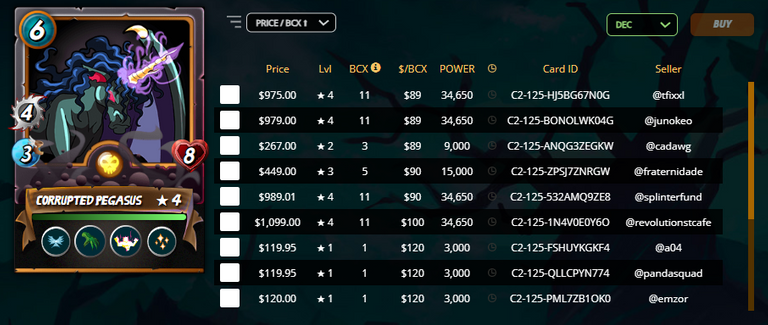 The above are the pricelist of Corrupted Pegasus right now. This is the monsters that I think that's still the best reach-melee type monster. 1 BCX might cost you $90.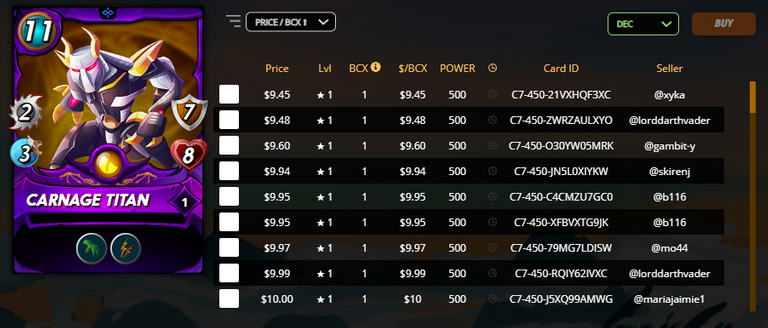 If we compare that price to Carnage Titan price above, we can see Carnage Titan is about 10% of the Corrupted Pegasus price. I am not saying this will be a great investment, this is not a financial advise post. I am saying that price-wise, Carnage Titan is cheap and affordable. The price gap is big however their worth in battle aren't much differed.

Battle Preparation
I got these rulesets and I thought they were great to show how strong melee monsters were:

UNPROTECTED ~ Monsters do not have any armor and do not get armor from Abilities or Summoner Buffs.
44 MANA
With no armors available, it would be fast for Carnage Titan to wipe out opponent tanks. However I knew this would be a double edge swords, because my Titan would lose his armor too. With 44 mana, I thought it's best to get a 6 monsters team.
So here was my line up that I could come up with:
| Position | Card | Ability | Plan and Strategy |
| --- | --- | --- | --- |
| Summoner | | +1 Melee Damage | The best choice if you want your dragon team to boost up their melee attack |
| Main Tank | | Double Strike | One of the favorite tank from Chaos Legion Earth Element Tank. We would have a team of twin double striker here!!! |
| Second | | Reach, Double Strike, Shield | Our main theme this week, let see how he would perform |
| Third | | Tank Heals, Affliction | Currently he was the best healer in my Earth Element Team |
| Fourth | | Silence | This mushroom's Silence Ability would help protecting Grund and Carnage Titan from magic attacks |
| Fifth | | Fly, Life Leech, Slow | I was having a headache whether to choose Carnage Titan or This Black Dragon as the main theme. Everything about Black Dragon was great, however I decided to save him for future Dragon Battle Challenge |
| The Last | | none | A filler, my backline extra meat wall. I couldn't expect anything from his 1 speed 1 range damage |

HERE COMES THE BATTLE!!!
If you want to see the battle directly, you can see it directly here:
https://splinterlands.com?p=battle&id=sl_707dc0106f18b55e0770199ee199e1fc&ref=dewabrata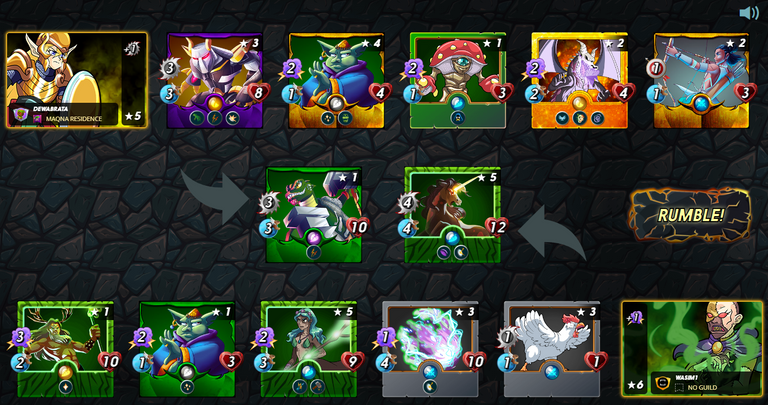 It's a Gold League Rank Battle Dragons vs Dragons. I was very glad I had Mushroom Seer in my team, it looked like my opponent was coming with a bunch of mages. I hoped my Grund wouldn't die fast.
Round 1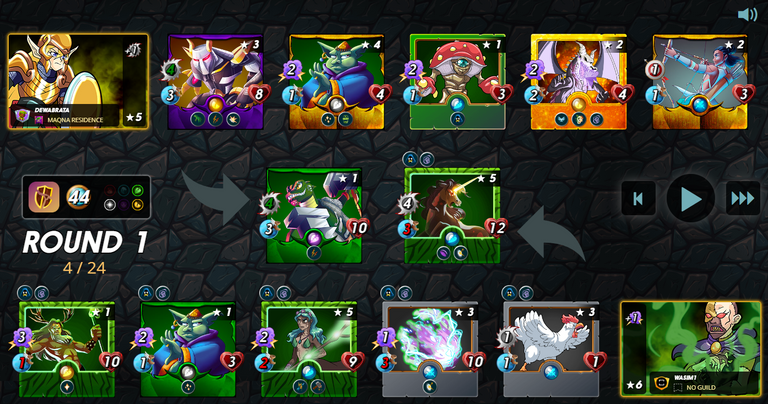 The game started as both party buffing and debuffing their monsters and opponent's monsters.
My opponent had 8 magic damage, 4 melee damage. Combined all they became 12 damage per turn.
My team had 16 melee damage, 1 range damage and 6 magic damage. Combined both became 23 damage per turn. Seriously 23 DPS vs 12 DPS? Good Game bro
Carnage Titan - Grind twin double striker killed the mustang and the chicken.
Round 2
Carnage Titan - Grind twin double striker killed the Prismatic Energy and wounded Centauri Mage heavily.
at the end of the turn, Only Kron survived
Round 3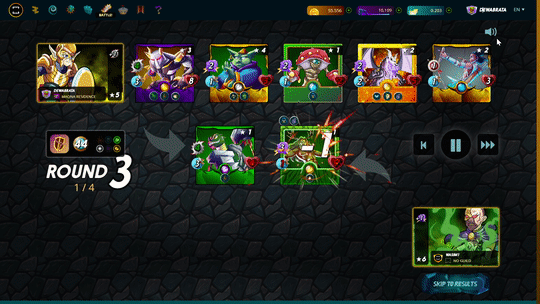 Kron without Last Stand... vs 16 melee damage twin double strikers? Good Game
Battle Discussion
Without armor to protect health point, these twin double strikers with 16 melee damage was too much for my opponents. There was one regret I had, I did not use level 4 Grund, which would have 2x5 melee damage. It would have been an awesome sighting for my opponent.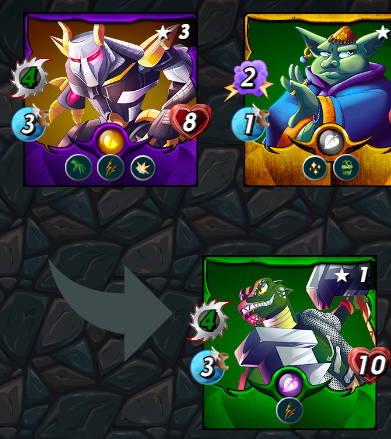 Black Dragon held a very important role here. His slow ability made my twin double strikers hit first and killed opponents before they were able to move.
This strategy was very effective due to no armor and faster speed. If my opponent could match my speed, they might not win but atleast this would not be a one sided battle.

Thank you for visiting my weekly battle challenge, don't forget to leave your comments and feedback below. There are credits in this post for these people:
splinterlands : for holding weekly battle challenge events
carrieallen : for ultimate markdown tutorial
kyo-gaming : for wonderful divider art
---
---