How to Use Drybone Barbarian - As a Battering Ram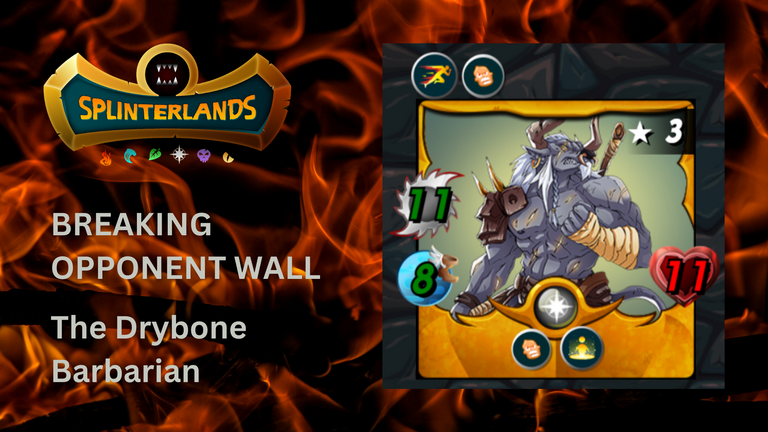 Hello hivers,
Another week another new splinterlands post, welcome back to my weekly Splinterlands Social Media Challenge post. Today I want to share about a soulbound cards, the cards you must play splinterlands in order to get them and forget about buying them from the market, they aren't available that way.
shoten lore: The Drybone Anarchists are an army of raiders, pillagers, and plunderers led by the llamataur warlord, Eternan Brune. They control the Drybone Badlands in the Wild Northeast, where it's survival of the fittest, and only the strong survive… and Drybone Barbarians are strong indeed.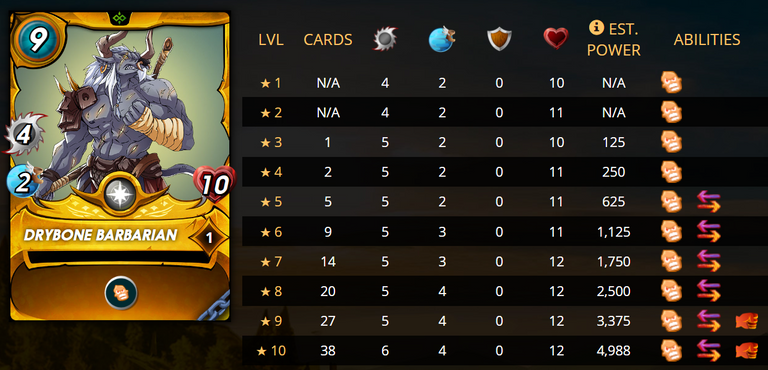 Drybone Barbarian is one of the most hard hitters in Life element. If you see the stats above, I think we all can agree that this cards is about attack, attack, and attack only. There are 3 selling points what we can get from Drybone Barbarian:
He is strong right from beginning. He is not some monsters that we need to level up first and become stronger later. Drybone Barbarians are strong right after he shows up even at level 1.
In term of delivering damages, he might be the best Melee Hitter in Modern Format Life Element.
Whether he will be special in the battle or not, it depends on how we can or manage to exploit his Enrage Ability.
From those 3 points , we can plan on how we use him or which battle we can use him well.
Equal Opportunity. When this card can attack from anywhere towards his weakest target, 4-5 melee damage is very dangerous.
Melee Mayhem. This is the same reason with Equal Opportunity.
Super Sneak. Same reason with both ruleset above.
Unprotected. Without any armor available in the battlefield, Drybone Barbarian high melee damage will be a force to regcon.
Rise of Common. Recently I find that Drybone Barbarian performs well during this Ruleset. Nothing Special about this ruleset, its more like people do not expect to have some monsters with 5 damage coming along in common-rare only battle field.
Ok I am not in good mood to write wrong, and my health condition is far from best. So I make this one short but I make sure you all get the points here. Let see a couple of battle references.

BATTLE REFERENCE #1 - HOW STRONG DRYBONE BARBARIAN IS
~Click The Image Above To See the Full Battle~
---
Here is our first battle reference, this is a wild format Silver League Rank battle. There are not much we need to anticipate from the ruleset. Summoners get silenced, can not help any and no legendary monsters here. I think this is like a standardized battle, a good reference to see if Our Barbarian is strong... or not
My Opponent Meta:
It was clear that my opponent using 2 approaches here:
Thick wall in front... They have Seamonsters who has a healing ability and Nerrrisa Tridawn as their second tank. They have Crustacean king on their backline, making sure their tank will be healed all the time.
Sneak magic damage... this is the most hated one, because hard to guard a sneak magic attack. Their Coral Wraith is the ultimate thread to my team.
My Metta:
My strategy is simple, all storm ahead, banging their front door. Drybone Barbarian will lead this team, and I have Venari Crystalsmith to support him, making sure he won't die quickly in this battle
ROUND 1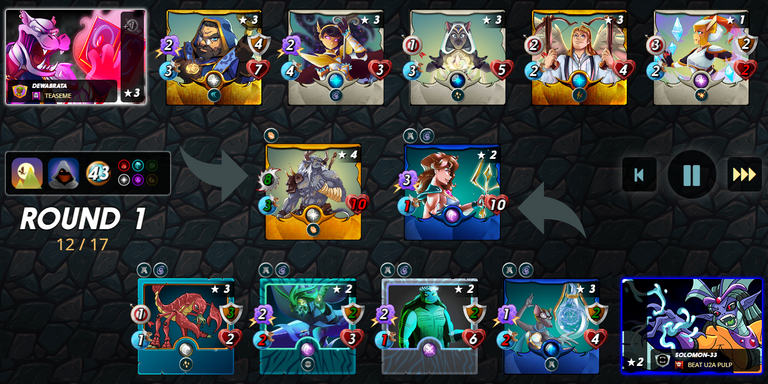 They lose their Sea monsters right way, because everyone in my team is attacking straight on which make the dragon unable to withstand those built up damage. Drybone Barbarian leads his team mate, hammering opponent main tank with 8 melee damage
ROUND 2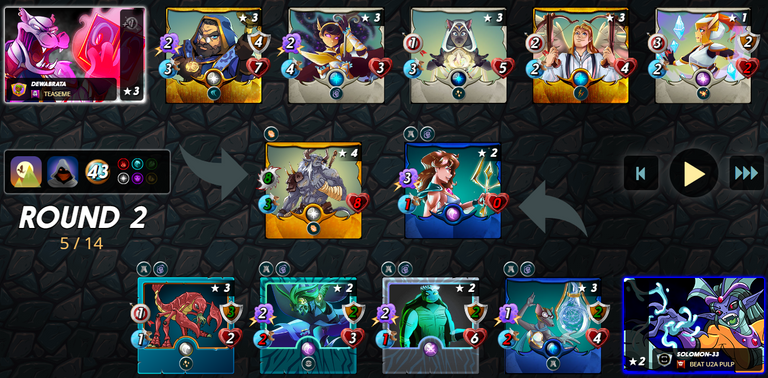 This time Drybone Barbarian delivers 8 melee damage to Nerrisa and sends her to afterlife
ROUND 3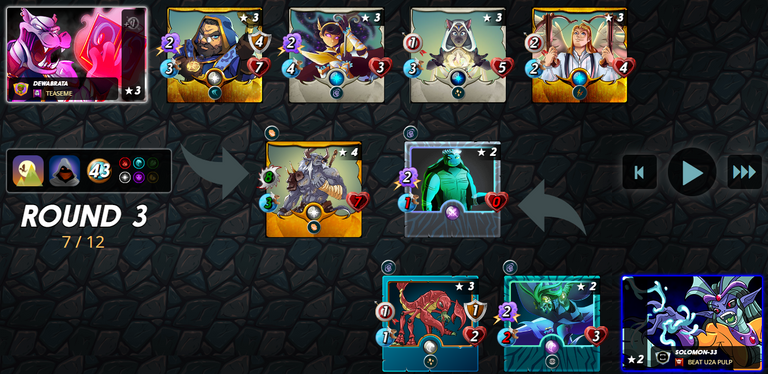 Same thing with round 2, this time the old Teenage Mutant Ninja Turtle gets to taste 8 melee damage from our Barbarian, and he is gone for sure
ROUND 4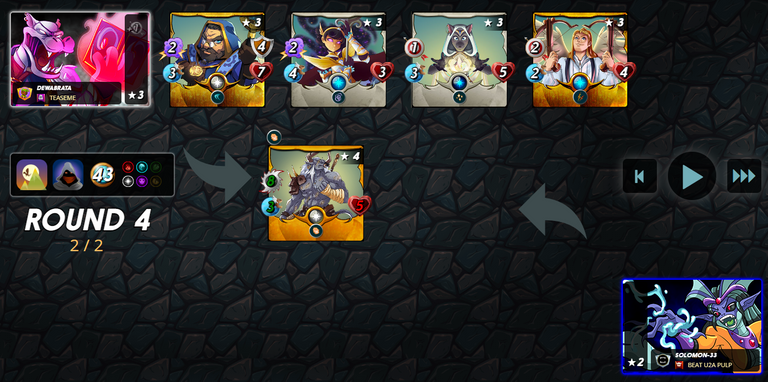 This is the last round, everyone get wiped out by the Drybone Barbarian team
KEY WINNING POINTS
DRYBONE BARBARIAN 8 MELEE DAMAGE. In Bronze-Silver league battle, this damage is ridiculous, this is the same reason why Sand Worm can be considered a cheat in low league battle, due to excessive damage they can deliver. It's pointless to bring any healers if their teammate or the one they are rrying to heal, gone in one hit.

BATTLE REFERENCE #2 - SLUGFEST CONTEST
~Click The Image Above To See the Full Battle~
---
And now our second battle reference, this is a modern format Gold League Rank battle and I am using Blackkrrsantan from Bulldog Battalion Guild. More or less it's similar to the first battle reference, but I think My opponents usinga better line up. they have double hitter, double tank, using double tank, bringing sandworms, and many more which makes thing more interesting.
ROUND 2
Nothing worthy to watch in first round, so I just skip that to round 2.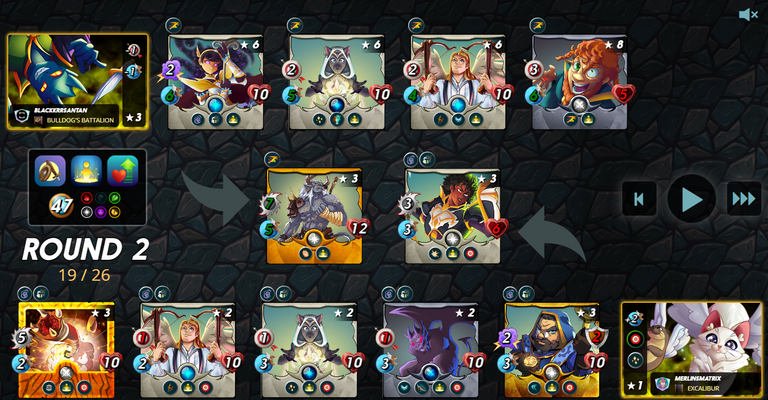 ok the rat is gone now, thank you for the martyr sacrifice. Now my Drybone Barbarian has 7 Melee and 5 Speed. And things goes as I plan before, Barbarian gets enraged thanks to their Pelacor Arbalest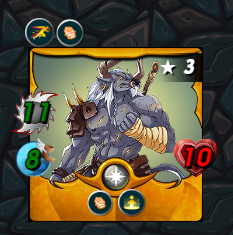 ROUND 3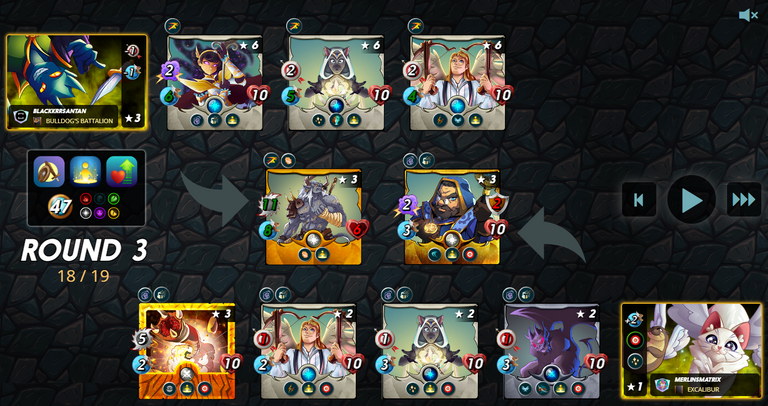 Currently only their Time Meddler is standing between my drybone Barbarian and the victory. This will be a contest between our barbarian vs Sandworm, who will wipe out their target first.
ROUND 5 and the rest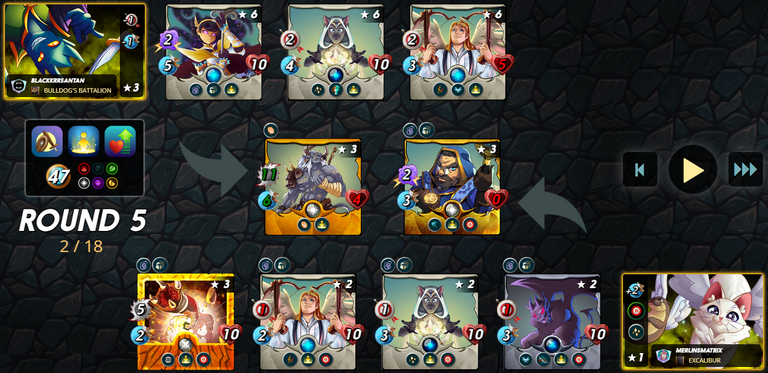 I skip round 4 because things go so slow. We still have some rounds to go but round 5 is the last one where they still have a small chance to fight back. Time Meddler blasted away by Drybone Barbarian, and this erase any chance of them to recover... because each of the rest will be wiped out by Barbarian by a single hit.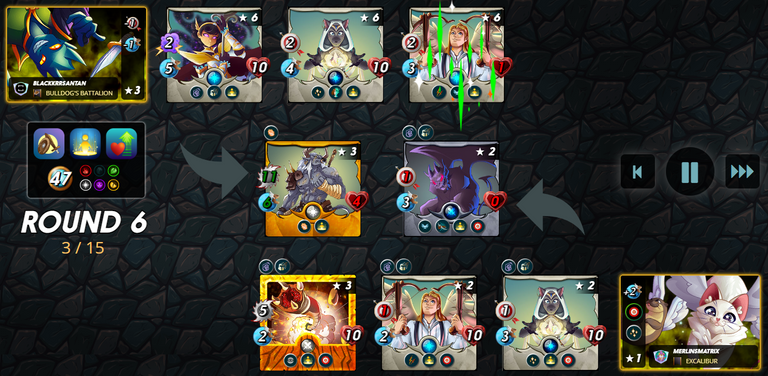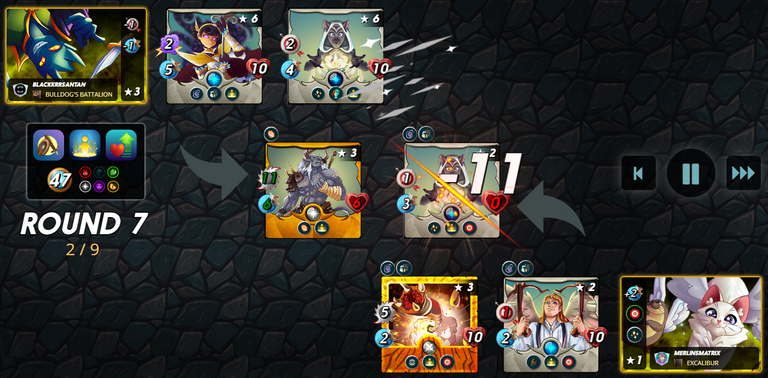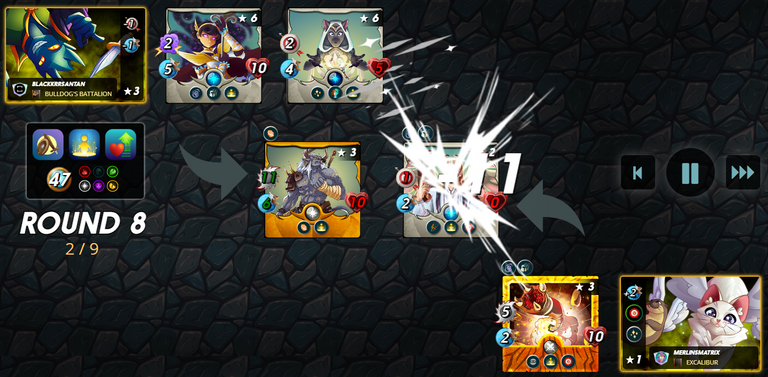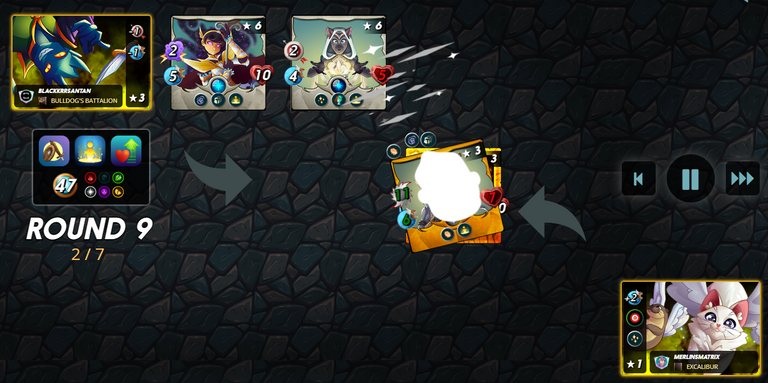 KEY WINNING POINTS
DRYBONE BARBARIAN 11 MELEE DAMAGE. As the same in the first battle, this battle I have exploited Martyr Ability which lead to have Drybone Barbarian having ridiculous 11 melee damage, killing all his target with a single hit only.

MY PERSONAL TOUGHT ON DRYBONE BARBARIAN
Why I like to address Drybone Barbarian as a Battering Ram? Simple, because there is no way to defend against his attacks. Those attacks are capable to be ridiculously unstoppable.
So how to stop Drybone Barbarian? It is simple, we only need to kill him first before he delivers his unstoppable attacks. Drybone Barbarian does not have any defensive abilty, so killing him won't be hard as long you have a focused attacks on him. His only defense is his high health.
Is this DRYBONE BARBARIAN great?
Personally I do not think he is great. He is unique and an interesting one for sure. I recommend this card to all my friends and keep saying that there are plenty of benefits and advantages playing him not only now, but oneday in future too when we have more cards selections.
I know some people dislike this card because there are no defensive ability beside his high health. But he is a common card, if we talk if Barbarian has some armor, or Void ability, or shield, and some other defensive ability... come on guys, this is a common card, those traits and abilities would make him as a Legendary one for sure.
Anyone that's all for today post. I hope you enjoy this post, and have fun playing Splinterlands!

---
Thank you for visiting my SPLINTERLANDS SOCIAL MEDIA Weekly Challenge, don't forget to leave your comments and feedback below. There are credits in this post for these people:
@splinterlands : for holding weekly social media challenge events
carrieallen : for ultimate markdown tutorial
bulldog1205 : for the Scholarship Account - blackkrrsantan
thepeakstudio : for wonderful divider art
Canva : For a free service of graphic designing
---
---