My first 30 days playing Rising Star Game, Some thoughts and tips for other Beginners
Hi all, welcome to my first post about Rising Star Game, one of the game in our HIVE blockchain. In this opportunity I am sharing my first 30 days experience and hopefully those can help other players, especially new players, to understand this game mechanism better.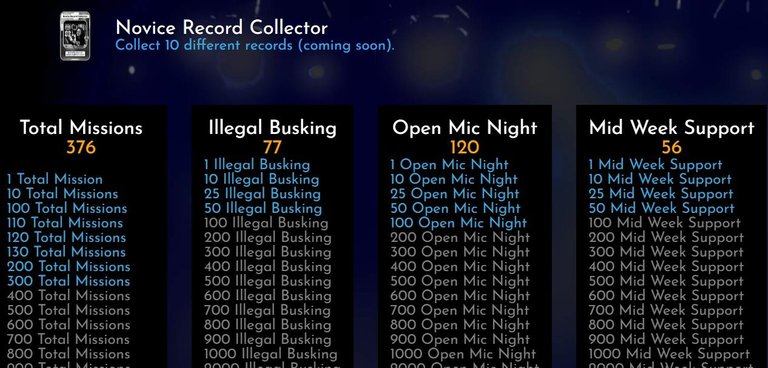 all images © @risingstargame
Before I start, maybe some of you don't even know what rising star game is about. This game is a about Musician Career Simulation, where you start yourself as a busker. The mechanism of this game is similar to mining game which you dig, dig, and keep digging for gold... as a busker you do missions, which each finished mission will give you STARBITS (game token). You can use these STARBITS to buy NFT cards which improve your stats and enable you to take higher mission, and you can sell STARBITS in hive engine to make some real money too (Play to Earn). You can visit the game page here.
GETTING STARTED AND KNOWING EGO
When we start this game, everything seems simple and monotonic especially when you are still below level 15 or having less than 1000 fans. Why? because you haven't had EGO function activated yet. For me, this part is like a trial demo or a test drive. All we need to do is focus on time management, taking as many missions as long our energy can support it.
When Ego function starts, the whole mechanism will be slightly changed. The EGO you get will get accumulated permanently and Ego from the same mission increases exponentially throughout the day until it gets reset at certain time everyday. For some player, this is a rise on difficulty in getting their STARBITS. They might feel that they are forced to do different kind of missions then get frustrated by it.
Here my first tips. Make some training-missions plan and revise your old tactics. This game is not about doing as many missions to get as many STARBITS in one day. This is the trap we get from EGO. Initially illegal busking is our saviors, most loved missions, because by doing as many busking we can, we get more and more drunkards, and get maybe 3-4 pizza a day which make us able to do 20-40 missions in a day. After Ego Started, this has become a suicidal plan which lead you to massive EGO and you will end up getting less and less STARBITS in long term.
My suggestion is try to shift your mindset... It is not about taking as many mission in a day, its more on managing your ego growth vs skill growth. I only take one to two music Lessons in a day and I still can keep my skill growth above ego growth. Seriously you don't need to do more than 10 mission in a day, a Midweek Headline Slot needs 80% of your energy, that's almost a 8 hours recovery time. Busking with a license needs 65% of your energy, about 5 and a half hours recovery time. You only need 2-3 type of missions and do each of them in rotation. Don't worry about STARBITS, if you get your right rhythm, they will keep coming into your wallet.
So please stop thinking about doing many missions. Focus on your plan, do 1-2 Music Lessons and finish 1-3 big missions...
GETTING NFT IN A RIGHT WAY AND GETTING RIGHT NFT
This game is all about getting or collecting cards (NFT). You can start without paying any, same as me, but without acquiring any NFT, you won't get anywhere. Talking about acquiring NFT, there are 2 things you need to understand here, first is how you will get them and second is which NFT you need most.
When we need NFT cards, the first thing comes into our mind is buying a card pack. I bought a card pack and opened it only to get 3 cards which I couldn't use at all. I got a good rare R116 Harmonium, but without 1000 fans I couldn't use Piano Lesson. So this is my second tips, buying a pack doesn't always work.

In this situation, like it or not I must get more NFT to increase my stats. So I chose these 4 NFT and bought them directly from the market. All of them are discontinued (100% printed) incase one day I will buy some packs more I won't get a duplicated NFT cards. It is ok to have multiple NFT of same type, the stats will be combined, but it will only be counted as one unique card.
Here my third tips, focus on a specific type of instrument card, focus on one type of musical lessons. Having unmanaged High Luck can be disastrous, because you will attract many drunkards which has a bad side... additional EGO... without helping out on your music lessons. You can check on in-game FAQ which instruments support your preferred music lessons, each 1 luck on that instrument increases 1% of base skill rewards. In my case I chose to improve basic singing lesson. I think that's a good choice at least for 1-2 months ahead. With additional 60 luck from my mic cards, you can see the different between my basic singing lesson and my guitar lesson below.
So what's next?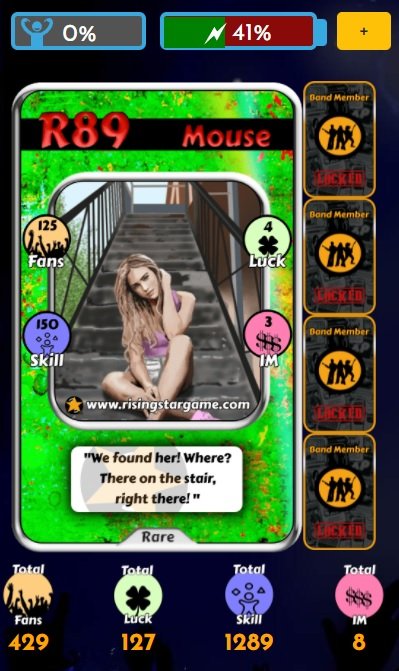 This was my stats when I started making this post. This post actually delayed about 9 days due to RC problems. You can see I have slow growth because I did not play about 10 days due to office works. My next goal will be getting i6 Mid Range Acoustic to advance into Local Gig Circuit. I will update later after my 45 days of playing this game.
So for you new players, if you skip all my long words above, here again my tips are :
Make some training-missions plan. Consistently take 1-2 lessons a day
Buying a pack doesn't always work. Better buy 12 packs or a single specific card
Focus on one type of musical lessons, buff up by adding more right instrument cards
For you guys who are experienced players, please give us your feedback and additional tips on comment box below.
and....
HAPPY NEW YEAR 2022, MAY OUR DREAMS COME TRUE
---
---