RAVENHOOD WARDEN: THE ROBINHOOD WANNABE?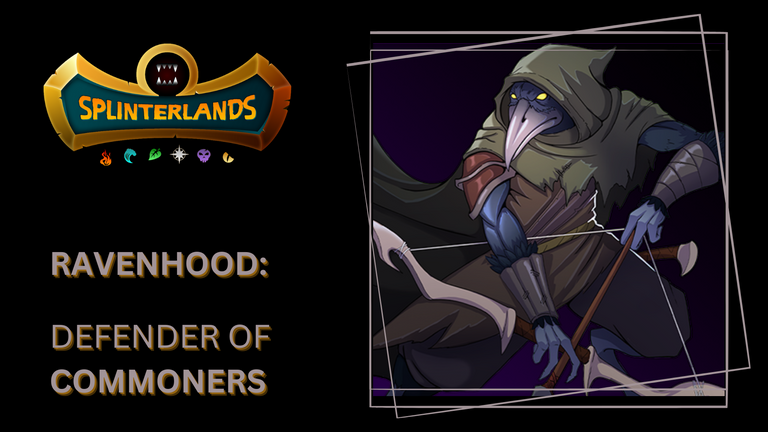 Another weekend, another new Splinterlands post... I do not know who stats or who owns that kind of tag line, another _ , another _, however recently I have found many use that tagline for their post. Ok here we are, welcome again to my weekend Splinterlands post. Thank you for coming by here.
This Weekend I want to share about RAVENHOOD WARDEN, one of the new SoulBound Card from Death Element. I have made what a long post as the draft, its damn too long and became too boring to read. So I have decided to split the post into two part, this is the first part and the second one I will post tomorrow as my participation of Share Your Battle challenge.
We Have a Robinhood Wannabe Here...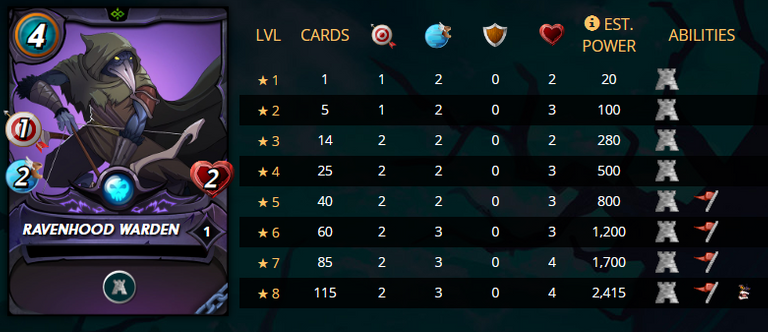 I do not know why for sure, but this monster is kind of reminding me about Robinhood. Robin in the hood, he is Raven in the hood. Both using archer, and try to be stealthy.
The first time Splinterlands published the list of the SoulBound cards, I saw this Hoody bird as somekind of insignificant, another filler monster... Let's get it simple, His health point is pathetic, his attack damage is small, he is slow. You might say he is 4 mana monster, can join little league battle. That doesn't sell at all, because Chaos Legion already has many great small mana monsters.
However this kind of thought happens a lot in Splinterlands. Monsters that you see and analyze as great, comes as a flop. Silly pathetic monster somehow becomes nightmare for the opponents. Take Dr. Blight as example, people laughed first seeing his stats, and now even His rental price is high, people still in queue to get him on the team.
And here is our Robinhood... after a few weeks having him in my selection, I could say he is one of the best common cards from SoulBound edition. There are 2 points I could say why I find him very strong
Starting from 1 BCX, his existence gives direct impact. Many common rarity monsters are great after they get into higher level, so for certain duration you will keep seeing them sitting do nothing in your stash because their level are too low to compete. This is not the case for Ravenhood Warden, he can compete directly at his lowest level.
He gives what other Death Monsters can not provide. Chaos Legion edition has many great small monsters, however all of them are weak in defense. Either their health point are too low or they do not have ability that defend them. It's his Protect Ability that makes him strong in the team.

LET'S CHECK THE BATTLE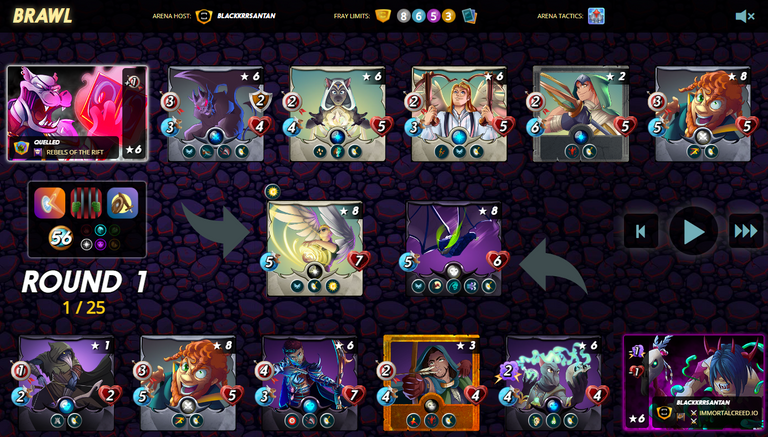 click the image above to get directly into the battle
I pick this battle as the study case reference. It's from a Brawl of My Scholar Account from Bulldog1205. We have a new sponsor right now, it's IMMORTALCREED.io, please visit our sponsor if you have some spare time.
Ok back to the battle, it has a Rise of Commons ruleset so only Common and Rare who can participate in. This is not easy you know, because We have restriction to have any Melee Monsters from Keep The Distance ruleset.
The decisive one is Counterspell ruleset, every magic attacks will be reflected. So we can expect this will be a contest of archer, and this is how our Robinhood will show his skill.
| Position | Card | Ability | Plan and Strategy |
| --- | --- | --- | --- |
| Summoner | | -1 Magic an -1 Health | Thaddius Brood is one of the best Death Summoner. He is not the strongest, or one of he strongest because he is not a Legendary Summoner, however his 2 buffs are very effective especially during no melee ruleset. I have to prepare incase opponent using some suicidal mages |
| Main Tank | | Fly, Scavenger, Backfire, Headwinds | Riftwing is my favorit non attacking monsters. He can fly, can hit back using backfire ability and the best thing is that he has headwinds. Together with Thaddius Brood, they will debuff all kind of opponent's attack. |
| Second | | Life Leech, Poison | Bonesmith doesn't seem strong, however his poison ability is lethal. Overall he is far from being strongest, however for a 4 mana monsters, he is one of the strongest one. He is the example of what I call Suicidal Mage, I do not expect him to live long. his Life leech will get a zero sum effect due to magic reflection. |
| Third | | Snipe, Bloodlust | This is a gambling one. I need him to become the last wall. It's weird to have gladius cards as meat shield, but with limited range monsters due to Rise of Common ruleset, I have to go with this approach |
| Fourth | | True Aim, Death blow | My main damage dealer. I do not need his deathblow, however his true aim is somekind of warranty to win all the rounds where he can hit. |
| Fifth | | Swiftness | I need his speed boost, the swiftness ability. Archer won't attack on the first row / main tank position, so the one who move/hit first might win due to that condition. I need to lock down their range monsters on the main tank position as fast as I can |
| The Last | | Protect | This soulbound card is the most interesting one. He is very weak however his protect ability can build a new defense system, a meta changing one. It's a new opportunity having a death element with some armors. Let's See how he will perform in this battle |
Round 1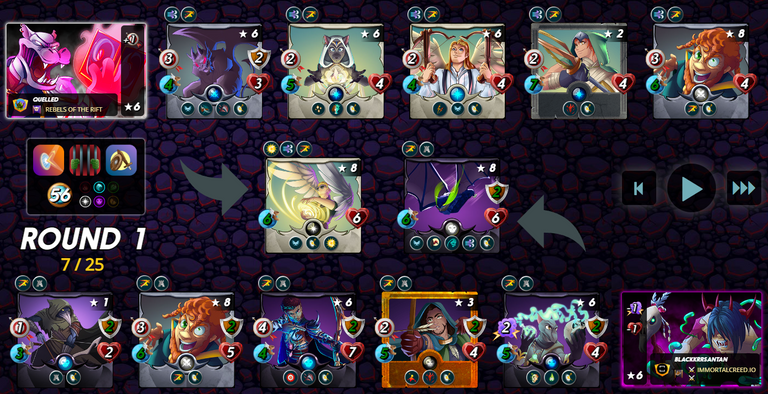 This battle started by each parties buffed and debuffed monsters.
My opponent came with 12 range damage and he had one with double strike, the Pelacor Arbalest.
My team had 2 Magic damage, and 10 range damage. Total damage was 12 damage per round
We came with an equal powered team. Look at my backline, Ravenhood looked as the weakest in whole battle.
Round 2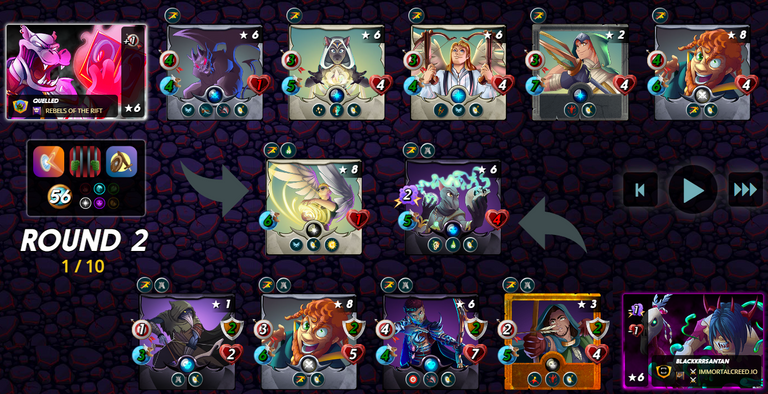 It looked like I kind of losing the first round. I lost Rift Wing meanwhile they were still having 6 members alive.
This condition happened because their Pelacor Conjurer dodged a few of my attacks.
Round 3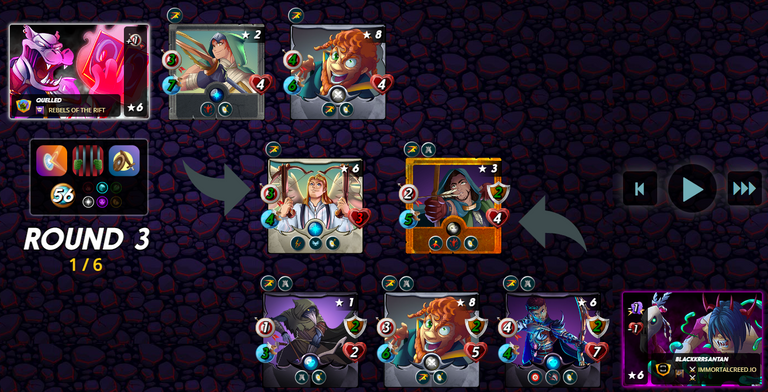 Now my team turned the tide. We were leading this time.
Having Pelacor Arbalest locked on main tank position seemed to settle this battle already.
Round 4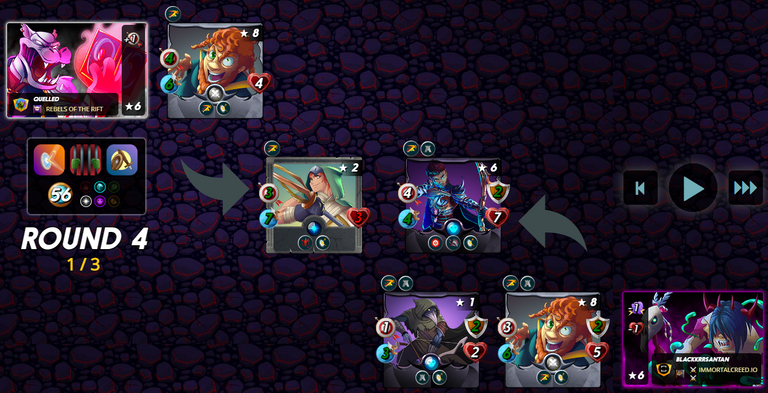 As predicted, the battle was over. However I would need one more turn to set them off.
Round 5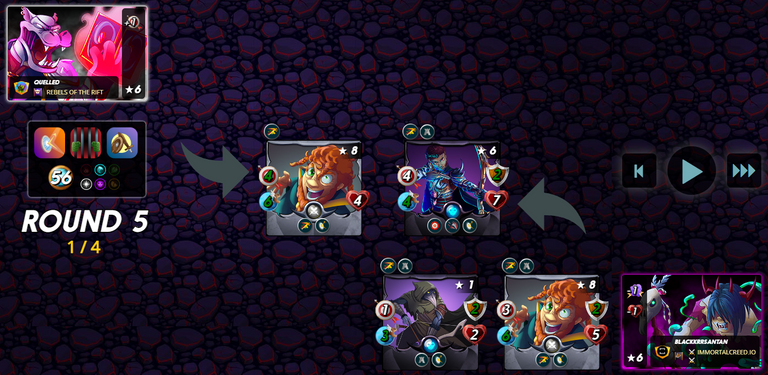 PROTECT IS ONE OF THE MOST NEEDED ABILITY IN PHYSICAL BATTLE
This is why Ravenhood is so great about. He has protect ability which is needed by most of Death monsters. Cursed windeku + protect will be great, I will share it tomorrow in my Share Your Battle post.
RAVENHOOD COMPLETES DEATH RANGE ARMY
Death Element monsters range monsters are broken. Soul Stranger is a great monster, a great damage dealer with 3 mana only however no defense at all. Wierding Warrior is one hell of annoying archer, he destroys all armor in single attack however he has no defense and health at all. So how can we utilize them? Ravenhood is one of the solution, protect them using some armor from Protect Ability.
As I said above, Ravenhood is a Robinhood wannabe. He comes to help the poor (weak health) monsters by giving them some armors. He makes everyone else strong, while himself never stands out in the battle. I am eager to get higher level Ravenhood, especially after he gets the Inspire Ability. I want to see how great he becomes, or maybe he will be lessen/nerfed later? who knows, share your thought below.
Thank you for reading my post, see you in my next post.

Thank you for visiting my Weekly Social Media Challenge, don't forget to leave your comments and feedback below. There are credits in this post for these people:
splinterlands : for holding weekly social media challenge events
carrieallen : for ultimate markdown tutorial
kyo-gaming : for wonderful divider arts
---
---