SOCIAL MEDIA CHALLENGE : 4 Simple Tips Using Tarsa-Fire on Bronze League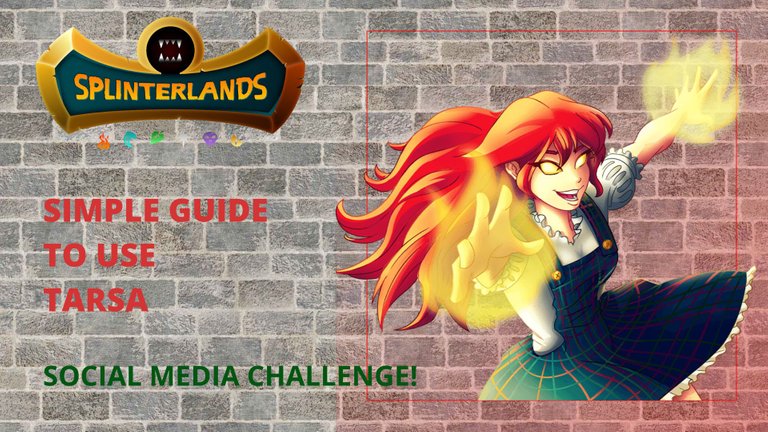 Hello there welcome back to my weekly Splinterlands Social Media Challenge. A few days ago I was having a hard time to choose what to write about this week Social Media Challenge, and somehow a few guys gave me an idea about writing a guide about Tarsa - Fire Element for beginner.
I think Tarsa is a good Summoner, she gives 1 melee and 1 health buffs. However everytime I talk about Fire Element, people always say "YODIN" "YODIN" "YODIN" and always be the "YODIN". Yodin Zaku is great, maybe the best, however it doesn't mean Tarsa is bad or becomes an unworthy choice.
I have been talking to that few friends, who are all on bronze-silver league, about why they are always avoiding the Fire Focus. All give many answers, however there is one answer that is the same from them
I have been using these 3 great monsters but I always end up losing...
That is the answer that drive me to make for this post. The reason why you will lose each time you use those 3 is due to the Speed. Most new players usually get trapped in this situation, picking strong monsters and ends up getting a team of slow monsters.
Speed is not the only issue here, let me share my tips about how to improve your Fire Element win rate for beginner, especially the Bronze League Player.

4 TIPS ON IMPROVING YOUR TARSA-FIRE ELEMENTS BRONZE LEAGUE TEAM
For players who have played from older version before Chaos Legion Edition released, they have already understood how important speed is. Having to choose Malric or Pyre gave a better understanding for noobs that time about choosing muscle or speed. However this is not easy for current new players, having to choose pyre or tarsa feels like choosing 1 buff or 2 buffs, and they tend to ignore the speed factor.
1. YOUR TARSA MUST BE LEVEL 2
On Bronze League, many abilities are not activated yet. So almost everything will be settled by stats only. Who hits harder, will win. Who moves faster, will kill first and win the battle. So it's kind of a must to have your team that has better stats than your opponents.
You can try to show how you can outsmart others by winning the battle using lower level monsters, however I see no merits in doing that. No merits on having more headache, more troublesome thoughts just to prove you are smarter. If you are that smart, better you challenge the leaderboard for the rewards rather just to win a some battles using weaker monsters.
Having level 2 or level max bronze league means you can pick a stronger and faster monsters than level 1 or starter card level. So rather talking which to choose, the hard hitter one or faster one, get yourself higher level monsters and this issue will be solved automatically.
2. DON'T GET OVER FIXATED ABOUT MELEE
Chaos Legion Fire Element has a few good archers. First the lava spider, 3 mana with 5 health point. We have Scavo Firebolt too, with 4 mana you can get 2 range damage with 3 speed. Molten Ash Golem isn't bad either, 10 health point... that's a range-tank hybrid.
Chaos Legion Edition has a couple of great magicians, Djinn Inferni with 3 magic damage and 4 speed and Djinn Apprentice with 2 magic damage and 3 speed. Sorry to say this, but I think in general, Ifrit Rising is a joke, recharge ability mostly fails in lower mana cap.
Even you use tarsa, don't hesitate to use non melee monsters.Her 1 health buff will make them stronger too.
3. ODD-EVEN MONSTERS

I use peakmonsters to list up modern format Fire Element commmon-rare selection. In general, most of favorite monsters have odds mana value. You can scroll up, the first 3 monsters I have put above (Living Lava - Tenyii Striker - Radiated Brute) are odd mana monsters. The two great mage above, are 5 mana and 7 mana... both are odds too.
If you want to have good line up, you need to get olders wild version monsters which have even mana value.
4. BUILD UP LITTLE LEAGUE TEAM
Most of bronze league battles have less than 25 mana cap. let say 25 mana, - 4 mana for tarsa, it means we have 21 mana for the team. If we want to have a team full of 6 monsters, it means each monsters will have a budget of 21/6 = 3-4 mana only.
That's how bronze league battles run. You need to have a bunch of low mana monsters in order to be able to send a 6 monsters team. Even though having more monsters isn't a guarantee better than less monsters, however it gives you more alternatives to anticipate more rulesets.

ENOUGH WITH THE LONG THEORY, WHAT MONSTERS SHOULD I GET?
CANON FODDER
Remember to have level 3 Radiated Scorcher because it will have a shatter ability. Same goes for Goblin shaman, he will have 1 magic damage and that might be a game changer stats. Do not hesitate to put scavo chemist as a cannon fodder, because it has even mana value. he is the only even mana canon fodder in your team.
REAL TANK
Living lava is a great tank, in some situation statwise is better than two tanks above. However I found myself having better winrate when I did not use him. Tusk the wide might not a good choice, but he is cheap. You can rent him anytime at very affordable price.
LITTLE LEAGUE TANK
I like Cerberus a lot, however that dog is overpriced... too expensive and breaches the sky limit. Personally I recommend both Antoid Platoon and Xenith Monk to be available in your selection. Both are great little league tank, but both have different function. Platoon is great against range and melee, Xenith monk is more versatile due to his healing ability.
SNEAK ATTACKERS
From those 4 above, Kobold Miner and Elven Cutthroat are the important ones. Kobold has 2 mana, very small and this is very crucial in team selection. He gives extra mana which make you be able to have more alternatives for his teammate. And don't foget, 2 mana = even, he will be crucial needed during Even Steven ruleset.
Elven Cutthroat has fast 4 speed, he will move first. This monster won't last long however he will kill 1-2 backline monsters for sure.
OPPORTUNIST
Go get Battering Ram and Serpentine Spy. These two are fast, Tarsa 1 melee damage buff will turn them into opponent nightmare!!
NON MELEE UNITS
I am going to give a honest lame answer here... NONE
I am tired giving advice to some of my friends and none of them are willing to take a note nor listen what I say about none melee monsters in Tarsa team. So I have a guess that people will do the same too... I won't recommend any of non melee monsters here, but I guess you will figure it out yourself later.

A COUPLE OF BATTLES REFERENCE
I have been playing on Gold League right now so I have to use another account for these reference. I pick @dolanan001 as a reference account, I acquired it from my friends a few weeks ago. It was a share accounts however two of the players had retired so I took over it.
BATTLE #1
battle link:
https://splinterlands.com?p=battle&id=sl_038dc2bfcda569b663d388e840c881c8&ref=dolanan001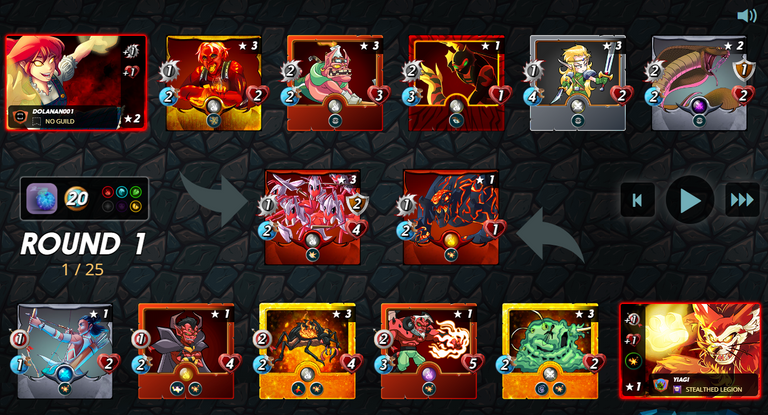 Tarsa vs Yodin. In this condition, Tarsa has an advantage due to 20 manacap. The problem we have in bronze league when we use Yodin Zaku, there aren't many mana left to choose good monsters we want.

They are my main firepower in this battle. Serpentine Spies and Elven Cutlass are the heroes who leads the win.
BATTLE #2
battle link:
https://splinterlands.com?p=battle&id=sl_9f493f420301d1964f87b5fca2fb78ed&ref=dolanan001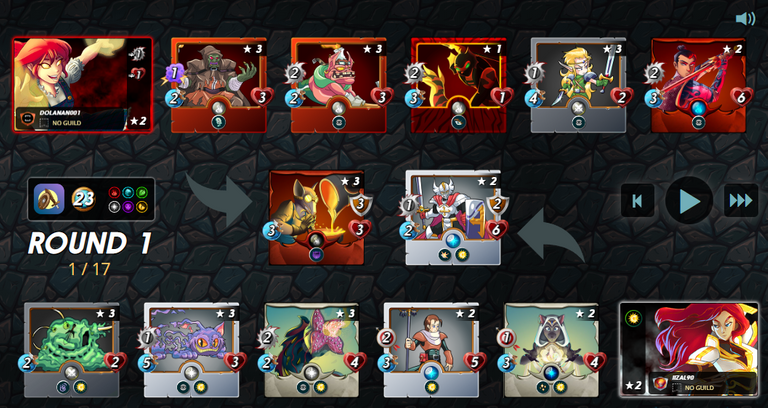 This is one of the best battle I have in bronze league. Both my opponent and I came will level max bronze monsters. One side loaded with overflowing firepower, the other side come with a defensive - sneak attacker line up.

They are my main firepower in this battle. 8 sneak melee damage and 3 opportunity melee damage. 11 Melee damage on Bronze League, definitely the main reason why I have won that battle.

POSTFACE
In the end, although TARSA is not the strongest Summoner in Fire Element, and might not the second strongest either, She is still a strong summoner. Just keep remember these 4 tips I have given above
YOUR TARSA MUST BE LEVEL 2
DON'T GET OVER FIXATED ABOUT MELEE
ODD-EVEN MONSTERS
BUILD UP LITTLE LEAGUE TEAM
Gradually you will understand how strong fire element is....

Thank you for visiting my Social Media Challenge, don't forget to leave your comments and feedback below. There are credits in this post for these people:
splinterlands : for holding weekly battle challenge events
carrieallen : for ultimate markdown tutorial
kyo-gaming : for wonderful divider arts
---
---