SOCIAL MEDIA CHALLENGE : Simple Tips To Use TARSA On Silver League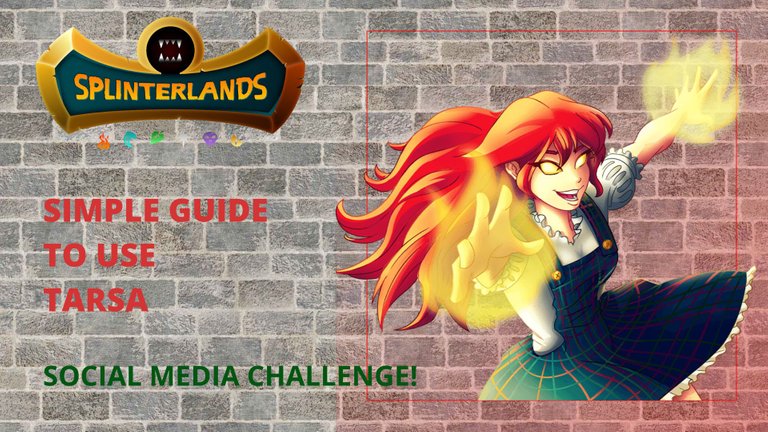 Hello there, welcome back to my weekly Splinterlands Social Media Challenge. This is an unique Social Media Challenge post for me because I use this post to as an entry for July 2022 #THGaming Community Posting Challenge. In this opportunity I will share you about using TARSA on Silver League. Actually this topic is the continuation of a topic I have posted a coupe week ago:
SOCIAL MEDIA CHALLENGE : 4 Simple Tips Using Tarsa-Fire on Bronze League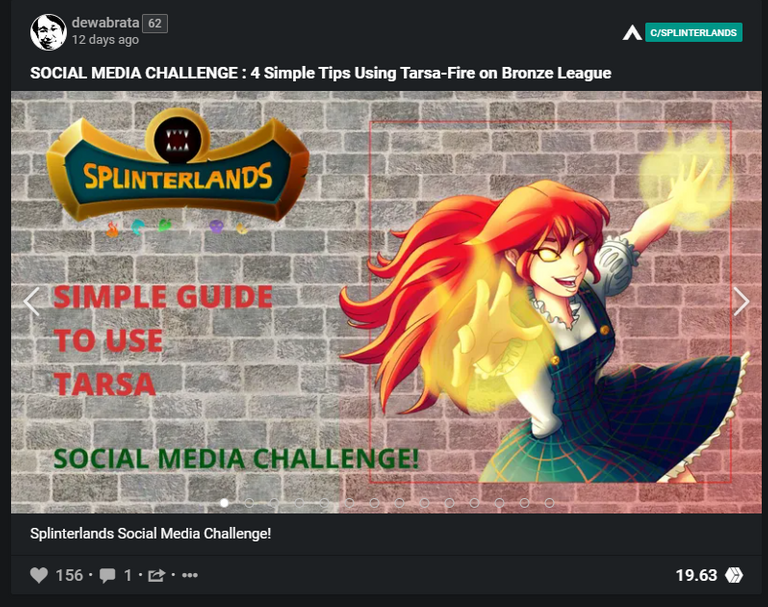 I have got some good response from my friends and some of them asked the same question... Will this way work on higher league? My answer is simple
What works great on Bronze League, won't work at higher league. Same goes to Silver and Gold.
This is my disclaimer: I am not an experd player who wins competitions or have an extraordinary high win rate. I am a normal player who love to play Splinterlands. I can guarantee you that I won't share you some bullshits. Below is a screen shot of my performance on Silver League using Tarsa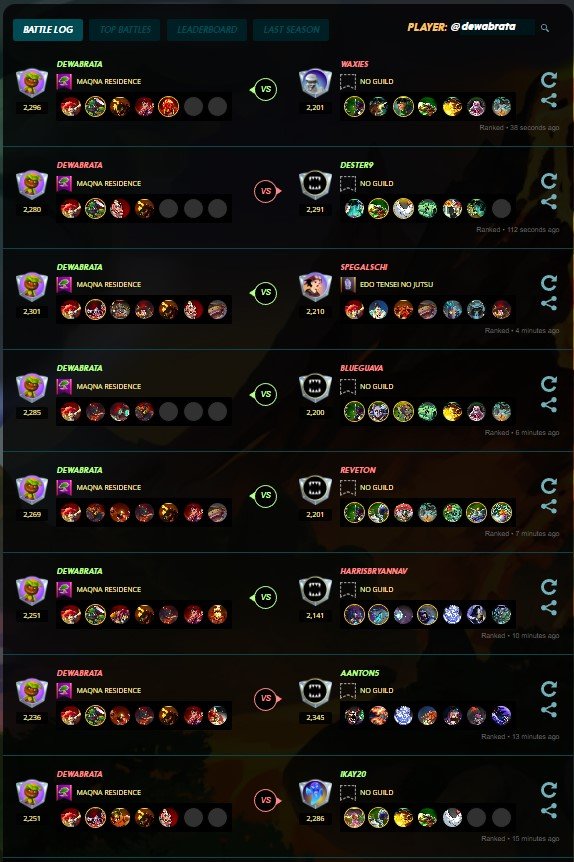 As we can see, my win rate is still above 55%. I have won 5 from my 8 first battles which is quite OK, and in the end I have got 12 Silver Chest for that Fire Focus Point. So that's my prove that what I am sharing you guys is reliable and proven.

FIRE ELEMENT IS ABOUT KILLING YOUR OPPONENT FASTER BEFORE THEY CAN MOVE
I believe this is the correct mentality we should have when playing the FIRE ELEMENT, and you should learn to have too if you still confuse in using FIRE Team. Fire Element, doesn't focus on defense, they attack and kill first. This is not only for TARSA, but this is how YODIN ZAKU works too and gets recognized as one of the best summoner in Splinterlands.
Talking about killing your opponents first, it means there are damage and speed we need to get on each monsters so they can kill their opponents first. So how strong and how fast should they be?
THE REFERENCES
I like these two monsters from Chaos Legion Eedition, Radiated Brute and Tenyii Striker. For me, both of them are the standard of how a good-team monsters should be. Their speed, their hit damage, and even their Health Point represents the value of how good monsters should have.
Above pictures show us that each Fire monsters on Silver League should have 3 hit damage, 3 speed and 6 health points. Any monsters withparameters below those numbers can be said potentially become a burden. If you use 6 monsters team, your team's total damage should exceed 18 damages. If it is a 3 monsters team, then it must have a combined total damage of atleast 9 damage.
Exception for the main tank. There isn't any cheap fast Tank in Fire Element, Grum Flameblade and Forgotten One are slow. There are some good fast tank such as Magnor, or some very strong tank from Neutral faction, however they are very expensive to rent so I take them out from our discussion here.
MONSTERS' GROWTH
All monsters grow as their level get increased, however their growth speed and amount differ from each other. This make them change on each league. Some are growing well and get stronger one each league, some are early bloomer only strong and formidable on Bronze only, and some are a type of late bloomer which become insanely strong after Gold League.
IT is important to understand well about this although we won't discuss it now. There will be some favorite monsters on Bronze that won't perform well on Silver, or vice versa. I am going to share you a couple of examples about it.
Xenith Monk is a must have card and he works great in Bronze League. However his growth isn't supporting him on Silver League. He is still awesome during Little League ruleset, but under normal condition, he is on so so level only mainly due to Low hit power, 1 damage only. He has heal ability however if you put him on main tank position on Silver League, usually he will die in the first round without any opportunity to heal himself.
Things are different with Gargoya Lion. I find this monsters is actually very useful on Silver League. If I have a hunch that my opponent will storm me with magic, I will use him as a replacement for Tusk The Wide. Tusk The wide is strong against magician due to his high health point, however he is kind of useless in attacking due to his 1 melee damage and 1 speed. So in most circumstances, I like Gargoya Lion more than Tusk The Wide.

MY FAVORITE TARSA-FIRE ELEMENT MONSTERS
There are many great monsters in Fire Element. Magnor, Zalrain Efreet, Caladium, and many more. In this opportunity I won't pick any favorite from Wild Format, only Modern Format monsters will be chosen. I have a couple of good reasons for this:
Modern format monsters are a lot cheaper. I think it's funny if we talk about monsters and the audience can't afford the monsters anyway... so what's the point? I prefer to endorse good monsters with affordable price, and I believe most of my readers here aren't reading this post to get themselves into Leaderboard.
New players and small players. including some old casual players, mostlikely do not know old monsters, the wild format monsters. I think most of my reader don't care about them too.
So here are my favorite monsters:
MAIN TANK
These two are my favorite main tank for Tarsa Team. I like Grum a lot, mainly due to his Void and Void Armor ability. I know this is a weird reason, because most people like Grum for his Bloodlust ability. In my opinion, Grum is the best anti magic tank in Fire, I can not expect good attacks from him due to his 1 speed however It isn't easy to kill him using magic.
For general use, Forgotten One is my first choice. He has Retaliate ability which makes him able to counter and kill opponent tanks fast. He is excellent during Noxious Fumes (poison) ruleset too.
NON-TANK MELEE
I set these two as reference so like it or not they become my favorite too. These two are not the best, some are better than them. For reach-type melee, Fineas Rage is faster and has higher Health than Radiated Brute. Sandworm is more terrifying than Tenyii Striker.
However I like these two monsters because no matter on which league you are, they can be the standards of your modern format team. How fast and how strong should a monster can hit, just find them and check their parameters.
RANGE ATTACKERS
There are many good range attackers in Modern format, but I like these two most. Debatable I should pick COUNTESS SINASH instead of one of them, however I haven't got enough gametime with Sinash so I can not say how good she actually is. Gargoya Devil is a good choice too, however it is a bit below those two.
Scavo Firebolt is a great choice due to the mana requirement, and Lava launcher is great because it has everything: Damage, Speed, armor and enough Health Point.
MAGES
As I said in my previous post, I think Chaos Legion set has two outstanding Fire Magician. They grow well on each league and can compete well with most of the magician in this game. They have the magic damage and the speed to keep up with the team. Have them on level max for the league, then you can see it for yourself how good they are.
Exception on Ifrit Rising... He is awesome, but I can see how his Recharge Ability can get him into the fast killing team. He might be the only bad mages in Modern Format...

POSTFACE
Here we are in the end of this post. I am sorry I can not to share any battle here because recently I have been playing on Gold League and most of my battles on Silver League are gone / expired. We can not keep old battles after a few weeks they will get erased from the server.
If we resume all of the words above, we will get these points:
Tarsa Team must be fast and hit hard... All monsters should have 3 speed and 3 attack damage
To maintain speed and hit damage, you can not relly on melee hitters only. Trust your archers and amges
There are some other ways to build Tarsa team, however I believe this is the most simple one.

Thank you for visiting my Social Media Challenge, don't forget to leave your comments and feedback below. There are credits in this post for these people:
splinterlands : for holding weekly battle challenge events
carrieallen : for ultimate markdown tutorial
kyo-gaming : for wonderful divider arts
---
---