THE NEW REWARDS SYSTEM: How much do I get from Silver League?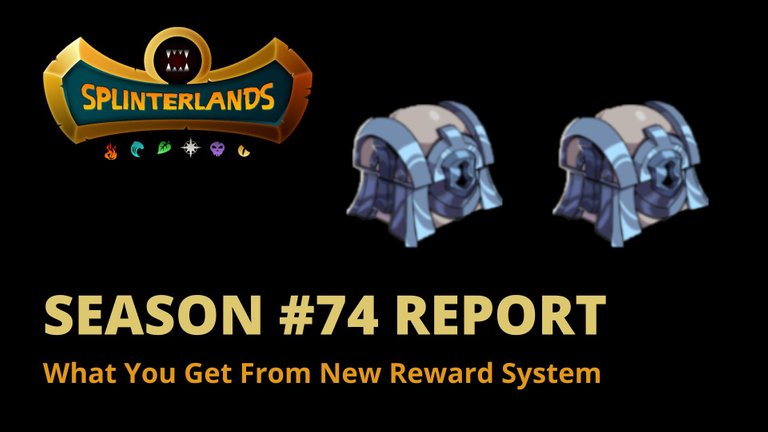 Hi everyone, welcome back to my weekly Splinterlands Social Media Challenge. In this opportunity I would like to share about my earning from my my account which plays on Silver league.
I am going to make this one short and quick so you can read it fast and get the point easily.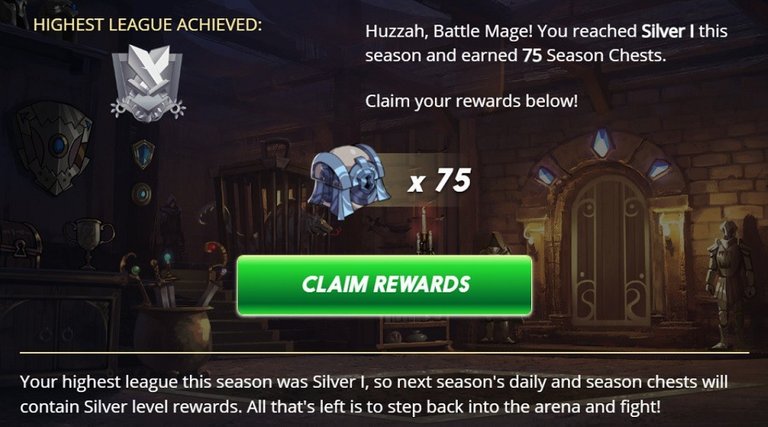 I got 75 loot chests fron last end of seasons and this is what I get from those loot chests: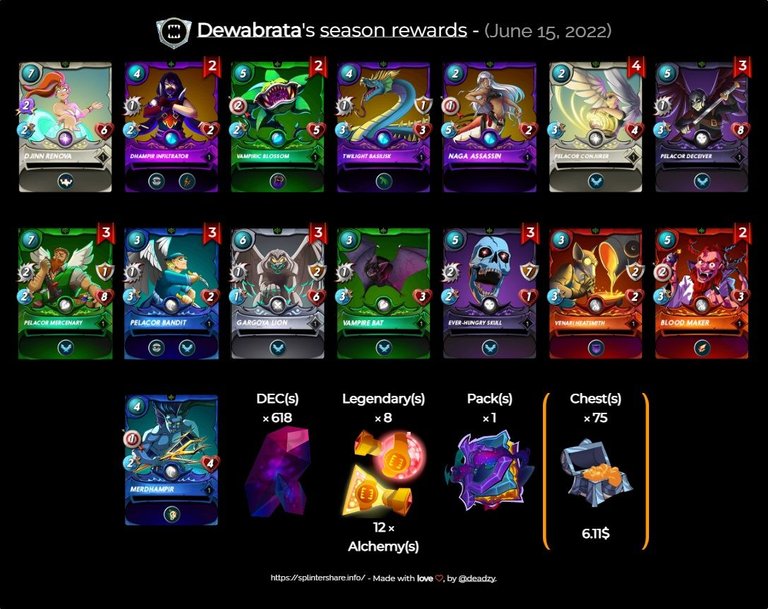 Overall I get $6.11 from those 75 loot chest or around $0.08 per loot chest.
THE DAILY FOCUS POINT LOOT CHEST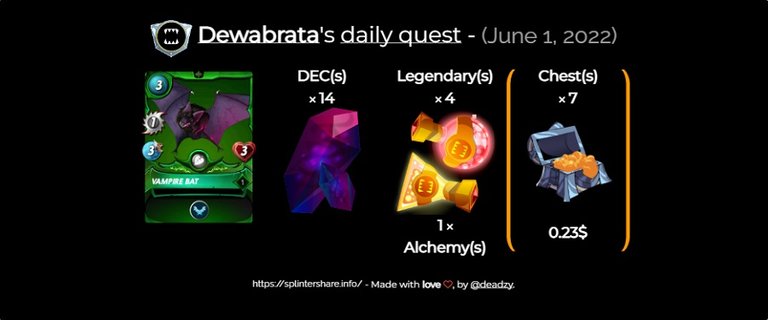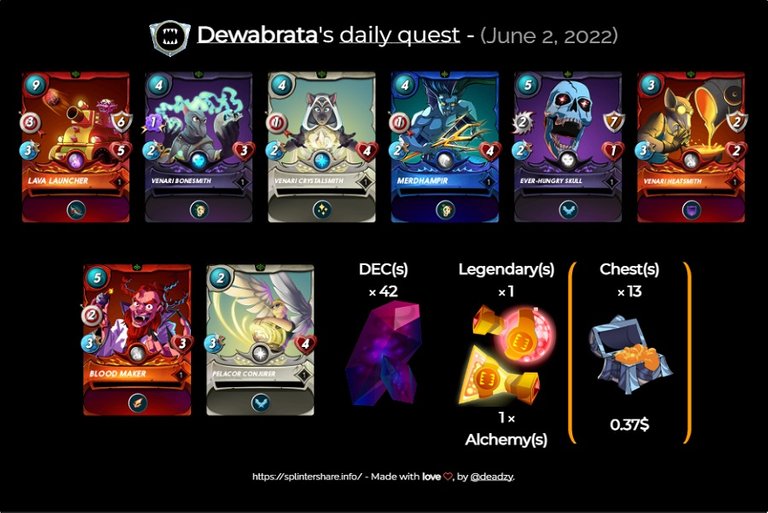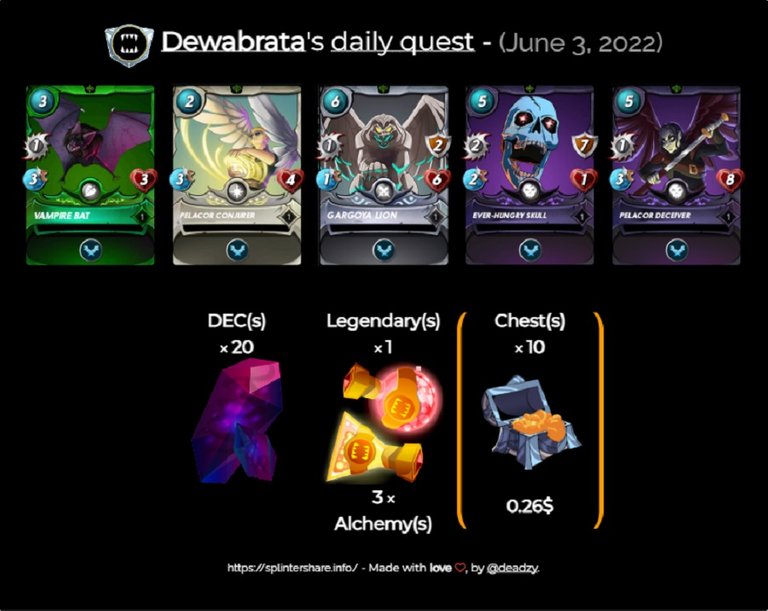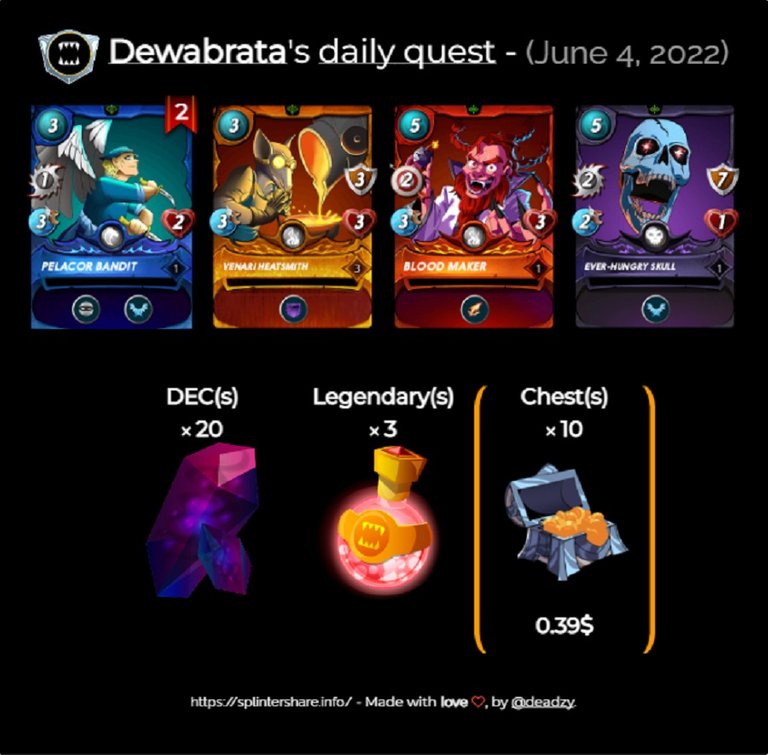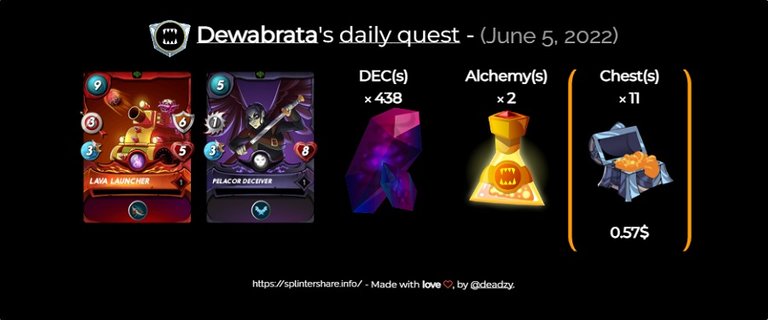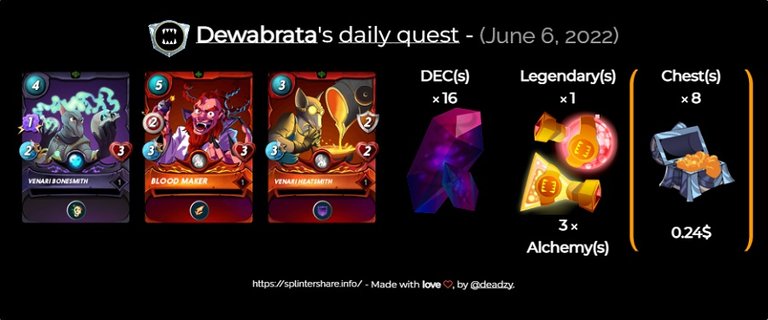 Anyway I had heavy day on 7th on June, couldn't play at all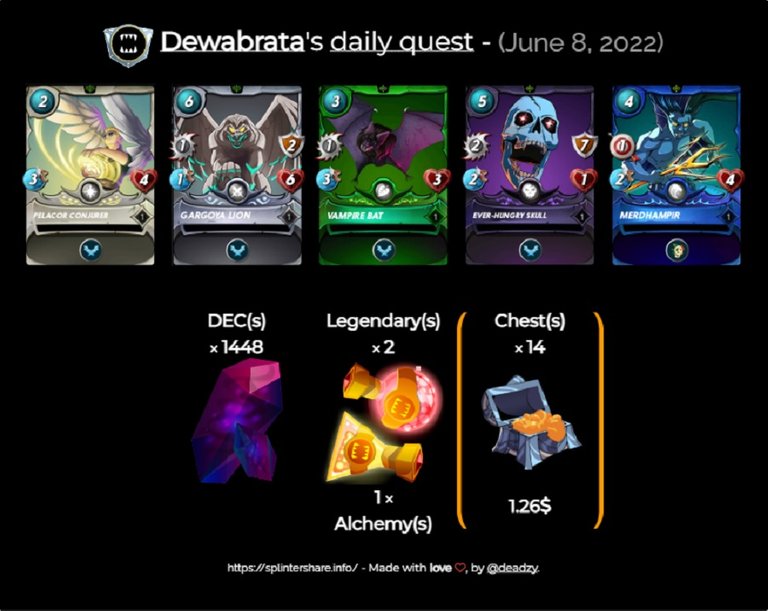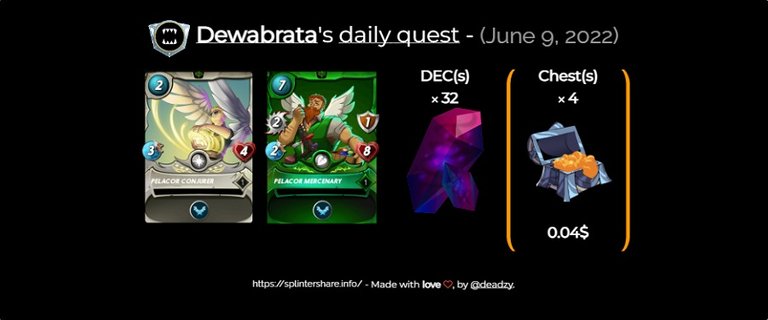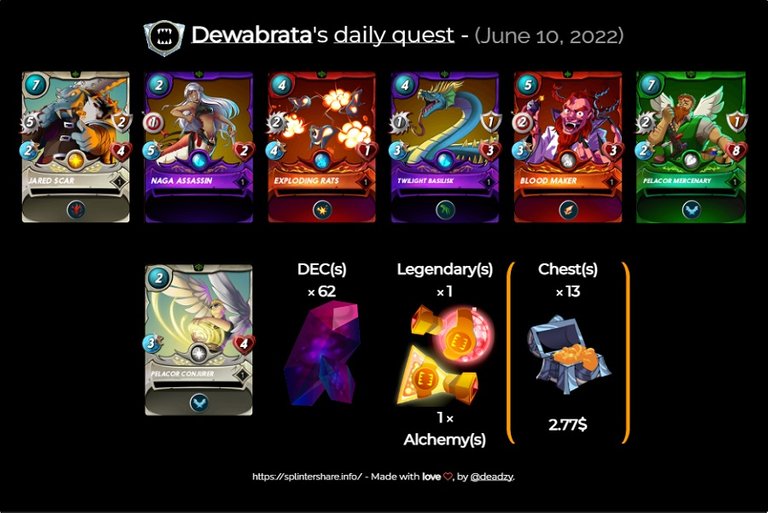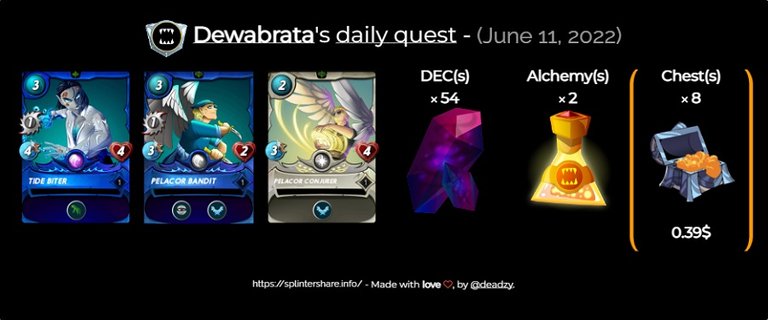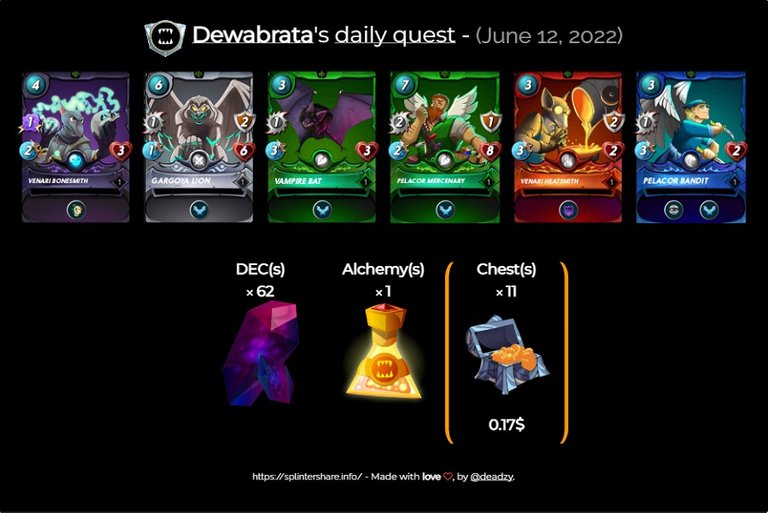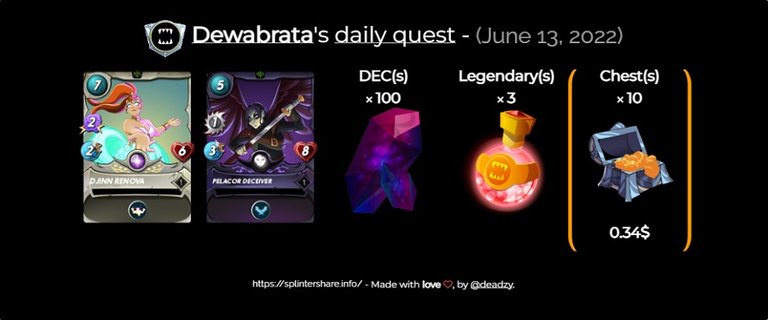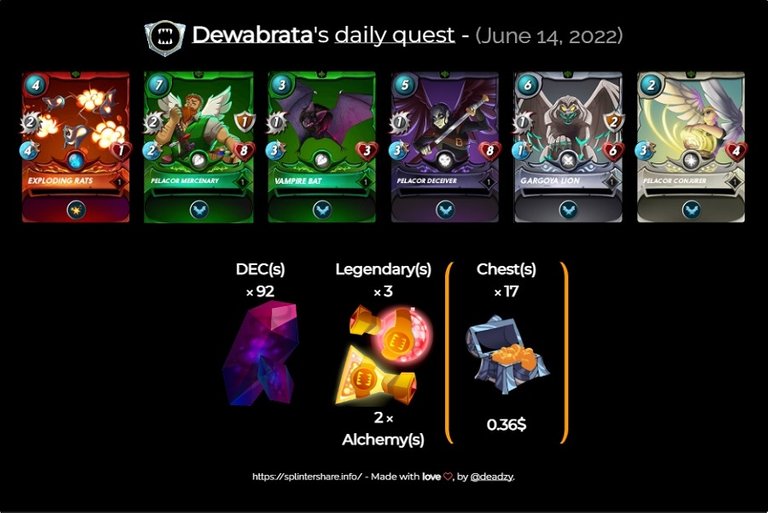 | Day | Loot Chest | Value |
| --- | --- | --- |
| 1 june | 7 | $0.23 |
| 2 june | 13 | $0.37 |
| 3 june | 10 | $0.26 |
| 4 june | 10 | $0.39 |
| 5 june | 11 | $0.57 |
| 6 june | 8 | $0.24 |
| 8 june | 14 | $1.26 |
| 9 june | 4 | $0.04 |
| 10 june | 13 | $2.77 |
| 11 june | 8 | $0.39 |
| 12 june | 11 | $0.17 |
| 13 june | 10 | $0.34 |
| 14 june | 17 | $0.36 |
in average my daily loot chest is worth $0.058 per chest

NOT A CONCLUSION (HYPOTHESIS)
My daily rewards are worth of $7,39 or around $0.058 per chest, slightly lower than my End of Season Loot chest which is $6.11 or $0,008 per chest. From this condition, I think:
The loot chest value differs from time to time and it is not only due to the card value (price)
The more loot chests you open in a single time, the value doesn't guarantee to be better however tend to be better. Bigger number seems better result
Getting 200 loot chests per season is feasible, my bronze account get almost 300 loot chests last seasons.
The higher your league, for example being on Gold League or Diamond League, the more difficult for you to get more loot chest. Competition is getting heavier and cost or operation from rent or purchasing is getting nastier.
I don't know about everyone else, so I hope people want to participate leaving comments below about how much they have got last season.
LAST SEASON MY SILVER ACCOUNTS GOT $13.5

RECOMMENDED 3RD PARTY WEBSITE
There are some good 3rd party website outhere, however in this post I will hare 3 of them which I find very useful and I still use them frequently. I don't want to compare or benchmark them towards each other, because I think these 3 are awesome and they have their own competitive advantages.
PEAKMONSTERS
Peakmonsters overall is the best 3rd party website from all of them, although this is only my personal opinion. In my opinion, peakmonsters is like a one stop shopping website, you can get everything about splinterlands from it.
Most of the players uses Peakmonsters for renting and purchasing, however I tend to use it to get more info. From SPS airdrop, website statistic, my dialy explorer, and many more. We can check our rewards from this website too.
SPLINTER STATS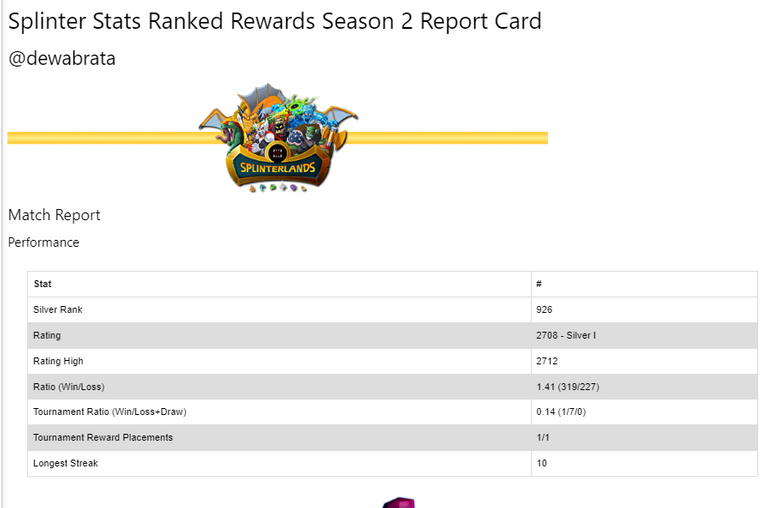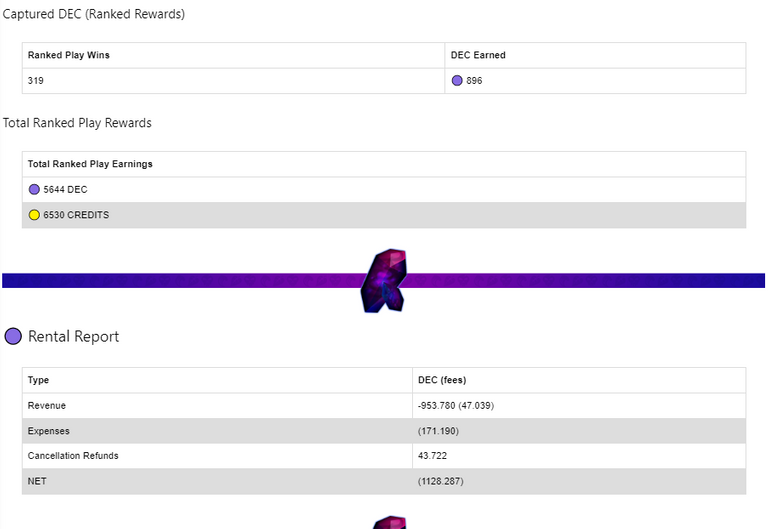 https://kiokizz.github.io/Splinterlands/seasonReportCard.html
Splinter Stats Season Report Card is one of the first 3rd party I know and until today it still gives the most detailed information about our last season performance.
The only thing that I don't like about this website is that they look a bit outdated, kind of boring. Sorry I don't want to be rude, but it is what it is. I hope they can take this as a constructive criticism.
SPLINTER SHARE (by deadzy)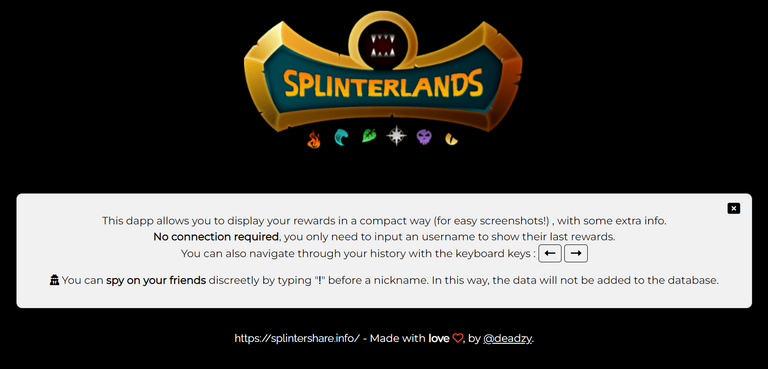 This is the lastest 3rd party website and I like it very much. the look is a lot fresher than the others, and all my screen shot above are taken from this website. It's a good tool for showing your stats and rewards to others.
The information is packed simple and look very good.

Thank you for visiting my Social Media Challenge, don't forget to leave your comments and feedback below. There are credits in this post for these people:
splinterlands : for holding weekly battle challenge events
carrieallen : for ultimate markdown tutorial
eve66 : for wonderful divider arts
---
---