Today I Just Bought Herbalist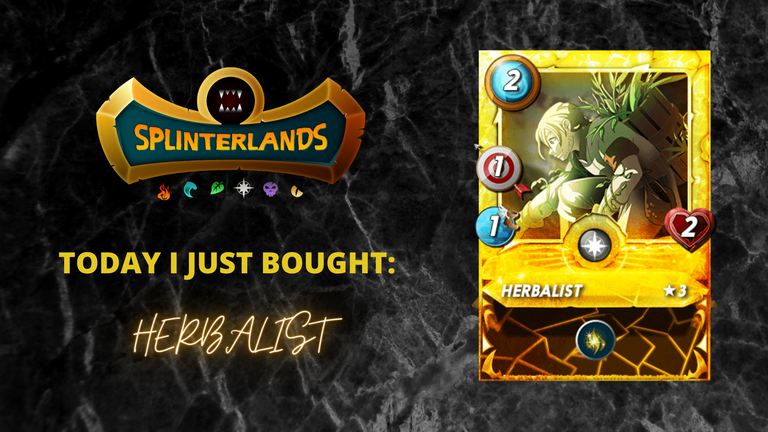 Welcome ot another edition of my splinterlands post, Today I just Bought Splinterlands Card. This post I am sharing my plan why I decide to buy HERBALIST, a common rarity life element card from Untamed Editon. Currently we can still use herbalist in modern rank battle, however later after Rebellion is released, we won't be seeing him anymore in modern format because he will join his fellow untamed cards into the Wild Format.
Is this Herbalist a great card? well, I can answer this with ihgh confidence that this card is so so , not a great one. You don' have to get this one, either from buying or renting, and your deck still perform well. Maybe only a few Splinterlands players out there, who are Life Element / White fans that can understand that sometime herbalist can come up and make this team win the battle through his small effort.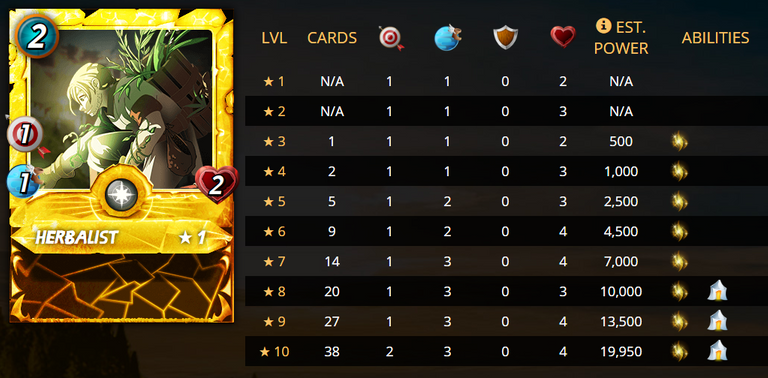 Herbalist is a small mana card, a range type monster. In general it is understandabe if people say this card is suck. First, damage is low, 1 range damage only. Second, He is a snail, you can not expect any from a 1 speed monster. His health is low too.
As a fan of White Colour / Life Element, we see this card from different point of view. Now let's get to the good part of Herbalist:
2 Mana Requirement. I believe all small mana cards in Splinterlands have their own forte, not only for little league ruleset, but as a filler too. There are always be some specific condition, such as a combination of rulesets which demand you to have some filler cards because of limited mana available. So.. yeah, having him in your collection will give you that kind of advantages.
Exquisite Abilities. This is the funny thing, or I should say the cool thing about herbalist. This small weak card actually holds two important abilities. The first one is Cleanse, which he gets on level 3. With Cleanse, herbalist will cure all the status ailment for his main tank mate. So no poison, no halving, no affliction and at all. Later on Diamond level, he will get triage, which allow him to heal his backline team mate.
Overall, whether Herbalist will perform great or not, all depend on his teammate. We see this card as a great support in the team but individually he is weak... yes he is kind of suck.

---
HOW I SEE HERBALIST IN MY TEAM
Regarding I play on silver-gold league, I see no merit leveling up Herbalist to his max level. These are a couple of alternatives how I will play Herbalist in my team:
SLOAN ARCHER ARMY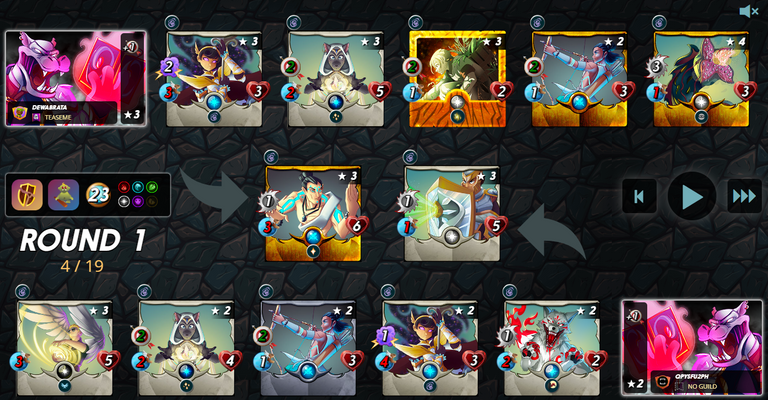 ~click the image above for the full battle~
Our favorite cheapest life element summoner is Sloan and General Sloan main ability is to give a buff to range damage. So any range monsters under General Sloan should get an attack advantage, including our Herbalist here.
You can see the picture above, under Sloan command, Herrbalist and Xenith Archer get a +1 range damage buff, both become a 2 mana card which have 2 range damage. 2 damage for a 2 mana cost is great actuallty, you can build mini team with high DPS
You can debate that xenith archer is better than Herbalist, I will not deny that. If Herbalist Cleanse Ability is not used, then he is definitely weaker than Xenith Acher. However there will be no other 2 mana monsters that can help Xenith Archers.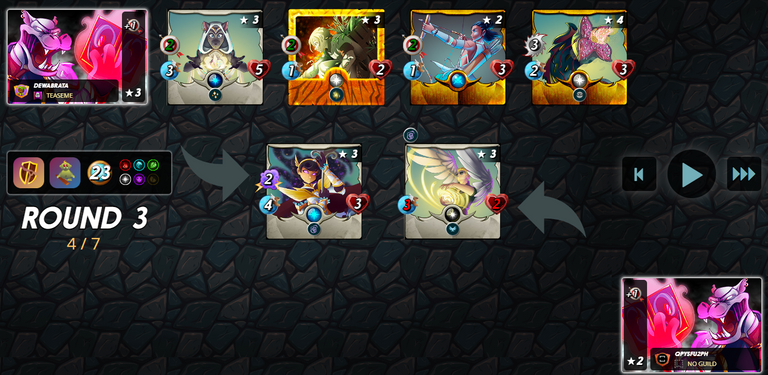 On the third Round my team already eliminate their attacking monsters. It's all over for the opponents. So its not about who is stronger Xenith Archer or Herbalist, but this battle shows both can compliment each other, keeping the team running with high DPS.
of course this is a proven meta only in bronze-silver league, on Gold League or above I believe things will change, however that's not my worry for now.
BACKLINE CLEANSE SUPPORT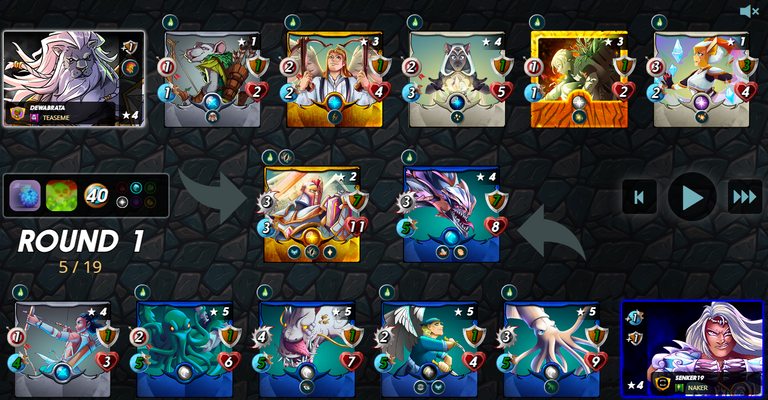 ~click the image above for the full battle~
The next meta or goal why I get Herbalist is to have a Cleanse ability user for the Life Element. There are several cards in Life Element which have Cleanse Ability, however all of them are expensive and not from Chaos Legios. The best current one is Corsair Bosun, however he demands big mana requirement. Why is having a Cleanse abilty in Life Element important? We can just go with water or use Fire and Death which we can find The Forgotten One and Harklaw who both have immunity against poison.
There are two main factor for this, first one is that sometime we get Nuxious Fumes ruleset and there are no Fire, Death and/or Water. Like it or not, all element should be independent, not as supplementary to other element. The second reason is these dude below:
Life Element has several good tank which already have healing in Silver league. The two I have in my collection is Uriel The Purifier from Chaos Legion, and Imperial Knight. They might no be a beast in term of killing their opponent, however its very hard to knock them out using a normal load attack.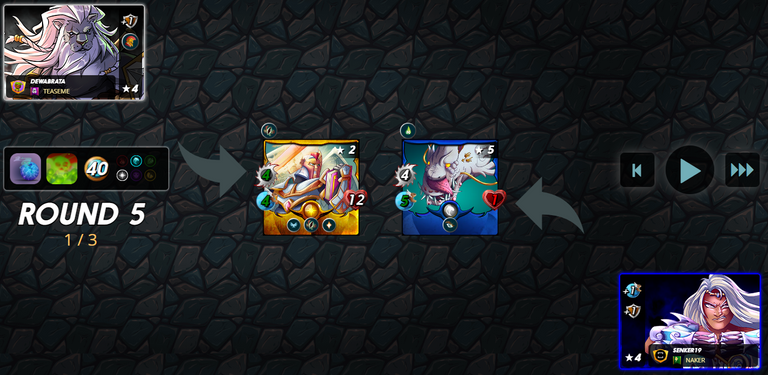 From the battle example above, you can see the result here. Everyone dies from poison however Uriel still standing there with his full health. Corsair Bosun might replace Herbalist in this battle however when the mana cap is below 30, hard to have both Corsair Bosun and Uriel The Purifier in the same team.

---
GETTING THE HERBALIST COPY(S)

I bought Herbalist Gold Foil at $3.1 or 3714 DEC. It was last week and I was too busy that time to make this post. What do you think guys? I believe this purchase is a decent one, not bad but not good either. If I wait for some more day, the price will be cheaper because people start dumping Cards from Untamed Edition.
I have no intention to level up this card higher, but maybe another copy will be a good one, atleast it will give more Health Point to Herbalist, aleast it will enable him to survive the first round of Nuxious Fumes ruleset.
so how about you guys? I still recommend you all o get atleast 1 BCX Gold Foil Herbalist. Maybe we will rarely use him, but there are times we really need him to join the battle.

---
Thank you for visiting my splinterlands post. Today I just bought Splinterlands Card is my regular Splinterlands post which this idea comes after more than a year I have been participating in Splinterlands Official Events such as Share Your Battle, Social Medial Challenge and BATTLE MAGE SECRETS Weekly Challenge.
There are credits in this post for these people:
@splinterlands : for holding weekly social media challenge events
carrieallen : for ultimate markdown tutorial
peakmonsters : for providing 3rd party bidding system to help me get cards
thepeakstudio : for wonderful divider art
---
---