SOCIAL MEDIA CHALLENGE.
Link of battle:
https://splinterlands.com/?p=battle&id=sl_865ced06eea392d340def775c9b654e1&ref=diegoloco
---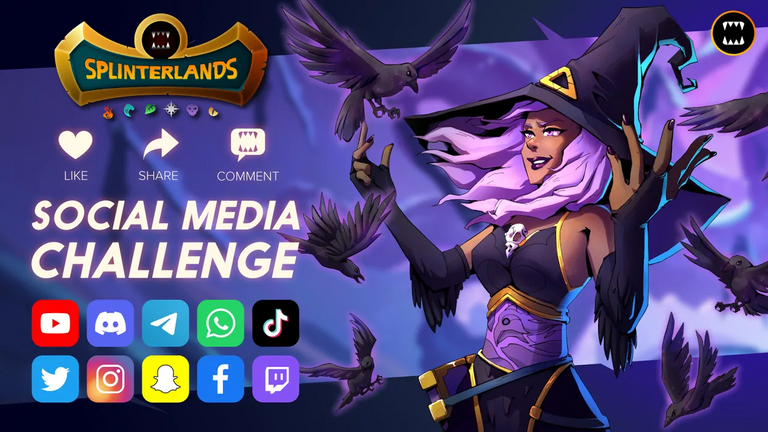 Saludos miembros de las comunidades de
#SPLINTERLANDS
y
#BDCOMMUNITY
. En este Social Media Challenge voy a mostrar una pelea solo con tarjetas Gold. Me encantan los splinter de agua. También alquilé algunas tarjetas que nunca utilice para probarlas y darme un gusto.
Greetings members of the
#SPLINTERLANDS
and
#BDCOMMUNITY
communities. In this Social Media Challenge I am going to show a fight with only Gold cards. I love water splinters. I also rented some cards that I never used to try them out and treat myself.

MY STRATEGY / MI ESTRATEGIA
Para esta batalla decidí apostar por el ataque de magia como estrategia principal. Seleccione un invocador que no suelo usar para ganar 2 puntos de escudo para cada uno de mis monstruos y algo de daño extra. La tarjeta que seleccione para la posición central como tanque no tiene tanta vida pero espero que aguante bastante castigo. Confio en que Phantom Of The Abyss ocupe la posición central cuando caiga el tanque y me lleve a la victoria. Espero que las tarjetas de la línea de fondo esquiven algunos ataques también.
For this battle I decided to bet on the magic attack as the main strategy. Select a summoner that I don't usually use to gain 2 shield points for each of my monsters and some extra damage. The card I select for the mid position as a tank doesn't have as much health but I expect it to take some punishment. I am confident that Phantom Of The Abyss will take center stage when the tank drops and leads me to victory. I expect the back line cards to dodge some attacks as well.

My Team/Mi equipo
Summomer/invocador.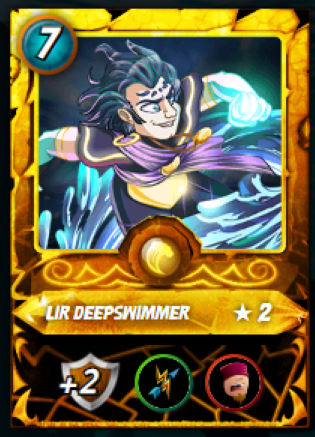 LIR DEEPSWIMMER. legendary summoner gold. It consumes 7 mana, which is a lot. But it gives me 2 shield points for each of my monsters which will require my opponent to make more attacks to damage the life of my monsters. Gives my monsters the ability to return fire at the start of the battle. Gives all enemy monsters the blinded effect at the start of the battle. It gives a lot for the seven mana points it consumes and I can use the card thanks to the mana from the fight, if it were less mana I think I would not use it.
LIR DEEPSWIMMER. Invocador legendario gold. Consume 7 de maná, lo cual es mucho. Pero me da 2 puntos de escudo para cada uno de mis monstruos lo cual le va a exigir a mi rival realizar más ataques para dañar la vida de mis monstruos. Le da a mis monstruos la habilidad de devolver fuego al inicio de la batalla. Le da a todos los monstruos enemigos el efecto cegado al inicio de la batalla. Da mucho por los siete puntos de maná que consume y puedo usar la tarjeta gracias al maná de la pelea, de tratarse de menos maná creo que no la usaría.

First position/Primera posición.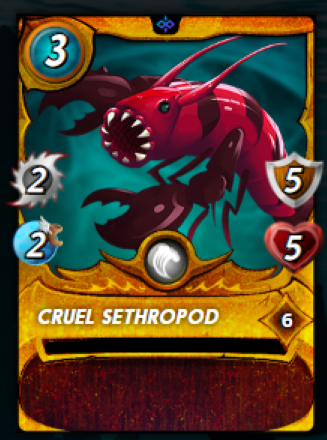 CRUEL SETHROPOD. Common card gold. It has a medium level of shield and health. I used him as a tank in this fight. I think in lower mana fights it can fill the tank role well. Thanks to the extra shield that the summoner gives him, I hope he stays in battle longer and causes damage to the opposing tank. It will be limited to level 3.
CRUEL SETHROPOD. Tarjeta común gold. Tiene un nivel medio de escudo y vida. Lo use de tanque en esta pelea. Creo que en peleas de menos maná puede cumplir bien el rol de tanque. Gracias al escudo extra que le da el invocador espero se mantenga en batalla más tiempo y que cause daño en el tanque rival. Va a quedar limitada al nivel 3.

Second position/Segunda posición.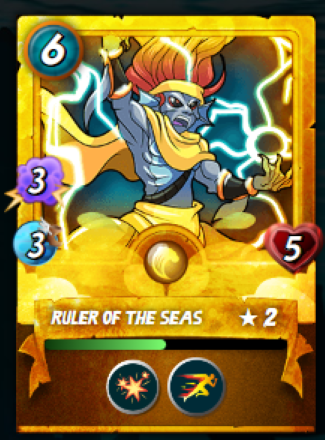 RULER OF THE SEAS. Legendary gold card. It's going to be capped at level 1. I chose it for its magic attack and good speed. It deals damage to monsters adjacent to the target monster. Therefore, it yields more in battle than the attack points indicated on the card.
RULER OF THE SEAS. Tarjeta legendaria gold. Va a quedar limitada al nivel 1. La elegí por su ataque de magia y la buena velocidad que tiene.Causa daño a los monstruos adyacentes al monstruo objetivo. Por lo cual rinde mas en batalla de los puntos de ataque que indica la tarjeta.

Third position./Tercera posición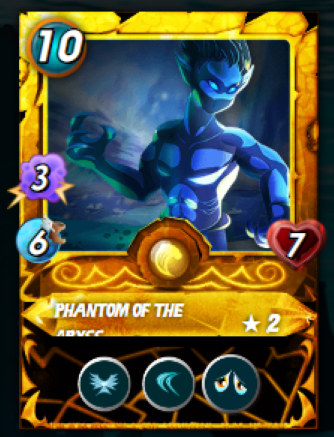 PHANTOM OF THE ABYSS. Legendary Gold card of the element of water. It will be limited to level 1. I always keep this card in mind. It yields a lot in battle. It has a powerful magic attack and a lot of speed. He always performs well. He usually behaves well in any position. When my tank drops I hope this card moves into center position and leads me to victory.
PHANTOM OF THE ABYSS. Tarjeta legendaria Gold del elemento agua. Va a quedar limitada al nivel 1. Esta tarjeta siempre la tengo en cuenta. Rinde mucho en batalla. Tiene un poderoso ataque mágico y mucha velocidad. Siempre tiene un buen desempeño. Suele comportarse bien en cualquier posición. Cuando caiga mi tanque espero que esta tarjeta pase a la posición central y me lleve a la victoria.

Fourth position/Cuarta posición.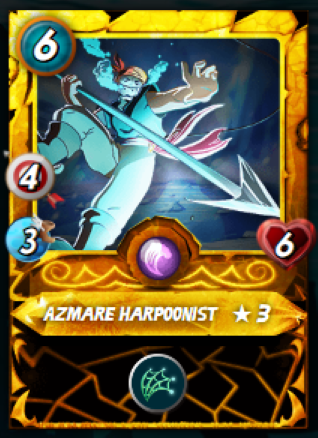 AZMARE HARPOONIST. Epic gold card. I chose her for her powerful ranged attack. I think it has a good relationship between the mana it consumes and the hit points it has. The summoner will give you some shield. I expect a good performance from this card.
AZMARE HARPOONIST. Tarjeta épica gold. La elegí por su poderoso ataque a distancia. Creo que tiene una buena relación entre el maná que consume y los puntos de vida que tiene. El invocador le dará algo de escudo. Espero un buen desempeño de esta tarjeta.

Fifth position/Quinta posición.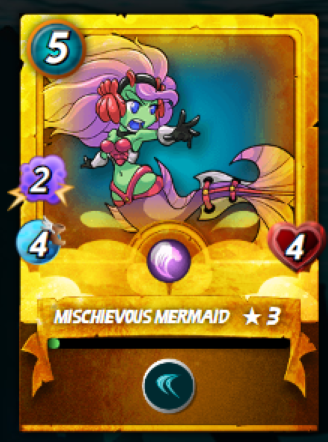 MISCHIEFOUS MERMAID. Epic gold card. I chose her for her magic attack and good speed. I expect him to evade various attacks from the opponent and give up a lot in battle. I put it in this position because it is the card with the least amount of life points and I want it to last longer in battle.
MISCHIEVOUS MERMAID. Tarjeta épica gold. La elegí por su ataque de magia y su buena velocidad. Espero que evada varios ataques del rival y me rinda mucho en batalla. La coloco en esta posición porque es la tarjeta con menor cantidad de puntos de vida y busco que dure más en batalla.

The battle/La batalla.


Reglas standard. Pelea a 37 de mana. El mana de la pelea nos permite a ambos poner tarjetas poderosas sobre el tablero. Me pareció interesante el tanque que uso mi rival.
Standard rules. Fight at 37 mana. The mana from the fight allows both of us to put powerful cards on the board. I found the tank my rival used interesting.

Board after summoners effects/Tablero después de los efectos de los invocadores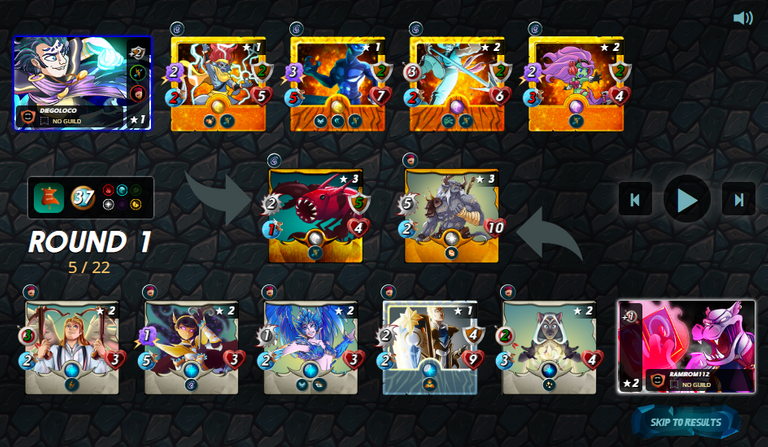 Round 1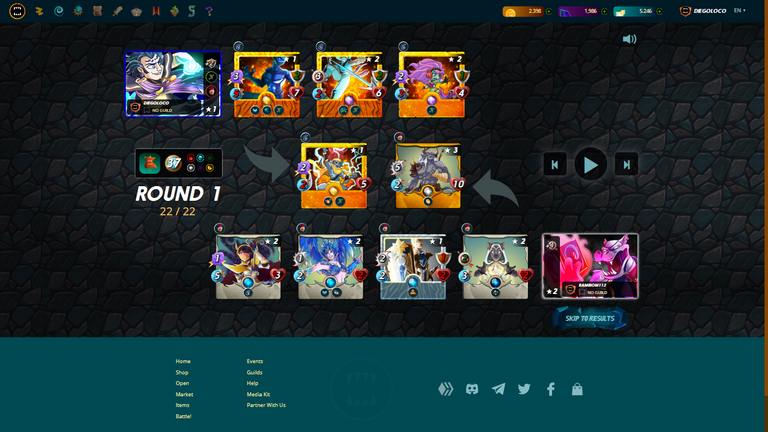 En este round me matan a CRUEL SETHROPOD. Yo mato a PELACOR ALBAREST. El tanque rival sigue como cuando empezó la batalla. Entonces el enemigo me sacó una mínima ventaja.
In this round they kill me CRUEL SETHROPOD. I kill PELACOR ALBAREST. The enemy tank continues as when the battle started. So the enemy took a minimal advantage of me.

Round 2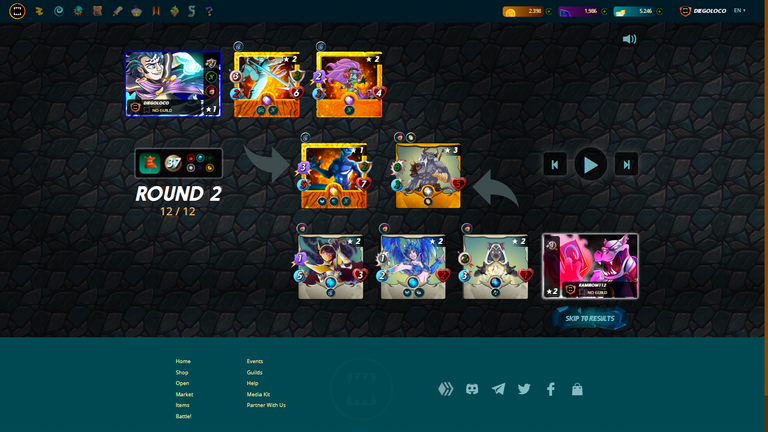 En este round me matan a RULER OF THE SEAS. Causo mucho daño en el tanque rival y logro matarle a SHIELDBEARER. Todavía el enemigo tiene sus posibilidades de ganar.
In this round they kill RULER OF THE SEAS. I do a lot of damage to the enemy tank and manage to kill SHIELDBEARER. The enemy still has his chances of winning.

Round 3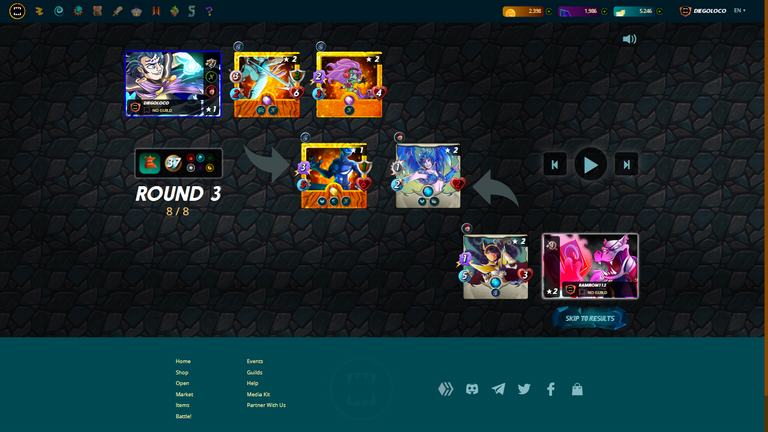 En este round creo que obtengo la ventaja que me va a dar la victoria. Mato al tanque rival y a CRYSTALSMITH. Al enemigo le quedan dos tarjetas sobre el tablero y no creo que puedan superar a mis tarjetas.
In this round I think I get the advantage that will give me victory. I kill the rival tank and CRYSTALSMITH. The enemy has two cards left on the board and I don't think they can outplay my cards.

Round 4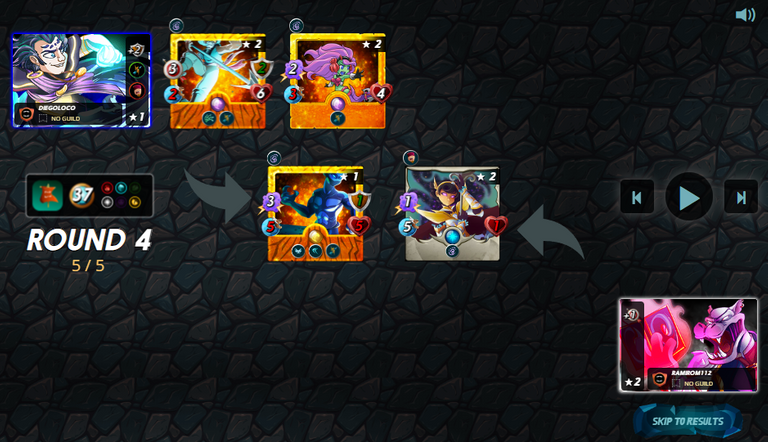 Este round mato a CELESTIAL HARPY. Ya esta definida la pelea.
This round killed CELESTIAL HARPY. The fight is already defined.

Round 5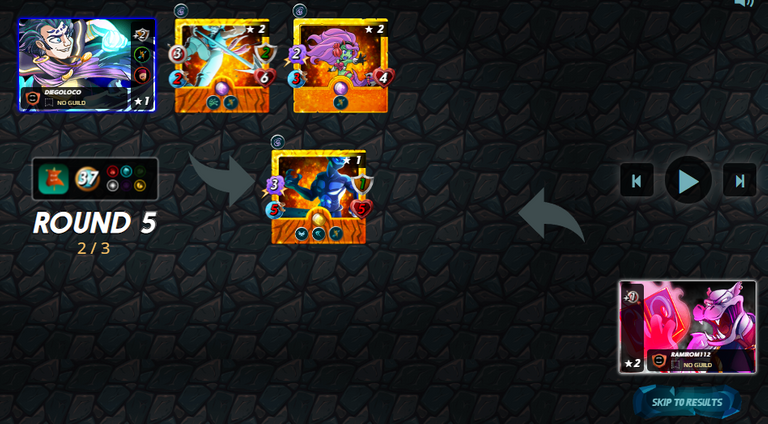 En este round mato a la última tarjeta del enemigo obteniendo la victoria, mate a TIME MAGE.
In this round I kill the last card of the enemy getting the victory, I kill TIME MAGE.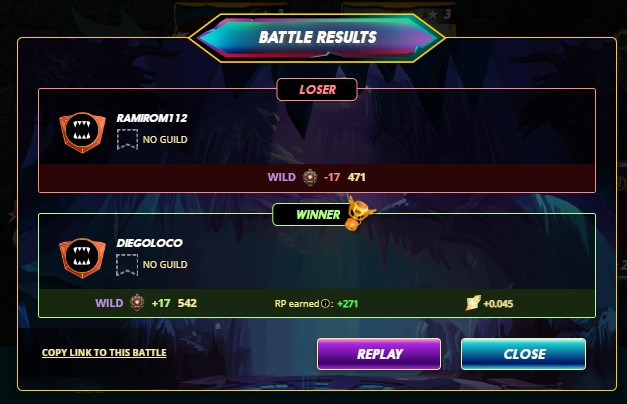 Conclusions of the fight/Conclusiones de la pelea.
La batalla la gane. Mi estrategia funciono bien. El enemigo puso un tanque con un poderoso ataque cuerpo a cuerpo. Creo que mis tarjetas hicieron bien en eliminarlo rápidamente después de la muerte de mi tanque. Creo que fue la clave de la victoria. Me gusto el desempeño de todas mis tarjetas. Me sorprendio el tanque rival.
I won the battle. My strategy worked well. The enemy put a tank with a powerful melee attack. I think my cards did well to quickly remove him after my tank's death. I think it was the key to victory. I liked the performance of all my cards. The rival tank surprised me.

What would change?/Que cambiaría?.
Creo que hubiese preferido usar un tanque con más puntos de vida o mucho más ataque. Creo que mi tanque debe usarse en peleas de menor maná. Me pregunte si no hubiese sido mejor cambiar la posición de RULER OF THE SEAS con PHANTOM OF THE ABYSS pero por el poderoso ataque del tanque de mi rival llegue a la conclusión que no hubiese sido mejor.
I think I would have preferred to use a tank with more hit points or a lot more attack. I think my tank should be used in lower mana fights. I wonder if it would not have been better to change the position of RULER OF THE SEAS with PHANTOM OF THE ABYSS but due to the powerful attack of my rival's tank I came to the conclusion that it would not have been better.

Link Twitter
https://twitter.com/Machin7Diego/status/1642642218254053377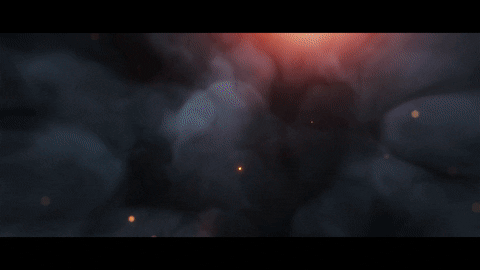 ---
---