SOCIAL MEDIA CHALLENGE.
Link of battle:
https://splinterlands.com/?p=battle&id=sl_bc537fbfb4ebbce73768c0c15140315f&ref=diegoloco
---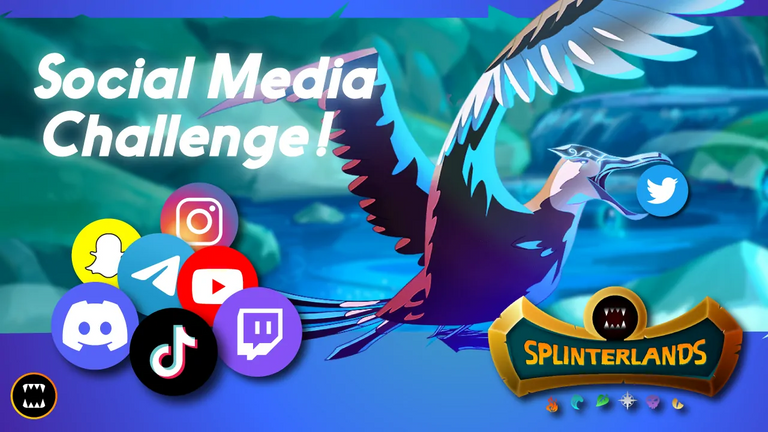 Saludos miembros de las comunidades de
#SPLINTERLANDS
y
#BDCOMMUNITY
. En este Social Media Challenge voy a mostrar una pelea con los splinter de agua. Me interesó probar dos tarjetas: FROST GIANT y RUNEMANCER KYE
Greetings members of the
#SPLINTERLANDS
and
#BDCOMMUNITY
communities. In this Social Media Challenge I am going to show a fight with the water splinters. I was interested in trying two cards: FROST GIANT and NECROMANCER KYE

MY STRATEGY / MI ESTRATEGIA
Básicamente aposte a un tanque con mucha vida y un poderoso ataque cuerpo a cuerpo complementado por tarjetas con ataque de magia. En definitiva, aposte a la magia. Quería una victoria rápida sobre el rival. Para hacer foco en el ataque de magia concentré el mana en pocas tarjetas con alto nivel de ataque de magia. También seleccioné un invocador que aumenta en 1 unidad el ataque de magia de mis monstruos que tienen ese tipo de ataque.
I basically went for a tank with a lot of health and a powerful melee attack complemented by magic attack cards. In short, bet on magic. He wanted a quick victory over the rival. To focus on magic attack I concentrated mana on few cards with high magic attack level. I also selected a summoner that increases the magic attack of my monsters that have that type of attack by 1 unit.

My Team/Mi equipo
Summomer/invocador.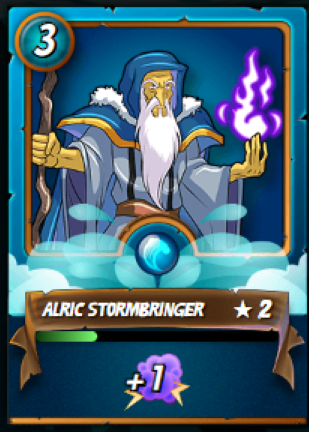 ALRIC STORMBRINGER. Legendary level 2 summoner that consumes 3 mana. Increases the magic attack of my monsters that have that type of attack by one unit. As I focus on magic, I looked to enhance the magic attack.
ALRIC STORMBRINGER. Invocador legendario de nivel 2 que consume 3 de maná. Incrementa en una unidad el ataque de magia de mis monstruos que tengan ese tipo de ataque. Como hago foco en la magia busque potenciar el ataque de magia.

First position/Primera posición.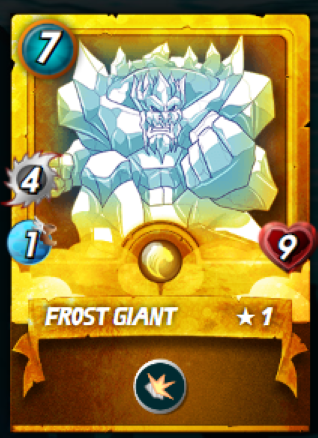 FROST GIANT. Legendary gold card. Consumes 7 mana points. It has the SHIELD ability which reduces the damage suffered by melee or ranged attacks. I was interested in testing this card as a tank. He has 9 health and a very powerful melee attack for his 4 points.
FROST GIANT. Tarjeta legendaria gold. Consume 7 puntos de mana. Tiene la habilidad SHIELD por lo cual reduce el daño sufrido por ataque cuerpo a cuerpo o a distancia. Me interesó probar esta tarjeta como tanque. Tiene 9 puntos de vida y un ataque cuerpo a cuerpo muy poderoso por sus 4 puntos.

Second position/Segunda posición.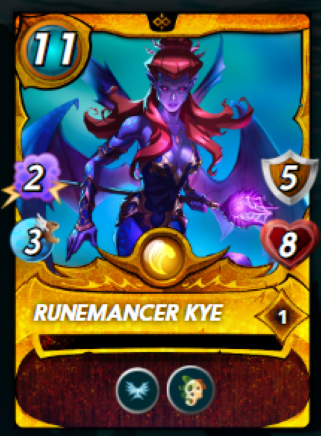 RUNEMANCER KYE. Legendary gold card with magic attack. I also wanted to try this card. It consumes 11 mana, so I hope it will be very useful in battle. It has a shield and a good 8 hit points. Is fast. He has evasion abilities but by the rules of this battle they are not important. I was interested in the other ability he has. This card has the LIFE LEECH ability so every time it deals damage to the life of an enemy monster it increases its life in proportion to the damage dealt. I hope he gains hit points as the fight progresses.
RUNEMANCER KYE. Tarjeta legendaria gold con ataque de magia. También quería probar esta tarjeta. Consume 11 de mana por lo cual espero que me de mucha utilidad en batalla. Tiene escudo y unos buenos 8 puntos de vida. Es veloz. Tiene habilidades de evasión pero por las reglas de esta batalla no son importantes. Me interesó la otra habilidad que tiene. Esta tarjeta tiene la habilidad LIFE LEECH por lo que cada vez que causa daño a la vida de un monstruo enemigo incrementa su vida en proporción al daño producido. Espero que vaya ganando puntos de vida a medida que se desarrolle el combate.

Third position./Tercera posición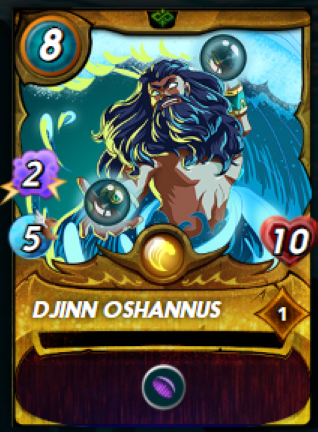 DJINN OSHANNUS. Legendary gold card. I chose her for her magic attack. He has a lot of life, 10 points and is very fast, 5 units. It has the VOID ability which reduces the damage from the magical attack. It consumes 8 mana, I think it gives good benefits for the mana it consumes.
DJINN OSHANNUS. Tarjeta legendaria gold. La elegí por su ataque de magia. Tiene mucha vida, 10 puntos y es muy veloz, 5 unidades. Tiene la habilidad VOID por lo cual reduce el daño proveniente del ataque mágico. Consume 8 de mana, creo que da buenas prestaciones por el mana que consume.

Fourth position/Cuarta posición.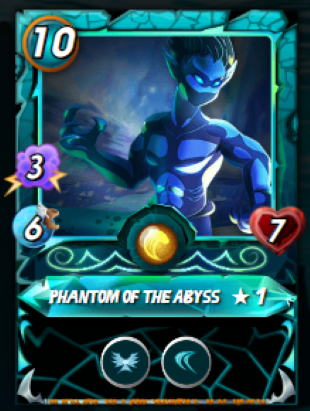 Phantom Of The Abyss. Water element regular legendary card. I love this card. She has evasion abilities but in this fight I chose her for her magic attack and her high speed. This card usually gives a lot in battle, I love it.
Phantom Of The Abyss. Tarjeta legendaria regular de elemento agua. Me encanta esta tarjeta. Tiene habilidades de evasión pero en esta pelea la elegí por su ataque de magia y su alta velocidad. Esta tarjeta suele dar mucho en batalla, me encanta.

The battle/La batalla.


Pelea a 41 de mana. El mana de la pelea nos permite usar tajetas con alto consumo de mana. Esta pelea tiene 2 reglas particulares: CLOSE RANGE y AIM TRUE.
Fight at 41 mana. The mana of the fight allows us to use cards with high mana consumption. This fight has 2 particular rules: CLOSE RANGE and AIM TRUE.

Board after summoners effects/Tablero después de los efectos de los invocadores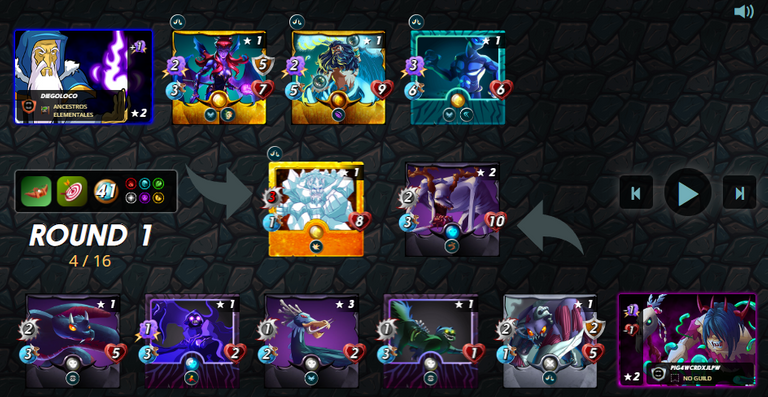 Round 1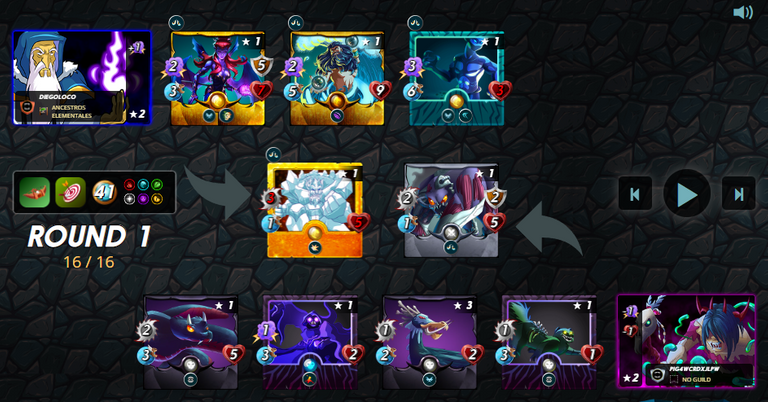 El enemigo me saco una pequeña ventaja con el invocador porque termine perdiendo 1 punto de vida de cada una de mis tarjetas. El tanque rival es CURSED WINDEKU, cuando es atacado con ataque cuerpo a cuerpo causa daño al atacante. Algo que no debería ser bueno para mi tanque. Por suerte en este primer round mis tarjetas con ataque de magia aniquilaron a CURSED WINDEKU y los ataques del rival se concentraron en la línea de fondo sin causarme bajas.
The enemy took a small advantage with the summoner because I ended up losing 1 life point from each of my cards. The opposing tank is CURSED WINDEKU, when attacked with a melee attack it deals damage to the attacker. Something that shouldn't be good for my tank. Luckily in this first round my cards with magic attack annihilated CURSED WINDEKU and the opponent's attacks were concentrated on the bottom line without causing me any casualties.

Round 2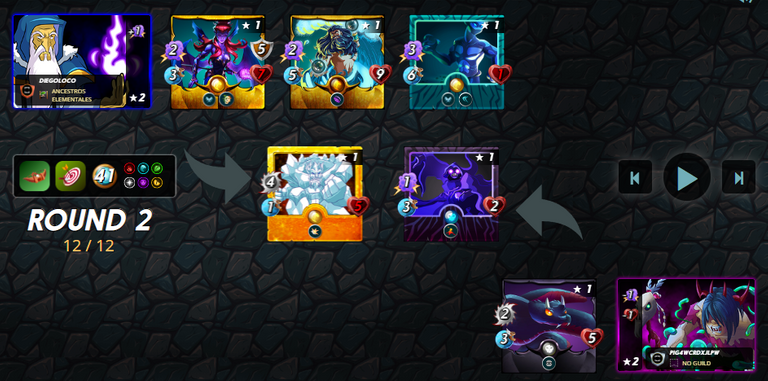 En este round comienzo matándole al enemigo a DESINTEGRATOR. Y le mato posteriormente a UNDEAD BADGER. Sobre el final del round mi tanque elimina a CARRION SHADE. Al enemigo solo le quedan 2 tarjetas sobre el tablero. La pelea está definida, solo es cuestión de tiempo. Lo único que logró el enemigo es dejar al borde de la muerte a PHANTOM OF THE ABYSS en mi equipo.
In this round I start by killing the enemy DISINTEGRATOR. And I later kill UNDEAD BADGER. Towards the end of the round my tank takes out CARRION SHADE. The enemy only has 2 cards left on the board. The fight is defined, it's just a matter of time. The only thing the enemy did was leave PHANTOM OF THE ABYSS on the brink of death on my team.

Round 3
En este round obtengo la victoria formalmente. Mi PHANTOM OF THE ABYSS elimina a DEATH ELEMENTAL al comienzo del round. Luego es mi tanque quien termina matando a la última tarjeta del rival, SILENT SHA-VI.
In this round I get the victory formally. My PHANTOM OF THE ABYSS takes out DEATH ELEMENTAL early in the round. Then it's my tank who ends up killing the opponent's last card, SILENT SHA-VI.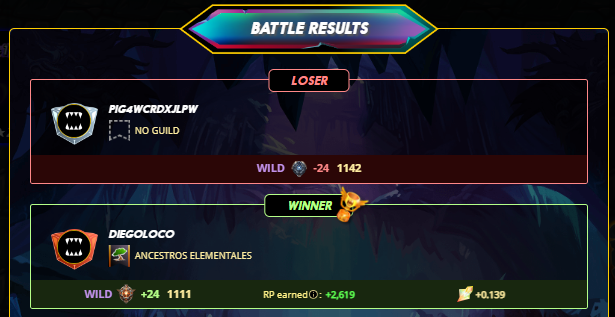 Conclusions of the fight/Conclusiones de la pelea.
Gane la batalla y mi estrategia fue efectiva. Mi enemigo no castigó duramente a mi tanque como esperaba. Pero obtuve una victoria rápida en tres rounds como quería. Creo que el enemigo nunca tuvo oportunidad de ganar la pelea después de la eliminación de su tanque. Vi el funcionamiento de la habilidad de RUNEMANCER KYE y me gustó mucho la tarjeta. Creo que la voy a tener en cuenta en el futuro para peleas de alto mana. Con respecto a GIANT FROST, deberé evaluarlo en otras peleas porque no recibió castigo en esta ocasión pero se desempeño conforme a lo esperado.
I won the battle and my strategy was effective. My enemy didn't hit my tank as hard as I expected. But I got a quick win in three rounds like I wanted. I think the enemy never had a chance to win the fight after the elimination of his tank. I saw how RUNEMANCER KYE's ability worked and I really liked the card. I think I'll keep her in mind in the future for high mana fights. Regarding GIANT FROST, I will have to evaluate him in other fights because he received no punishment this time but he performed as expected.

What would change?/Que cambiaría?.
En esta pelea no cambiaría nada. Todo salio como esperaba. Obtuve una victoria rápida y termine la batalla con todas mis tarjetas sobre el tablero.
In this fight I would not change anything. Everything went as expected. I got a quick win and finished the battle with all my cards on the board.

Link Twitter
https://twitter.com/Machin7Diego/status/1645098538181828609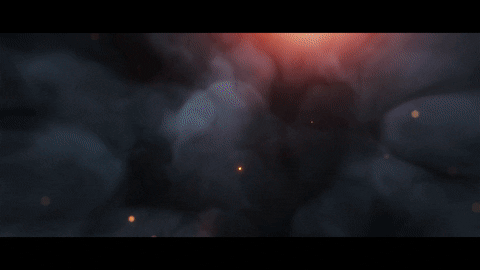 ---
---