SOCIAL MEDIA CHALLENGE. The power of magic.
Link of battle:
https://splinterlands.com/?p=battle&id=sl_f1814286b6d86ef234d83142ade69377&ref=diegoloco
---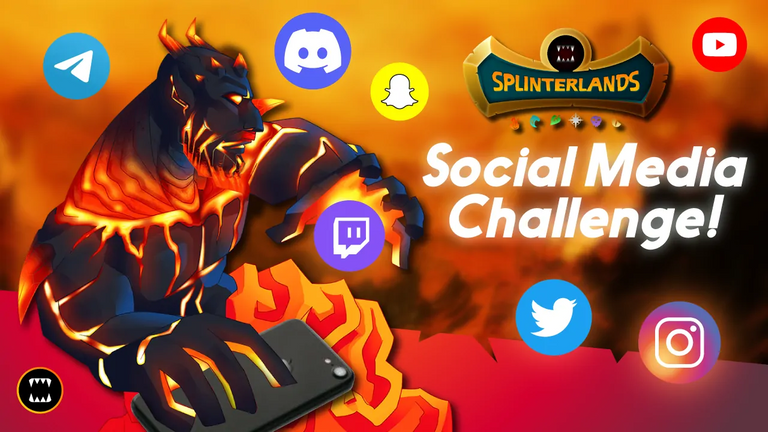 Saludos miembros de las comunidades de
#SPLINTERLANDS
y
#BDCOMMUNITY
. En este Social Media Challenge voy a mostrar una pelea con mi equipo haciendo base en el ataque mágico. Me entantan los splinter de Agua y la magia. Use la pelea para probar dos tarjetas reward (COASTAL SENTRY y RIVERBOAT CAPTAIN) y una legendaria, RUNEMANCER KYE.
Greetings members of the
#SPLINTERLANDS
and
#BDCOMMUNITY
communities. In this Social Media Challenge I am going to show a fight with my team based on the magic attack. I love Water splinters and magic. Use the fight to test two reward cards (COASTAL SENTRY and RIVERBOAT CAPTAIN) and one legendary, RUNEMANCER KYE.

MY STRATEGY / MI ESTRATEGIA
Para esta pelea me propuse usar un tanque poderoso con ataque cuerpo a cuerpo respaldado con una tarjeta que lo cure y hacer base en el ataque de magia con el resto de las tarjetas. Como me iba a centrar en la magia seleccioné a ALRIC STORMBRINGER como invocador porque como habilidad, aumenta el ataque de magia de todos mis monstruos con ataque de magia en una unidad. Busque utilizar tarjetas veloces con mucho poder de daño. Queria una pelea corta.
For this fight I made it a point to use a powerful tank with melee attack backed up with a heal card and base on the magic attack with the rest of the cards. Since I was going to focus on magic I selected ALRIC STORMBRINGER as summoner because as an ability, it increases the magic attack of all my monsters with magic attack by one unit. Look to use fast cards with a lot of damage power. I wanted a short fight.

My Team/Mi equipo
Summomer/invocador.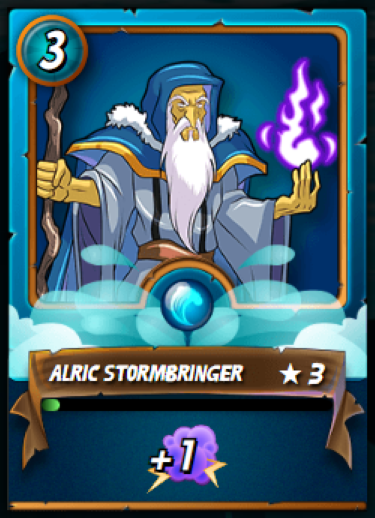 ALRIC STORMBRINGER. Use a level 3 card that will be limited to level 2 in the fight. It increases the magic attack of my monsters that have it by one unit. The goal was to boost my cards and not concentrate on the opponent's.
ALRIC STORMBRINGER. Utilice una tarjeta de nivel 3 que en la pelea va a quedar limitada a nivel 2. Aumenta el ataque de magia de mis monstruos que lo posean en una unidad. El objetivo era potenciar mis tarjetas y no concentrarme en las del rival.

First position/Primera posición.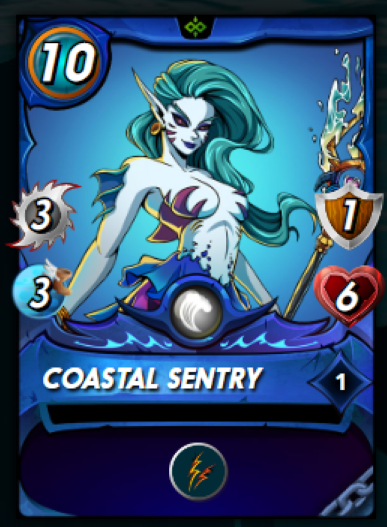 COASTAL SENTRY. Reward card of the new ones. I was interested in testing this card as a tank. He has a powerful melee attack that is boosted by his ability, he attacks twice per round. It is very similar to GRUND but has much less health. For that reason, at the end of the formation, place MERDAALI GUARDIAN to heal this card.
COASTAL SENTRY. Tarjeta reward de las nuevas. Me interesó probar esta tarjeta como tanque. Tiene un poderoso ataque cuerpo a cuerpo que se ve potenciado por su habilidad, ataca dos veces por round. Es muy parecida a GRUND pero tiene mucha menos vida. Por esa razon al final de la formación coloque a MERDAALI GUARDIAN para que cure a esta tarjeta.

Second position/Segunda posición.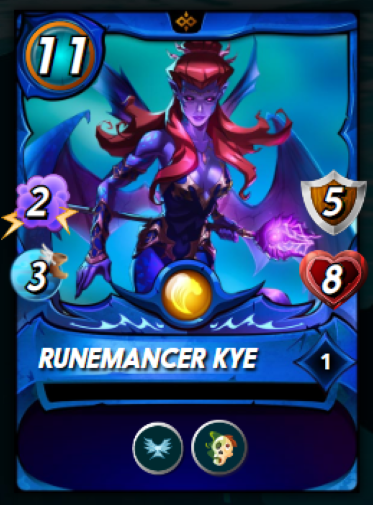 RUNEMANCER KYE. It is a very complete legendary card, it has everything, good magic attack, speed, shield and life. I was interested in his magic attack and that he could fill the tank role if the enemy killed the tank I put in quickly. That's why I put it in the second position. It has an evasion ability and when it damages an enemy monster its life increases in proportion to the damage caused. He intended that with the passing of the rounds it would become more and more powerful.
RUNEMANCER KYE. Es una tarjeta legendaria muy completa, tiene de todo, buen ataque de magia, velocidad, escudo y vida. Me interesó su ataque de magia y que pudiera ocupar el rol de tanque si el enemigo mataba el tanque que puse rápidamente. Por eso la coloque en la segunda posición. Tiene habilidad de evasión y cuando daña a un monstruo enemigo aumenta su vida en proporción al daño causado. Pretendía que con el correr de los rounds se hiciera cada vez más poderosa.

Third position./Tercera posición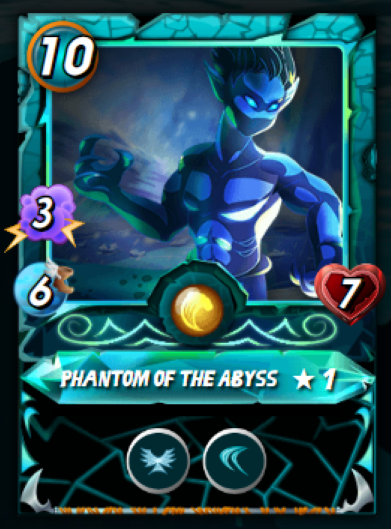 PHANTOM OF THE ABYSS. Legendary card. He has a powerful magic attack and is very fast. He tends to evade many attacks in battle. This card usually yields a lot. I love it, I often use it. His mission: damage the rival.
PHANTOM OF THE ABYSS. Tarjeta legendaria. Tiene un poderoso ataque de magia y es muy veloz. Suele evadir muchos ataques en batalla. Suele rendir mucho esta tarjeta. Me encanta, suelo utilizarla. Su misión: dañar al rival.

Fourth position/Cuarta posición.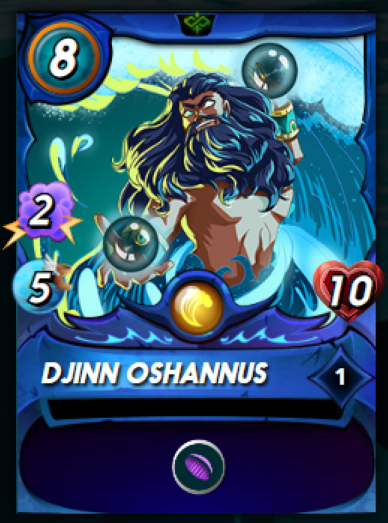 DJINN OSHANNUS. It is a legendary card. I put it on the board for the same reasons as Phantom Of The Abyss. I want it to damage the opponent and the fewer attacks it receives, the better.
DJINN OSHANNUS. Es una tarjeta legendaria. La puse en el tablero por las mismas razones que Phantom Of The Abyss. Quiero que dañe al rival y cuantos menos ataques reciba mejor.

Fifth position/Quinta posición.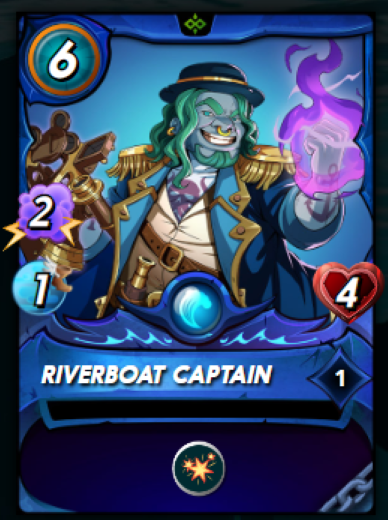 RIVERBOAT CAPTAIN. It's a new reward card. He wanted to test it in battle. It has a magic attack and has the ability that when it damages the enemy monster in its attack it also causes damage to the adjacent monster. As a negative, I only highlight its low speed.
RIVERBOAT CAPTAIN. Es una tarjeta reward de las nuevas. Queria probarla en batalla. Tiene ataque de magia y tiene la habilidad de que cuando daña al monstruo enemigo en su ataque también causa daño en el monstruo adyacente. Como negativo, solo destaco su baja velocidad.

Sixth position/Sexta posición.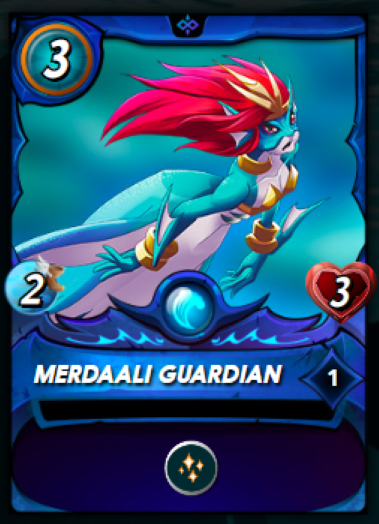 TORRENT FIEND. Legendary Gold card of the element of water, from the Chaos Legion series. It does not consume mana and has 1 melee attack point and 1 health point. By not consuming mana I can put cards with more mana in the other positions. I put it in filler.
MEDAALI GUARDIAN. La coloqué en la última posición esperando que no la ataquen. Su única función es curar a mi tarjeta tanque colocada en la primera posición.

The battle/La batalla.


Pelea a 99 de mana. Ambos podíamos poner toda la carne sobre el asador y utilizar las tarjetas de alto consumo de mana. Entre las reglas está que los ataques son certeros, siempre se alcanza al blanco.
Fight at 99 mana. We could both go all out and use mana-consuming cards. Among the rules is that the attacks are accurate, the target is always reached.

Board after summoners effects/Tablero después de los efectos de los invocadores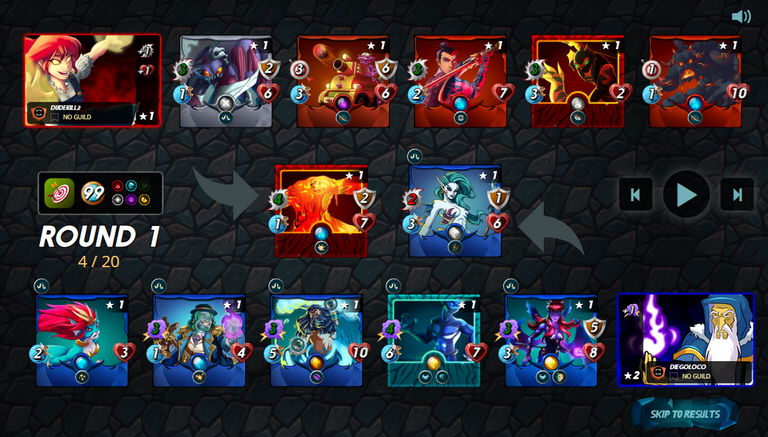 Round 1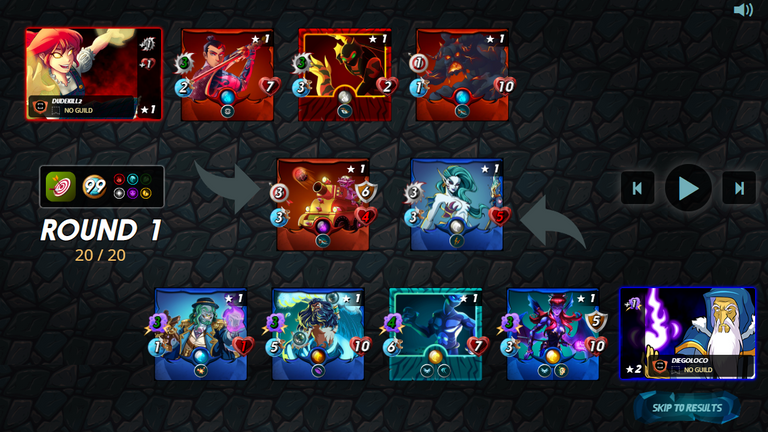 Mis tarjetas comenzaron muy bien el roud, las más veloces usaron su ataque de magia y mataron al tanque rival, LIVING LAVA. No pudo atacar, lo mataron rápido. También logro matar a DESINTEGRATOR. El rival lo único que logro fue matarme a MERDAALI GUARDIAN destruyendo mi estrategia de curar al tanque. El primer round es altamente positivo para mi equipo.
My cards started the roud very well, the fastest ones used their magic attack and killed the rival tank, LIVING LAVA. He couldn't attack, they killed him quickly. I also manage to kill DISINTEGRATOR. The only thing the rival managed to do was kill me MERDAALI GUARDIAN, destroying my strategy to heal the tank. The first round is highly positive for my team.

Round 2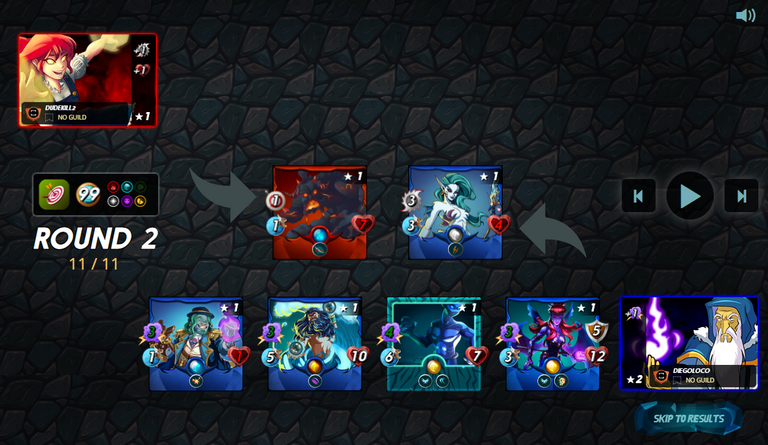 El segundo round arranca genial, mi tarjeta PHANTOM OF THE ABYSS mata de un hit a LAVA LAUNCHER. En el arranque del segundo round ya medio equipo rival está muerto. También logro matarle al rival a TENYLL STRIKER y a SERPENTINE SPY. El rival queda con una sola tarjeta sobre el tablero. La pelea está definida, no tiene posibilidades mi enemigo.
The second round starts off great, my PHANTOM OF THE ABYSS card kills LAVA LAUNCHER with one hit. At the start of the second round, half of the rival team is already dead. I also managed to kill the rival TENYLL STRIKER and SERPENTINE SPY. The rival is left with a single card on the board. The fight is defined, my enemy has no chance.

Round 3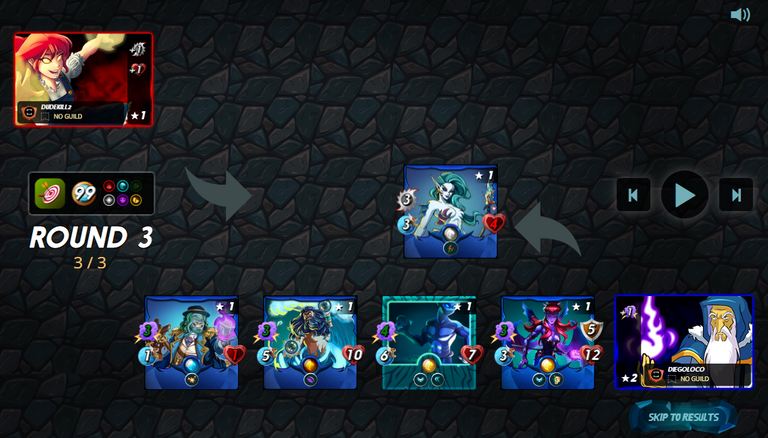 En este round mis tarjetas matan la última tarjeta del enemigo sobre el tablero ganando la pelea.
In this round my cards kill the last card of the enemy on the board winning the fight.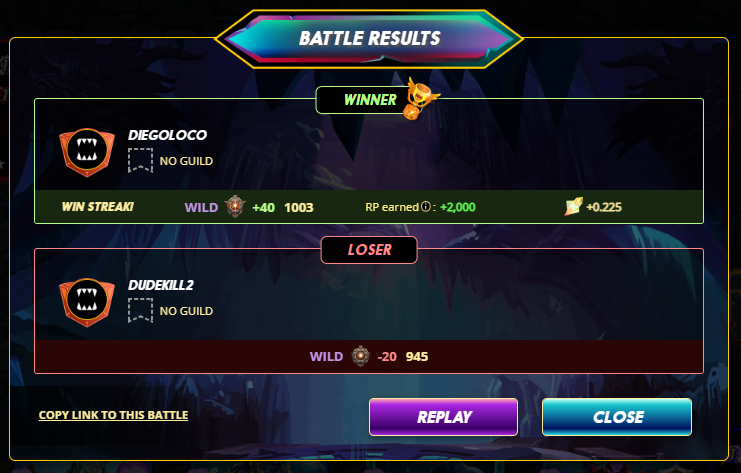 Conclusions of the fight/Conclusiones de la pelea.
Gane la batalla. Mi estrategia fue efectiva. Creo que tenía mucha ventaja sobre el rival al empezar la batalla. Pero pude probar las tarjetas que quería probar. RIVERBOAT CAPTAIN me gustó, tuvo un buen desempeño. COASTAL SENTRY como tanque no me convencio. La rápida aniquilación del tanque rival me hizo pensar que le podría pasar lo mismo a COASTAL SENTRY. Y colocarla en la primera posición con una tarjeta en el fondo que la cure creo que es un lujo que me pude dar por el alto maná de la pelea. Entre las dos tarjetas se ponen en juego muchos puntos de maná. RUNEMANCER KYE me gusto.
Win the battle. My strategy was effective. I think he had a lot of advantage over the opponent at the start of the battle. But I was able to test the cards that I wanted to test. I liked RIVERBOAT CAPTAIN, it performed well. COASTAL SENTRY as a tank did not convince me. The quick kill of the opposing tank made me think the same could happen to COASTAL SENTRY. And placing her in the first position with a card in the background that heals her, I think it is a luxury that I could afford due to the high mana of the fight. Between the two cards many mana points are put into play. RUNEMANCER KYE I liked it.

What would change?/Que cambiaría?.
No pondría a COASTAL SENTRY de tanque, creo que optaría por RUNEMANCER KYE. También podría no utilizar a MERDAALI GUARDIAN y reemplazarla por alguna tarjeta con ataque de magia. No fue mala la pelea, obtuve una victoria rápida, pero el team creo que se podría mejorar.
I wouldn't tank COASTAL SENTRY, I think I'd go for RUNEMANCER KYE. It could also not use MERDAALI GUARDIAN and replace it with some card with magic attack. The fight was not bad, I got a quick victory, but I think the team could be improved.

Link Twitter
https://twitter.com/Machin7Diego/status/1639989645277646850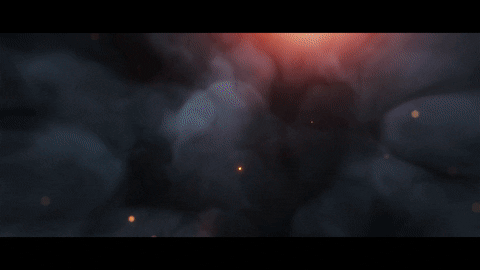 ---
---