My first Detailed Review on Splinterlands Booster Packs - I hope You enjoy the read and please leave any comments or feedback below, Thank You!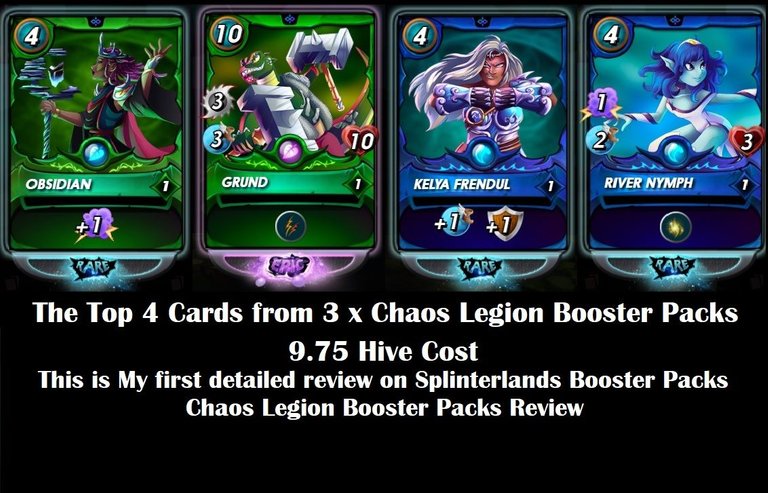 After spending the last week or so exploring the world of Splinterlands I began to stray towards purchasing booster packs to add cards to my collection. And with this in mind I first began to research into the booster packs currently available. Out of all packs there was one that was in a Pre Sale kind of state on Splinterlands itself. It had also been the cheapest available so of course this was my chosen pack to purchase.
I then decided to view other peoples content on pack openings and the cards that was coming out. It was a good hour of video watching before I went and made my purchase.
I used Tribaldex to buy the packs and after a search saw someone selling 3 packs for 9.75 Hive. So I made the purchase.
After i had seen them in My wallet I knew I needed to then transfer them to Splinterlands. This was another 5 minute video for Mr. Newbie.
I then proceeded to open the packs. I will add that I also had 1 legendary and 3 alchemy potions. Not much at all but it was a start.
I opened the first and saw a summoner so was happy with that as the whole pack was valued at around 5 dollars.
The second had the epic grund so again I was happy as the total pack value was over 7 dollars
Now the last pack was ready and I got another summoner and a pack value of over 5 dollars.
This meant I had done a little better than the paid value of the packs but more importantly I now had more cards in my collection that would only increase in value over time.
From what I had seen online regarding other openings of the chaos legion packs and My own experience I would like to give the overall process and results a solid 8/10
---
---