My First Post - Dragon Weekly Challenge
DRAGON CHALLENGE
So I've got to be honest, as a relative newcomer to the game I haven't used the dragon splinter that much (if at all) before this. Doing this quest has really opened my eyes to how powerful it can be with the right strategy and I'll definitely be using them much more moving forwards!
Another thing that I'm really happy about is that this challenge has introduced me to probably my new favourite card;
DJINN CHWALA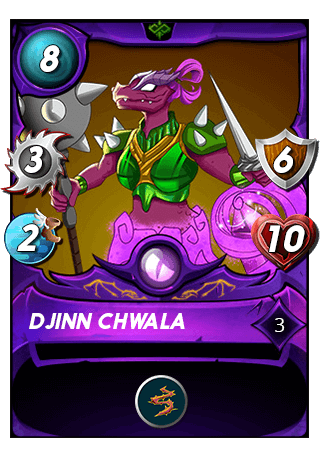 I initially rented it just for the challenge for an insanley cheap 0.9 DEC / day, but after using it I'm going to have to purchase it for myself. In pretty much every battle where the mana allows me to select it I win (I imagine this becomes less likely at higher levels 😆).
---
So my battle is here;
As you'll see from the video link of the battle my full team was;
Summomner - Drake of Arnak
Front row - Djinn Chwala
Second - Twilight Basilisk
Third - Serpentine Spy
Fourth - Kobold Miner
Fifth - Fire Beetle
Sixth - Efreet Elder
My plan was to combine the high health / shield stats of Djinn Chwala with some of my favourite fire splinter cards, relying on Efreet Elders last stand ability to bring things home if required. Thankfully that wasn't really needed as my opponent didn't really field the best team. The thorns ability of DC added to his three melee damage caused havoc to his Unicorn Mustang.
To conclude I'd definitely recommend the dragon splinter to any other new comers to the game - or anyone else who hasn't used them too much for that matter. I hope my first post wasn't too rambling and that it formats OK... apologies if not 😂!
---
---