WEEKLY BATTLE CHALLENGE - DEFENDER OF TRUTH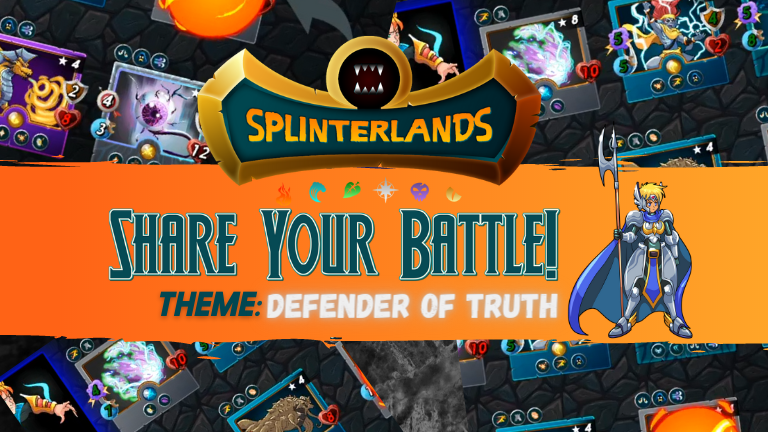 So this weeks battle challenge is to show off a battle using the defender of truth card. This isn't a card I own so I rented it specifically for the challenge and I have to admit it wasn't my favourite. It felt as though I was forcing it in alongside the higher mana melee monsters - sometimes at the expense of better, lower mana cards. Looking at its stats however it does look like it would be really useful at the higher levels.
My battle is here; BATTLE
It was a 20 mana limit with the fog of war ruleset in play, meaning that all snipe and sneak abilities are lost and no water / dragon splinters allowed. I obviously went with the life splinter to be able to select my defender of truth with my full line up being;
SUMMONER - MOTHER KHALA
FRONT ROW - CHAIN SPINNER
SECOND - LUMINOUS EAGLE
THIRD - DEFENDER OF TRUTH
FOURTH - HERBALIST
My strategy was to try and select no snipe or sneak monsters and put out the strongest Life splinter team I could whilst fitting in my defender of truth. My opponent went for the fire splinter and luckily picked some sneak monsters who couldn't be as effective due to the rule set. My defender of truth was actually quite handy against the living lava on the other team but the star of the show was actually Luminous Eagle who avoided so many attacks!
I earned .704DEC for the battle and continued my quest to get into gold 1. Last season I rented up into silver III and got some pretty decent rewards so I think this will be my tactic again.
To finish I'd just say I really didn't like the defender of truth card, to purchase it outright as of time of writing is basically $49 and I think there's better value to be had in the market. As I said earlier though this does look to change as it levels up so some more established players may disagree!
Peace :)!
---
---