SPS Airdrop Points: The Most Cost-Effective Way to Increase Your Points
Today we're going to talk about how to best increase your airdrop points in the most cost-effective manner possible. I understand that not everyone is keen on putting more money into the game which is understandable, but the unfortunate answer is that the easiest way to increase your points is by putting extra money into the game.
Airdrop Breakdown: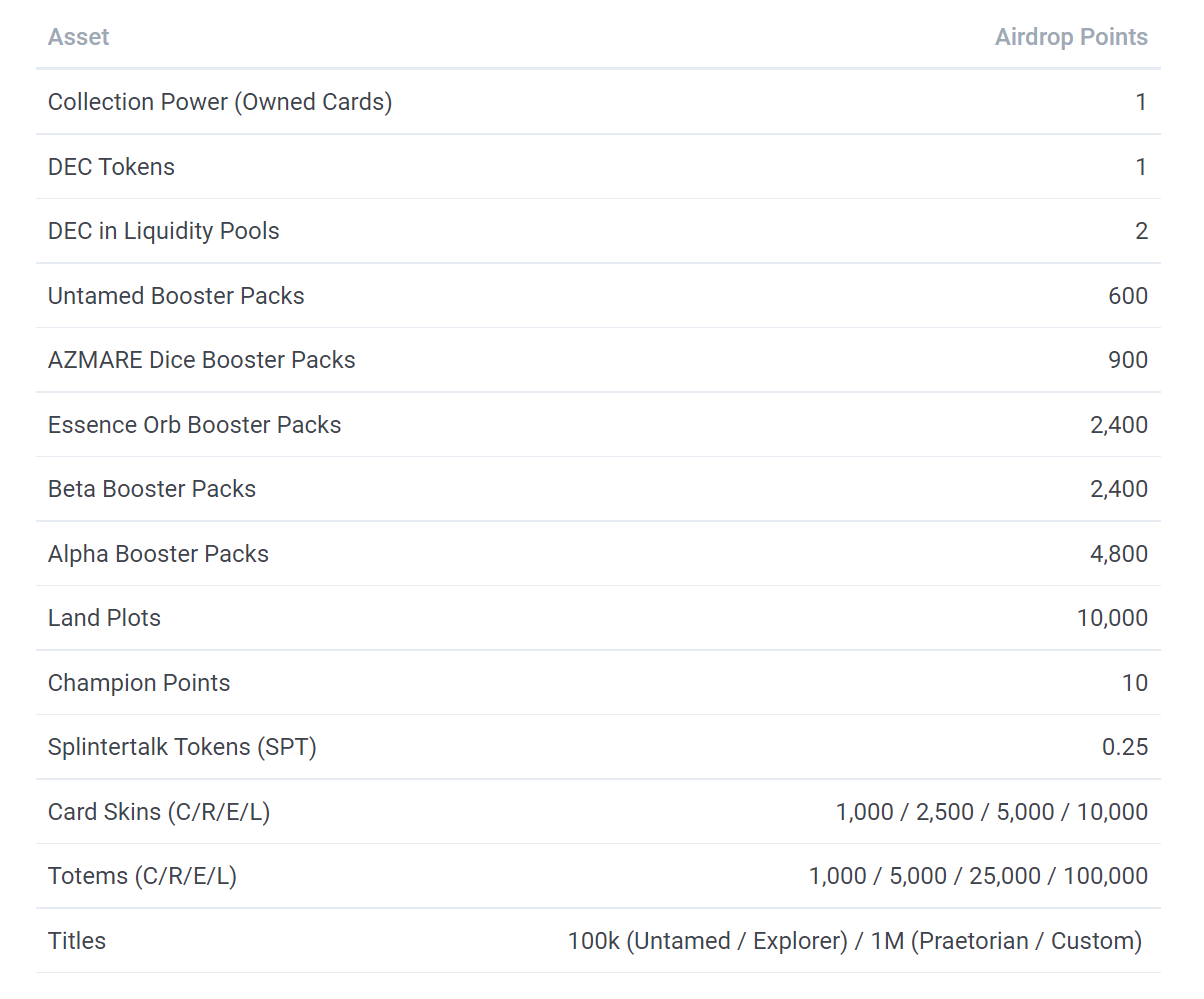 If you don't intend to spend more money on the game other than your spellbook, you'll want to HODL your DEC for the airdrop points. Right now, DEC is hovering around $0.01 USD so this is the best deal at this point in time to increase your airdrop points.
You can place that DEC in an LP if you decide to, but be wary of impermanent loss and expect to place 50% of each token into the pool that you choose.
To evaluate the best deals relating to collection power, you'll want to use the following infographic: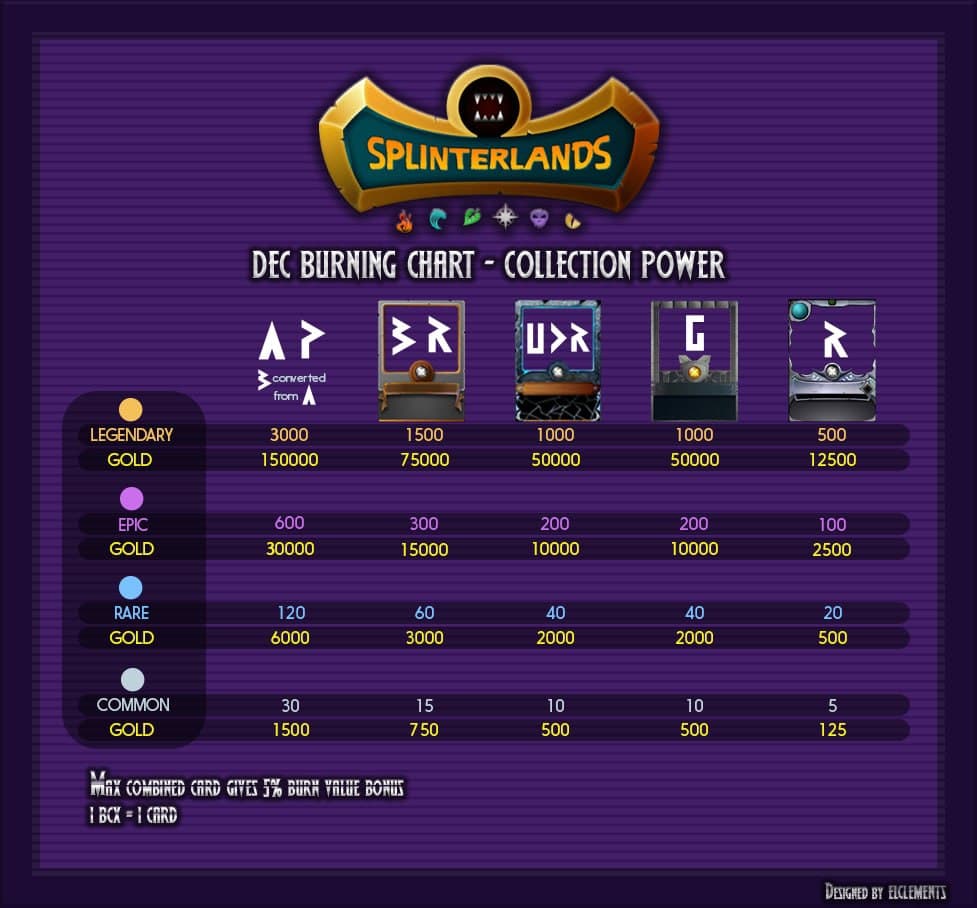 There are deals that can be had if you keep your eye on the market or you can try to obtain a good OTC deal. Looking at the cheapest deals right now, each airdrop point from collection power will cost about $0.01-$0.02 USD which is great. If you choose this route, I recommend purchasing cards instead of packs which are effectively a gamble. Another option you can entertain is selling rarer cards that you don't use to get more airdrop points as payouts are delivered in DEC.
As for packs, they are available on AtomicHub using the Wax blockchain. Here are current floors of each and their respective cost per airdrop point:
Untamed: $46 / 600 = $0.076
Dice: $49 / 900 = $0.054
Orb: $130 / 2400 = $0.054
Beta: $127 / 2400 = $0.053
Alpha: $503 / 4800 = $0.105
From running these calculations, we can see that Dice and Orb packs are the best choice of the bunch if you want to acquire packs for the long haul.
Let's take a look at land claims.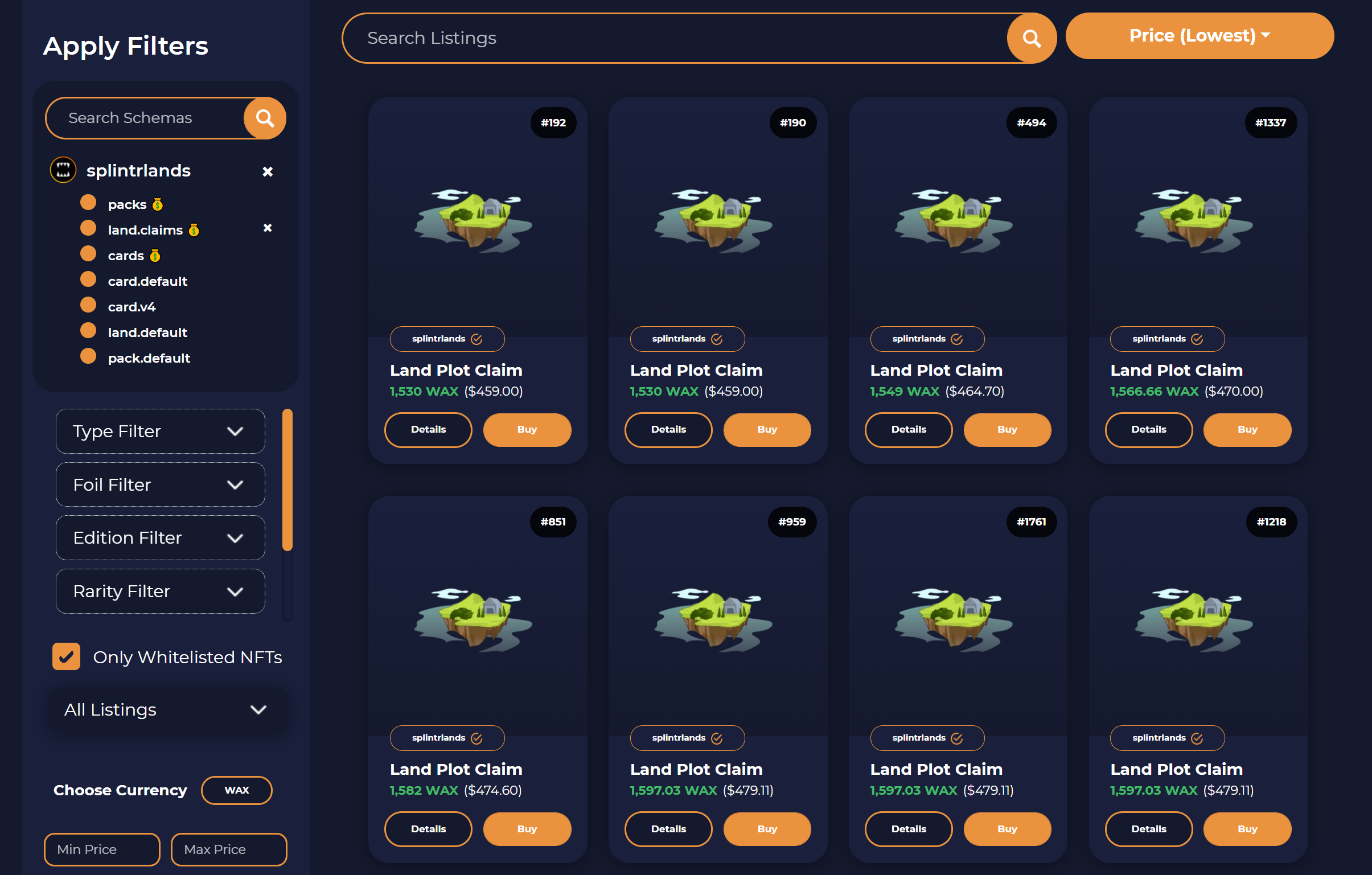 Using AtomicHub we can see that the floor price is hovering around $460, but let's break it down for the current floor land claim.
Claim: $459 / 10,000 = $0.046
Tract: $44,444 / 1,000,000 = $0.044
Region: $665,000 / 10,000,000 = $0.067
Surprisingly, claims and tracts are a better deal than packs but they do require a much larger purchase which is a deterrent. Knowing that tracts come with a Keep, this is a steal for a big spender in my eyes. While not relevant to this article, we can expect items and spells to play an integral part to this game's future. You can always rent out the ones you don't want to to increased earnings too!
As for champion points, these are not a tradeable asset.
For SPT, the price is about $0.014 each as depicted below: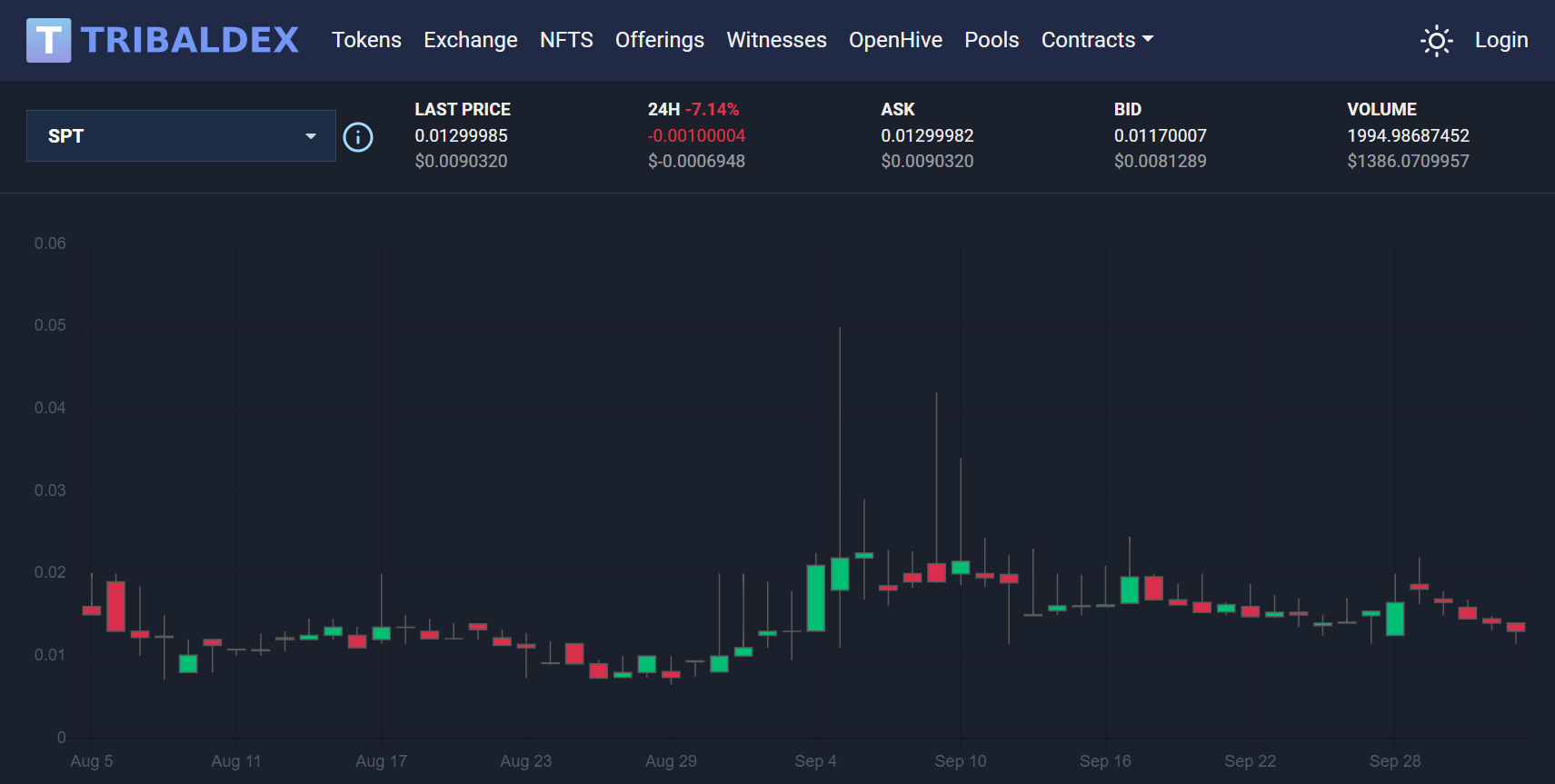 So by some quick math here is how much an airdrop point in SPT would cost:
$0.014 * 4 = $0.056
While on par with the packs, this could be an option for some should they choose to stake SPT and invest into this side of the Splinterlands ecosystem.
Card skins are only a good deal if you buy the entire set which enables a 50% discount. If you do this, you are effectively turning your DEC airdrop points into points from card skins 1:1. Don't forget about the Lodge discount!
Lodge Breakdown: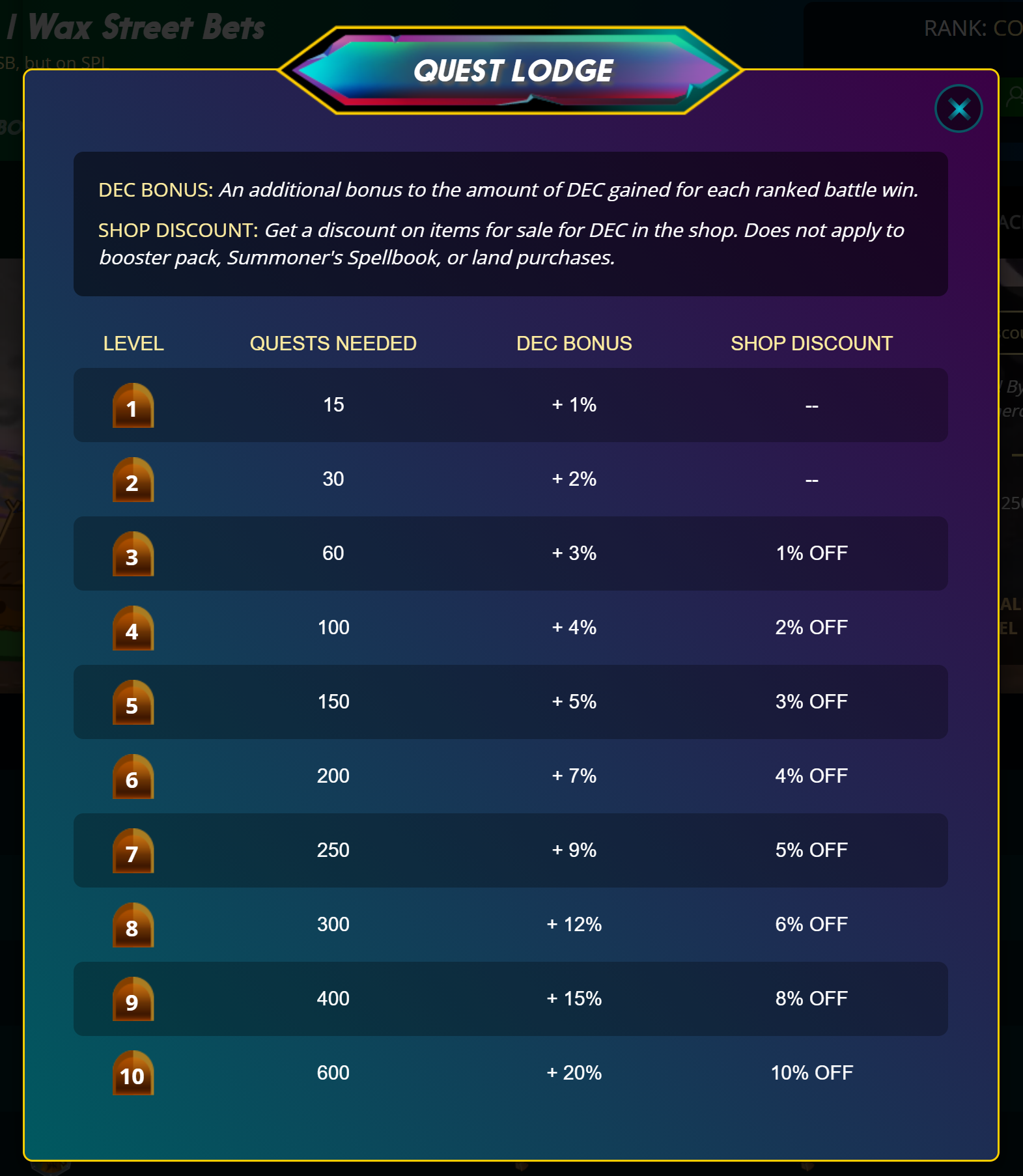 If you have enough DEC lying around to grab an entire set, you'll get more airdrop points out of that DEC if your guild has a discount!
Totems are available to be purchased via TribalDEX but liquidity is thin there. You can do some research here if you're interested in purchasing any sort of totem. Points aside, these will likely be very useful should you own any land.
In regards to titles, these are not available for purchase to my knowledge. Feel free to correct me.
In sum, your best option is to get your hands on DEC and playing Splinterlands is the easiest way to get your hands on some. As explained above you stretch those airdrop points further by purchasing a skin set or placing your DEC in a liquidity pool. Increasing your collection power for about 1.5 cents per is the next best optimal route to getting cheap airdrop points. This is will also save you from renting which can be a nightmare at the end of seasons.
Hope this shows how to get more SPS daily as we still have about 10 more months of the airdrop to enjoy! Thanks for reading!
---
---