Why Spirit Miner is an Excellent Support Card
As of late, I noticed that I haven't been seeing much usage of Spirit Miner in my personal battles which struck me as odd. When deployed under the right settings this card is a killer. Let's take a look at its stats below: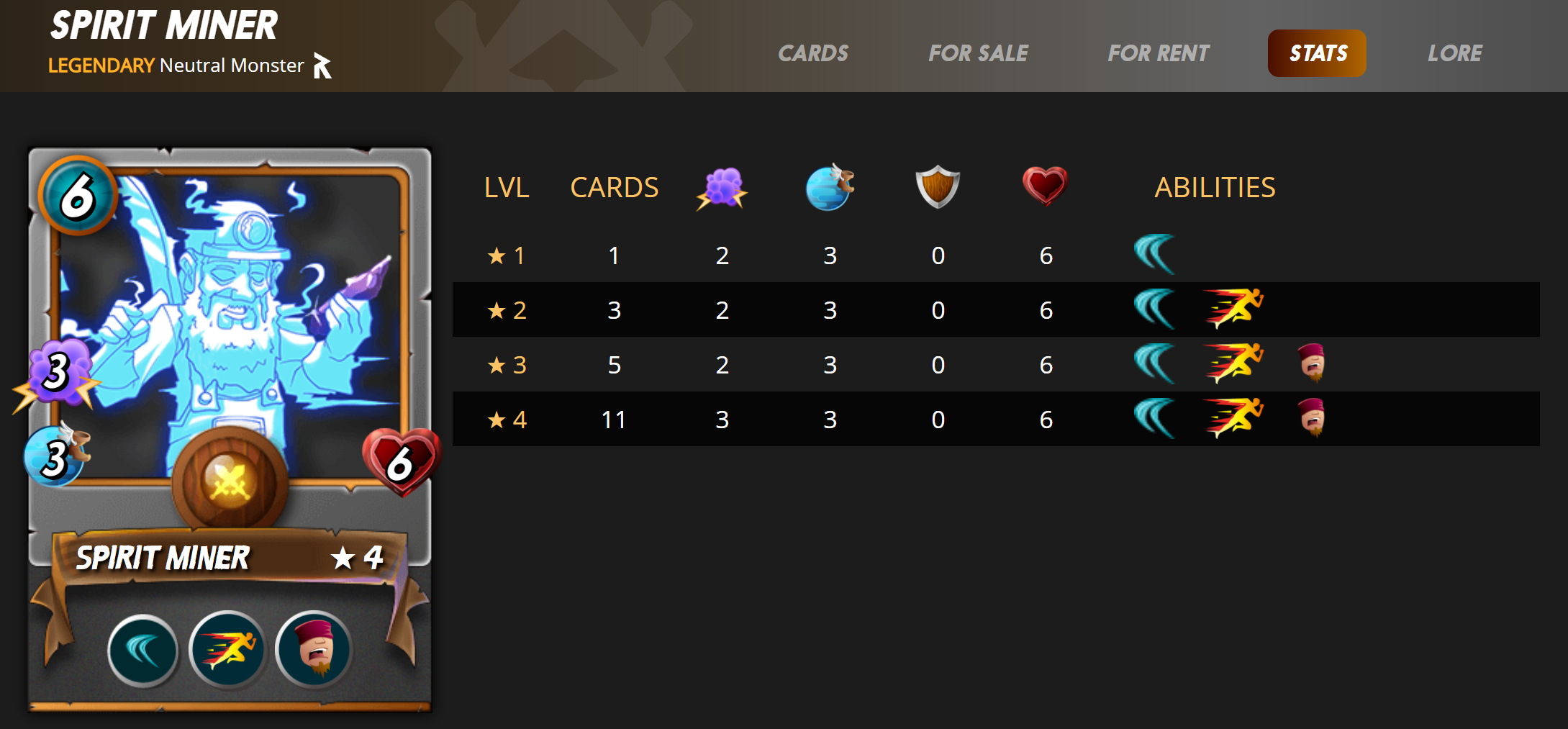 Breakdown:
Level 1: Dodge (has an increased chance of evading enemy melee and ranged attacks)
Level 2: Swiftness (all friendly monsters receive +1 to speed)
Level 3: Blind (all enemy melee and ranged attacks have an increased chance of missing their target)
League Legendary Limits:
Bronze: 1
Silver: 2
Gold: 3
Diamond+: Max
The summoner level limits are important to take note of as they will ultimately define the max level of a legendary card that you can field depending on both your league and summoner level.
In the first example, I wanted to show how the speed bonus alone can be a life saver. In this game, the speed bonus helped me to take down a Last Stand Kron: https://splinterlands.com/?p=battle&id=sl_ec67aded342825860cf4eac8dfcaf4e6
For another example, Spirit Miner is critical in Blast matches (or Yodin if you so choose) to get your attacks in first. By getting your attacks in first in a blast match, you can end the match very quickly under the right circumstance. You'll see that my opponent was only able to get off one attack: https://splinterlands.com?p=battle&id=sl_7c59ae260663bf0cedb77d913d4e5dbe&ref=dluxxx
The take home message here is that Spirit Miner is a game changer if used correctly. The Swiftness ability (don't use this in slow matches) alone can sway the battle but Blind makes a non-magic team weaker if they can't hit their target. Being a neutral monster, this card is extremely versatile and can be placed in any deck to make it better.
Please let me know if you have any questions and I would be happy to answer, thank you for reading.
---
---