A New Painting in my Alternate Tech series done as part of the Splinterlands Fan Art Contest Week 232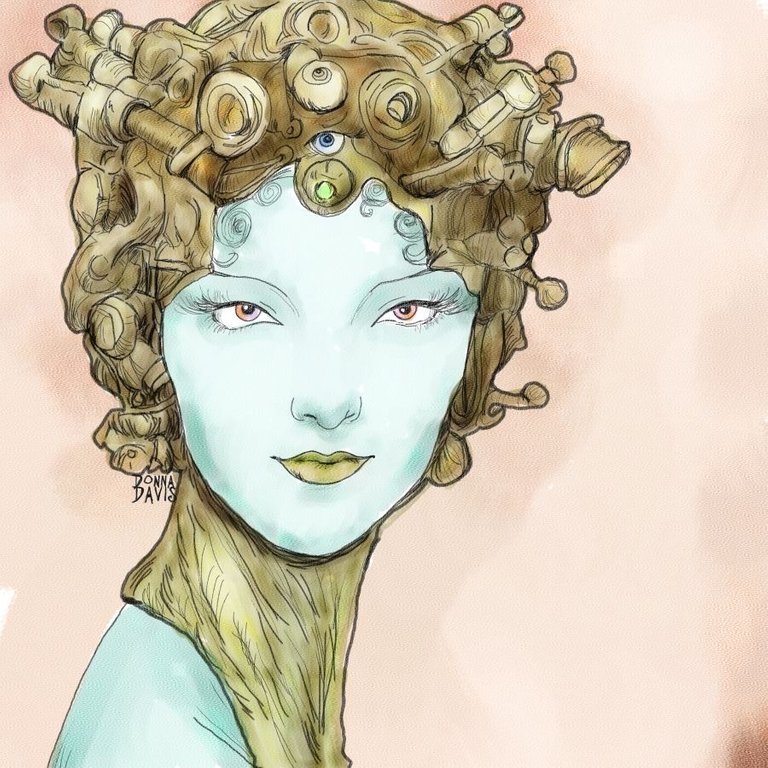 Mimosa Nightshade in my style
I've only begun to dip my toe into the #splinterlands world and such that I often see here on hive. I'm always impressed by the fan art submissions and thought, "Why not do one of my ladies in my Alternate universe as one of them."
Thus was born my idea of Mimosa Nightshade.
The card I found of the character and description was as follows: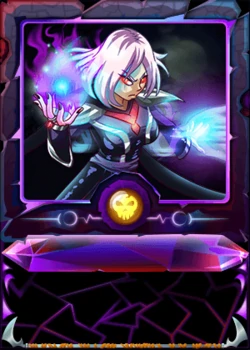 **..."After only a few weeks in her prison, Mimosa was sprung by a band of Warlock spies, hired by the Lord of Darkness, and brought to Mortis. She was taken to the Shrouded Palace, where she received a royal welcome and was lavished with gifts and attention..."
Well there is More to her story, but it was this bit that inspired my lady. She has the accoutrement of those in my Alternate Tech world, happily in that version of the 1930's with her High Tech Hat of fashion containing the Magic she wealds.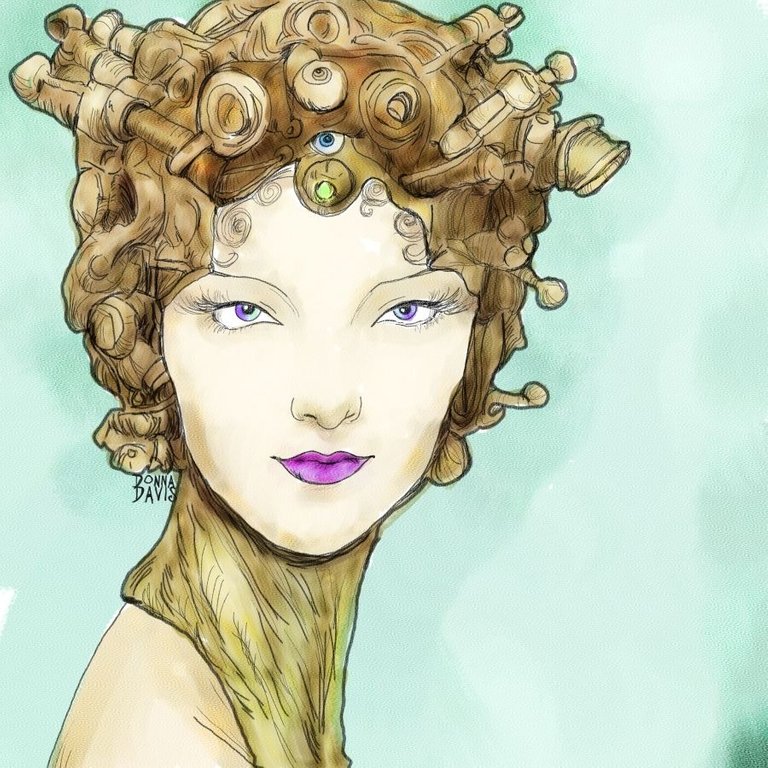 Mimosa in natural skin tones, better to blend in the universe and time line into which she can jump.
I have to admit I've taken Many liberties with her storyline for in my Fan Art version, her magic allows her, when needed, to slip into parrallel worlds and she just happens to love my Tech version of our own timeline, where Tech sprung up many centuries in the past.
I Love the idea of this #Splinterlands character, who had to grow up on the streets, living rough, then adored my royals to have the savvy and joi'de vivre to know a good hiding place when she finds one...the 1930's art deco glam of the Alternate Tech world.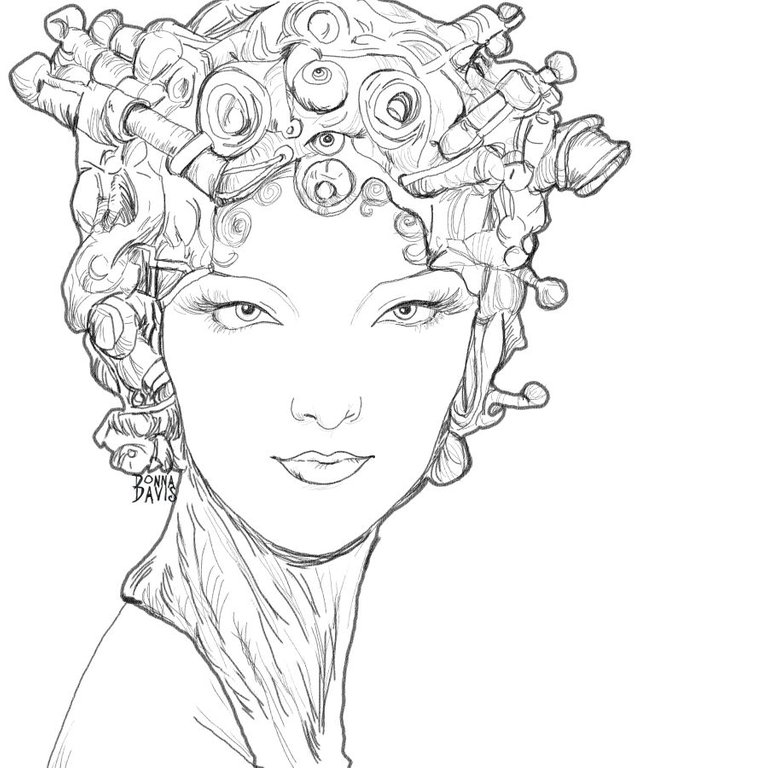 The outlined sketch set aside for my coloring book project.
I think she has the feel of magic about her and I love that her 'headgear' has a little 'all seeing eye' better to help 'convince councilers who have her fate in their hands'. In fact perhaps it was her magic eye that helped to persuade the Warlock spies to free her, who can say? Well, I can say as it's My Fan art.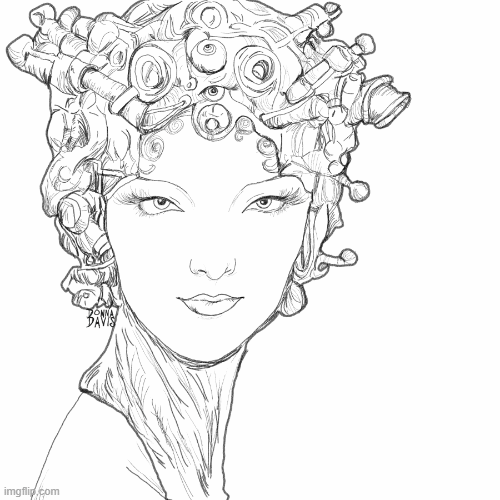 I thought in the GIF showing the layers I like how it also gives the feel of Mimosa going into 'High Power' which cannot but affect the glow of her skin, her magick radiating from within.
Now, I've NO idea if I've entered this contest correctly, nor If I've offended anyone with my own version of one of the #Splinterland characters, I hope not. It is Fan Art so one assumes one can take liberites and I've been having such fun with this series of the Alternate timeline that I just thought Mimosa Nightshadewould fit right in. I hope you think so.
Thank you for viewing my own bit of Fan Art to the #Splinterlands world and to make another character in my own Alternate Tech universe, I hope she brought you some joy, tho be careful, she is rather powerful.
I hope you find a moment in your day to indulge in your own passions and as always, stay creative!
---
---
If you'd like to support my work: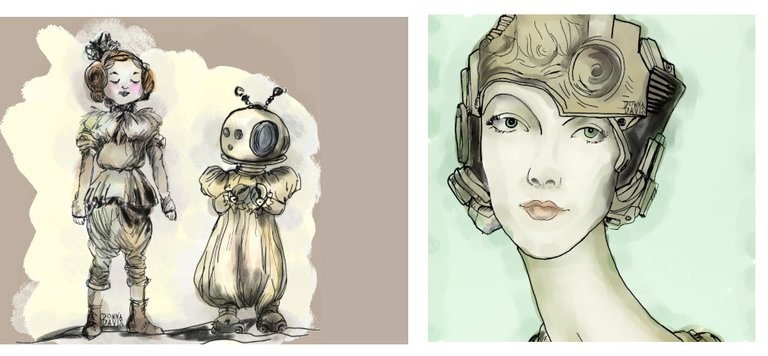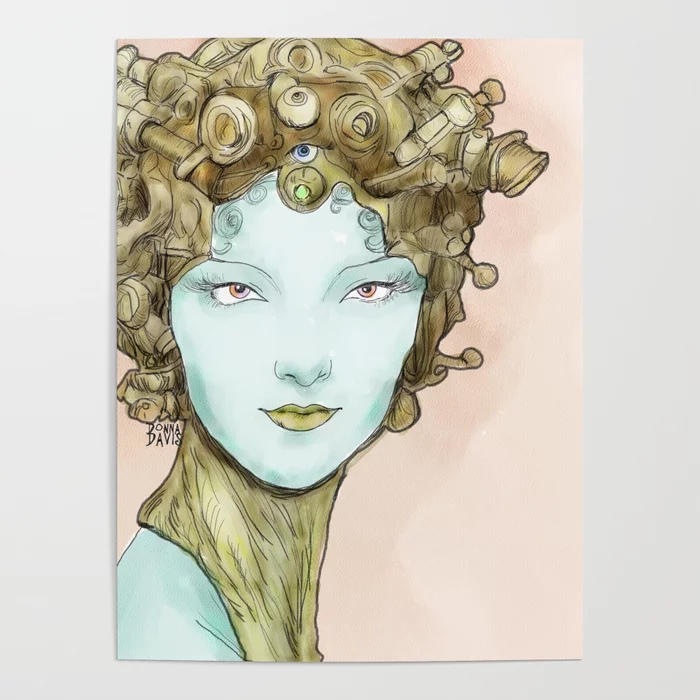 ---
---
---