MY FIRST EVER HIVEFEST EXPERIENCE!!! WHAT A BLAST!!!!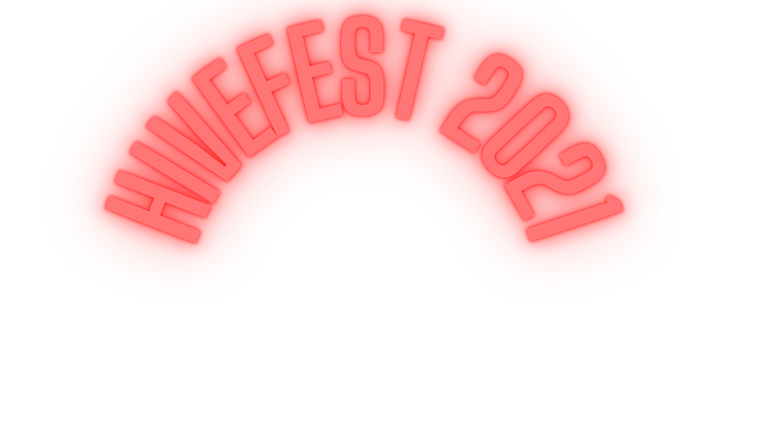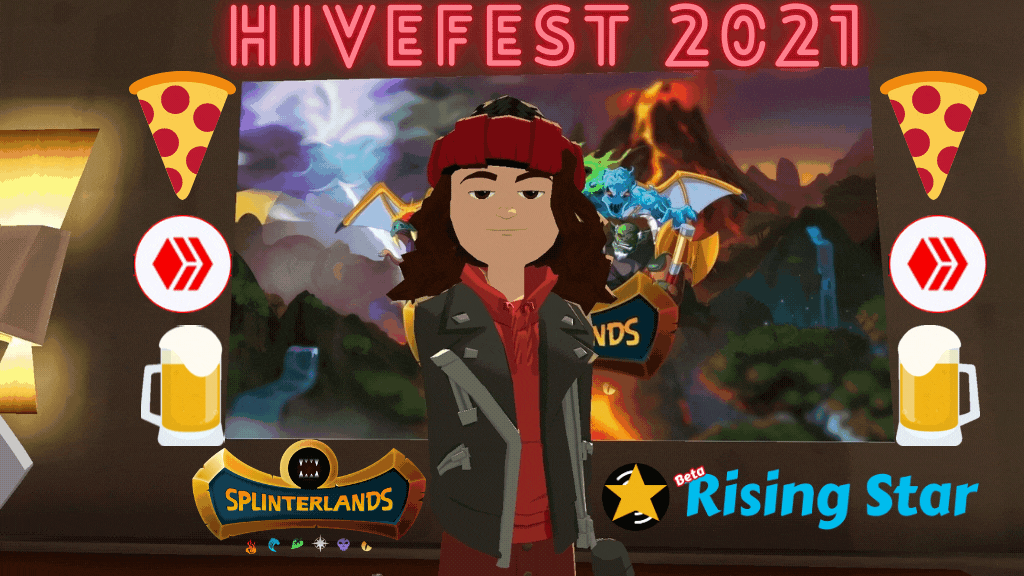 Hello everyone, hope you all had a wonderful time as I did at hivefest this past weekend. It was my first time attending hivefest or a VR event of the kind. I met so many awesome people in there and what an amazing experience getting to know a lot of you.
This will be a recap and some highlights of my hivefest 2021. I was lucky to find out about this thanks to folks up in the HIVE PIZZA discord. There were a few members like @huzzah and @thebeardflex talking about it and it piqued my interest. I quickly found the site to signup and got all ready for the upcoming event.

Pictures & Events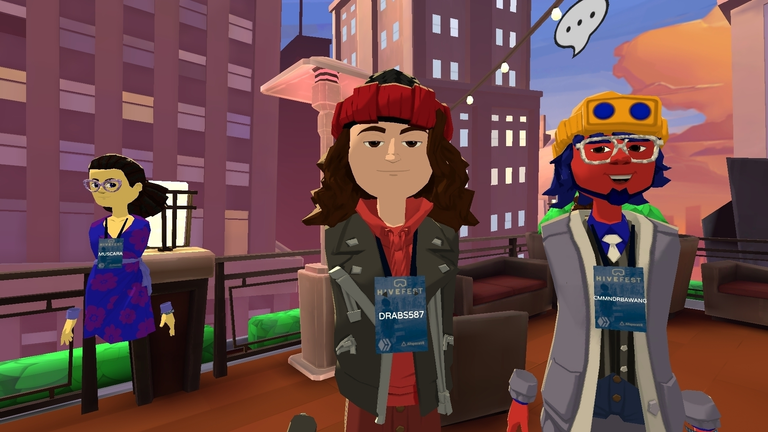 The very first person I had to meet up with was none other than my homeboy @cmmndrbawang we were both excited to find each other and navigate this crazy VR world together. This was us at the main stage meeting up before going in and listening to @yabapmatt speak about Splinterlands. Caught the perfect selfie here as garlic cracked a big smile while I kept cool, @muscara was peeping at us in the background wondering why she wasn't invited to join in the selfie LOL...I'm joking she was just hanging out and happened to get get in the frame, there will be a few more pics like this were the VR versions of us just have some of the most priceless expressions 🤣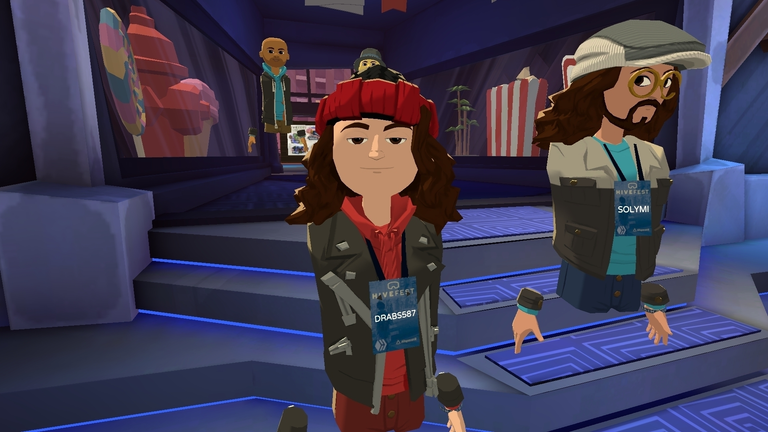 This was a little after the Splinterlands presentation and I saw none other than @solymi so I had to go over and snap a selfie with him as well. I think I should have asked permission first as he gave me the glare as well 😂
We chatted a little bit in text and it was really cool to see him out there as I know him from the community and over on twitch where you can follow him under the handle splinternews check him out he is an awesome streamer and content creator.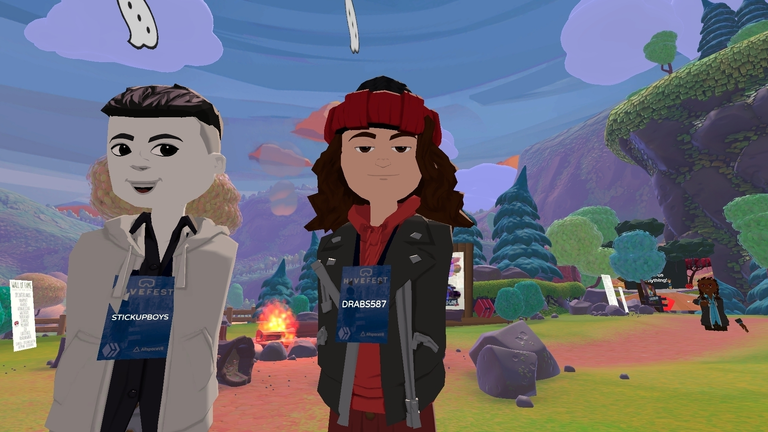 Walking around a little in the campground and stumbled upon none other than the stickupboys they were jamming out and having a good time. I'm a huge fan of these pizza-loving blokes so you know I had to get that selfie with them. I ended up securing one of their records the other day on rising star the awesome track don't stop. Heard that song in atom collector discord for radio evolved and was instantly in love, but what song by stickupboys isn't an absolute banger 😍
Check them out on spotify just don't offer them any pineapples.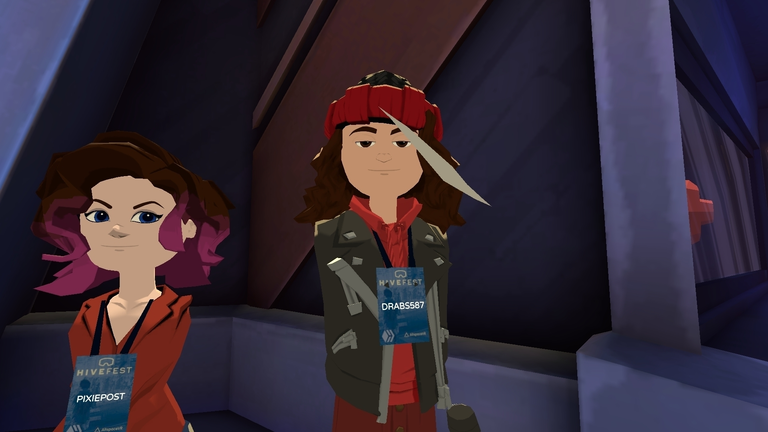 One of my favourite members of the hive community was hanging out in the corner, none other than the amazing Pixie. She is an awesome member of this place I have seen in her @clove71 streams and followed her way back when I first joined the hive community. She has some amazing posts always spreading a positive vibe and being an inspiration for a lot of us. I also love hanging with her for radio evolved she is always there enjoying the vibes with everyone 😍

PIZZA GANG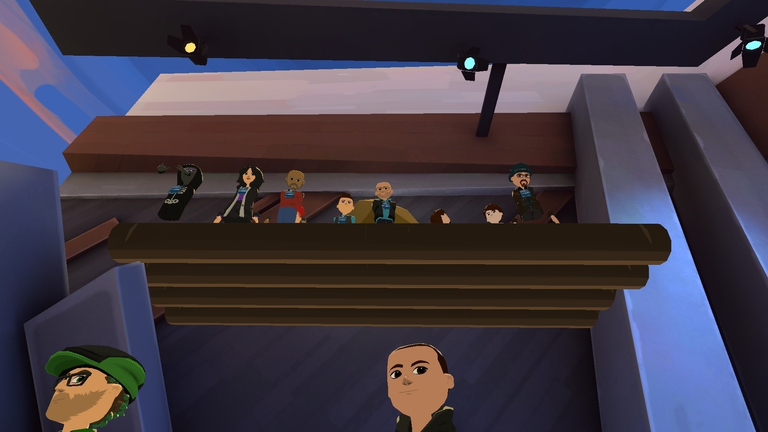 Who else but the people that told me about the event, you can see a bunch of the regulars hanging out on the balcony up there. Had an awesome time with all the members from there and thank you guys for letting me know about this awesome event. This was when the man himself @thebeardflex was presenting on stage and he absolutely killed it. Covered a bunch of topics and talked about some very exciting upcoming projects for HIVE PIZZA.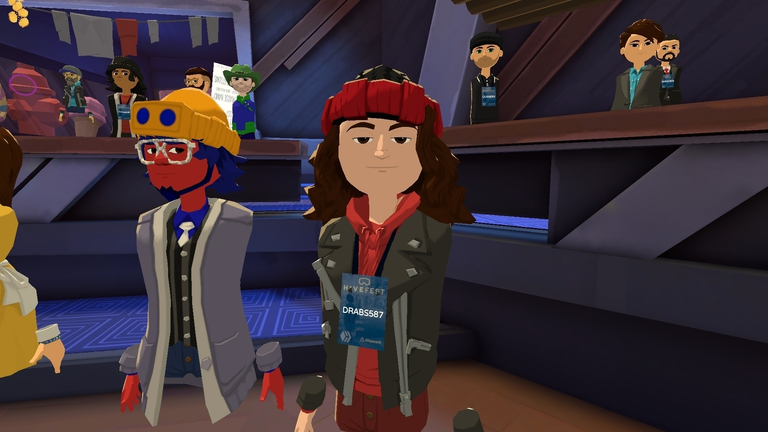 This is when @cmmndrbawang passed out he fell asleep and was just standing here for 2 hours LOL, I came and gave him company and kept whispering in his ear haha. Had an awesome time with him and look forward to going back to altspace with him again and having some fun and games over there.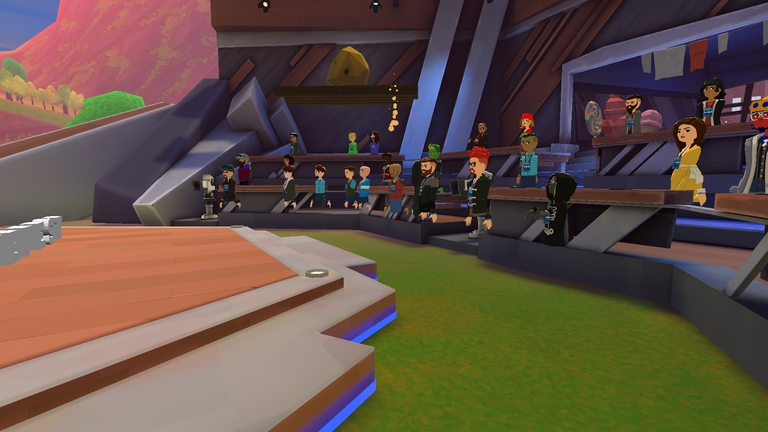 Pizza gang decided to hop down to the grass and really show the love when @thebeardflex was presenting, we all gathered together and listened to him intently.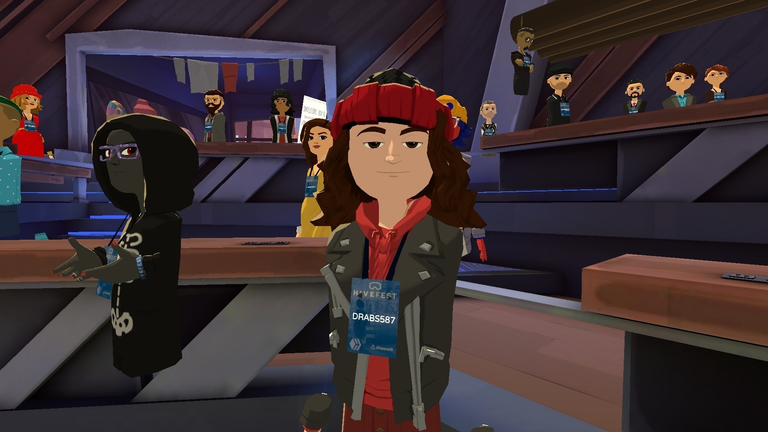 This was a perfect time to snap a selfie with the illustrious @forkyishere, yes we found him he has that look like he just got caught with his hand in the cookie jar 😆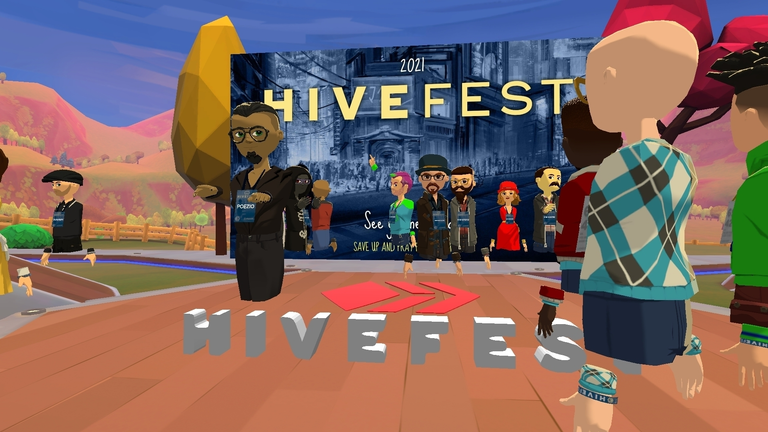 After thebeardflex finished up on stage we could all go up there and hang out with each other and listen to some music and dance and party together. A bunch of us quickly gathered for some selfies and good vibes.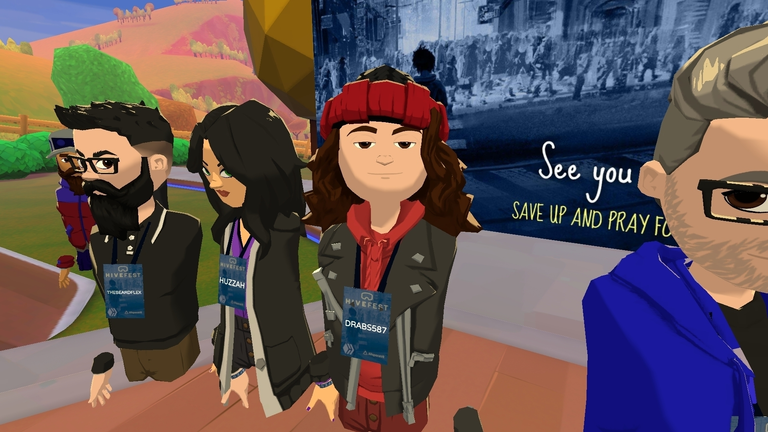 @thebeardflex and @huzzah looking at me like I'm about to snag their pizza, @hivetrending is keeping that watchful eye for me as well 😁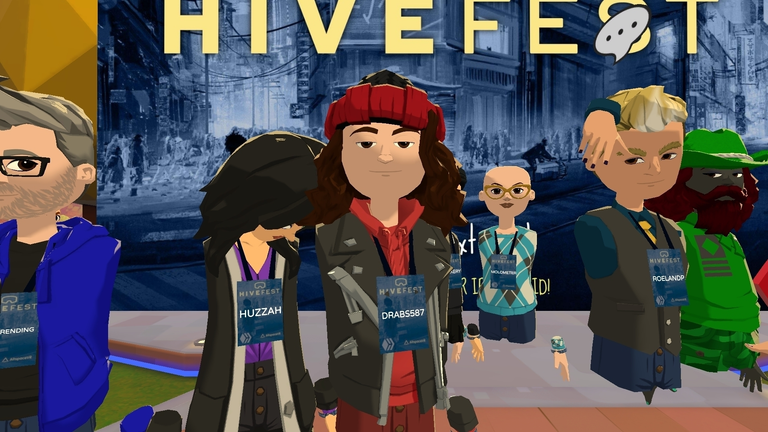 @huzzah had a long day and needed to rest their head after all the partying @hivetrending still not taking his eye off me. @roelandp the organizer of the event was seen here as well vibing out and getting a massive group selfie go check his post about the recap of hivefest as well to see the awesome picture of all of us on stage. Thank you for hosting such an amazing and fun event and looking forward to it again next year. Hoping it is in a hybrid form as much as I want to meet you all in person I have difficulty travelling and it would most likely be far out of the country for me but hopefully someday I can meet all of you, incredible people.


Final Thoughts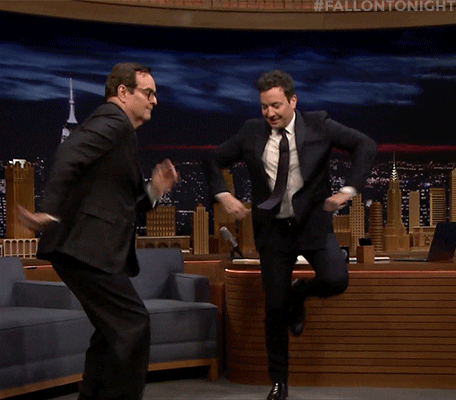 This was one of the best events I have been to. Got to meet so many awesome people who want to help you, share their stories, and listen to yours. It was a blast and look forward to doing more hangouts over there in the future even if it isn't for hivefest, I have forged some awesome relationships and would love to hang out and play that funny card game they have over there with you guys again that was hilarious. Overall a smashing success I would say and thank you again to all the amazing people that hung out with me and made me feel so welcomed you guys rock.


Follow me over on Twitch

Check me out on YouTube

Check out Rising Star

Thumbnail made using Canva
---
---