Social media challenge - Taunt protects.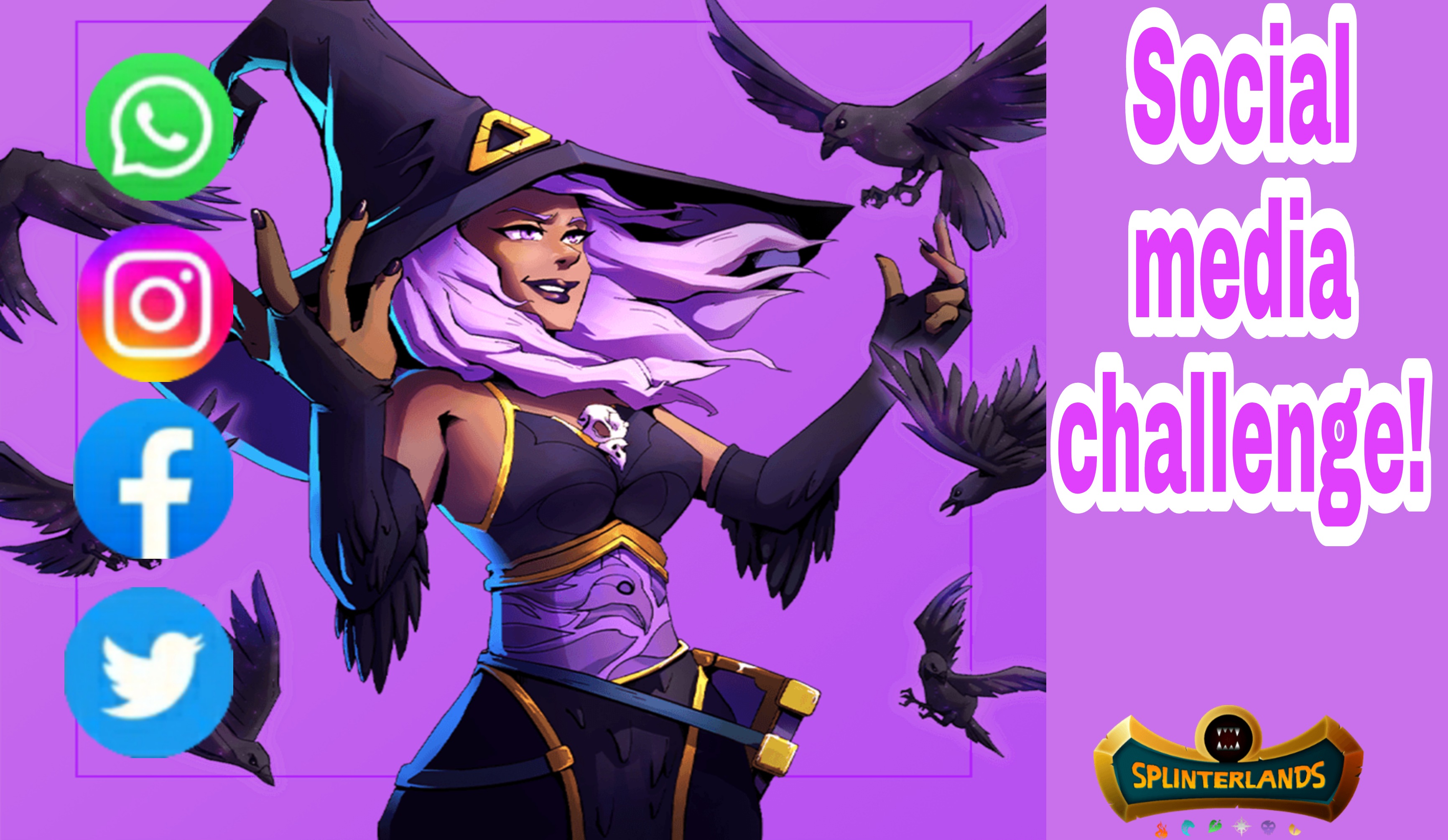 Hello my friends. I hope you are fine. We have a new SOCIAL MEDIA CHALLENGE to make exicting battles about. In SPLINTERLANDS you have to learn how to use your cards. It is not enough to use powerful cards in battles, but you must learn how to benefit from these cards and take advantage of their abilities. You can enjoy and make your own battles, just go to www.splinterlands.com, collect cards, enjoy the battles, trade, and earn.
---
What about the battle?

Active Units: LIFE, DEATH and DRAGONS.
Mana Cap: 99.
Rules of Compat:
Odd Ones Out: Only Monsters with odd Mana Costs may be used in battles.
---
The lineups: 🔥
The opponent's:
1- DISINTEGRATOR. 2- GOBLIN CHARIOT. 3- DJINN RENOVA. 4- LONE BOATMAN. 5- SILVERSHIELD SHERIFF. 6- PORTAL SPINNER.
And the summoner is GENERAL SLOAN.
My lineup & strategy: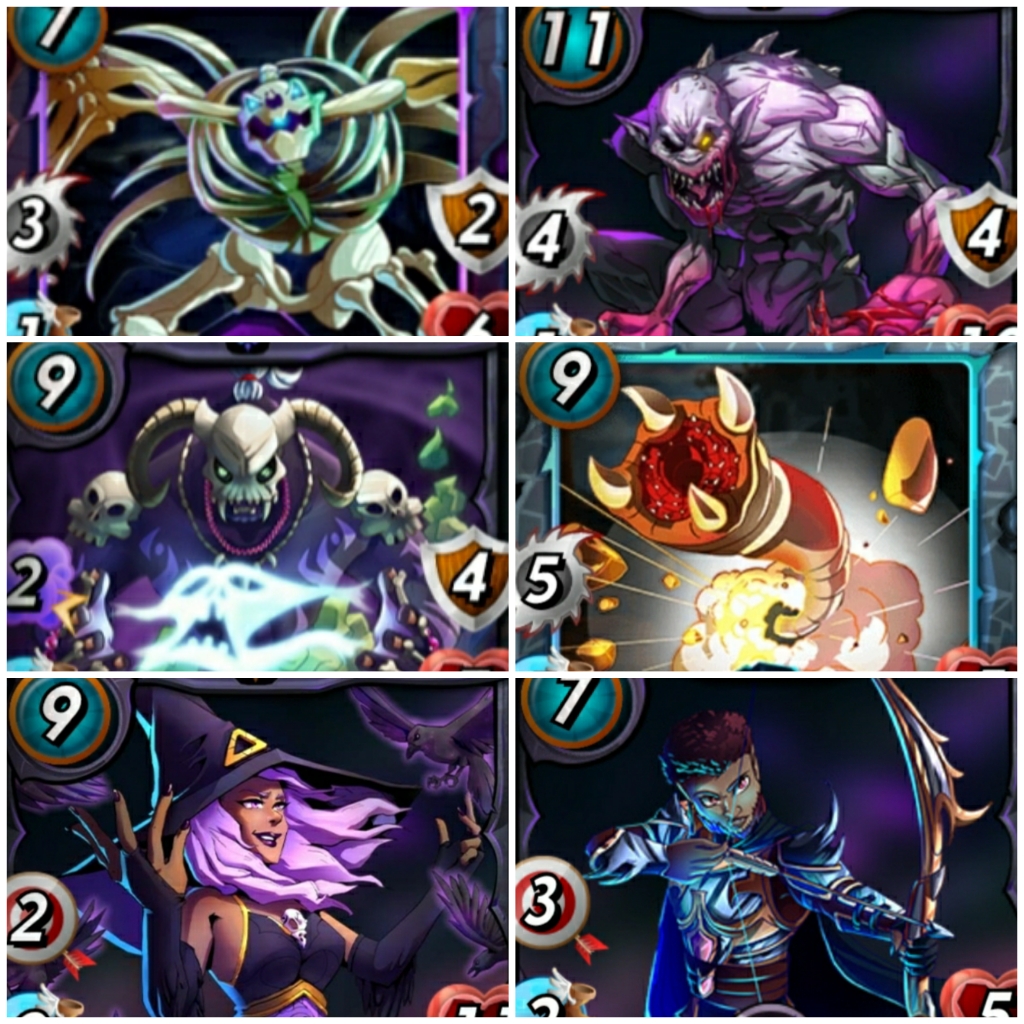 My summoner is DELWYN DRAGONSCALE. I like using this summner, I get more Rating points when I win with it.
1- BONE GOLEM.
I think that this monster is underrated. It can be a good tank that reduces tha Magic attacks by its Void ability. Also, it can make damages to the opponent's tank with 3 Melee attack.
2- NIGHT GHOUL.
I like the monsters with the Taunt ability because they can protect the others from the Stealth attacks. It also will be a powerful tank if the first got eliminated.
3- DJINN MUIRAT.
I like this monster. It has a good Health and Armor, and can make damages with 3 Magic attack.
4- SAND WORM.
This is a nightmare for the opponent's rear monsters. It will eliminate a monster with one Sneak attack. 5 Melee attack is a destructive weapon.
5- QUEEN OF CROWS.
I can benefit from this monster because of its high Health which makes it resist attacks. And 2 Ranged attack makes it hit the opponent hard. It can also be a tank thanks to its Close Range ability.
6- DHAMPIR STALKER.
This monster gives me certain hits thanks to the True Strike ability with 3 Ranged attack. I think I will make the opponent suffer because of this monster.
---
Battle highlights:
You can watch my battle from this link. Enjoy. 🔥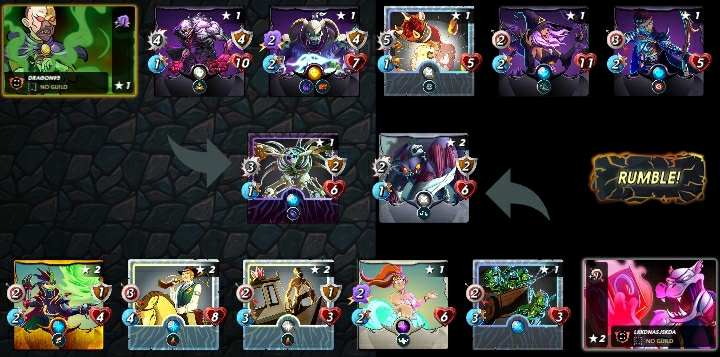 https://splinterlands.com?p=battle&id=sl_edb2a5568626f2f48877cf1b57fec457&ref=dragon95
ROUND 1: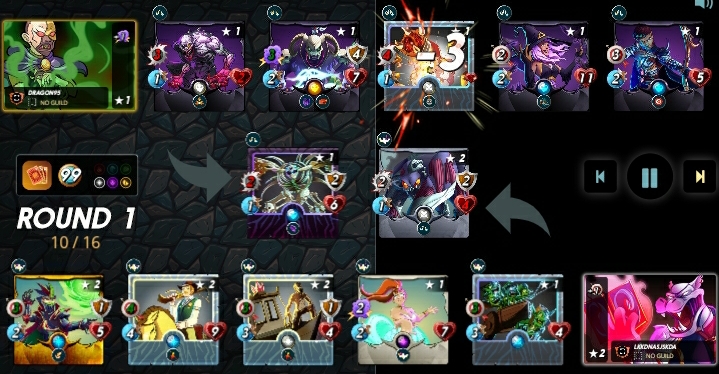 NIGHT GHOUL recieved three attacks from SILVERSHIELD SHERIFF, GOBLIN CHARIOT and LONE BOATMAN. DJINN MUIRAT hit DISINTEGRATOR. DJINN RENOVA hit NIGHT GHOUL and PORTAL SPINNER hit SAND WORM before DHAMPIR STALKER and QUEEN OF CROWS hit DISINTEGRATOR who got eliminated by BONE GOLEM. GOBLIN CHARIOT became a tank and SAND WORM hit PORTAL SPINNER.
ROUND 2: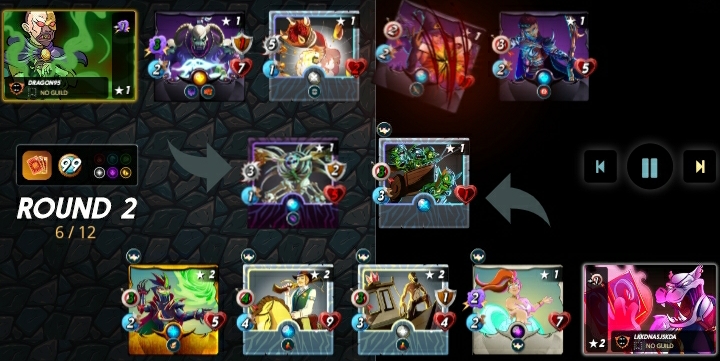 SILVERSHIELD SHERIFF eliminated NIGHT GHOUL. DJINN MUIRAT recieved a hit from LONE BOATMAN and hit GOBLIN CHARIOT. DJINN RENOVA hit BONE GOLEM and PORTAL SPINNER hit QUEEN OF CROWS before DHAMPIR STALKER eliminated GOBLIN CHARIOT. QUEEN OF CROWS and BONE GOLEM hit the new tank DJINN RENOVA. SAND WORM eliminated PORTAL SPINNER.
ROUND 3: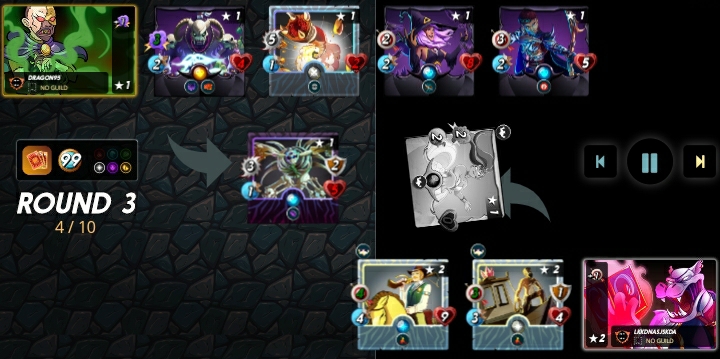 SILVERSHIELD SHERIFF and LONE BOATMAN hit DJINN MUIRAT who eliminated DJINN RENOVA. DHAMPIR STALKER and QUEEN OF CROWS hit the new tank LONE BOATMAN who also got eliminated by BONE GOLEM. SAND WORM failed to hit SILVERSHIELD SHERIFF.
ROUND 4: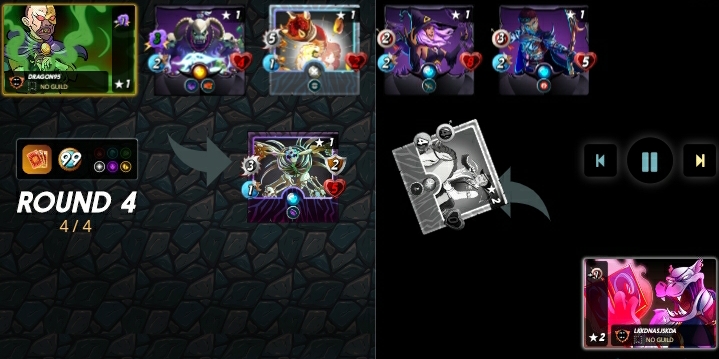 SILVERSHIELD SHERIFF recived two hits by DJINN MUIRAT and QUEEN OF CROWS before getting eliminated by DHAMPIR STALKER.
AND I WON THE BATTLE. 😎
---
My comment:
Details were very important in this battle. When the battle is at 99 Mana Cap, monsters with the highest Health must be used. My monsters were able to withstand the hits, especially thanks to the NIGHT GHOUL who has Taunt ability. Also I think PORTAL SPINNER made a mistake in the second round by not attacking and eliminating SAND WORM who eliminated PORTAL SPINNER. I think the Taunt ability was very important to win, and if the opponent managed to attack all my monsters from the start, the result of the battle would have been different.
---
Thank you for reading.
GOOD LUCK MY FRIENDS.
---
---