D7 Splinterlands SWAG Winners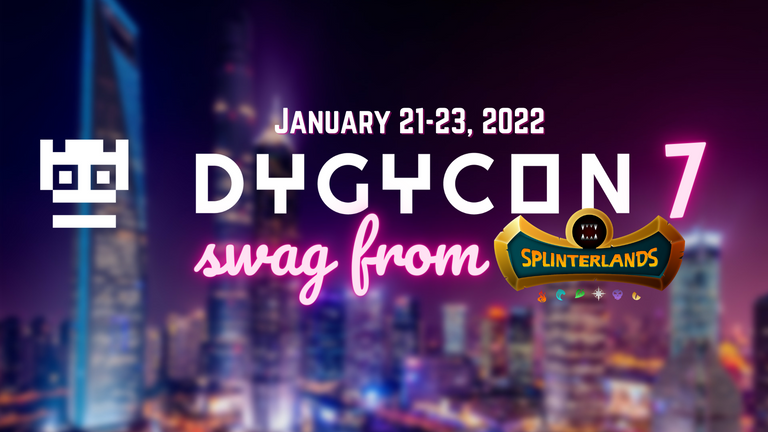 SWAG from DYGYCON 7
We know it's a little late on the SWAG winner raffles from DYGYCON 7 from @splinterlands, but they've all been sent out finally! 😺👍
Eligibility for SWAG
As a reminder, to be eligible for SWAG at DYGYCON, you gotta complete the initial signup form at the DYGYCON SWAG booth located in the Welcome Room inside the metaverse venue during the active dates of the event (3 days). After signing up and the event ends, you'll get an email from [email protected] to collect your eligibility requirements and wallet addresses! That form is open for about a week, then closes so that sponsors can start selecting winners and sending out SWAG in a timely manner.
DYGYCON does not control when SWAG is sent out, but whenever sponsors inform us or tag us on Twitter, we send out the update as soon as possible.
If you did not win SWAG, don't worry~ There is next time as DYGYCON is hosted bimonthly, so every 2 months, a new set of SWAG is available to win!
Summoner's Spellbook Winners
Congrats to all the following winners! We have emailed you a special code to unlock a spellbook! Getting a spellbook unlocks rewards and Play-2-Earn aspects of @splinterlands!
Instructions on how to redeem your code and to learn more about the Summoner's Spellbook, click here.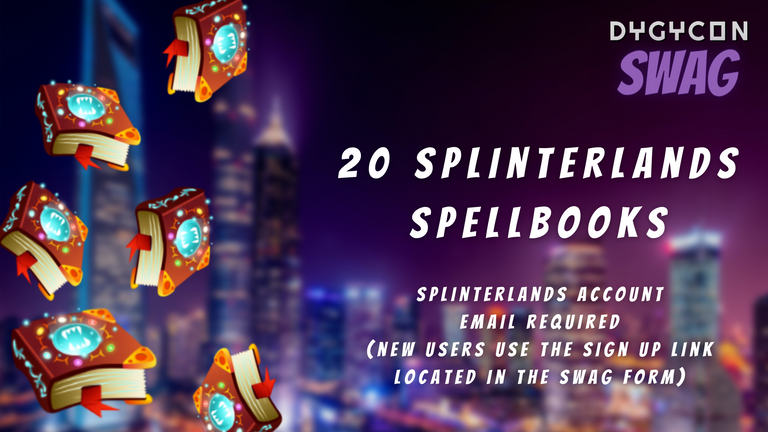 Winners: (below are the Hive field responses, but vouchers were sent via email)
vinzerx
initiate_691638
vtaylor
furry19
yellowhoney
thebgbadger
5xjji.wam
acermichael
abhics10
neophyte_183033
nascious44
chiken1239
the.watcher895
mathmos
angelitofrijoles
4c2ns.wam
evillittleman
Apprentice_435159
acdanvg8
0x61782E9389ff8d57D9B9d90C510868258DAa5e3B
Voucher Winners
Vouchers are required to purchase packs during pre-sales. These tokens are fungible tokens that can be traded on third-party markets. You can read more about vouchers by checking out official blog posts from @splinterlands.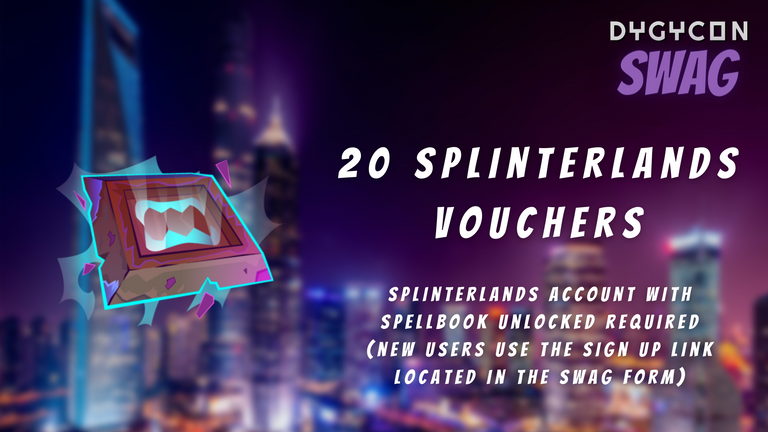 Winners:
Chaos Legion Pack Winners
These packs contain 5 random cards from the newest set released, Chaos Legion! These packs can be traded on third-party markets. Pro tip: Open these packs with Legendary and Alchemy potions to boost your chances of rare drops!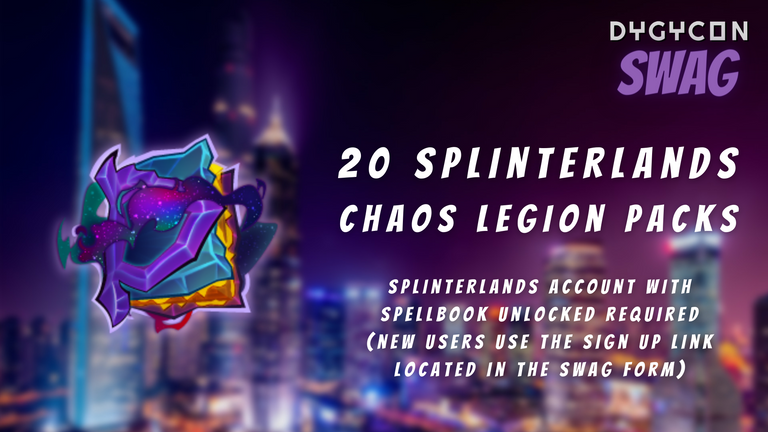 Winners:
DYGYCON 8 SWAG
We're working on getting new SWAG for our upcoming event happening March 18-20! Please RSVP and we hope to see you there. We'll do our best to secure prizes and post updates as much as possible typically on the website, blog, and Twitter. We also appreciate when the community hypes up the event and you can find a brand kit as well as other images and resources on our website! When you create content about us, we'll also post it on our event archive as well as have our team engage with likes, shares, and comments. 💖

---
---