DYGYCON 10 | By The Numbers
DYGYCON 10 By The Numbers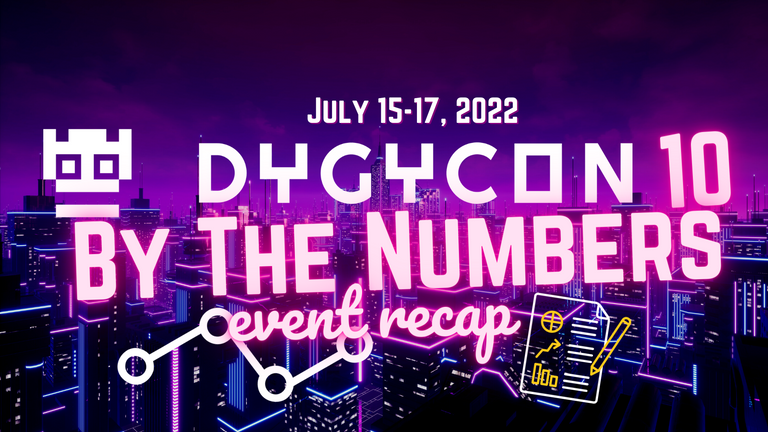 We hit a new record here at DYGYCON 10 with over 2000+ attendees! Thank you everyone for making it happen~ We had 101 sponsors across several blockchains and 8 sponsored halls. It's not too late to submit your feedback and you might get a shoutout soon~
You can still see the archived venue, however you will not be able to enter SWAG or participate in any of the time-sensitive events such as the NFT auction, Achievement Badges, and Scavenger Hunt.
Join the recently-created DYGYCON Discord server to see sponsor channels containing sneak peeks, news, and more! Share this link with your friends: https://discord.gg/sfjAJuWZHp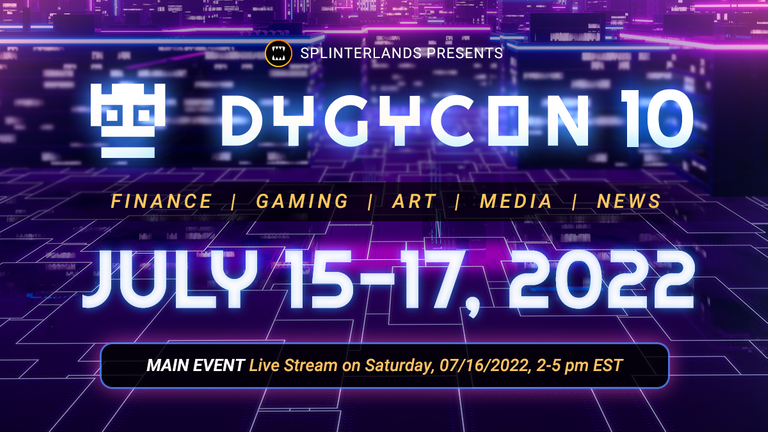 Attendance
| Registrants | Attendees | Hours | Active Hours |
| --- | --- | --- | --- |
| 2018 | 1598 | 2171.81 | 1359.94 |
Hours Spent
| Day 1 | Day 2 | Day 3 | Total | Average |
| --- | --- | --- | --- | --- |
| 175.41 | 794.34 | 248.14 | 1217.89 | 405.96 |
Some highlights include:
UX/UI updates with cleaned up menus
SAVING contacts
BOOKMARKING booths
Getting directions to the desired booth from the directory.
Sponsors were able to send out reminder announcements
More events across each day at various hours to enjoy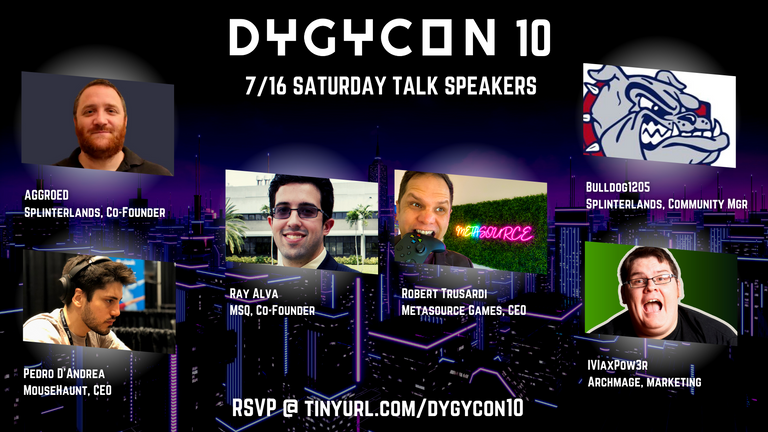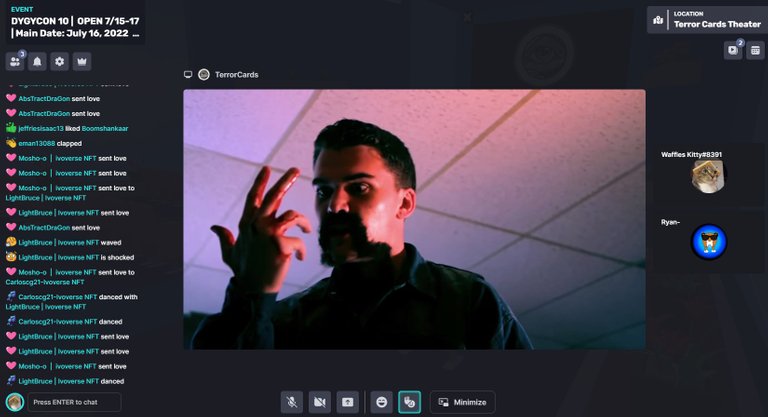 Terror Cards Movie Premiere in the Terror Cards Theater
Sponsors
It was awesome bringing you all 101 sponsor booths at this event. We usually pack in a full house and book every booth and room available.
A special thanks to our hall sponsors:
AtomicHub
Green Rabbit
Hive
MSQ
Neftyblocks
NFT Horizon
Realm of Cuboids
Splinterlands
We're glad we continue to see a mix of familiar projects as well as new rising groups to learn more about and meet whether via livestream, at bean bag circles, or while fishing in the metaverse.
Taco Racers
AtomicHub
Pirates of the Degen
Archmage Splinterlands Bot
Crypto Shots | P2E/F2P | 3D Shooter @ WAX+HIVE
Rising Star
The Broken Dollz
Mouse Haunt
cryptomonKeys
Tales of the Crypto
Cat Stickers
Dark Galaxies
DrawnCompany
The Adventurer's Guild
The Online Inn
Waxel
NFT Battle Miners
WAXITALIA = PIXTALGIA! AQUASCAPEART - ILOVECRYPTOS
ConsumerBreak
Ultra Rare
Red Panda Adventures / Waxy
NFT HORIZON
Splinterlands
Future's Relic
CryptoPups
Danu Games - Avalon The Game
Train of the Century
Heroes of Arcan
Castles NFT
HumbleDrawings
ProfessorWAX
CREEK
MSQ
PenArts
Token Girls Studio
ORCHID HUNTER
Heroes of Midgard
Medium Rare Potato
The World Of Cryptopups
CrayCrayBees
DON'T CARE BEAR
Immersys
Taco
WAX Studios
Realm of Cuboids
LD2 - Silver Backed NFTs
Jonezy Art
Hive
NFTGamerTV
QuACK
Art Is My Weapon
THE FORGE ARENA
Krypto Kumas
Costume Clash
Green Rabbit Game
PixelGibs
Giant Giraffe Media
Blockchain Founders Fund
EMP Money
Realm NFT
Urban Uprise Crew
Splinterlands Careers
SENORLUPE | CHUMMYS
Mammoth Mythics
Floyd Jenkins' Deck of Mythical Varmints
Healthy Gamers
Digital Ducks
CryptoFlash
Crypto Aquarium
NFTHive.io
NFT Insider
LeftHouse
FGL NFT Games (Cosmic Clash & Mecha World)
Order Works - Creative Studio
Credit Metaverse
BLOCKCHAIN CARDS
Nova Rally
SixPM Software
Grow Gods Club
THEJitteryApe
Enviroblocks
Kaleidoscope NFT Series
TUNZ
Gods and Legends NFT
Catfresh
Blockchain Gaming
Legends of Aria
Midgard Clash
Wendell August Forge
NFTStory.Cards
Bugatti Group
8Bit Slammers
Shnazzy's E-Girls
Art Chops Benefit LLC
The Elemental Angels
NFTNT
Anyobservation
NFTPay
Inverse
WAX BALLS
DYGYCON 10 Buzz
Please check out the below articles and videos sharing their experience at DYGYCON 10. If you'd like to submit and share any articles that we missed, please see the website and click on Feature Request under Blog. You will see this in the event archive on the website as well.

Top 10s
Most Popular Booths per Feedback
Cryptomonkeys
Cat Stickers / Train of the Century TIE
The Adventurer's Guild
Neftyblocks
AtomicHub / AnyObservation / Taco TIE
Red Panda Adventures / Wax TIE
Top Attendees by Time Spent
Taco Racers
AtomicHub
Pirates of the Degen
Archmage Splinterlands Bot
Crypto Shots | P2E/F2P | 3D Shooter @ WAX+HIVE
Rising Star
The Broken Dollz
Mouse Haunt
cryptomonKeys
Tales of the Crypto
Top Presentation Room Visitors
TerrorCards
EliDeGeer
Waffles Kitty#8391
besteuuuh
AngelWings26
Jar Sar
Inu
nanu2033
Nerdtainment
NeissamFR
Top Fishermen
🐟We had an 8-way-tie and have decided to mint 8 Achievement Badge NFTs! Provide your Hive wallet to redeem. We will reach out via email.
zantonsus
krakhenjr
cstreet
lihyth
lespipirisnais
Mosho-o | ivoverse NFT
uthere
NBREAKER
Top Star Collectors
Imp0stor ⭐ You won the NFT Achievement Badge! Provide your Hive wallet. We will email you.
zantonsus
downtowndetailing910
Mosho-o | ivoverse NFT
Potato
R1N
NeissamFR
virimen
EliDeGeer
beatristic
Top Dancers
Jim-Crypto (THGaming) 🕺 You won the NFT Achievement Badge! Provide your Hive wallet. We will email you.
distopia4444
mjdojacrypto
Pedro CEO
Tanya Jones
downtowndetailing910
Frittchen Team Waxel
jcfariasc / ivoverse NFT
Draygyn
Utopia780
Top Bean Bag Warmers
Kenneth | HumbleDrawing´s
jcfariasc / ivoverse NFT
Kajun
alicia2022
foreveraverage
santinoramos
aquascapeart
Krypto Kumas
Carlos-cg21
ExtraLiberty
Top Marshmallow Roasters
SecretLight
brenobigi
ssd
AngelitoFrijoles
Waffles Kitty#8391
amorimricardo1992
EliDeGeer
motorkar
dusi
guto.coin
Top Livestream Viewers
viniciotricolor
Watcher NTM
shozy
cstreet
xCETiSx
Inu
Sarge
Worlds
ga8ox35
Boomshankaar
SWAG, NFT Auction, Achievements, and Scavenger Hunt
It's easy to see so many things to do here at DYGYCON 10 with sponsor events, meetups, challenges, and activities!
SWAG Booth
DYGYCON 10 SWAG Wallet Collection Forms were emailed to those that signed up during the event at the SWAG Booth. Please ensure you have [email protected] whitelisted! Thank you to those that mentioned the email announcement should also go on our Discord announcements in addition to being pinned in the #dygycon channel and DYGYCON Twitter.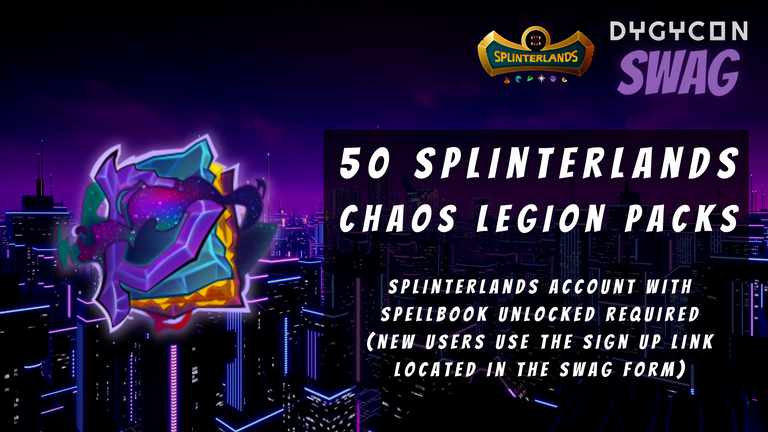 NFT Auction
We hosted our first 3rd Party NFT auction from @splinterlands, our sponsors, and private sellers. This meant using different platforms to bid on the presented items. Did you win?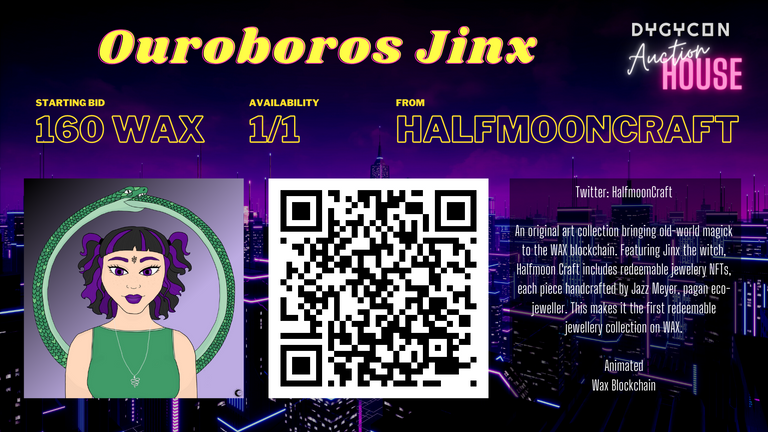 Achievement Badges
NFT Achievement Badges are getting minted and distributed this week as we closely review all submissions from Twitter! Here are the ones you could have been eligible to win: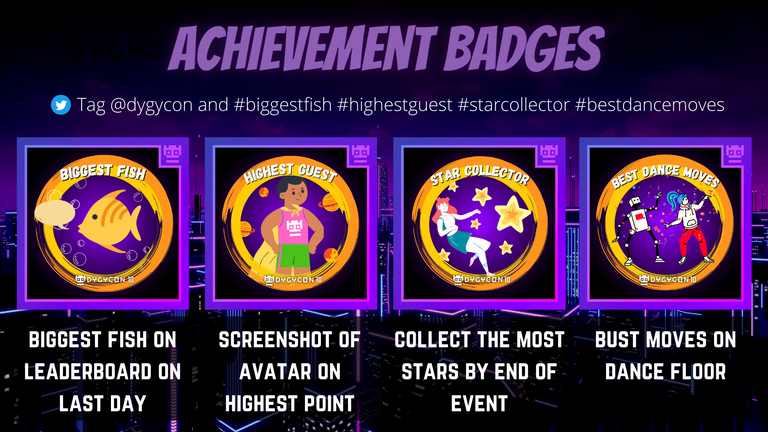 Scavenger Hunt
If you got the chance to complete the Scavenger Hunt, we will review and contact you to provide their NFT Achievement Badge. MouseHaunt and Crypto Shots sponsored our scavenger hunt. Crypto Shots also added a Golden Ticket into our prize pool along with an art commission raffle from @waffleskitty. We saw some results from our feedback form about not being able to participate in this awesome activity, so we hope you all know how to complete this challenge for next time so you don't miss out on the cool giveaways involved.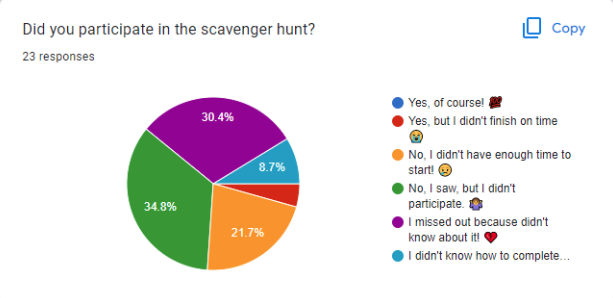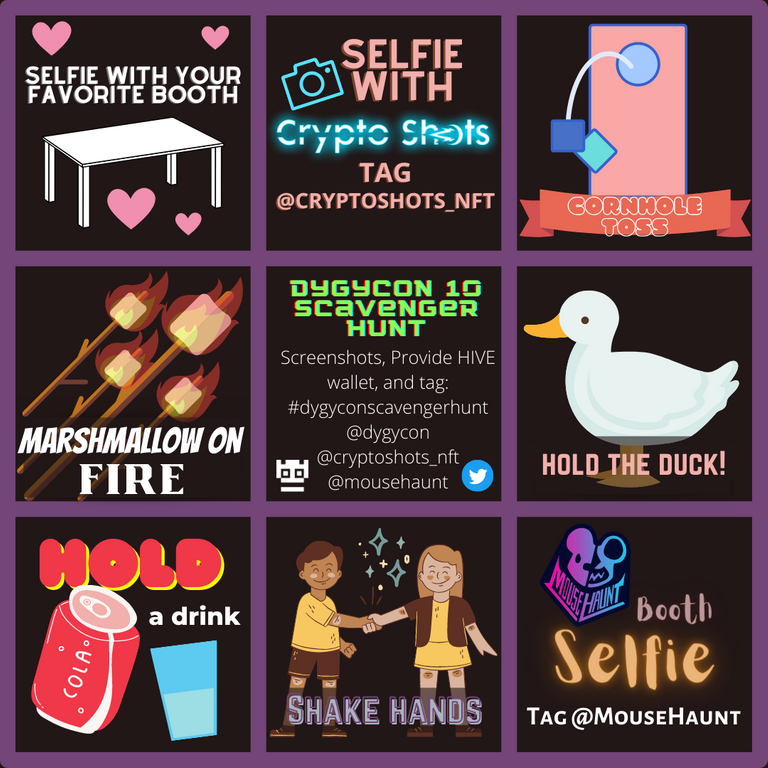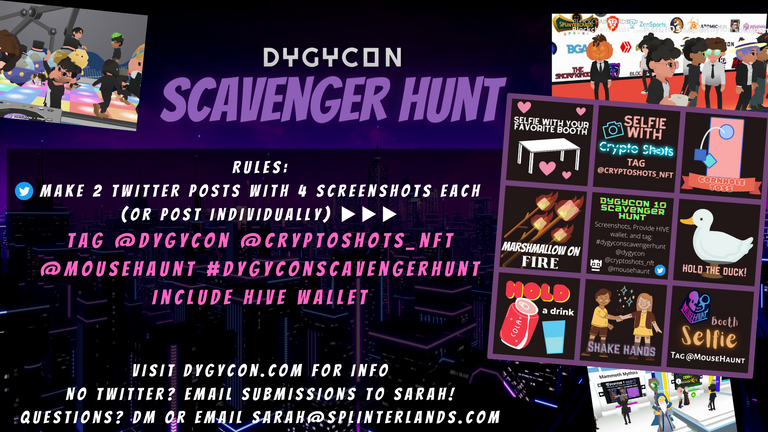 Feedback
So far we've only received 22 responses to our DYGYCON 10 Feedback Form! Please help us by completing this form so we can review and use the information to improve your experience and value for attending DYGYCON. See what people have said about our metaverse experience.
Highlights & Suggestions
TAG is always great with Stuckatsixpm doing a fantastic job.
Music playing throughout party room during guest sets so people can talk while the music plays
Wax PFPs... Please. All attendees should get a DYGYCON NFT that's soulbound (not transferable from their wallet) so you can really tell who attended what DYGYCONs
Sponsor Booth Requests
Per our feedback form, we received some requests to see the following projects and orgs attend and sponsor a booth or event.
Abstract Dragon
MuensterVision
JRG
Awesome music NFT creators
Exit Limbo
City States: Medieval
DYGYCON 11 is in September
Our tentative dates for DYGYCON 11 is September 23-25, 2022. Please keep a look out for the upcoming RSVP link that will be posted on our Twitter and website once available.
DYGYCON 11 - September 23-25 (NEXT!)
DYGYCON 12 - November 18-20
DYGYCON 13 - January 20-22
Join us on Discord to get updated! See you this coming September~

---
---