DYGYCON 7 | By the Numbers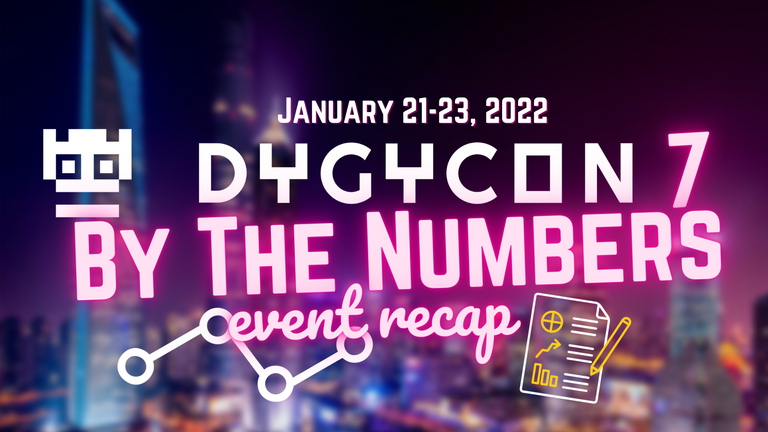 Welcome to the first DYGYCON of 2022
The fun continues into DYGYCON 7, which happened January 21-23, 2022! We thank all that were able to participate and were pretty thrilled with the astounding amount of participation as we kicked off this first event of the year into full throttle.
If you haven't entered our metaverse event hosted by @splinterlands, then hop on over to the next event happening some time in March! It's a 3-day weekend event from Friday to Saturday packed with events and activities you can access for 72 hours! This is the second time we've hosted DYGYCON across three days and we're glad to have people come in from around the world to interact with each other. 😎
During the Saturday Main Event, we livestreamed some awesome TALKS featuring Aggroed from @splinterlands with his welcome message and followed up with Skyler Ramsey from Dogira, Jason Brink from Gala Games, and Sir @Snorfkin from the Snorfkingdom! We appreciate everyone that tuned in with @waffleskitty and Pete from @gamerjibe as we explored the metaverse event with you all. Giveaways from the livestream have been issued and if you have not received it, check your inbox by email or on Twitch whispers in case you missed it!
😸😎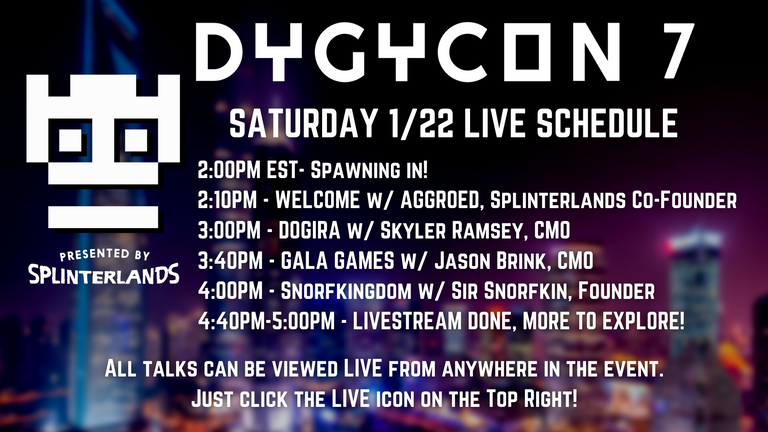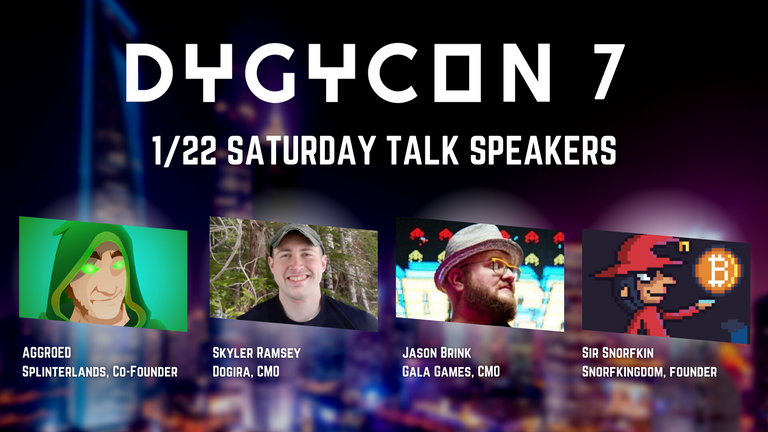 You can still check out the event, although you will not be eligible for the SWAG and some other time-sensitive activities such as the NFT auction, Achievement Badges, and Scavenger Hunt!
What was new at this DYGYCON?
You can also check out the most recent blog post which outlined a bunch of changes that came into DYGYCON 7 including the very cool photo booth area with some red carpet and the Community Lounge!
Venue updates:
No password to get in
Photo Booth area
Community Lounge
New Sponsors:
AtomicHub
Casino Esports Conference
Mammoth Mythics
Warsaken
MetaForce Comics
Stratton Studios (Costume Clash)
The Adventurer's Guild (TAG, SixPM Software)
MetaBeastz by MetaCosmix (formerly Pokemoon)
Wax.io
Zombie Outbreak Survival
We really appreciate AtomicHub for taking over a whole expo hall of projects to take a look at among all the other amazing booths to find here at DYGYCON 7.
SWAG, NFT Auction, Achievements, and Scavenger Hunt
There was so much to do here from sponsor events, meetups, challenges, and activities in addition to our usual line up!
SWAG Booth
DYGYCON 7 SWAG Wallet Collection Forms were emailed to those that signed up during the event at the SWAG Booth. Please ensure you have [email protected] whitelisted! Thank you to those that mentioned the email announcement should also go on our Discord announcements in addition to being pinned in the #dygycon channel and DYGYCON Twitter.
Thanks to our sponsors:
Polypixels
The Adventurer's Guild (TAG, SixPM Software)
MetaForce Comics
Mammoth Mythics
EXODE Game
Warsaken
Splinterlands
We hosted our second silent NFT auction from @splinterlands, our sensors, and private sellers. See the overview if you're interested in participating at the next event! We'll have another post out to congratulate winners once we've gotten completely processed item and funds transfers!
NFT Achievement Badges are getting minted and distributed this week as we closely review all submissions from Twitter! Here are the ones you could have been eligible to win: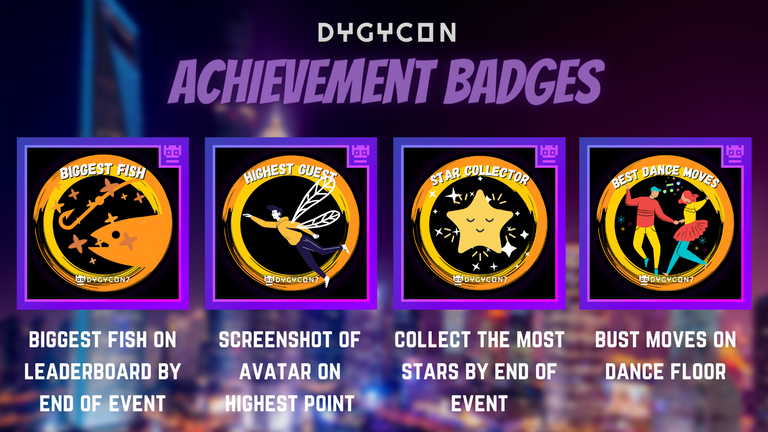 The Scavenger Hunt was sooo much fun that a bunch of sponsors also got in on the selfie train and saw a bunch of amazing photos shared across social media and some got you in on some sweet prizes too! Loot from the DYGYCON 7 Scavenger Hunt includes an animated NFT Badge and an entry to win an art commission from @waffleskitty!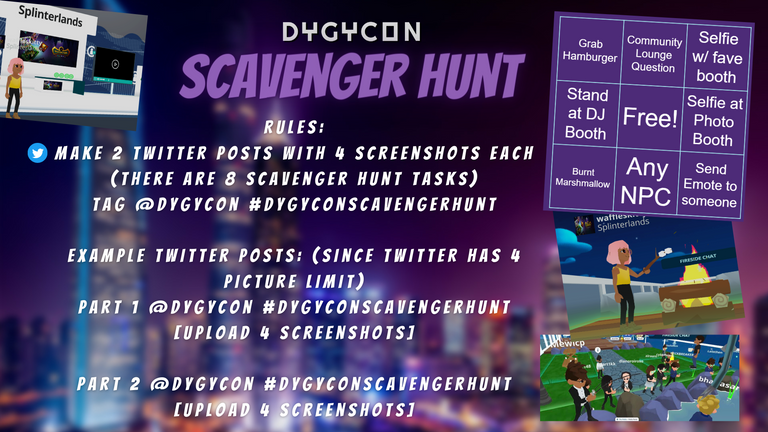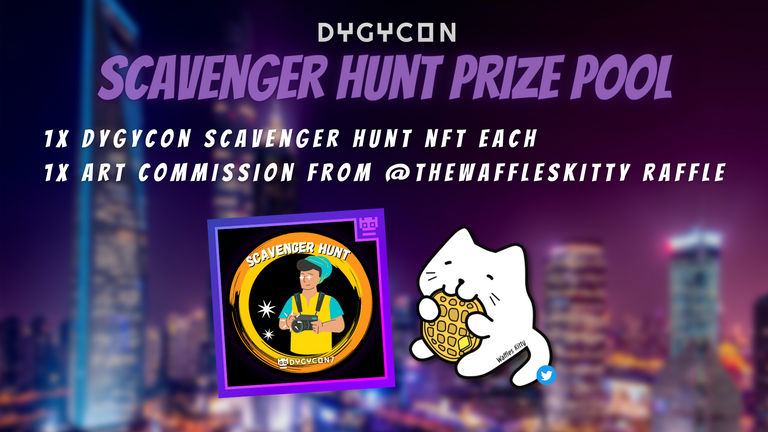 Analytics and Feedback
Here are some key feedback summaries pulled from the metaverse platform, @gamerjibe and we've also released some feedback from the DYGYCON 7 Feedback Form that was sent out via email and posted to Twitter! You'll also be able to see an updated event archive of DYGYCON 7 on our website under About > Past Events. The team is working on adding additional analytics to help sponsors and press, however specific user profiles and information will not be provided. For any questions, please contact [email protected]
Attendance
| Registered | Attended | Hours | Active Hours |
| --- | --- | --- | --- |
| 1339 | 1114 | 1563.97 | 1005.19 |
Hours Spent
| Day 1 | Day 2 | Day 3 | Total | Average |
| --- | --- | --- | --- | --- |
| 328.44 | 273.28 | 302.5 | 904.22 | 301.41 |
Most Popular Booths by Time Spent
cryptomonKeys
Mammoth Mythics
The Adventurer's Guild
Dogira
Warsaken®
Costume Clash
Immersys
BLOCKCHAIN CARDS
MetaForce Comics
WAX
Most Popular Booths per Feedback
This list excludes Splinterlands and the DYGYCON SWAG Booth.
Atomic Hub
WAX
TAG
CryptomonKeys
Warsaken
Ultra Rare
MetaForce Comics
Gala Games
Immersys
Mammoth Mythics
Which activities did you enjoy most?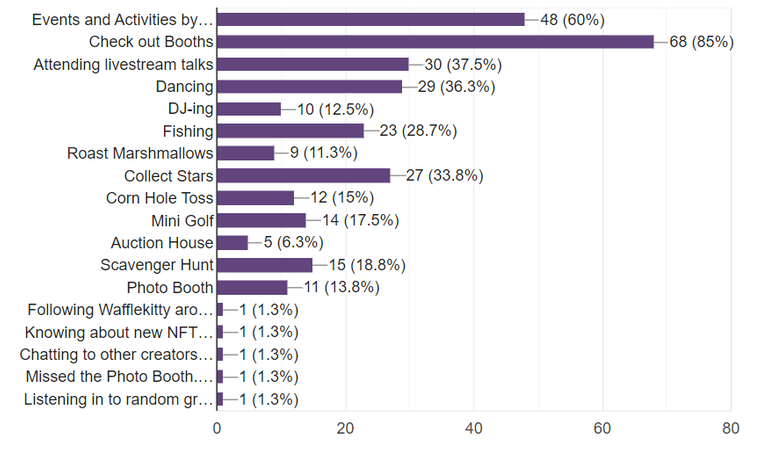 Some Personal Experiences Shared
We received an overwhelming response and would like to highlight a couple, but we will also be posting on upcoming blogs and other content by the DYGYCON team!
I discovered Dygycon on Twitter and the games/companies that are having a booth there. I grabbed my car keys and was hoping the location would be near me so i would start driving. I was looking at the website gamerjibe where the DYGYCON event being held and saw the option join virtual space. I could not believe it that something like this was possible specially now during strange times with all the restrictions. This was a first time for me to enter the virtual space and be able to chat and have a look at the new projects and learn more from them.
I posted screenshots in our guild right away and our guild leader joined me. I joined in on the second day and stayed untill the dj played his last song. Had the time of my life in DYGYCON. The next day i spent few hours trying to break the fishing record. The fishing competition was tough but fun.
What a great way to interact and met new people in the space @Drabs587
Amazing DJ. I Remember on Friday, they played Mark Morrison "Return of the Mack," I felt that :)
Attending DYGYCON has always been an interesting experience. Every event has new things, new people to meet. New features from Gamerjibe are always a bonus. I always appreciate how there's so much interaction going on during DYGYCON and that's something I always look forward to! - @arcgspy
This was first time in a real metaverse and it was interesting to see. I could see the potential for these types of events. - Cryptodad
When is DYGYCON 8?
We'll most likely have the next DYGYCON in March. You'll hear about it first at an upcoming @splinterlands Town Hall first!
We have about 78% of attendees RSVP'd early and will have the website updated as soon as new information comes in! You'll also see us post on Twitter, so please follow @dygycon and keep up with what comes next. 😎
Feedback Booth Suggestions
In our feedback form, we're already seeing a couple suggestions pop up for prospective participants at future DYGYCON events. We'll add them to our list to reach out and we'll need your help in getting them to know about us too, so if you're part of their following and community, let them know about us and send them to [email protected] so we can connect!
Suggested Projects:
Green Rabbit
DigitalDucks
Rising Star
VulcanForged
Immortal Arena
Mr Beast
NFTPanda
WaxelNinjas
Were there any booths you didn't see, but wanted to see? What were your favorite things about DYGYCON? Let us know in the comments and you can definitely fill out the feedback form here.
You can also go to the #dygycon channel to chat and ask any questions. Sometimes, you'll get sneak peek updates before they're posted on social media~
Please share any social media posts, blogs, and anything DYGYCON! We'd love to see you at the event!

---
---