DYGYCON 8 | By the Numbers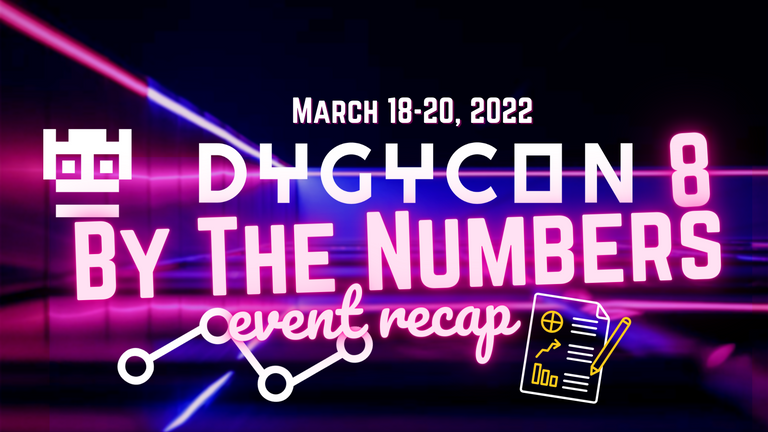 DYGYCON 8 set a new record!
We clocked in at 1819 attendees! That's about 400+ more than DYGYCON 7 that happened a couple months ago. See a link to the VOD on Youtube for a recording of the 3/19 Main Event Livestream.
You can still check out the event, although you will not be eligible for the SWAG and some other time-sensitive activities such as the NFT auction, Achievement Badges, and Scavenger Hunt!
Attendance
| Registered | Attended | Hours | Active Hours |
| --- | --- | --- | --- |
| 1819 | 1381 | 3085.35 | 2110.78 |
Hours Spent
| Day 1 | Day 2 | Day 3 | Total | Average |
| --- | --- | --- | --- | --- |
| 630.00 | 990.71 | 397.13 | 2017.84 | 672.61 |
Following the strong momentum of the event last held in January, we've got a couple things that stepped up its game.
The WAX Community turnout
Gamerjibe metaverse expansion
Sponsor hype and participation
WAX Community Turnout
Over 30 sponsors came in from the WAX blockchain. Check out a couple of articles written by some of the sponsors representing the WAX community.
Gamerjibe Metaverse Expansion
Our metaverse platform of choice, @gamerjibe has given us yet another great update on the venue. At DYGYCON 7, there could only be up to 4 expo halls, which contained only 3 exhibit sets. FYI, each exhibit set holds either 3 small booths, 2 medium booths, or 1 large booth. Now, there can be up to 8 expo halls and each room holds 5 exhibit sets! That's a maximum of 15 booths in each hall.
Thanks to our sponsored halls:
AtomicHub
EMP
SixPM Software
Gala Games
Gooeys
Green Rabbit
Jungle Bay Ape Club
Splinterlands
In addition to that, we had a Welcome Room makeover with a cityscape design where users spawn in front of an opening to the sections that display halls, then a couch area that resembles the former Welcome Room. There is also a pond and entrances to the Patio and Tailgate areas to each side.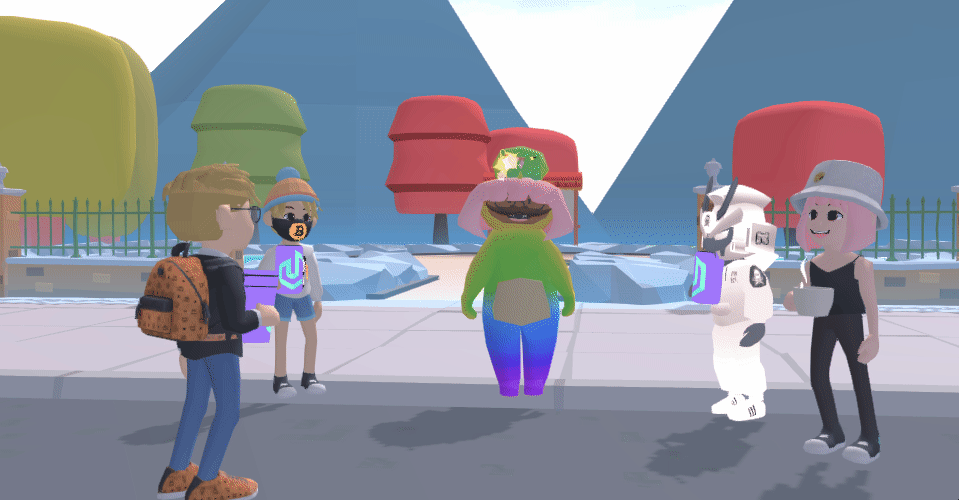 Sponsor Hype
With 100+ booths between DYGYCON and our sponsors, we received so much more to explore this time around that people felt as overwhelmed as we were setting things up on the back end. We are truly thankful for the many exhibitors that stepped up to provide SWAG at their booth, games, activities, freebies, codes, and other things that helped bring value and fun engagement during the event.
All our sponsors:
WAX
NFT Insider
AtomicHub
Warsaken
Digital Ducks
Taco
Coin Pirates
Costume Clash
TokenGamer.io
Red Panda Adventures / Waxy
CryptoFlash
Noa Game
Nova Rally
Waxel
Harmonia: Goya's Land
EMP Money
NFTHive.io
The Online Inn
CryptoSwatches.com
ELITE
Bmac's 4ArtSake
Ultra Rare
AtomiKings
NFThub
Crypto CHibi
WAX.COMICS
CryptoStache
Spielworks
Gainables.io
Gala Games
NFT Horizon
AnyObservation
The Snorfkingdom
Gods and Legends
Brigade
NFTNT
Dunamis
cryptomonKeys
Mammoth Mythics
Gooeys
TUNZ
PuftCreative
RAWR! Giveaway Bots
Blockchain Game Alliance
SwampSoldiers
Breadcritter
PolyDoge
MetaPetz
M.O.R.B.S. by NiftyBC
Art Chosp Benefit LLC
Green Rabbit Game
EXODE Game
BattleBlockz
The Realms
AlienSignals
Blockchain Cards
ilovecryptosWAX
Brave
TiDBYTS: The Duckles
Tallak's Dragons
JungleBay Ape Club
Jonezy Art
8Bit Slammers
Maiki
Pizza slice
ClashDome
DrawnCompany
The Forge Arena
SENORLUPE
The Kollector
Dogefellas
NFTGamerTV
The Adventurer's Guild
Cat Stickers
Floyd Jenkins' Deck of Mythical VArmints
Order of Other
Immersys
NeftyBlocks
The Uplift World
NeftBlocks Creators
ZOS: Zombie Outbreak Survival
Realm of Cuboids
CREEK
MagusOpus
Splinterlands
Non-Fungible Gang
Miss Teen Crypto
CryptoPups
Token Girls Studio
Blockchain Founders FUnd
ZenSports Arena
Enviroblocks
The Webaround
Broken Dollz
Aquascapeart
MetaForce Comics
The KingDome
Top 10s
Most Popular Booth by Time Spent
Green Rabbit Game
The Adventurer's Guild
AtomicHub
Gala Games
Waxel
DYGYCON SWAG
Red Panda Adventures / Waxy
Ultra Rare
Cat Stickers
Immersys
Most Popular Booths per Feedback
Atomic Hub
WAX
The Adventurer's Guild
Cryptomonkeys
Neftyblocks
Splinterlands
Digital Ducks / Cat Stickers (tie)
Gala Games
Green Rabbit Game
Mammoth Mythics / Immersys (tie)
Top Attendees by Time Spent
Krypto Kumas
Bmac
SMITE - Rep. Waxel
Nuno | AtomicHub
mikeeMyk
aquascapeart
Frittchen - Team Waxel
Ghalox NTM
Bro Turtle I Green Rabbit
bunnanabread
Top 10s
Top Presentation Room Visitors
Skyler Ramsey
Blyss (Dogira)
Mate.
heartyginga
Elijah | @GooeysP2E
BullHorn
Roykwent
Sklion
casimirio
Cody Gains
Top Star Collectors
Relief |NTM ⭐ (Star Collector Achievement badge won)
bmjonz
coolcrypto974
DodoCryptOG
Potter513
Ryu | Gods & Legends
heartyginga
Arcmilla
NephilimHoss
Xtrapt
Top Dancers
Shiba King 🕺 (Best Dance Moves Achievement badge won)
chaosgeek
SMITE - Rep. Waxel
Nibras
BgDubbe1
SilverSwampRabbit
Cody Gains
TNRCoffee | NTM
Esthetic Monte
Dr.BabidiBoi,MD
Top Bean Bag Warmers
RedRo
ilovecryptos
LethalDrEvil
Quack McStacks
stuckatsixpm
AngelitoFrijoles
Puft is AFK but my Goo-vatar is with you in spirit
Feavs | http://tacocrypto.io
NFTAlleyCat
CocaineModelL
SWAG, NFT Auction, Achievements, and Scavenger Hunt
Between sponsor events, meetups, challenges, and activities, there's something for everyone and we're always getting more fun added into the mix.
SWAG Booth
DYGYCON 8 SWAG Wallet Collection Forms were emailed to those that signed up during the event at the SWAG Booth. Please ensure you have [email protected] whitelisted! Thank you to those that mentioned the email announcement should also go on our Discord announcements in addition to being pinned in the #dygycon channel and DYGYCON Twitter.
Thanks to our sponsors:
Splinterlands
Cryptomonkeys
Mammoth Mythics
Blockchain Cards
Broken Dollz
EMP
BattleBlockz
The Realms
The Duckles
Jungle Bay Ape Club
Drawn Company
MetaPetz / PolyDoge
Enviroblocks
EXODE
UltraRare
CryptoPups
Order of Other
Maiki
We hosted another silent NFT auction from @splinterlands, our sponsors, and private sellers.
NFT Achievement Badges are getting minted and distributed this week as we closely review all submissions from Twitter! Here are the ones you could have been eligible to win: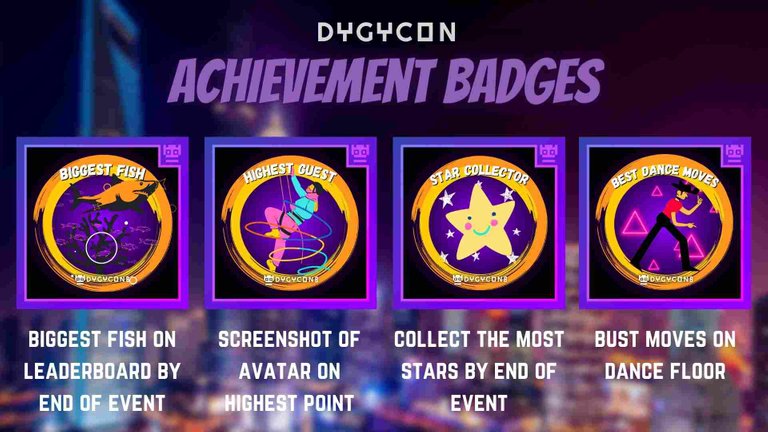 Feedback
We have sent out invitations to submit feedback! The summary of these responses will be posted on our event archive when it is completed!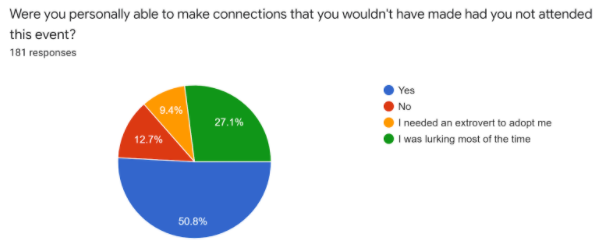 Highlights
Here are some personal experiences shared.
Positive messages:
Cat Stickers had a booth in the SixPM Software hall at Dygycon 8 and it was so so fun. I hosted an AMA that went super well, and met some amazing artists too. Hanging out in the chill zones on the beanbags was also one of my favourite things to do, and the late night conversions with everyone is always something to remember. Thanks for hosting this awesome event, it really has changed how I can interact with my community (and others). - Saskia, creator of Cat Stickers on WAX (https://www.catstickersnft.com/) @catstickersnft on Twitter

This was an amazing event! With high numbers of attendees and a wide array of projects present, it really felt like a convention! Lots of fun hanging out with friends, meeting new ones and doing some serious networking. All without needing to leave the comfort of my home - I am disabled and have various mobility issues, so the fact i could attend without travelling was truly amazing for me, thank you!! can't wait for the next one :D

Being an introvert cons can be very intimating. This is exacerbated by still being quite new to NFT spaces. DYGYCON has really provided a bridge from clientele to artists. It makes guiding NFT spaces somewhat easier, not prefect, but not as uncomfortable. D7 was my first DYGYCON and I can notice I don't feel as uncomfortable. I was majorly surprised to see that I even made comment during AMAs, like that is a huge growth. Hopefully attending these cons will help me be even more comfortable in NFT spaces.
Improvement suggestions:
Get mobile ASAP. You are severely limiting your audience without it. Streamline SWAG giveaways, I shouldn't have to put my WAX in 20 times. Once is enough.

Maybe have a low-bandwitdth browser option for folks who just want to see what each exhibitor has to say. I'd rather just click on a list of links than navigate through virtual halls.

My kid loved the visuals and interrupted me. He wanted to "play". I was just exploring so i couldn't give control directly. So the best option was to quit right at the beginning for me. A parental lock might be nice, then my minion can show me around and when he got bored i can explore the blurred content.
Wen DYGYCON 9?
We're looking at a weekend in May. Keep an eye out for updates either at the @splinterlands Town Hall or on our Twitter (@dygycon). All past sponsors will get first dibs on the invitation to the next DYGYCON along with an event deck to provide additional information. Most other information can be found on the website.

For any questions, feel free to comment and send an email to @waffleskitty ([email protected]).
---
---