A Closer Look Inside Splinterlands
Splinterlands Income Streams
---
---
Let's take a look around the world of Splinterlands
image source
Blogging & Upvoting on Splintertalk Front End
I am going to start with Splintertalk.io where SPT is powered up to curate Splinterlands posts, earn curation and earn SPS airdrops in the game. Here I will show you my personal posts this past week and their value that pays about 25% of what is shown after the rebalancing of STP (which is still big). SPT payouts were rebalanced as we reached the debt ceiling therefore rewards are cut 75% forcing the coin to go down as the FUD gets to the weak handed. The smart and diamond handed are buying more as we know these things tend to gain in value especially with the #1 growing NFT Blockchain game. You too can earn with quality written posts about @splinterlands. Time to share the screenshots and put more words below for those who don't enjoy long winded posts.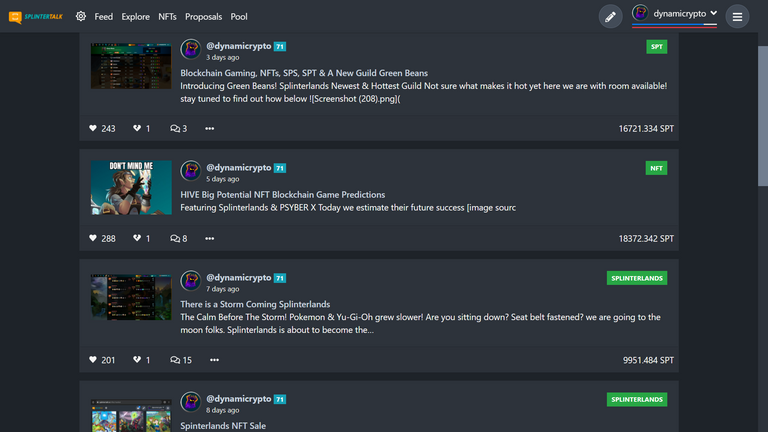 image source
The payouts have been increasing fast as I do pick up the quality of my posts with each one. These payouts are at over $100 USD in SPT yet when paid I will get 25% of the SPT shown. This is still great additional income plus the cutting of rewards will increase the coins value stay tuned I will post the proof in the near future. I do hope you do not take this as investment advice yet as me sharing a once in a lifetime lifechanging opportunity to play and earn for free and blog about it for extra income!
---
---
Splinterlands Official NFT Market
Now let's move on to another revenue stream found on Splintertalk that is set to explode with the current game growth rate. NFT Market! Here is a look at a few of the NFT you can find there, click the image source link below them to go to the SPT Market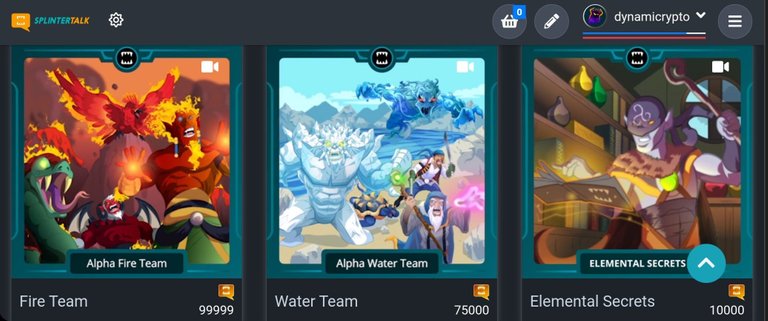 image source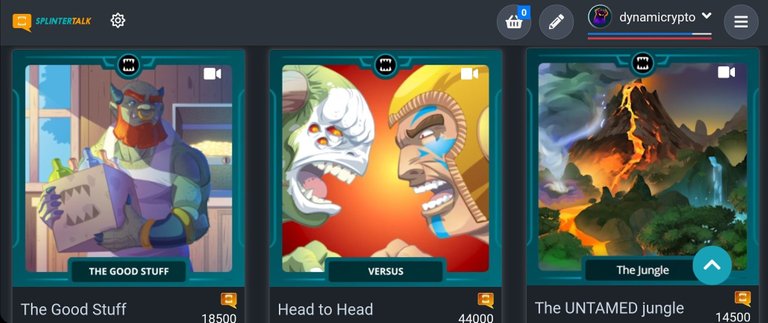 image source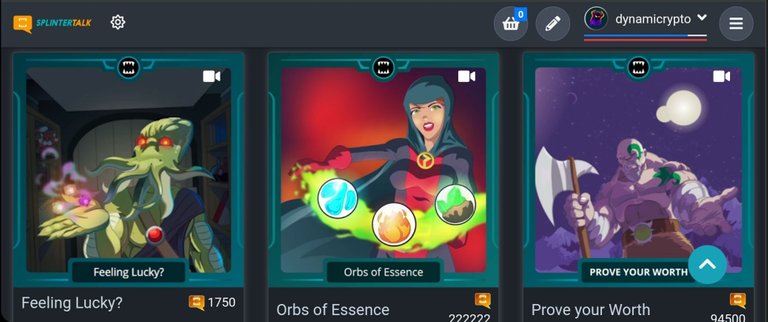 image source
Click the link above that says image source to see the NFTs move! they are GIF NFT Collector Cards that are very rare, the largest minted have 1,000 and some with only 5. The rarest are going to be sold for millions of dollars in the future which is why I have an Alpha Water Team card and many others.
---
---
SPS - SPT Diesel Pool
That is correct you can click on pools from Splintertalk.io front end and enter liquidity or even create a pool. I can think of a pool I would like to create yet it cost about $500 USD in BEE coin. SPS to Voucher Pack in which you can be the first to set up one on Splintertalk!
Here I will show some screenshots from the Pool section. The first I will show is the creation of a Pool I would start if I had money to burn, the next I just took showing the removal of liquidity value after 1 day. The third I took yesterday when I added the liquidity to the SPS:SPT Pool.(this one not in night mode, apologies for the different looks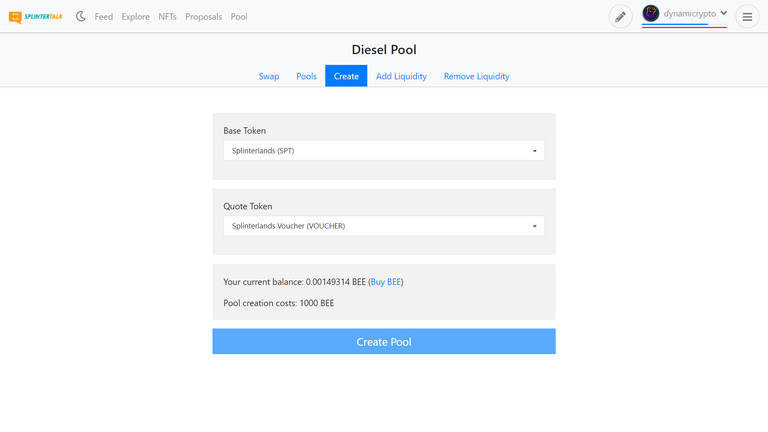 image source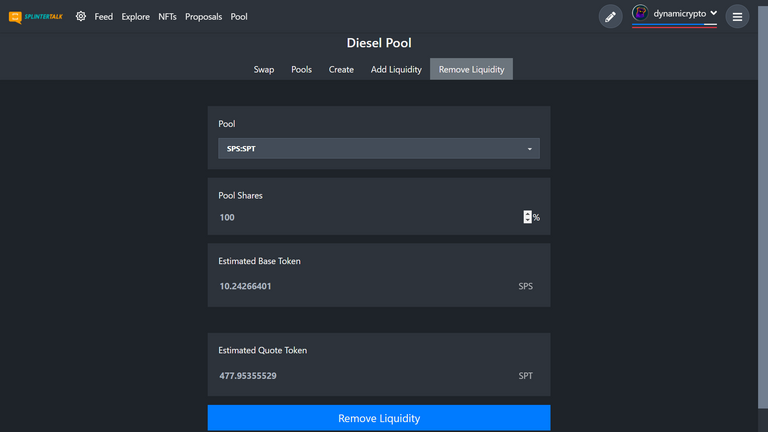 image source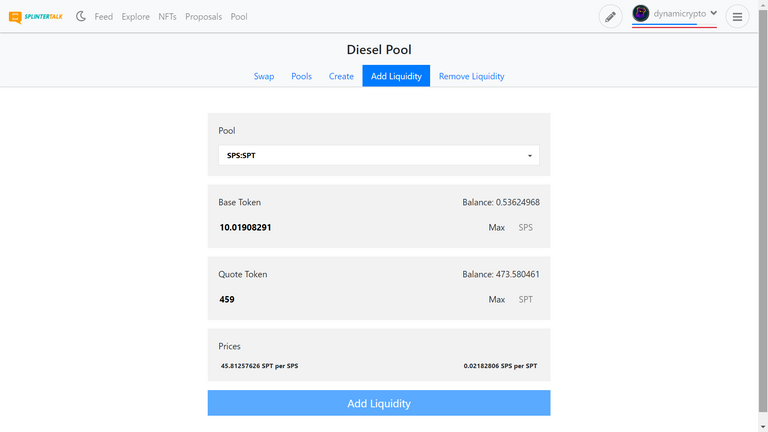 image source
Now I am removed liquidity and cashed out my daily SPS airdrops for two days and adding them to this pool as seen the the next screenshots.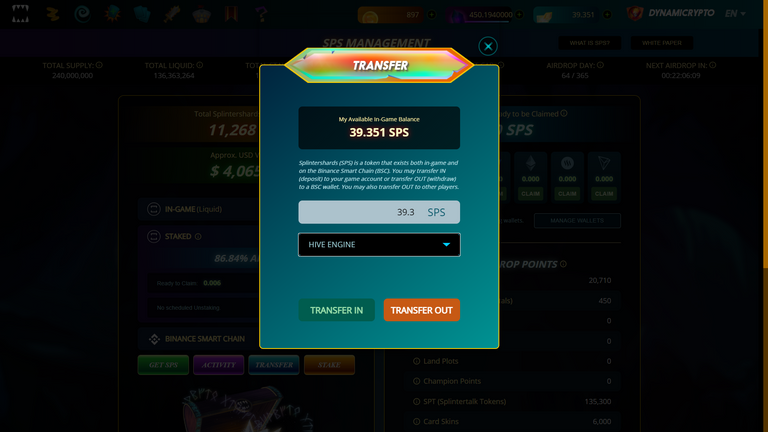 image source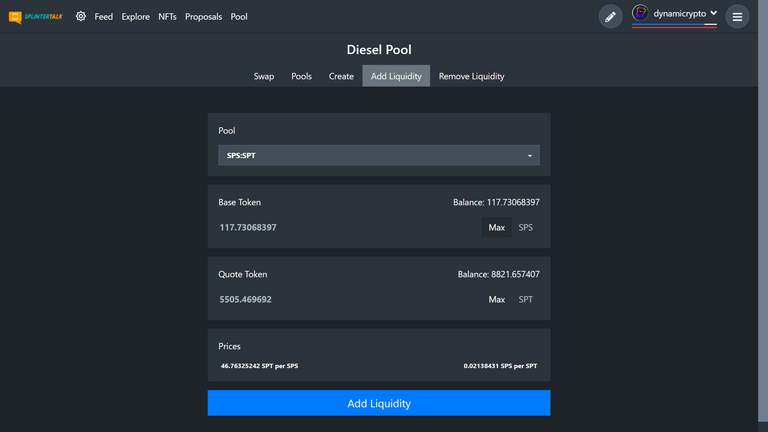 image source
---
---
Events aka Tournaments
There are some amazing opportunities in tournaments available. Many have affordable entry rates and require a high rank to win a profit.
In these screenshots I will show you the main tournament page and inside one of the tournaments so you can see the payouts and more details.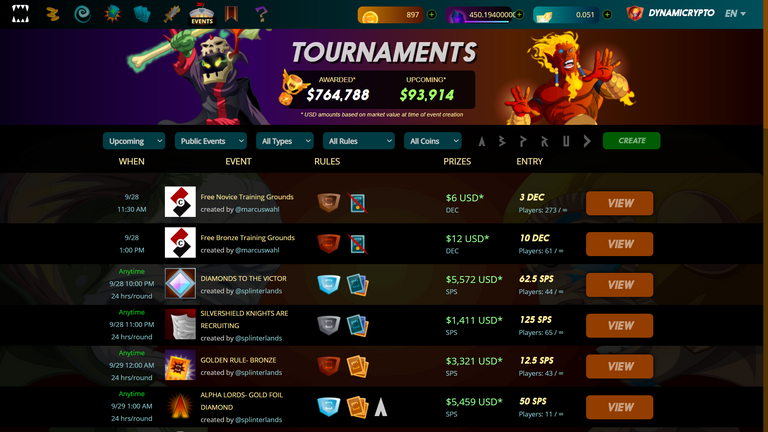 image source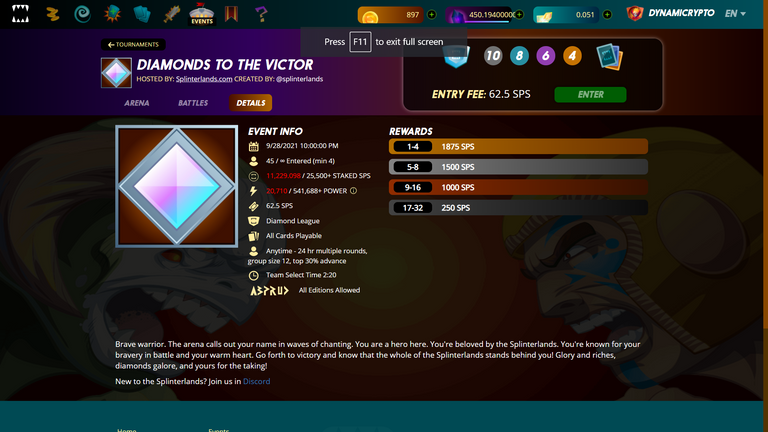 image source
image source
---
---
That is it for now...
If you have another revenue source related to Splinterlands please share it below in comments.
Look out the next couple days for the update post on the diesel pool liquidity withdrawal amount to see if it is lucrative or not before considering if for yourself. I will also include the Tournament and Splintertalk blogging rewards updated amounts. Also will share results of my first tournament joining shown below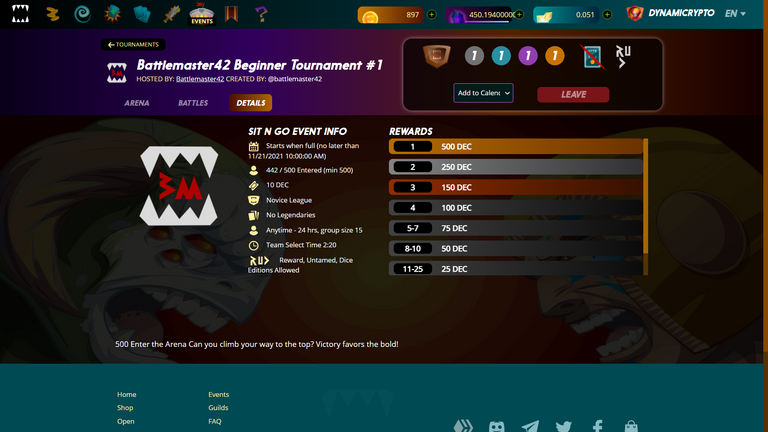 image source
---
---
---
Thank You
For stopping by, please upvote, comment and reblog if you find this useful
---
---