My First Two Brawl Update and Chaos Legion & Gladius case Opening | What A Luck!!
Hello, Everyone. I hope everyone is well. I am fine. Today, I bring you the pack Opening of Splinterlands Chaos Legion and Gladius case.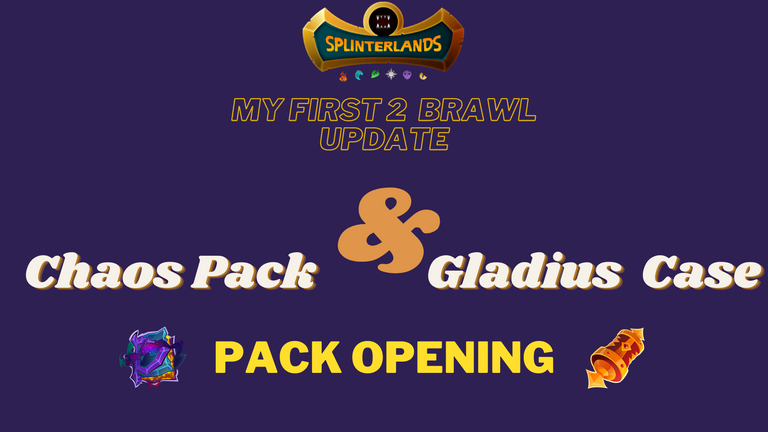 I decided to open the Chaos Legion Pack as the Splinterlands Daily Quest ended very soon. But unfortunately, I didn't get anything good in the 13 packs. But I am hopeful I will get something good in the future Pack Opening. But glad to open Gladius Pack for the first time.
Chaos Legion Pack Opening
Let's see what I got in the 13-pack. I open a total of 5 packs one by one and the last five together. One of my worst pack openings was today's pack opening.
Pack-1
---

Pack-2
---

Pack-3
---

Pack-4
---

Pack-5
---

Pack-6
---

Pack-7
---

Pack-8
---

Pack-9
---

Pack-10
---

Pack-11
---

Pack-12
---

Pack-13
---

---
Total Cost and Total Return
I have opened 36 Chaos Legion Packs in the last 30 days but never had such bad luck as this time. Each time I got something that helped me recover what I spent on buying the pack, but this time I spent around 26$+ to buy 13 packs but got only 10.23$ in return.
| Type | Quantity(R/G) | Price |
| --- | --- | --- |
| Common Monsters | 43/0 | $2.070 |
| Rare Monsters | 20/0 | $7.675 |
| Epic Monsters | 2/0 | $0.546 |
| Legendary Monsters | 0/0 | $0.000 |
| Total: | 65/0 | $10.291 |
You'll notice that my luck was so bad that I didn't get anything of note except for two Fire Summoners. I was so surprised to see no gold or legendary at this time. But the 2 Fire summoner helped me to level up my Tarsa at level 2. I also level up some of my other monsters. But I was hopeful of getting batter monster, and it did not happen. I will try to open some chaos at the end of this current season and hope I will get something better.
---
---
Gladius Case Pack Opening
---
I have been playing Splinterlands game for over two months now. But it's only been two weeks since I joined a guild. I have participated in 2 Brawls in these few days. My 1st brawl performance was not good. Especially the guild that I joined is Tire 3 Guild. And I don't have the number of cards and experience I should have in Tire 3 Guild's Brawl.
It is my battle status in guild brawl

I was happy that I was ranked 3 in my guild for winning four battles.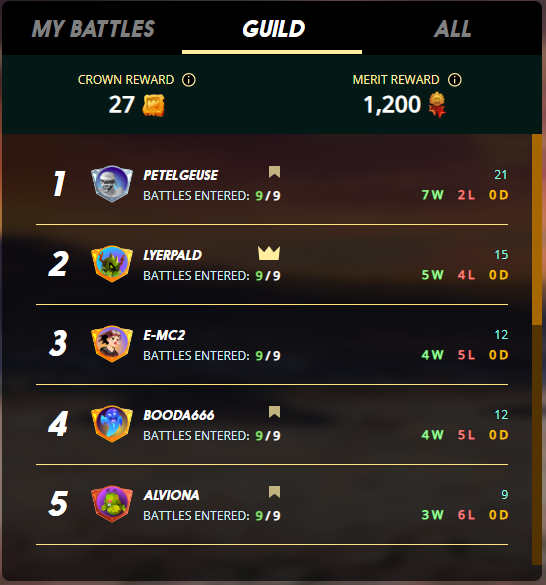 Sad to say, our guild was ranked 9 in the brawl, which was not so good. We have to improve a lot to be ranked higher.

However, the 2nd brawl has many improvements compared to the previous one. But it was not enough. In the first brawl, I joined the Bronze League and got a chance to make eight attacks there, but I won only one. And in the last brawl, I joined the silver league, and there I got a chance to give a total of 9 attacks, and this time, I won 4 out of 9.
It is the second brawl reward. I didn't have the first one, so I can't share it here. But In the first brawl, I got 1200 merit and 35+ SPS.

In these two Brawls, I got 50+ SPS and 2000+ Merit points as a reward. I bought two Gladius Case packs with Merit from the previous Daily Reward and Merit from Brawl. The first time I opened this pack, I was pleased.
Pack-1
---

I don't know much about the gladius pack monster, but it seems I got some unique valuable monsters. I liked the Marisol Contuma from my first pack.
Pack-2
---

But I didn't get anything special here either. I didn't get anything special like a gold card or legendary. But all the monsters I found are new to me. I have no idea about them. It is not left to understand that these cards will be very effective. I hope to get more good Gladiator Monsters in the future.
Lastly, I want to inform you that last season, I was in the gold league. That was the highest rank for me.
That's All.
......Thank You......
Posted Using LeoFinance Beta
---
---