Early-Bird Curation Guidelines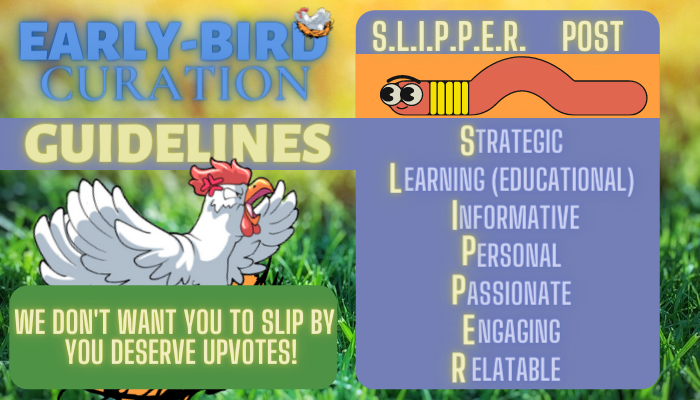 Curation Guidelines
To receive an @Early-Bird UPVOTE for your post, you must include at least one the following aspects of the mission statement (positive, informative, strategic).
We go beyond the standard
Standard Posts are wonderful; a post about Splinterlands is still exposure which is always good but there are other curation services for that. @Early-Bird Curation is here to catch that special post, to cultivate and support those writers who go above and BEYOND the general standard post.

What's a standard post versus an Early-Bird exceptional post?
Let's break down a standard post for Splinterlands versus an exceptional one. While a standard post is good and has its place, the Early Bird Curation will specifically look for exceptional posts. If you feel yours fits in this category, you can let us know!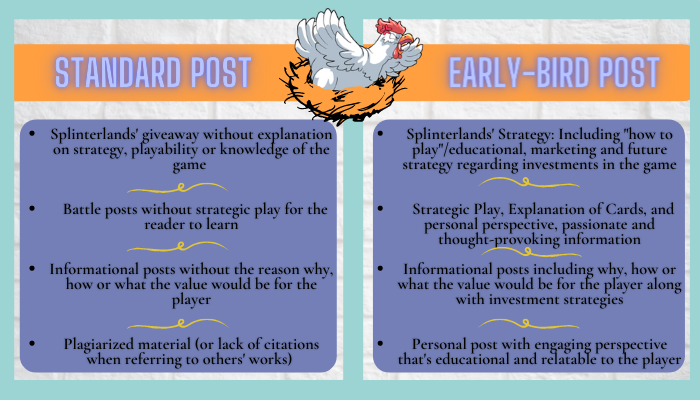 Standard Posts (for other curation services):
Standard Posts: There are other wonderful curation services that will certainly upvote these posts and so we are not competing with them; rather, we are a boutique curation service, looking for blogs that reach a broader, more mainstream audience. It does not mean you need to be a Pulitzer prizing-winner writer. It just means you've given a little more time to your post than a standard post. Here are some examples of standard posts that we will NOT curate at this time:

A Basic Giveaway with no explanation as to strategy, playability or knowledge of the game.
Battle Posts that do not extend the strategic play, the WHYs and HOWS of the game so that the reader visits the post and LEARNS just HOW TO PLAY Splinterlands.
Information Posts with NO REASON WHY this information is of value or HOW to USE this information to increase your investment.

Exceptional "Early-Bird" Posts:
Exceptional "Early-Bird" Posts: We curate exceptional posts; therefore, here are some examples of posts we will be looking for to give out our upvotes! We want to reward those bloggers who have taken more time in their posts to add original thumbnails, artwork, or step-by-step guides using pictures and/or illustrations while providing meaningful content that will inspire more people that Splinterlands is a GREAT crypto game to play. Below are the areas we will look for in your post. You do not have to have ALL these areas but you need at least ONE of these areas explained further in the following sections.
Strategic information

The WHAT, HOW, and WHY Splinterlands is a wise choice with personal insight (not just a copied/pasted answer but clearly a well-thought explanation with specific examples to support that explanation)

Personal Interaction/Perspective regarding the Splinterlands' game

Exceptional passion, knowledge and/or drive
Not necessarily an expert player but connects with the reader on an intellectual or emotional level to inspire them to join Splinterlands. The writing is vibrant and engaging, motivating the reader to either JOIN Splinterlands or if they already ARE in Splinterlands, to propel forward on the journey.

Informative updates or knowledge of the game

Detailed explanations on HOW to use these new Splinterlands updates or knowledge regarding the gameplay or marketing
WHY you would find benefit (or why NOT) with these new updates
WHO should consider these as options
An informative post should engage the reader to new information, not regurgitated information but thought-provoking information that includes WHY this works for the writer or why it does NOT work and why or why not for the reader then as well.

Relatability to the reader

The Early Bird wants to make Splinterlands a mainstream crypto game; therefore, a post should have relatability to the readers and feel a certain confidence in the game based upon the post written.
Passion for the game, community or the market that gives insight in a new way or overall excitement towards the game in a way understandable to those interested in crypto.
Able to teach the reader how to use certain aspects of the game, community or market to improve their gameplay or investments.
We call these Guidelines the "Slipper" Post. If you have included these guidelines, we don't want you to slip by; we want to reward you for your efforts!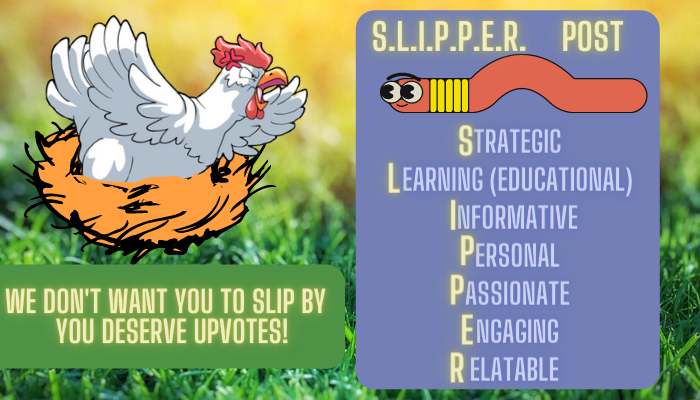 NOTE: The New Splinterlands Blogger

If someone is new to blog posting or Splinterlands, an upvote is encouraged if the post seems genuine and engaging, with the hope that the writer will continue to post positive, exceptional content about Splinterlands and receive more upvotes from us in the future.
Thank you for reading the Early-Bird Curation Guidelines.
---
---