The Great VOUCHER Trade
Splinterlands is a card game that involves NFTs - many of you will know this since its the biggest application on HIVE. Many Splinterlands players learn about HIVE because its on HIVE and they never heard of HIVE before - they have only heard of the biggest, longest-running and most successful play to earn (or buy/rent NFTs to earn) game in the known universe.
Apart from the NFT cards, they have 3 internal tokens, DEC, SPS and VOUCHER. A lot can be written on DEC and SPS, and how the creators have set up very interesting game theory and internal economics between these tokens - but they have been changing and tweaking and more changes and tweaks are upcoming, so it could get out of date really quick.
Today I want to talk about VOUCHER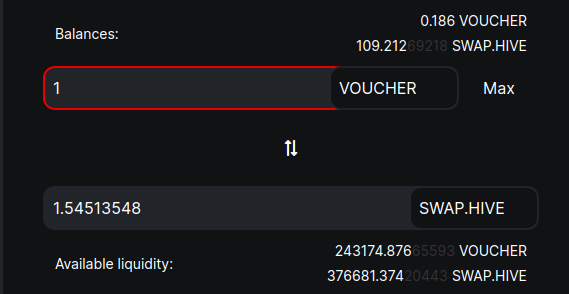 VOUCHER is a token that can be used for several different things within the Splinterlands game. So far, VOUCHER gives discounts to LICENSEs and VOUCHER lets you access presale rounds of new sets of cards and VOUCHER gives you access to bonus packs for bulk orders, and rumor has it (now announced!) that VOUCHER will give discounts to packs of new game (Tower Defense) NFTs.
Based on the dollar value of the discounts you can get with VOUCHER, you can calculate and 'implicit value' for one of these tokens. Access to presale, which gives a special card you cannot get any way else, is hard to quantify, but when you buy a LICENSE there is a direct discount of $3 for each VOUCHER you use (which goes up with each tranche), so the 'implicit value' gives us an anchor to start to value the VOUCHER token.
Now, implicit value is not equal to price, it just gives us an anchor - the market does the rest. Have a look: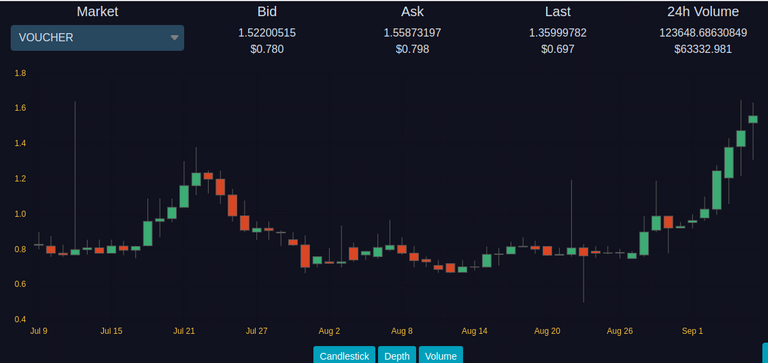 This is just the past two months, what a wonderful roller coaster for a trader! As we can see, voucher price without a presale (only the LICENSE and Bonus Pack for Bulk orders) was trending around 0.8 - but everytime Riftwatchers (the new card set) was mentioned, VOUCHER spiked, as market participants remembered the implicit value VOUCHERs during presales.
Those that bought VOUCHERs at 0.7-0.8 HIVE are probably sitting pretty happy with themselves right now! Because Riftwatchers presale has officially been announced. It will start on September 15th.
And just to rub it in, @Splinterlands also announced the presale of their tower defense game, which starts on September 20th.

And the tower defense pack sale will last until sold out or until July 1st, 2023, which gives plenty of time to sell out the CHAOS LEGION packs and get another use for VOUCHER in there (the next set).
Another thing to consider is that this VOUCHER price pump is creating a huge boost on the node LICENSE aprs, because they pay out in VOUCHER (and soon to be SPS). The numbers are getting pretty swollen:

This will probably encourage people to mint more node LICENSE, which each consume up to another 500 VOUCHER (for the best price). Everything is pointing to a HUGE run on VOUCHER. Will it ever end?
Let me show you something, this is the log of the last time I traded a VOUCHER pump, straddling the presale of CHAOS. I rode the price up, sometimes buying the dip, and bought back on the way down. I was actually trading VOUCHER on loan, so I needed to pay back the VOUCHERs I had borrowed.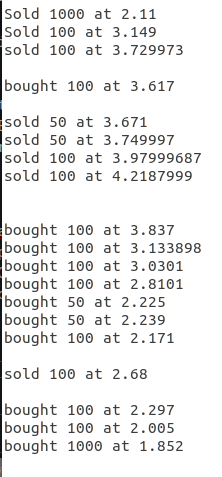 This is a receipt, but it is also a lesson - I made HIVE, but not nearly as much as I should have. What becomes clear to me is that I sold too early, I also started buying back too early. Hindsight is 20/20, but of course I should have sold them all at 4 and bought them all back at 0.8. What lessons can we learn from this?
LESSON: Voucher will go higher than we think it will (but will come back down)
Once it starts going up to crazy levels, you might start thinking - is this thing ever going to come back down? It will go high, but it will come back down. The tower defense announcement of $3 discount to all packs in the general sale will probably keep the price bouyed, but my guess is that it will go as high as it can during the Riftwatchers and Tower Defense Presales (as people fight for those promotional airdrops, titles and other bonuses), and then slowly start to head back down to Earth.
There is still a whole week before the fun starts - it honestly might not be the worst idea to buy some VOUCHER now and dump it on presalers - or get involved in the presale yourself, if that's what interests you. But no longer am I letting my apathy for the game itself deter me from participating in the great trading opportunities that come with the Splinterlands cycle - I rent what cards I do own and I monitor the hype cycles - I'm not a gamer - I'm a Splinterlands trader!
And if you want to practise being a trader inside of a closed economic system, there is almost no better place to do it than with Splinterlands. They have tons of NFTs and 3 tokens (4 if you count LICENSES), packs, lands and totems - and all of it trades against HIVE. The main tokens have Liquidity Pools, you can check them out on BeeSwap. The ecosystem seems to be generally growing, constantly attracting new players, although not as fast as it once was, but with a marketing team as powerful as Splinterlands, it could literally explode again at any point in the future.
What ever you do - Remember - Buy low and Sell High! And tell me about your experience with trading Splinterland assets in the comments. Only commenters who respond to my call to action will receive my upvote!
Freedom and Friendship
---
---