XCHAOS packs - I am buying some!

Okay friends, I have another great one for you today - XCHAOS! Check out the posts on the @chaos.air account for all the official information.

It looks like @gerber and @nealmcspadden have teamed up again in another splinterlands related venture, this time with CHAOS LEGION packs.
If you didn't know, there is some noise around Splinterlands lately, and a lot of it has to do with the new packs coming out. The final phase of the presale will see $4 dollar packs being sold without vouchers.
XCHAOS sell for $6.
Why on earth would I pay $6 dollars today for something I can get for $4 in January?

Well, first of all, think about the bonus packs. We are going into XCHAOS as a pool and so we might get some bonus packs. I know I likely won't be buying enough packs to get any bonuses....
What about airdrops?
Airdrops were the big thing in UNTAMED. And if you had bought enough packs, you were golden getting some cards. But for small buyers....let's look at how the team explains it: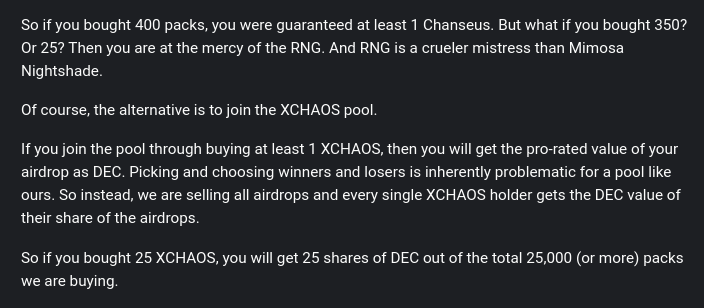 So we will get some group luck on these airdrops, and get the DEC dividends. Speaking of DEC rebates, the team just announced a 5+% rebate in the form of DEC:

This DEC drop has already started, I found this in my wallet today:

At first I had a hard time understanding what it all meant. APR rates on a rebate? Aren't rebates fixed amounts? What is going on here?
So I went to the discord and talked to @gerber and @nealmcspadden for myself.

Some of the money from pack sales is going into DEC, and DEC is earning SPS, and SPS is being sold for more DEC. Automation is already in place for when the airdrop starts, a small fund is building. With this fund, we are getting airdropped daily for our XCHAOS tokens, currently the APR is looking pretty good:

Keep an eye on that two dollar apr - if that can stay high enough for long enough, it was financially worth it to buy XCHAOS.
But even if it isn't, the last reason I am going to be buying some of these is that I am not going to take a day off of work to buy tokens, I never have and I don't think I ever will. Sometimes in life I am not busy and able to be 'pending' things like this, but right now the iron is hot and we are striking out, so I won't have time to make sure I get in on the token sale.
Could phase 3 CHAOS packs really sell out so fast?
Maybe.
I mean I'm not about to pay voucher prices for packs but.....
The Phase 3 is a 50 million dollar raise. Is that a lot? This is the most popular NFT game IN THE WORLD and tens of thousands of accounts have been made since any packs were available, they all sold out months ago. There is a huge pent up demand I think and the first voucher phase was quite expensive.
Since every other token pack has gone up in price after they sell out, including UNTAMED above 75 dollars (from $2 minus discounts/bonuses), and BETAs above $130 dollars (ALPHAS can fetch 900 dollars or more!) - some people are 'mortgaging the farm' so to speak, thinking that its free money on the table to buy as much CHAOS tokens as they can.
So, while $50 million dollars is the biggest pack sale to date for the SPLINTERLANDS team - its one they have been working hard to earn for a long time. It could go pretty quick. But even a week is pretty quick. There is probably not anything to worry about....probably.
But just in case - I'll grab some XCHAOS.
Freedom and Friendship
---
---