Introducing @Eddie-3Speak | Extra Curation for 3Speak Videos: LEO - SPT - ONEUP & POB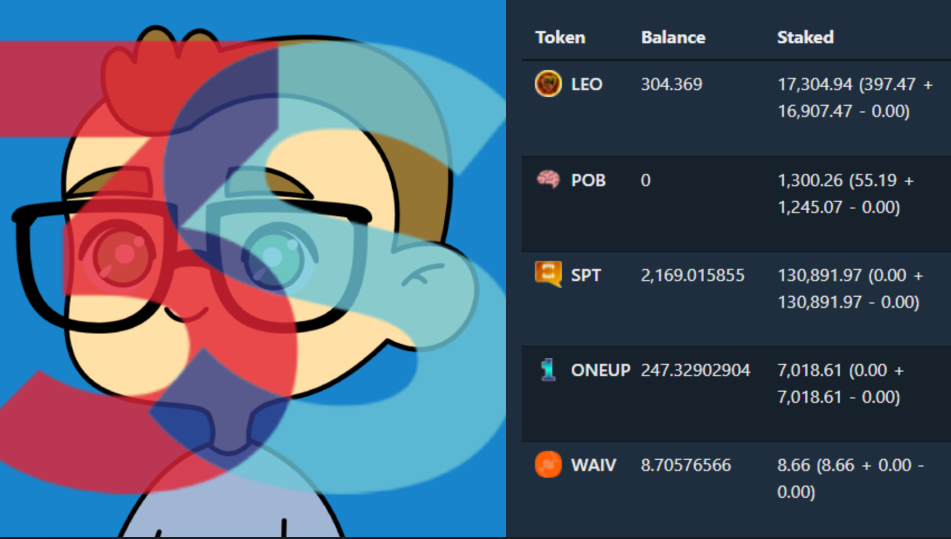 ---
Hello everyone!
Today I'm very excited to talk about this small curation project that we have started. By we, I mean the @threespeak team: @theycallmedan, @starkerz, @vaultec, @gotgame, me (@eddiespino), and the rest of the team.
As you may know, every video that is uploaded to 3Speak is posted to Hive, and (at the moment) 11% of the rewards of all videos goes back to 3Speak, to a special account called @spk.beneficiary. The interesting thing is that besides Hive (HP) and HBD, this account also receives all the tokens: LEO, SPT, ONEUP, POB, to name a few.
Instead of dumping all these tokens in the market, we have decided that we can stake them and curate content from the community. So that's why we created @eddie-3speak, and we have done delegations from the spk.beneficiary account and a little bit from the threespeak account.
I am curating manually. Sometimes I find the videos directly on 3Speak.tv, and little by little, I have started following creators that upload videos to 3Speak. We are focusing the curation on videos that are uploaded to 3Speak, and when there is VP left, we are also voting regular blogs.
We have seen more and more users sharing videos about Splinterlands, Rising Star, Gods Unchained, and other crypto or NFT games. We are happy that many have chosen 3Speak.tv to share their journey, tips, and reviews about these awesome games. We are making our best effort to support them.
---
Our tokens:
| | |
| --- | --- |
| Hive Power | 14,070.673 |
| LEO | 17,304.94 |
| SPT | 130,891.97 |
| ONEUP | 7,018.61 |
| POB | 1,300.26 |

https://leofinance.io/@eddie-3speak/wallet
---
It's been a challenge managing the different VPs. Each of these tokens becomes depleted depending on the type of content that is upvoted. The Hive or main VP is wrecked, currently is below 57% (ouch...), LEO is at 85%, SPT is at 82%, and ONEUP is at 71.51%. It would be ideal to have one account for each token, but I don't think this would be the best idea because it will consume more time and effort.
To upvote content, I am using three frontends: https://leofinance.io/, https://www.splintertalk.io/, and https://www.1up.zone/. My favorite is LeoFinance because the other two have some bugs in the UI. After you click the little heart to vote it never stops loading, and you have to refresh the page to see the vote. Another bug is the change in the color of the hearts when you have voted is hard to notice, and if you click it by mistake (when you have already voted), bye-bye curation rewards.
---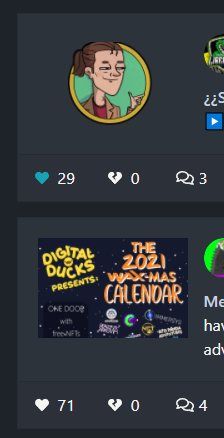 The post above is upvoted, and the post below is not upvoted yet.
Not very colorblind-friendly. This happens in both Splitertalk and 1up frontends.
---
And to finish this post, I want to add that some of the best posts will be eligible for a vote from @threespeak and sometimes (only sometimes) a vote from @theycallmedan. You can check out the curation history here. For general upvotes, I use https://peakd.com/.
Remember that to have a better chance to receive an upvote from @threespeak your videos should have a good number of views and comments in them. That it's why it's a good idea to share your videos outside of Hive and engage with the community on the chain.
Thank you for reading and if you are a 3Speak creator or you want to recommend someone, please let me know in the comments. Also, if you see abusers in our curation feel free to reach out to me: eddiespino#2240.
---
Posted Using LeoFinance Beta
---
---