Update on 3Speak Tribe Curation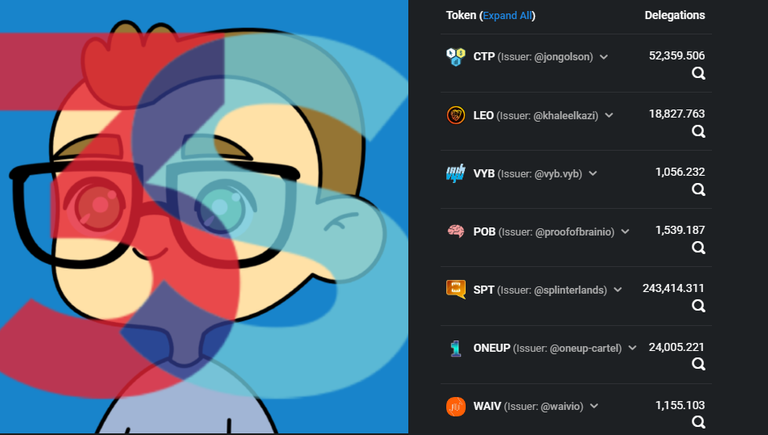 ---
Hey everyone!
It has been a while since the first post from this account, so I thought it was a good time for an update. @eddie-3speak has been active for over a year, since August 2021. I have been curating content from 3Speakers that are posted in leofinance.io, ctptalk.com, 1up.zone and splintertalk.io. I upvote mostly 3Speak videos, but when I can't find enough, I also upvote regular blogs.
There are a lot of great curators, and as I mentioned in the last post, it is difficult to manage the Voting Power when voting on tribes. Below you can see an update of our tokens:
---
| | |
| --- | --- |
| LEO | 18,827.763 |
| CTP | 52,359.506 |
| SPT | 243,414.311 |
| ONEUP | 24,005.221 |
| POB | 1,539.187 |
| VYB | 1,056.232 |
| WAIV | 1,155.103 |
Special thanks to the @threespeak team for the token delegations. We decided to remove the Hive Power delegation, but since last year, we have increased the number and amount of tokens. Also, special thanks to @elianaicgomes for the big CTP delegation. This has helped us reward a lot of 3Speakers that blog using the CTP tag.
I have sent CTP weekly to @elianaicgomes for over a year so she can couch for me. If anyone has extra tokens and wants to support me and support other users, you can delegate them to me, and I will send 85% of the curations back to you once a week. I do this manually with a spreadsheet and formulas I learned from my friend @ritch.
This is an example of the Spreadsheet I use: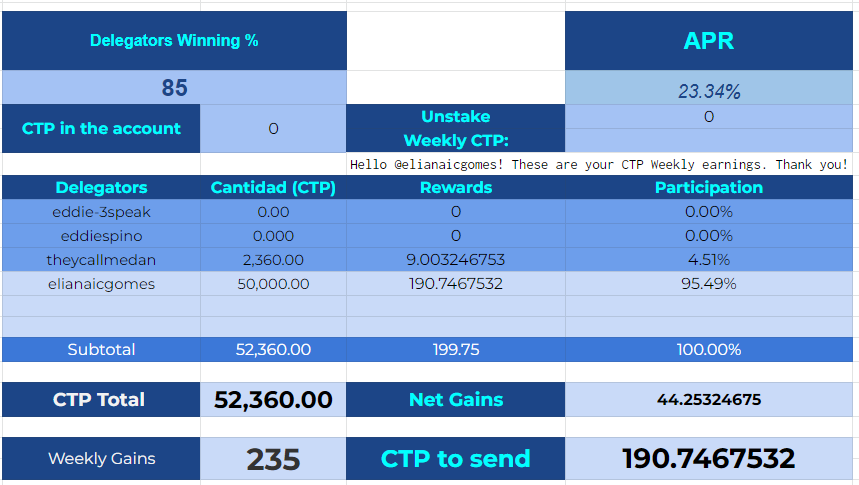 I also accept Hive Power delegations, but those would be more useful in @aliento, as I have a better system to send rewards to delegators there. We also share most of the curation rewards with delegators.
---
Thank you all for your amazing support! If you are a 3Speak user and use tokenized community tags in your posts, let me know, and I can follow you and take a look at your content. Also, if you see abusers in our curation history, feel free to reach out to me: eddiespino#2240.
My Wallet:
https://leofinance.io/@eddie-3speak/wallet
Posted Using LeoFinance Beta
---
---