The Protective Aura Of Drake Of Arnak || Dragons Weekly Battle Challenge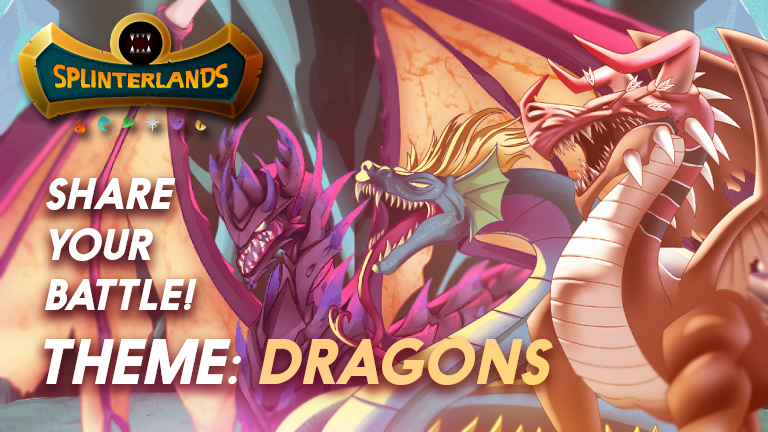 ---

Welcome to another weekly battle challenge! Today, I will be taking up a Dragons Monster to test out on the battlefield, hoping to get some rewards along the way in striving towards a Summoner's Spellbook. I did write I post last week but for some reason it did not receive any upvotes from the Splinterlands curation team. Perhaps this week will be the week that I get my first upvote.
This week I will be focusing on the only Dragon card I have available: Drake Of Arnak.
---

Battle Conditions
Jumping into a game...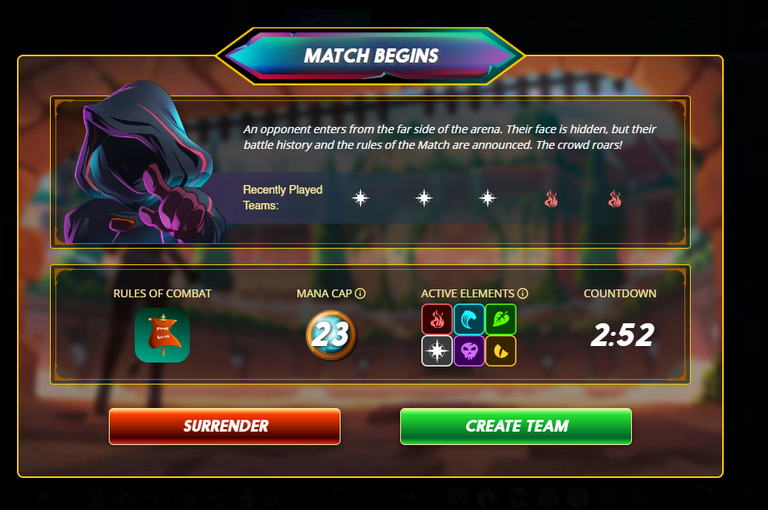 And nothing special comes up in terms of its conditions. It is the usual Standard Rules with a moderate mana cap of 23, which is similar to the cap I had last week. Looking over my opponent's recent teams tells me that they enjoy playing Light and Fire, respectively with the Summoners Mother Khala and Tarsa.
Battle Line-up
As mentioned, my opponent is having the tendency to play with Light/Fire. This works well with my Drake Of Arnak Summoner who I have chosen for this week's Weekly Battle Challenge, giving Armour to all my Monsters so they can survive for longer. I have selected the Death element for this Summoner because of the decent counters this element's Monsters give in posing a threat to my opponent.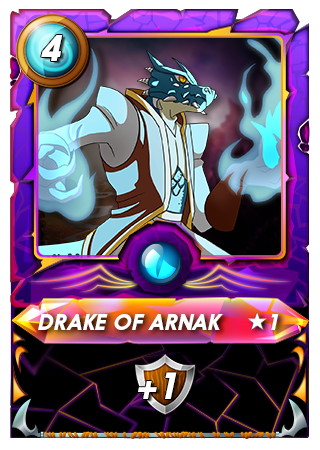 As per usual with a Death line-up, I go up with Cursed Windeku. His stats (2 melee, 3 speed and 9 health) are insane with the Thorns ability and 6 mana cost. This is particularly useful against the Melee Monsters my opponent tended to play whenever going with Fire/Light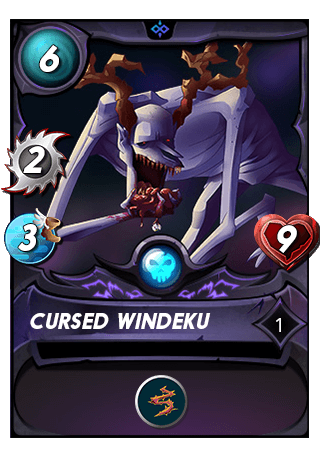 Similar to how I played last week, I place Silent Sha-Vi behind the Cursed Windeku for the same reasons as before. It has decent stats (2 melee damage, 3 speed and 5 health) to act as a secondary tank before Cursed Windeku. It also has the Sneak ability, meaning it can give some helpful backline damage before taking the first position towards the end of the match.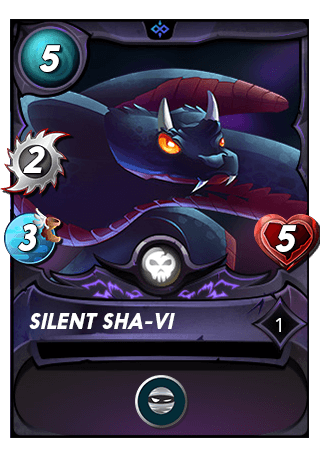 Liking the have a combo with my Sneak Monsters, I select my only other Sneak Monster: Undead Badger. By having 2 Sneak Monsters, I can give a chain attack against the backline in hopes of getting a quick wipeout at the beginning of the match, something which may be crucial in giving me that needed win.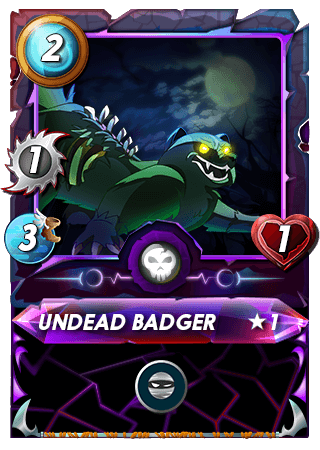 Wanting some cheap damage for the frontline, I follow Undead Badger with Soul Strangler. For 3 mana, its stats (2 Ranged, 2 speed and 2 health) are great for posing a cheap support with Cursed Windeku in taking out the first Monster of my opponent.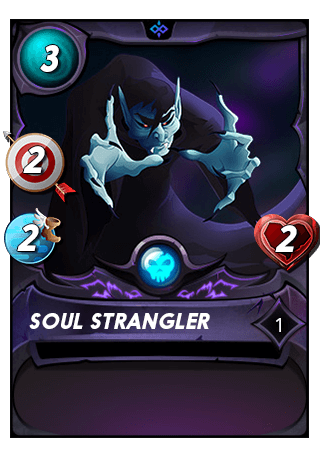 Finally, because I have seen the tendency of my opponent to play Melee Sneak/Opportunity Monsters, I play Crypt Beetle at the back with its Shield ability in stalling these threatening enemy Monsters for as long as possible.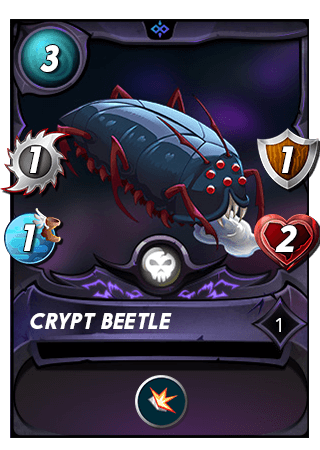 Result
Initial Round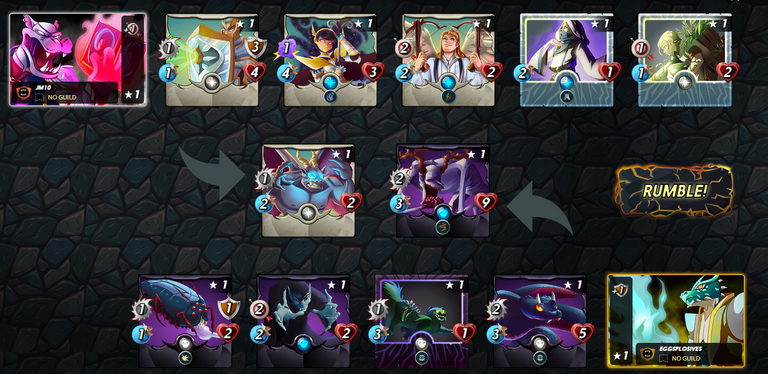 The match begins and it is not what I was expecting. Yes, my opponent did play Light as it did with the 3 of 5 games it recently played, but it went with General Sloan. This is a threat when my opponent has played Pelacor Arbalest and Herbalist, giving a total of 8 Ranged damage per round against my Cursed Windeku when taking the additional Ranged damage of General Sloan into account. The threat continues with Time Mage, slowing down all my Monsters in attacking later and with more chance to miss. My best outcome is for my Sneak Monsters (Silent Sha-Vi and Undead Badger) to effectively attack the backline and take out Truthspeaker after Herbalist, thereby revealing my opponent's fragile line-up to dive down for the win.
Round 1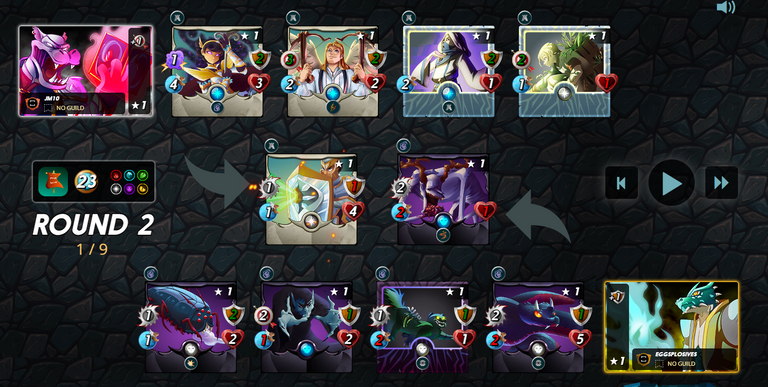 The first round begins and as expected, my Cursed Windeku is on the brink of destruction. It is a shame that I put my Crypt Beetle as the last Monster because it would have been great if I had put it in front of my Silent Sha-Vi, allowing more Sneak attacks which would have been helpful in this case. I am expecting a lost but it is possible that my Sneak Monster could somehow break through the backline in saving me a win. Will have to see what happens next round.
Round 2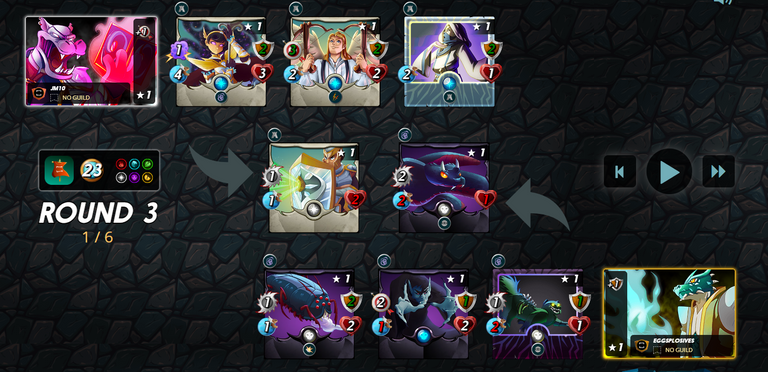 The result is not as hopeless as I thought it would be. Drake Of Arnak's additional armour is helping immensely in keeping my Monsters alive. Without that armour, it is highly probable that this match would have ended. The most promising result of the last round was the downfall of the Herbalist, which leaves the Truthspeaker vulnerable to attacks. However, my Undead Badger took the first position so it is very unlikely that Truthspeaker will go down. It is going to be an ugly round with Pelacor Arbalest having a juicy 3 Ranged damage double strike on my Monsters.
Round 3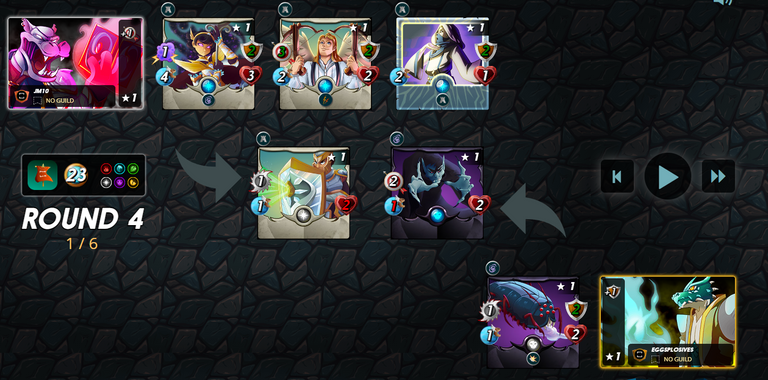 The match is officially hopeless. My opponent's Monsters took down all my threatening Monsters and with Soul Strangler in front and Crypt Beetle at the back, there is nothing that will occur considerly in my favour.
Round 4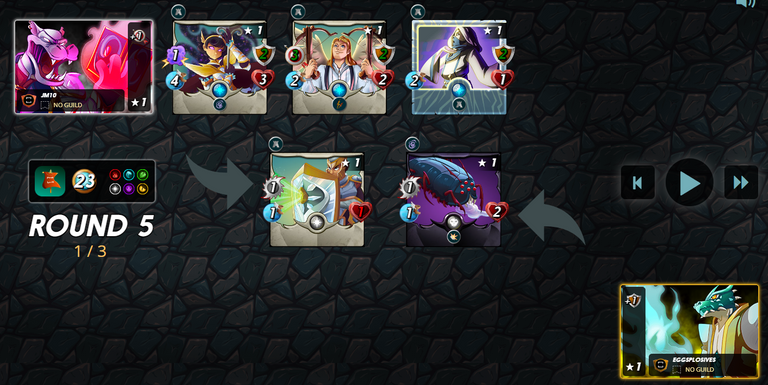 It looks like that's it. Crypt Beetle remains as my last Monster and is very vulnerable to all the opponent's Monsters. 😤 Time to see my doom as usual.
Drake Of Arnak Analysis
Overall, Drake Of Arnak is a very useful Summoner. Its mana cost is reasonable for the valuable ability it has, providing an additional armour to all Monsters. This is particularly useful against opponents who have the tendency for playing Melee/Ranged. The strength of Drake Of Arnak's armour is demonstrated in this match as my opponent favoured Ranged attacks, thus taking longer to wipe out my line-up for more opportunities to fight back for a potential win.


---
---