BATTLE MAGE SECRETS Weekly Challenge! - AIMLESS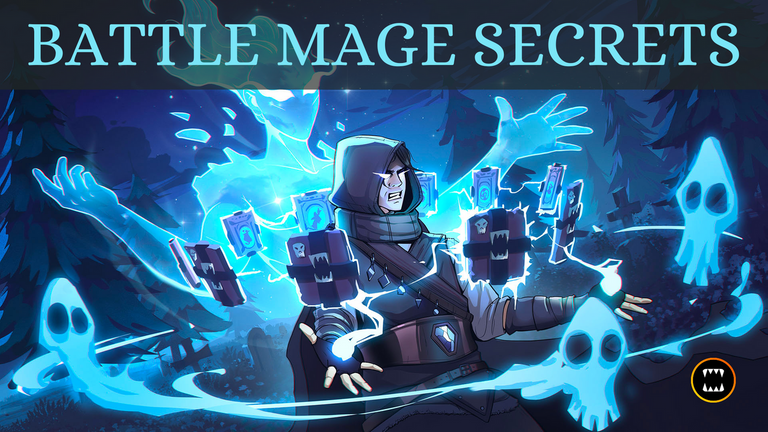 [🇺🇸 - EN - 🇧🇷 - PT/BR]
Hello, everyone! 😄
For the Battle Mage Secrets of this week let's talk about the Aimless ruleset!
---
Olá pessoal! 😄

Para os segredos do Battle Mage desta semana, vamos falar sobre o conjunto de regras Aimless!

AIMLESS
GENERAL STRATEGY
Ruleset: All monsters have the Scattershot ability
Best Summoners: Yodin Zaku,Lir Deepswimmer, Immortalis, Mylor Crowling, Skargore (it is very likely that many of your monsters get enraged!) and Byzantine Kitty.
---

---
Worst Summoners: Conqueror Jacek (redundant), Brighton Bloom and Lily Shieldpaw (Camouflage is useless)
---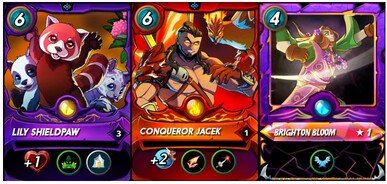 ---
Strategy: I recommend you to make a strategy focused on melee monsters and just a few or none ranged monsters, unless you're using Yodin. Otherwise the randomness of Scattershot makes the lineup less solid and effective,since focus fire is an important concept in Splinterlands.
Best abilities: Blast, Double Strike, Reflection Shield, Return Fire and Magic Reflect.
Worst abilities: Camouflage and Taunt, these abilities won't do anything.
---
Conjunto de regras: Todos os monstros têm a habilidade Scattershot

Melhores invocadores: Yodin Zaku, Lir Deepswimmer, Immortalis, Mylor Crowling, Skargore (é muito possível que muitos dos seus monstros fiquem enraivecidos!) e Byzantine Kitty.

Piores Invocadores: Conqueror Jacek (redundante), Brighton Bloom e Lily Shieldpaw (Camuflagem é inútil)

Estratégia: Eu recomendo que você faça uma estratégia focada em monstros corpo a corpo e apenas alguns ou nenhum monstro de longo alcance, a menos que você esteja usando Yodin. Caso contrário, a aleatoriedade do Scattershot torna a escalação menos sólida e eficaz, já que o foco de fogo é um conceito importante em Splinterlands.

Melhores habilidades: Explosão, Golpe Duplo, Escudo de Reflexão, Retorno do Fogo e Reflexão Mágica.

Piores habilidades: Camouflage e Taunt, essas habilidades não farão nada.
---


I picked a ranked battle in Diamond league + Wild format, however,I'm using a deck of Gold league + Modern format! The rules were: Keep your Distance + Armored Up + Aimless + 36 Mana!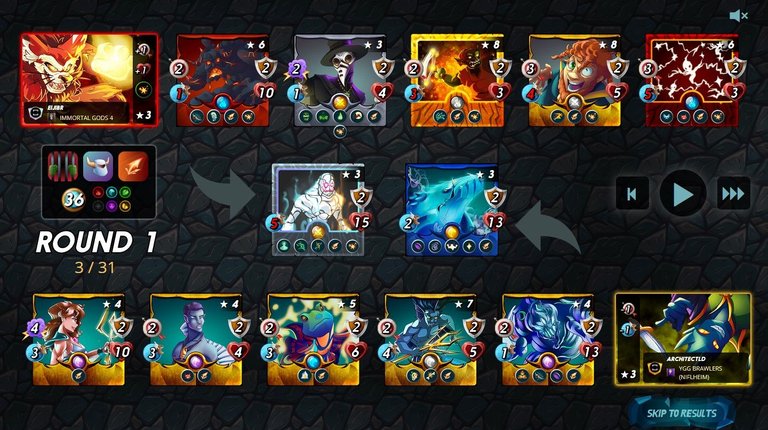 About the Strategy
Yodin Zaku: as already mentioned, Scattershot + Blast is almost unstoppable!
Almo Cambio: his Return Fire ability + high HP makes him an excellent tank! In Keep your Distance we can use only two attack types: Magic or Range, so Phase counters magic and Return Fire the ranged attacks.
Molten Ash Golem: the Weaken ability is very relevant, so the Blast will kill even faster the opponent's monsters! Not only that, he is also another great card to absorb a lot of damage with his 10 HP!
Dr. Blight: although Camouflage doesn't work against Scattershot, all of his abilities are very strong, especially Scavenger to keep him alive!
Goblin Fireballer and Spark Pixies: great damage dealers and their abilities (Snare and Stun) are very powerful!
Supply Runner: Speed is essential to achieve victory in most of the rulesets, but even more in this one! To increase the chances of dodging and also not missing my own attacks!
---
Escolhi uma batalha ranqueada no formato Liga Diamante + Formato Selvagem, porém, estou usando um deck da liga Ouro + formato moderno! As regras eram: Mantenha a Distância + Blindado + Sem Mira + 36 de Mana!
---
Sobre a Estratégia

Yodin Zaku: como já mencionado, Scattershot + Blast é quase imparável!

Almo Cambio: sua habilidade Return Fire + alto HP faz dele um excelente tanque! Em Keep your Distance, podemos usar apenas dois tipos de ataque: Magic ou Range, então Phase counters magic e Return Fire os ataques à distância.

Molten Ash Golem: a habilidade Weaken é muito relevante, então o Blast matará ainda mais rápido os monstros do oponente! Além disso, ele também é outra ótima carta para absorver muitos danos com seus 10 HP!

Dr. Blight: embora Camouflage não funcione contra Scattershot, todas as suas habilidades são muito fortes, especialmente Scavenger para mantê-lo vivo!

Goblin Fireballer e Spark Pixies: grandes causadores de dano e suas habilidades (Snare e Stun) são muito poderosas!

Supply Runner: A velocidade é essencial para alcançar a vitória na maioria dos conjuntos de regras, mas ainda mais neste! Para aumentar as chances de esquivar e também não errar meus próprios ataques!
---
The Battle
My opponent picked Quix The Devious neutralizing my +1 Ranged attack from Yodin and Swiftness from Supply Runner. Not only that, he also used Baakjira with Slow ability, looks like a bad start, but we have the advantage of an OP summoner/ability: Blast!
---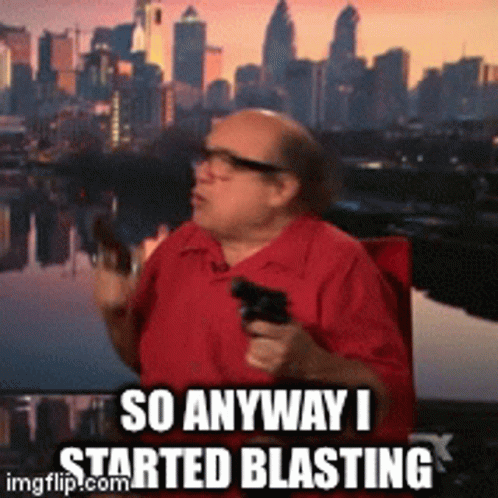 ---
In the first round most of my monsters targeted the backline, which is great, dealing damage to 3 monsters! Another relevant point: he picked a Taunt monster (Wave Brood), which is irrelevant for this ruleset!
In the second round his backline start to fall apart, my monsters killed his Igor Dark Spear and Merdhampir! Angelic Mandarin survived with only 1 HP!
In the 3rd round I had a winning position, finishing with Mandarin and Wave Brood. Remaining only Nerissa and Baakjira alive to finish.
---
A batalha

Meu oponente escolheu Quix The Devious neutralizando meu ataque à distância +1 de Yodin e Rapidez de Supply Runner. Além disso, ele também usou Baakjira com habilidade Slow, parece um começo ruim, mas temos a vantagem de um invocador/habilidade OP: Explosão*!

No primeiro turno, a maioria dos meus monstros mirou na linha de trás, o que é ótimo, causando dano a 3 monstros! Outro ponto relevante: ele escolheu um monstro Taunt (Wave Brood), o que é irrelevante para este conjunto de regras!

Na segunda rodada, sua linha de trás começou a desmoronar, meus monstros mataram seu Igor Dark Spear e Merdhampir! Angelic Mandarin sobreviveu com apenas 1 HP!

No 3º turno tive uma posição vencedora, terminando com Mandarin e Wave Brood. Restando apenas Nerissa e Baakjira vivos para terminar

Well, that's it for today, I hope you enjoyed and possibly had some insights to try new strategies with different summoners and monsters!
If you want to start playing Splinterlands, please use my referral link by clicking here!
Thanks for reading!
---
Bem, é isso por hoje, espero que tenham gostado e possivelmente tenham tido alguns insights para tentar novas estratégias com diferentes invocadores e monstros!

Se quiser começar a jogar Splinterlands, por favor use meu link de referência clicando aqui!!

Obrigado por ler!

---
---