SHARE YOUR BATTLE Weekly Challenge! CURSED WINDEKU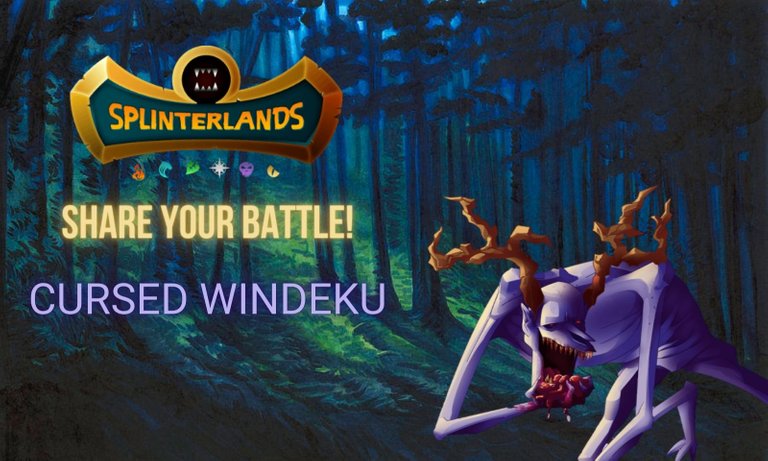 [🇺🇸 - EN - 🇧🇷 - PT/BR]
Hello, everyone! 😄
Let's talk about Cursed Windeku ☠️ for the Share your Battle ⚔️ Weekly Challenge! I'd rate Cursed Windeku as a card 9 out of 10 in Gold league level. Windeku is probably the best card of Death splinter in the Chaos Legion set!
As mentioned in the lore: "Cursed Windeku are nightmarish creatures that live in the deepest and darkest woods.They hunt at night, stalking their prey before attacking with their claws, while their thorn-like horns and natural healing ability provide an excellent defense,. They exude a pungent pheromone that reduces the reaction time of their victims, often allowing the Windeku to begin devouring them before they are dead. While these lifeless creatures may appear animalistic, they are highly intelligent. They have heeded the call put forth by the Lord of Darkness. Their thirst for blood is now focused on the Chaos Legion." For this reason I made a thumbnail to fit the lore 😀
---
Olá pessoal! 😄

Vamos falar sobre Cursed Windeku ☠️ para o desafio semanal Share your Battle ⚔️! Eu classificaria Cursed Windeku como uma carta 9 de 10 no nível da liga Ouro. Windeku é provavelmente a melhor carta de Death Splinter no conjunto Chaos Legion!

Conforme mencionado no folclore: "Cursed Windeku são criaturas de pesadelo que vivem nas florestas mais profundas e escuras. Eles caçam à noite, perseguindo suas presas antes de atacar com suas garras, enquanto seus chifres semelhantes a espinhos e sua habilidade natural de cura fornecem uma excelente defesa. Eles exalam um feromônio pungente que reduz o tempo de reação de suas vítimas, muitas vezes permitindo que o Windeku comece a devorá-los antes que eles morram. Embora essas criaturas sem vida possam parecer animalescas, elas são altamente inteligentes. Eles atenderam ao chamado feito pelo Senhor das Trevas. Sua sede de sangue agora está focada na Chaos Legion." Por esse motivo fiz uma miniatura (thumbnail) para encaixar com a história. 😀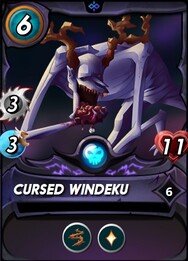 CURSED WINDEKU
Abilities: Heal and Thorns
Usability: Main Tank, and can also be used in the last position in Super Sneak rule set.
Best Summoners: Mimosa Nightshade (void will make him survive longer) and Zintar Mortalis (he will receive less damage against melee damage). However, he will do just fine with any summoner.
Best Positions: Definetely 1st position.
Strengths: attack power, high HP and his abilities.
Weakness: average Speed and no armor.
Best Rule Sets: Unprotected, Up Close and Personal, Amplify, Super Sneak and Rise of the Commons.
Worst Rule Sets: Equalizer, Cripple and Briar Patch.
---
Habilidades: Cura e Espinhos

Usabilidade: Tanque principal, e também pode ser usado na última posição no conjunto de regras Super Sneak.
Melhores invocadores: Mimosa Nightshade (void o fará sobreviver por mais tempo) e Zintar Mortalis (ele receberá menos dano contra dano corpo a corpo). No entanto, ele se sairá bem com qualquer invocador.

Melhores Posições: Definitivamente 1ª posição.

Pontos fortes: poder de ataque, alto HP e suas habilidades.

Fraqueza: Velocidade média e sem armadura.

Melhores conjuntos de regras: Desprotegido, De perto e pessoal, Amplificar, Super furtivo e Ascensão dos Comuns.

Piores Conjuntos de Regras: Equalizador, Aleijar e Espinhos.
---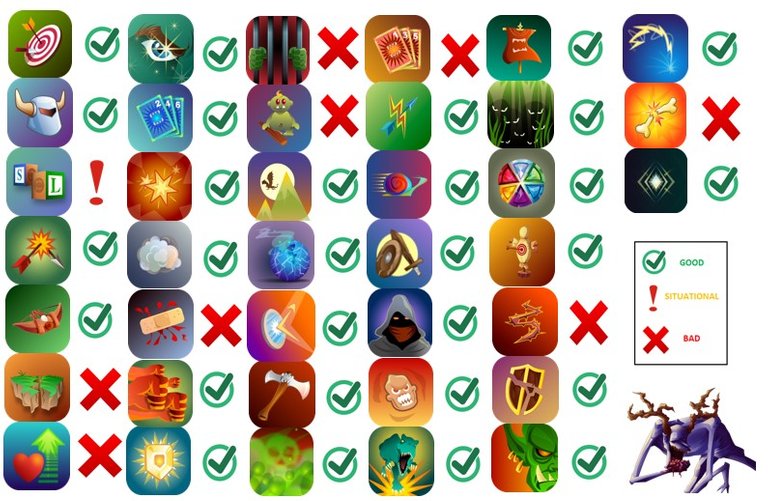 ---
MARKET
---
If you are planning to upgrade your Windeku, I think now it is a good time! In the last 6 months his price was varying between $ 0.50 and $ 0.70 a BCX. At the time I'm writing he is being sold for $ 0.42 / BCX. Since the CL packs are being burned, when they become sold out Windeku price will probably sky rocket (not financial advise) as you can see with the Untamed cards such as Unicorn Mustang, Shieldbearer and many other key cards.
---
Se você está planejando aumentar o nível do seu Windeku, acho que agora é uma boa hora! Nos últimos 6 meses seu preço variou entre $ 0,50 e $ 0,70 o BCX. No momento em que escrevo ele está sendo vendido por $ 0,42/BCX. Uma vez que os pacotes CL estão sendo queimados, quando eles se esgotarem, o preço de Windeku provavelmente disparará (não é conselho financeiro), como você pode ver com os cartas da edição Untamed, como Unicorn Mustang, Shieldbearer e muitos outras cartas-chave.


For this challenge I picked a Brawl battle in Gold league + Modern Format. The rules were: Armored Up with Fire 🔥, Death 👻 and Dragon 🐉 splinters available.
General Strategy: I picked Death splinter (Thaddius Brood) due to the Armored Up rule set, since most players are going to pick magic monsters, so the -1 Magic attack is big deal! In short: Windeku is the main tank while I mix the backline damaging with ranged and magic monsters! If you notice I didn't pick any magic monsters because I was expecting my opponent to pick Thaddius as well, for this reason I focused on ranged monsters!
Main Tank (Cursed Windeku): as mentioned above his job is to survive as long as possible, because once he dies the rest of the team can't absorb much damage!
Corpse Fiend + Chaos Agent: cannon fodder
Weirding Warrior: Shatter is very useful against monsters with a lot of armor and his Amplify is great to match with Thorns of Windeku!
Whistling Damon and Soul Strangler: damage dealers.
---
Para este desafio escolhi uma batalha Brawl na liga Ouro + Formato Moderno. As regras eram: Blindado com os seguintes elementos disponíveis: Fogo 🔥, Morte 👻 e Dragão 🐉.

Estratégia Geral: Eu escolhi Splinter da morte (Thaddius Brood) devido ao conjunto de regras Blindado, já que a maioria dos jogadores vai escolher monstros mágicos, então o -1 ataque mágico é bastante relevante! Resumindo: Windeku é o tanque principal enquanto eu misturo a linha traseira causadora de dano com monstros mágicos e de longo alcance! Se você notar, eu não escolhi nenhum monstro mágico porque esperava que meu oponente escolhesse Thaddius também, por isso foquei em monstros de longo alcance!

Tanque Principal (Cursed Windeku): como mencionado acima, seu trabalho é sobreviver o máximo possível, porque uma vez que ele morre, o resto da equipe não consegue absorver muito dano!

Corpse Fiend + Chaos Agent: bucha de canhão

Weirding Warrior: Shatter é muito útil contra monstros com muita armadura e seu Amplificar é ótimo para combinar com Espinhos de Windeku!

Whistling Damon e Soul Strangler: causadores de dano.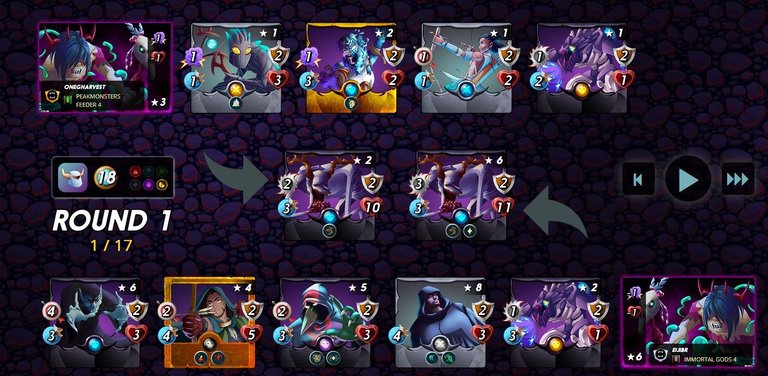 To watch the full battle, click in the image above or below!
Para assistir a batalha na íntegra clique nas imagens acima.

Highlights/Destaques
This battle wasn't really fair or exciting due to the difference of level of my opponent's monsters.

Windeku survived the whole battle.

By the end of the first round the battle was already settled
---
Esta batalha não foi muito justa ou emocionante devido à diferença de nível dos monstros do meu oponente.

Windeku sobreviveu a batalha inteira

Ao final do primeiro turno a batalha já estava decidida.
---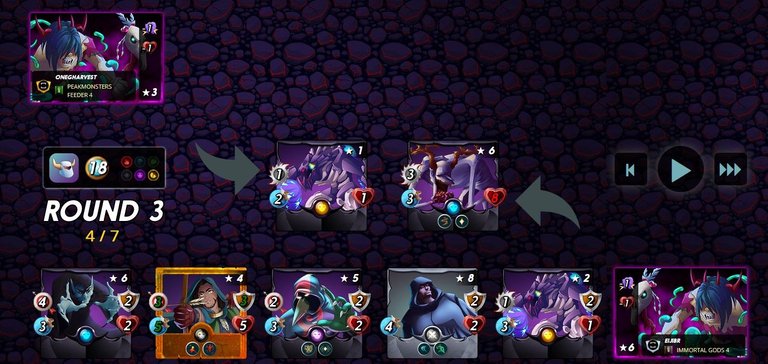 ---
What if my opponent had max level summoner/monster for this battle? Let's check this out on splintertools! As you can see my strategy was more solid and would win 100% of the times.
---
E se meu oponente tivesse invocador/monstro de nível máximo para esta batalha? Vamos conferir isso no splintertools! Como vocês podem ver minha estratégia era mais sólida e venceria 100% das vezes.
---


If you want to start playing Splinterlands, please use my referral link by clicking here!
Thanks for reading!
---
Se quiser começar a jogar Splinterlands, por favor use meu link de referência clicando aqui!!

Obrigado por ler!

---
---