SHARE YOUR BATTLE Weekly Challenge! DAX PARAGON
[🇺🇸 - EN - 🇧🇷 - PT/BR]
Hello, everyone! 😄
For the Share your Battle ⚔️ of this week let's talk about another Epic card: Dax Paragon! I'd rate him as a card 8/10 in Gold league level, he is a very nice card and a great counter against healers due to his Affliction ability for only 2 mana cost!
Small part of the Lore
When he became old enough, Dax was given his large inheritance to begin his own sect of his family's business, which he called Dax's Consultations. He would be called upon by the wealthy, the greedy, and the powerful to consult for them. He would analyze their business practices, their competition, and provide advice. He became renowned for his success, and was thought of as the "secret ingredient" to any tycoon's business. And because of this, Dax soon became immersed in a world of spoils. He lived a fast life of luxury, of gold, and of stabbing anyone in the back that tried to cross him. Often literally

When the Chaos Legion turned their eye on Dax, he looked right back and was intrigued. He saw new power that he hadn't yet known. He communicated with their intermediaries until the day the Chaos Legion invaded the Splinterlands. Dax was then graced with an audience before Silus of the Rift himself. During this conversation, Dax proved himself well-informed, cunning, and ambitious. He was given the opportunity to be an advisor for the most powerful person he'd ever come across. Dax now serves closely at Silus' side, advising him on strategies to control the Splinterlands.

---
Olá pessoal! 😄

Para o Share your Battle ⚔️ desta semana, vamos falar sobre outro card épico: Dax Paragon! Eu o classificaria como uma carta 8/10 no nível da liga Ouro, ele é uma carta muito boa e um ótimo contador contra curandeiros devido à sua habilidade de Aflição por apenas 2 custos de mana!

Uma pequeno trecho do Folclore

Quando ele ficou velho o suficiente, Dax recebeu sua grande herança para começar sua própria seita nos negócios de sua família, que ele chamou de Consultas de Dax. Ele seria chamado pelos ricos, gananciosos e poderosos para consultá-los. Ele analisaria suas práticas de negócios, sua concorrência e forneceria conselhos. Ele se tornou conhecido por seu sucesso e era considerado o "ingrediente secreto" dos negócios de qualquer magnata. E por causa disso, Dax logo mergulhou em um mundo de despojos. Ele viveu uma vida rápida de luxo, de ouro e de esfaquear qualquer um pelas costas que tentasse atravessá-lo. Muitas vezes literalmente. 
Quando a Legião do Caos voltou seus olhos para Dax, ele olhou de volta e ficou intrigado. Ele viu um novo poder que ainda não conhecia. Ele se comunicou com seus intermediários até o dia em que a Chaos Legion invadiu as Splinterlands. Dax foi então agraciado com uma audiência perante o próprio Silus of the Rift. Durante essa conversa, Dax provou ser bem informado, astuto e ambicioso. Ele teve a oportunidade de ser conselheiro da pessoa mais poderosa que já conheceu. Dax agora serve de perto ao lado de Silus, aconselhando-o sobre estratégias para controlar os Splinterlands.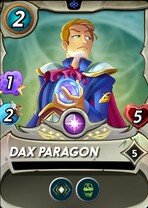 DAX PARAGON
Abilities: Affliction and Amplify
Usability: he is more useful in low to medium mana cap (12-30), a very common combo is: Pelacor Conjurer/Blinding Reflector (Magic Reflect) + Dax (Amplify) or even to counter some monsters such as: Baakjira, Goblin Psychic and Cursed Windeku.
Best Summoners: Ilthain and Lorna Shine.
Best Position: 2nd to 5th position.
Strengths: low mana cost, decent amount of HP and great abilities.
Weakness: no armor, slow speed and only 1 point of attack power (which is fair for a two mana cost).
Best Rulesets: armored up, Fire and Regret, Briar Patch and Reverse Speed.
Worst Rulesets: Earthquake, Healed out and Weak magic.
---
Habilidades: Affliction e Amplify

Usabilidade: ele é mais útil em cap de mana baixo a médio (12-30), um combo muito comum é: Pelacor Conjurer/Blinding Reflector (Magic Reflect) + Dax (Amplify) ou até mesmo para counterar alguns monstros como como: Baakjira, Goblin Psychic e Cursed Windeku.

Melhores invocadores: Ilthain e Lorna Shine.

Melhor Posição: 2ª a 5ª posição.

Pontos fortes: baixo custo de mana, quantidade decente de HP e ótimas habilidades.

Fraquezas: sem armadura, velocidade lenta e apenas 1 ponto de poder de ataque (o que é justo por um custo de dois manas).

Melhores conjuntos de regras: blindado, Fogo e arrependimento, Briar Patch e Reverse Speed.

Piores Conjuntos de Regras: Terremoto, Curado e Magia Fraca.
---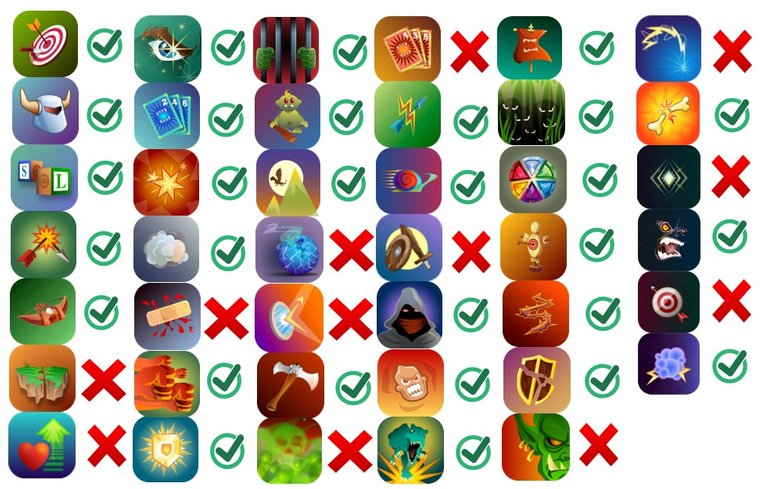 ---
Relevant Upgrades
Level 2 to gain the Amplify ability (Bronze/Silver level), level 5 for Affliction (Gold level) and lastly level 6 for the extra attack (Diamond level).
---
Nível 2 para ganhar a habilidade Amplificar (nível Bronze/Prata), nível 5 para Aflição (nível Ouro) e por último nível 6 para o ataque extra (nível Diamante).
---

---


For this challenge I picked a ranked battle in Gold league + Modern Format. The rules were: 52 Mana + Little League + Counterspell + Wands Out with all elements available, except Water!
The amount of mana in this battle was not very relevant, since it would be possible to spend only 28 mana due to Little League ruleset.
Summoner (Lorna Shine):I wasn't sure if I should have picked Thaddius Brood or Lorna Shine, but since monster would receive damage back from Magic Reflect, I decided to pick Lorna for the Divine Shield increasing all of my monsters survivability.
Dax Paragon: he has decent HP and low attack, for this reason I placed him in the 1st position since we want to keep alive monsters with strong attack as much as possible!
Light Elemental + Time Mage: they have decent attack power and speed, for this reason we want to put them in front of the others monsters that will attack later. Besides that, Time Mage Slow ability is very valuable in this kind of setup!
Venari Spellsmith: very important to keep the magic reflect stronger with her amplify ability!
Elven Mystic: another key card due to his/her Silence ability!
Dr. Blight: probably one of the best and strongest card in the game! His Scavenger ability increases his survivability and Poison allows him to cause up to 4 damage in a single round!
---
Para este desafio escolhi uma batalha ranqueada na Liga Ouro + Formato Moderno. As regras eram: 52 Mana + Little League + Counterspell + Wands Out com todos os elementos disponíveis, exceto Água!

A quantidade de mana nesta batalha não é relevante, já que seria possível gastar no máximo 28 mana devido ao conjunto de regras Liga Pequena.

Invocador (Lorna Shine): Eu não tinha certeza se deveria ter escolhido Thaddius Brood ou Lorna Shine, mas como o monstro receberia dano de Reflexão de magia, decidi escolher Lorna devido o Escudo Sagrado aumentar a capacidade de sobrevivência de todos os meus monstros.

Dax Paragon: ele tem HP decente e ataque baixo, por isso coloquei ele na 1ª posição já que queremos manter vivos monstros com ataque forte o máximo possível!

Elemental da Luz + Mago do Tempo: eles têm poder de ataque e velocidade decentes, por isso queremos colocá-los na frente dos outros monstros que atacarão depois. Além disso, a habilidade Time Mage Slow é muito valiosa neste tipo de configuração!

Venari Spellsmith: muito importante para manter o reflexo mágico mais forte com sua habilidade de amplificar!

Elven Mystic: outra carta-chave devido à sua habilidade Silence!

Dr. Blight: provavelmente uma das melhores e mais fortes cartas do jogo! Sua habilidade Scavenger aumenta sua capacidade de sobrevivência e Poison permite que ele cause até 4 danos em uma única rodada!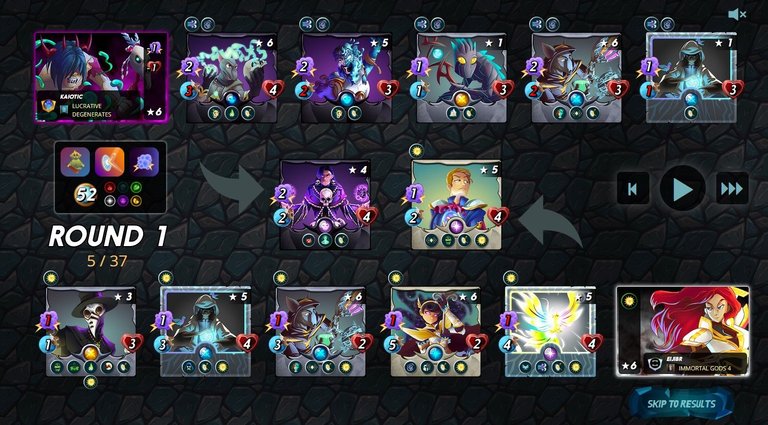 Let's check the outcome of this battle!
Highlights/Destaques
Divine Shield was really important to keep my monsters alive in the first round.

Silence ability of Elven Mystic was essential to diminish the advantage that Thaddius Brood was providing with his -1 magic attack. So, all of the monsters in the battlefield was hitting only one!

Amplify was another necessary ability that helped achieve victory.

Dr. Blight was the last monster standing with 11 HP securing the win!
---
Escudo Sagrado foi muito importante para manter meus monstros vivos no primeiro turno.

A habilidade Silenciar de Elven Mystic foi essencial para diminuir a vantagem que Thaddius Brood estava fornecendo com seu -1 de ataque mágico. Então, todos os monstros no campo de batalha estavam atacando com apenas um de poder!

Amplify foi outra habilidade necessária que ajudou a alcançar a vitória.

Dr. Blight foi o último monstro de pé com 11 HP garantindo a vitória!

If you want to start playing Splinterlands, please use my referral link by clicking here!
Thanks for reading!
---
Se quiser começar a jogar Splinterlands, por favor use meu link de referência clicando aqui!!

Obrigado por ler!

---
---